Lightest Gaming Mouse: Why Are They So Popular & Should You Get One?
Updated: Nov 10, 2022 1:55 pm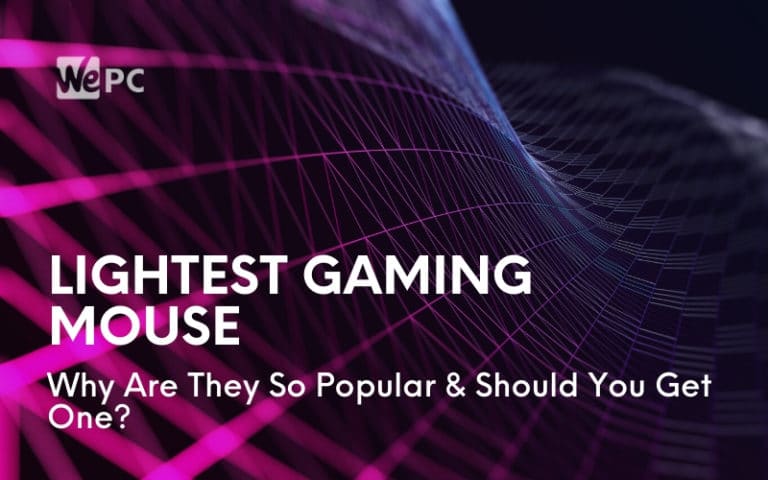 Here at WePC, we always seem to have new mice to try out and test in-house. Our shelves are overflowing with the latest and greatest models across all your favorite brands. It's not unusual for all of us to be switching out our mice every few weeks as we fall in love with a new model. Personally, I've always been a fan of a heavy mouse, and I really love my Steelseries Rival 710.
But, as more and more mice started to pour in for review, I noticed a trend appearing. Mice seemed to be getting lighter and lighter. It seems like all the big gaming peripheral brands are competing to see who can create the lightest gaming mouse. But, why are they so popular? Let's take a look at what's going down with this new wave of lightest gaming mice.
What Is The Lightest Gaming Mouse?
Lightweight gaming mice are still a fairly new trend, but we have been seeing more and more of them appearing over the last year or so. Here at the WePC offices, we've begun to build quite a collection ourselves. The best lightweight gaming mouse we have tested so far has been the Glorious Model O- weighing in at just 58g.
To put this into perspective, let's compare it to some of our other favorite gaming mice.
Glorious Model O- – 58g
BenQ Zowie EC2-B Divina – 90g
Steelseries Rival 710 – 136g
Corsair Scimitar Pro RBG – 147g
As you can see, the Glorious Model O- is in a weight class all of its own when we compare it to the other most popular mice on the market today. That doesn't mean it's the only lightweight model though, just the lightest. Let's see how it stacks up against other lightweight mice we've worked with.
Glorious Model O- – 58g
CoolerMaster MM711 – 60g
ENDGAME GEAR XM1 – 70g
Razer Viper Ultimate – 74g
Logitech G Pro – 80g
Why Choose A Lightweight Gaming Mouse?
So, why are these lightest gaming mice so popular? Well, it has a lot to do with the rising popularity of esports and the kind of games that people are playing. Lightweight gaming mice are perfect for the pinpoint accuracy and fast movements that players need in both FPS games and MOBA titles.
Having less weight to the mouse also means that you'll be less likely to experience any kind of hand fatigue from extended gaming sessions. This makes them ideal for competitive esports players, as well as those of us who just love to spend hours upon hours at our gaming PCs.
It also makes them much more portable. So, whether you use the mouse for gaming, content creation, or general work tasks, you'll find it much easier to throw into a laptop bag or take to LAN events.
Honeycomb Or No Honeycomb?
If you've looked into trying to find the lightest gaming mouse you can already, then you'll definitely have noticed a design trend among the biggest brands. Yep, we're talking about the popular honeycomb design. With this, brands are able to shave off as much weight as possible by creating small holes in the plastic shell. For many, this honeycomb design really is a love it or hate it kind of thing, but if you're after the lightest gaming mouse out there, you'll have to get used to it.
Lightest Gaming Mouse: Our Top Picks
We've got a more thorough breakdown of our favorite choices for the lightest gaming mouse which you can check out below. But, for this article, here's a quick look at our top three.
Best Lightest Gaming Mouse
No products found.
Not only is this the lightest mouse in our current collection, but it's also the best. This was one of the first mice to utilize the honeycomb design, and when combined with the RGB features, it makes for one very attractive mouse. But, it's not all about the design, this mouse performs extremely well in both gaming and everyday use too. No wonder it grabbed the top spot.
CoolerMaster has been leading the charge in making the lightest gaming mice possible for a while now (their previous model the MM710 was only 53g!) and the MM711 is no exception. It improves on the previous model by adding in a splash of RGB as well as a PWM 3389.
Rounding out our top three is the Endgame Gear XM1. In typical German style, this mouse has a no-nonsense design and manages to do away with honeycomb holes while still keeping the weight at a respectable 70g.
Related Pages
By now, you should have a pretty good idea on which lightest gaming mouse best suits your needs and requirements. If you don't, however, here are some of our most popular gaming mice pages which may be more to your suiting:
Final Word
We would love to hear from our readers whether they prefer lightweight gaming mice or more traditional, heavier models. While they can definitely give you an advantage when it comes to gaming, for some people it can be hard to make the switch when you're used to a heavier model. Either way, it seems as though lightweight gaming mice are here to stay, and may even have the scope to get lighter – only time will tell.
---