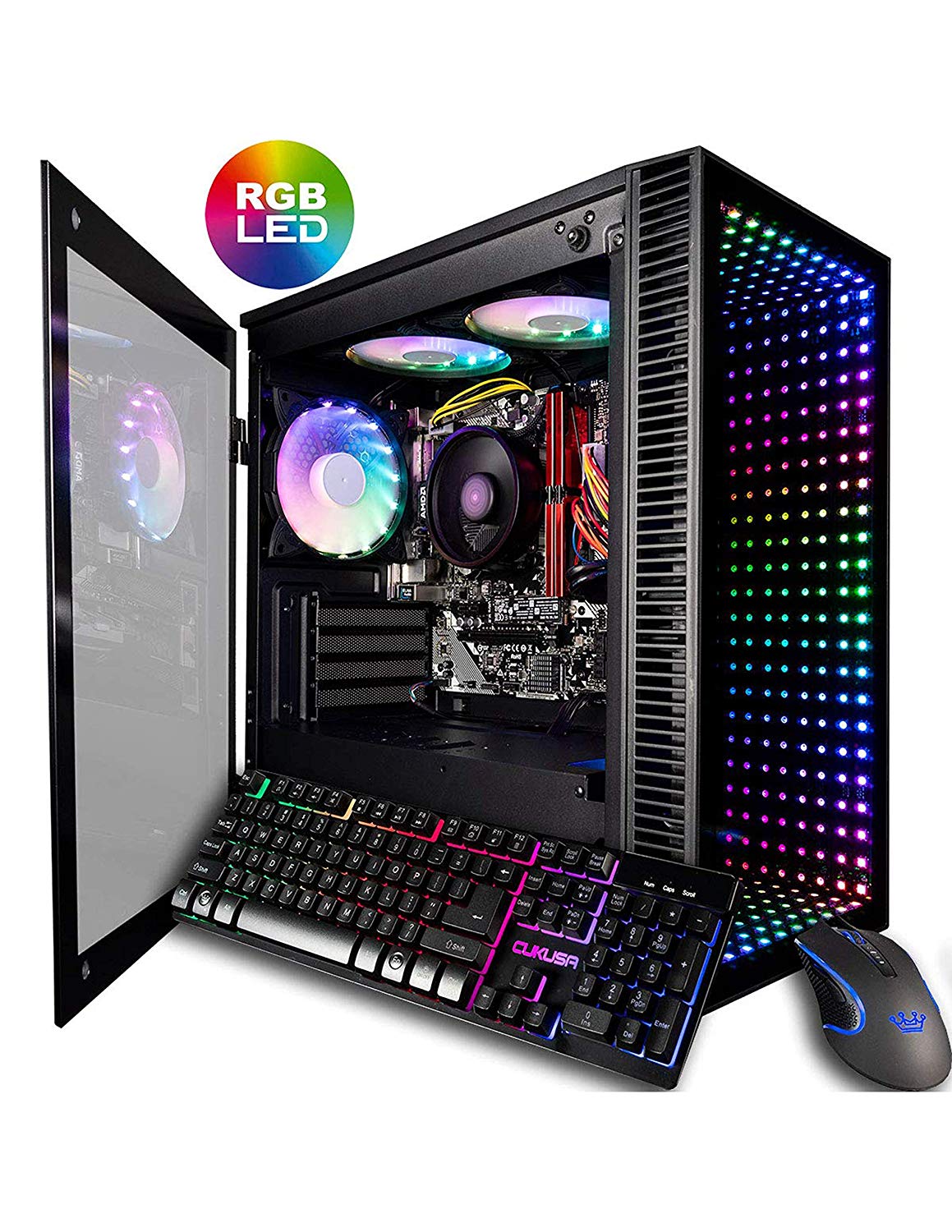 This post recommends the best gaming PC you can build for under $400. If you're looking to buy a pre-made gaming rig in 2019, we recommend the CUK Continuum Micro Gaming PC. It's powered by an an AMD Ryzen 3200G with Radeon Vega 8 Graphics, 16GB DDR4 3000Mhz RAM and a 256GB NVME SSD.
July 2019 Update: We've updated our $400 build with the fantastic AMD Ryzen 5 2400G processor with integrated graphics and high-speed RAM. While the new generation of Ryzen chips has been released, the older ones still offer better price to performance and make sense in a build at this price. We've also updated our prebuilt computer recommendations, bringing you fantastic value for those who prefer to purchase rather than build.
With the 400 dollar gaming PC our main focus was to give excellent value for money whilst still providing a decent level of gaming performance. While we aren't quite at the price range where value is at its absolute best, we are getting into the price range where we can start making some serious leaps forward into good performance in modern games. While this may not be our cheapest gaming PC build, it's still extremely affordable while also functioning as the CONSOLE KILLER PC build under $400, as we like to call it.
We consider this build as being entry-level for both performance standards and build difficulty making it the perfect gateway into PC building, so let's dive straight in.
This PC build is comprised of mostly standard hardware components, however we have managed to squeeze in one of AMD's latest Ryzen chips which when paired with quick RAM is widely considered the best pound-for-pound CPU available in its price range. We had three goals to meet here which were as follows:
Making the cheapest gaming PC build that still offers a great value - Truth be told, the $300 gaming PC build is a good starting point but just that: a starting point.
This build is the first that keeps great value whilst still having the ability to play AAA gaming titles at 1080p.
Providing console-quality performance - If you're spending console-money, you want console quality. While you may need to make settings adjustments here and there, we feel like this build does that pretty well. If you pair this with the cheaper Steam game offerings and the builds upgrade-ability we believe the $400 build surpasses anything a console has to offer.
Keeping high-quality components - Many budget builds will use no-name PSUs and the likes in order to make the price work, but we avoided this at all costs and for good reason. Not only is that bad practice, but it can actually be dangerous for your system!
We chose to stick to quality brands that you can trust instead of cutting corners, and we think it shows.
We'll dive into detail on how we chose the rest of the components below. For now, rejoice: this should provide all the performance you need for a console-level gaming experience. Factor in Steam sales, and you're getting an even cheaper gaming experience in the long run!
How We Choose the PC Components
We understand the importance of keeping components in our builds up-to-date, that way you can make the most of your budget. For this reason, we're always staying on top of the latest tech news and announcements to make sure what we recommend is not only the latest but the best for the price.
We know the ins and outs of hardware performance, price, and compatibility. And we're never afraid to do our due diligence with extra research. For instance, we check up-to-date benchmarks from multiple sources around the web to confirm the performance of different components. We check our builds daily to ensure the hardware we recommend is still in stock and the overall build still offers great bang for buck. Please rest assured, we are here for you.
The Best Cheap $400 Gaming PC
Update:
cpu
AMD Ryzen 5 2400G Processor
Amd's Ryzen range is widely considered the best value for money CPU's available today and the 2400G packs a real performance punch at a affordable price.
ram
Corsair LPX Vengeance 3200mhz 16GB RAM
The perfect pairing for this CPU is 16GB of fantastic 3200Mhz RAM.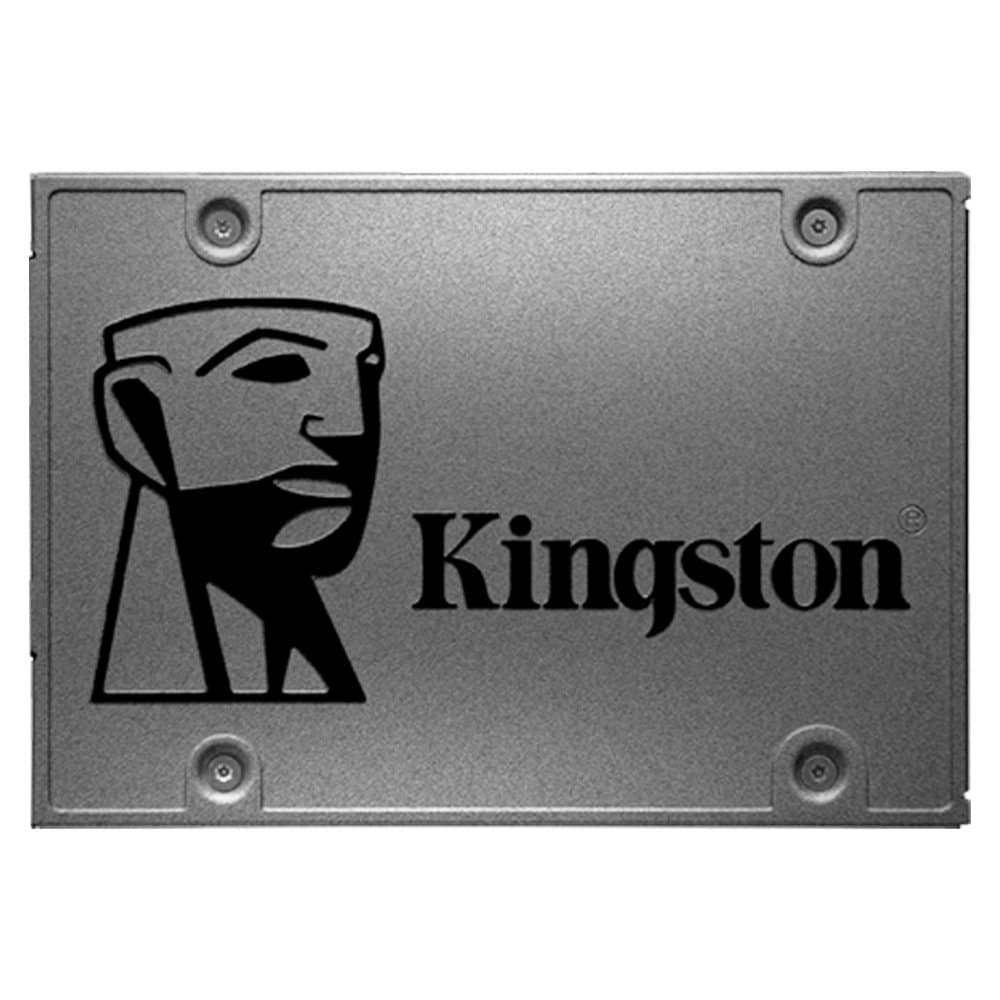 ssd
Kingston 480GB A400 2.5'' SSD
If you want speed, then an SSD is an absolute must. This affordable option from Kingston is sure to provide super fast loading times for any games.
psu
Seasonic S12 450W 80 Plus Bronze Certified Non-Modular Power Supply
Due to budget restrictions we've had to go for a non-modular PSU here, however it does have a great bronze 80+ rating and a fantastic build quality which comes with buying Seasonic.
mobo
MSI ProSeries B450M PRO-VDH Plus M-ATX Motherboard
A fantastic little motherboard which has the capacity to house everything you're going to need to create the ultimate $400 gaming machine.
case
Thermaltake Versa H15 SPCC Micro ATX Tower
An astonishingly cool (aesthetically and literally) budget case that dominates other value options in the same price range.
Order This Build on Amazon
Enough of the preambling-- let's break down each individual component in this system and why it was chosen over the other options out there.
cpu
AMD has come a long way in the last couple of years ever since releasing their brilliant range of powerful, budget CPU's. The 2400G takes the lead role in this $400 build, with a sharp drop in price after the release of the 3rd gen CPUs. Despite being older-gen it comes equipped with the same Vega 11 onboard graphics which actually performs extremely well if paired with the correct RAM and motherboard. It comes with a max boost clock speed of 3.9Ghz which is fantastic at multitasking due to its 4cores/8thread's makeup. It also comes equipped with its own cooling system which saves on the money again meaning we have more room in the budget to bolster other areas such as RAM. Overall one of the best budget CPU's available.
ram
Corsair is a trusted brand, and for good reason. This kit of 16GB DDR4 RAM should offer all the speed and memory capacity that you should need for gaming and multitasking and is easily the best pick in this price range. Thanks to it being two 8GB sticks, it'll also run in dual-channel, ensuring that the DDR4 RAM is being used to its maximum potential and you don't experience any hitches or problems associated with running RAM in single-channel. Further more, the CPU we've gone for thrives of super quick 3200Mhz memory which gives almost 90% performance boost over slower stuff. Despite being a budget product, this RAM still has great build quality, so it should last well into the foreseeable future.
ssd
This build utilizes super-fast SSD storage, if you are unfamiliar as to how an SSD works, in basic terms the technology within an SSD allows for significantly improved loading and boot times compared to the traditional HDD. We've gone for a trusted brand in Kingston for our SSD as it's one of most trusted consumer-level storage options available. Load your Windows and primary games onto the SSD for lightning-quick load times.
psu
The best thing you can do when thinking about purchasing a cheap PSU is to buy from a reliable manufacturer such as Corsair, Seasonic or EVGA. Unless you want a house fire of course. The Seasonic S12 450W Bronze is a great starter PSU but isn't going to win any awards for usability or high-end features, but it is going to be solid, stable and reliable for years to come, which ultimately is what matters. 
mobo
There is really no point in skimping on a motherboard at this stage and that's why we've opted for the MSI ProSeries B450M PRO-VDH Plus Motherboard here. It guarantees compatibility with the Ryzen 2400G and has some great little features as well. It is effectively an entry-level motherboard but for $400 it's as good as you can get. This motherboard comes equipped with some cool features, such as its ability to overclock both the CPU and the RAM to their full potential. This means squeezing additional performance out of the $400 machine is certainly an option.
case
Of all the budget cases we've recommended here on WePC, this is definitely the most aesthetically pleasing. It also has great out-of-the-box cooling, a clean design, great airflow, and plenty of room for a long GPU or a few extra hard drives down the line.  The Versa H15 is our recommended case for this $400 gaming PC build, but there is a small caveat…you'll likely want to buy at least one (it can take two additional fans) extra fan, since this case only includes a single exhaust fan. To accomplish optimal airflow, you'll want to add an intake fan of your own upfront, two if you're particularly serious. We have some great budget fan options listed in optional upgrades below. MORE: Best PC Cases
Why is This The Best Custom PC for the Price of $400?
Simply put? We're providing the only up-to-date gaming PC build for $400 featuring an AMD 2400G that isn't linking to unavailable parts, isn't stuffing in dangerous no-name PSUs to save money, and isn't going dramatically over budget to accomplish its goals. In fact, most of the time this build will be hovering around the $400 mark unlike other PC builds out there which are closer to $500.
The great thing about this build is everything works perfectly in harmony to produce fantastic performance across a number of games and platforms. We consider it to be perfectly rounded whilst still housing the ability to be upgraded further down the line if necessary. However, with the build being equipped with AMD's 2400g which has decent onboard graphics, you won't have to upgrade anytime soon if you stick to modern games at medium settings.
What games can this PC run?
In this section, we're going to tell you how this game should be able to run your favorite games.
Fortnite - Fortnite

should run at 1080p60 and high settings with little, if any, issues.

PlayerUnknown's Battlegrounds - PUBG

should run at medium settings in 1080p60.

Monster Hunter: World - MHW

will run at 1080p60 with medium settings.

League of Legends

- Due to being a light eSports title,

League

should be easily pushed to 1080p60 by this build.

Dota 2

- Same as above.

Overwatch - Overwatch

should be very playable at high-to-max settings and 1080p60.

Rainbow Six: Siege -  Siege

should run just fine at medium settings in 1080p60, maybe even a few higher settings.

Warframe -  Warframe

won't be an issue for this PC build at all- expect 1080p60 at max settings with ease.

Grand Theft Auto V - GTA V

should be playable at 1080p60, but you may need to turn down some settings to medium to keep a high framerate.

Team Fortress 2 - TF2

will do great at 1080p, but due to the weaker CPU in this build you may have difficulty with pushing it past 60 FPS on high settings.
Similar Prebuilt Gaming PC Under $400
It is great building your own cheap desktop computer especially if you're on a tight budget.
Nonetheless, not everyone is fond of building their own gaming computer due to the hassle that comes with it. If you're one of the folks that isn't overly keen on the idea of building your own, then you'll be happy to know we've searched the web for the best pre-builds for around $400. 
In the Q1 of 2019, the shortage of GPU greatly affected custom built prices, so we added these sections to our builds. This was what triggered the why you should buy a prebuilt PC now trend. While this advice was mostly only relevant for a short window in time, there are still great prebuilt gaming desktops in the $400 range:
It's no doubt that this custom $400 build is already plenty powerful but here are a few upgrades you can opt for if you want an extra edge down the line.

NOTE: These will raise the price of the build!
gpu
The RX 570 is both a massive step up in price and more importantly performance. It currently boasts a considerable step up from the onboard graphics that the $400 build currently houses. With this powerhouse, you'll be exceeding the PS4 Pro by a pretty good margin, and will also start knocking on the door to VR capabilities! You won't have a problem playing games at 1080p/60fps with this card either However, it's not all good news since buying this GPU will add a decent $150 to the cost of the build. But after that, you can relax for the next year or so without upgrades.
OS Options and Recommended Peripherals
Like other build guides you can find online, we don't include the price of the OS and peripherals in the build. This is for a lot of reasons, but typically users will have at least some of these things before jumping in.

In case you're missing some or all of these things, we've provided a list of easy recommendations below.
You may now know the components you'll need to create our $400 gaming PC build, but that doesn't mean you know how to build a cheap gaming PC, or any other price range for that matter. Most people have questions about PC building, especially if they are new to building a PC. And of course, there are a lot of easy mistakes you should be aware of so that you know what to avoid.
Invest In Antistatic Equipment
Computer parts are delicate. Most intuitively understand this, hence why they're scared of "messing up". But one major step you can take to avoid "messing up" is using an anti-static wristband. These help dissipate static discharge, which would otherwise ruin your components before you've even put them together.
But they only work if you know how to use the anti-static wristband properly.
To save some extra stress and make your workplace computer-friendly, you can also buy an anti-static mat, which you rest your parts on while working.
By using Tek Syndicate's in-depth build video and the instruction manuals that come with your components, you should be well on your way to assembling your new budget PC.
Building will always take longer for a first timer; however, with the right guidance (and mastery over standoff screws!), it should go pretty smoothly.
If you need further instructions, our detailed step-by-step How to Build a PC guide should help you out. We cover everything from deciding your budget to long-term computer maintenance.
Don't shell out extra for an optical drive you're only going to use once. Instead, grab a 4GB USB stick and install your OS like a real enthusiast!
To do this on Windows, simply plug it into your PC and install Windows 10 Media Creation Tool. The program will walk you through the rest of the (easy) process, and, in no time, you'll have a portable Windows installer!
For Linux distributions, use UNetbootin or Rufus instead. Same instructions apply.
The best $400 gaming PC is complete! You have a budget gaming PC that can butt heads with the PS4 Pro while still enjoying all the benefits the PC platform has to offer. This includes lower game prices and endless upgradeability.
How did you find the build? Are you unsure of something? Do you want to sacrifice a little to suit your budget? Tell us down the comments!