So, you want to dive into PC gaming?
$600 can sound too little for a starting budget, but, trust me, this price range can get you best gaming PC builder under $600 that is well over the abilities of a PS4 Pro. It can even let you buy a PC that can run the majority of games on maximum settings at 1080p.
If you have your own HTC Vive or Oculus Rift, you can play some VR titles, too.
In case you are still not buying the idea, here are some of the best components you can buy for the price of 600 dollars.
To get the most out of your money, you have to ensure the following:
Performance. What's the point of joining the glorious PC Gaming Master Race if you're still getting console-quality performance? If you are going to build a PC, it needs to outperform the PS4 Pro as it boasts one of the best GPUs and CPUs any current console manufacturer is offering.
Decent cooling. As a rule of thumb, you shouldn't buy a case that doesn't come with intake and outtake fans. These fans can give you a smoother airflow and thermal performance in your rig.
Storage. Don't settle for anything less than 2TB. Value-scaling of HDDs pretty much means that if you aren't buying at least a 2TB drive, you're hardcore screwing yourself out of money and storage space.
Reliability. There's no point in you investing in a PC hardware if it isn't reliable and safe. If you are going to invest in something, make sure that it has the most favorable reviews and backed by good manufacturers that will replace the hardware in case there are any issues.
How We Choose the Parts and Components
We know everyone doesn't have the luxury of time to do all the research, comparison, evaluation, and everything involved in choosing the right parts and components for a gaming computer or desktop. Not to mention the chances of messing with compatibility.
This is where we come in.
Being in the industry of building computers for almost 10 years now, matching the right hardware components, finding the right prices, and picking the best deals for whatever budget you have is what we specialize in.
We keep ourselves up-to-date with the latest hardware release and innovation by not just relying on what you find on the internet but we check what fellow professionals have to say about the product.
Linus Tech Tips, NCIX Tech Tips, as well as Tech Deals, are just a few. Like us, they are keen when it comes to product quality, price, and provide the best recommendations.
Expect to see changes every month as we opt to do updates on a regular basis to keep you posted with the best deals.
The Best $600 Gaming PC
Update:
cpu
AMD Ryzen 3 1200
A humble, but powerful budget CPU that thrashes its competition and is perfect for a budget gaming build.
psu
EVGA 500 W1, 80+ WHITE 500W
EVGA's budget power supply provides a great beating heart for this budget build.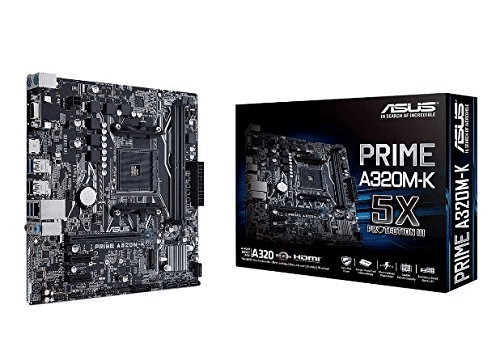 mobo
ASUS PRIME A320M-K AM4 Motherboard
A budget AM4 motherboard offering access to all the Ryzen goodness you could need.
Estimated $608.14 at Amazon
(Price are accurate as of August 29, 2018. Click the button to see the latest prices)
Order This Build on Amazon
To break things down a bit better for you, we're going to present each component you'll need to build the best gaming desktop under $600. We're not even joking here- so be sure to take note of everything.
Why is This The Best Custom PC for the Price of $600?
No Compromise
We didn't cheap out on anything in this build. For a gaming computer with a 600 dollars price tag, you can play AAA games no sweat and even play with your HTC Vive or Oculus Rift if you have one. After all, this is VR-ready.
Play PUBG, The Witcher 3, Battlefield 1, Fortnite, GTA V, Rocket League, League of Legends, DOTA 2, and many more AAA games at 1080p with 60+ FPS.
Future Proofing
Not only that this already is a powerful rig at the start but you also have a solid upgrade path that will give you the best value for your money.
Check the upgrade paths for this build below to give you a better idea on which parts you should get first and which comes later.
Similar Prebuilt Gaming PC Under $600
Most gamers want to piece together their own gaming computer or desktop since it's cheaper. However, not everyone is into the concept of building their own gaming computers. Some do, some don't.
In fact, last year and up to this year's first quarter, GPU prices have skyrocketed that the topic regarding buying a prebuilt gaming PC instead of building a gaming PC has become a trend
Nevertheless, we decided to come up with a list of prebuilt gaming PC under $600 specifically tailored for people who aren't down with DIYs and custom building.
Since this is PC gaming, we figured out you'll want more. If you are fine with spending a little more money, below are some of the best upgrade options you can get- for under $600.
ssd
If you're going to buy a Solid state drive, we highly recommend buying it before your HDD and installing your OS or favorite programs. This is because SSDs offer huge performance increase for desktop usage and boot-time, alongside much faster loading times in games.
cpu
If you want to remove any potential CPU bottlenecks from your gaming performance, stepping up to a Ryzen 3 1300X may be smart. This will also help your build get just a bit better at streaming and rendering than it would be otherwise.
OS Options and Recommended Peripherals
Building your PC doesn't end there. If you want to really make the build more worthwhile in terms of money and performance, you should consider getting the following peripheral picks.

Note: Everything in this section will raise the price of the build, though!
If this is your first time building a PC, make sure you supplement yourself with the right information to safely build the pieces together.
We have compiled a list of mistakes that newbie PC Builder should avoid and questions when building a PC to iron out all of your questions about building a PC and to keep you from doing the mistakes most newbies do when building a PC.
Invest In Antistatic Equipment
First and foremost, make sure you don't short out any of your components with electric discharge. Investing in an antistatic mat or antistatic wristband will go a long way toward preventing an issue like this.
If, for some reason, you can't acquire these, a suitable alternative is ensuring that you're grounded by regularly touching grounded metal objects. If you want to save an extra headache and worries, though, buy the wristband. It's worth the peace of mind.
If you are unsure how to use the antistatic wristband, refer to our guide here.
Watch Building Guides
If you are unsure about what to do, it's a good idea to take a look at some building guides for visual assistance first. We recommend Tek Syndicate's.
You'll also want to look at the manuals for your components during the build process, just to make sure nothing's different. PC building can be a scary, daunting task, especially if you've never done it before. However, standoff screws aside, it's honestly a pretty easy, painless experience.
Your first build session will probably take around an hour due to inexperience. Once you get the hang of it, you'll see that time start dropping fairly quickly.
Our how to build a PC guide in this link is a good resource that will help you with this. You will find all the steps every first-time builder need. This guide includes steps from planning out your budget, installing the drivers, to tips on how to safely maintain your computer through the years of usage.
Install OS Via USB
Investing in an optical drive in 2017 is honestly pretty hilarious. Unless you're shelling extra for a Blu-Ray player, chances are you aren't going to use your PC's optical drive after you've finished building the machine and installing the OS for the first time.
Any necessary drivers for a program or device can typically and conveniently be found online. (Take it from me- I made the same mistake when I built my rig!) So, instead of dropping an extra $20 on the drive and another extra $20 on actually having a disc delivered to you, just install your OS via USB.
All versions of Windows and Linux can be installed off a USB drive. And while you will need a separate PC to turn your USB drive into an installer, it's still much smarter than paying extra for physical media.
If you're buying Windows, we recommend buying Windows 10.
You
can install it in two ways: a USB drive or use the DVD. Either method is viable, but know that installing over physical media will cost extra since you'll need to invest in an optical disk drive. DVD installation of Windows is fairly straightforward, but doing it over USB does require a little extra tinkering know-how.
You'll need another Windows PC, an ISO file for the version of your OS and a 4GB+ flash drive. To turn your flash drive into Windows installation media, download the Windows 10 Media Creation Tool.
All you need to do is run that program with your desired USB stick plugged into your computer and follow the built-in guide to creating a Windows USB stick.
Buying the best 600 dollar gaming PC isn't that hard. You just have to know exactly what you should be looking for.
And that's exactly why we're here.
Once you've finished this article and made your orders, you're well on your way to enjoying the latest, greatest games at beautiful settings. Once the parts arrived and you've assembled them, you're officially initiated into the wider community of PC gamers.
If you're new here, welcome to PC gaming!
Are you still unsure whether or not you should buy a custom or a prebuilt? Let us know in the comments below if you need any help!