Best Gaming PC Build Under $600 in 2021 (RIP CONSOLE)
Built & Tested By Our Team
The Team That Worked On This Build
The WePC team are dedicated to researching, testing, and pushing products to their limits to recommend the top picks for our readers. We keep all our reviews impartial, and only make money money if you purchase a product through our links – so we only recommend the best of the best. Read more
Our $600 AMD Customer Gaming PC
WePC is reader-supported. When you buy through links on our site, we may earn an affiliate commission. Learn more
In the following guide, we will be recommending what we believe is the best gaming PC for under $600 and exactly what is needed to take it from a bunch of hardware components to a fully operating gaming rig. We update our builds regularly when new and improved hardware options become available to ensure the absolute best products are being recommended. Before we look at the hardware though, let's quickly go over what you can expect from this PC in regards to performance and features. Furthermore, let's take a brief look at what separates our build and what compromises had to be made to ensure we got the highest performance out of the system.
Like all our builds, the first, and potentially most important criteria is to recommend a PC part list that sticks within the allotted budget. For this build, that was $600. Even though that sounds pretty generous, we always try and maximize the performance ability of each build by equipping them with the best hardware available. Sometimes that means compromises need to be made along the way. For us, that became a feature of this build when we decided to introduce the RX 590 GPU. The graphics card swallows a large portion of the budget meaning we had to reduce the budget in other areas such as the case and PSU. Luckily, these areas don't have a huge impact on gaming performance so we still had a very powerful build.
For many, this is the most important aspect of a custom build. Once you've considered the price of a PC, the next thing you consider is how powerful that build is and whether or not it's worth the money.
For those wondering what we mean by power, we're referencing the PC's performance power.
Performance power can come in many forms but for the most part, we're talking about in-game performance or the PC's ability to handle heavy workload tasks. This build has a superb ability to handle workload tasks. Our build has been equipped with a rapid SSD storage solution so you won't be waiting around for your PC to boot or games to load. Overall, we're extremely happy with the performance of our $600 custom PC.
You might be wondering why we've recommended an AMD build? The Intel build is slightly more expensive, and that's because Intel products have a slightly higher market price at the time of writing this. From a performance standpoint, an Intel build at this budget would perform marginally better in gaming, however, for a complete PC system for both gaming and multi-purpose at this price point, AMD comes out on top.
One thing worth mentioning whilst we're talking about AMD Vs Intel is upgradability. Right now, AMD is a much more forgiving brand if you want to upgrade your PC down the road. AMD has kept the same chipset for 3 generations now meaning their CPUs are backward compatible with older-gen motherboards. The same can not be said for Intel. Just keep that in mind when you're looking at building a PC, apart from that, they're both fantastic options for most gaming scenarios.
Our team has years of experience behind them building PCs for a range of needs and budgets. All this knowledge combined with hours of research, user feedback, and onsite benchmarking is what goes into choosing the best components for our builds.
We look for value for money, how the components perform together and focus on gamer's needs to make sure our builds are the best your budget can buy.
We build all these PC's ourselves, in house, so trust us when we say we want to make them as good as possible. We actually use all these builds ourselves day-to-day in the WePC offices.
We build each of our selected PC's from scratch to make sure all the parts we recommend work well together, fit into the selected case, and provide the best performance possible for the price range.
Once built, the PC's are used in the office for everyday work as well as a range of games from light to heavy-duty. While we test, we also run benchmarking tests to see how well our builds perform, all while keeping an eye on the temperature of the components themselves.
We know how much some of our readers enjoy overclocking their PC's, so we made sure to test that out too. So, you can feel safe knowing that these machines can be pushed beyond their basic capabilities. But, please make sure you know how to overclock before trying to over-task your builds.
NOTE: Due to the ongoing effects of the global coronavirus pandemic, some retailers are experiencing stock issues. WePC constantly updates our pages to reflect current availability, so if the PC or part you want shows as out of stock, check back later or check out these alternatives.
Our Recommended Custom Build Details
Below is a more comprehensive look at some of the components we've chosen for the best custom build PC under $600 and why.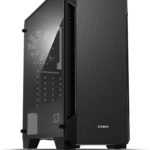 Our $600 AMD Customer Gaming PC
If you're looking for a 1080p gaming machine that showcases decent aesthetics, great cooling, and comes to shelves at a very affordable price point – then look no further. This build offers AMD's Ryzen 5 3600 alongside a very efficient RX 580. The pairing is great for less-intensive titles such as CS:GO, Rainbow Six Siege, Fortnite, and more.
The AMD Ryzen 5 3600 is the champion of the budget AMD CPUs and makes putting a cheap PC together a lot easier. Thanks to the arrival of AMD's impressive Ryzen 5000 range, the highly regarded Ryzen 5 3600 has dropped even further in price. Even though the 5600 offers a 20% increase in performance power, we weren't able to fit it into this tight budget. The 3600 still offers 6 cores/12 threads and comes with a base clock speed of 3.6GHz and a boost clock speed of 4.2GHz. This should be more than enough to handle most games at 1080p and will churn through med-high demanding workloads. You won't be running into bottleneck issues anytime soon either, the processor pairs perfectly with both the RAM and the GPU for a powerful all-round gaming machine.
Not only is this a solid motherboard for the price but it also supports 1st/2nd/3rd Gen AMD CPUs (without a BIOS update) meaning there will be no issue upgrading your build further down the road. It also accommodates up to 3200MHz memory as well, meaning you should be able to find the sweet spot for Ryzen/memory partnership. The motherboard doesn't really impact gaming performance too drastically but it is important to have a reliable and stable board that can support your components. That is exactly what this board offers. It might not be the best motherboard available, but for the price, you'll do well to find anything more suited.
Corsair Vengeance DDR4 RAM 16GB RAM is a staple across our builds and for good reason. It not only offers very high-performing memory but also comes at a price point that is both affordable and competitive. We've opted for 16GB of DDR4 3200MHz RAM in our $600 to make sure it has enough power to play the most demanding AAA game titles.
The XFX Radeon RX 580 will be more than enough for 1080p gaming. Performance-wise it destroys both the GTX 1060 3GB and GTX 1060 6GB. In this price range, the RX 580 pretty much dominates the competition, and the value of this card shows it. Our Best Graphics Cards article is a perfect place to start, however, if you're looking for even more graphical power.
A Solid-state drive is an essential hardware component and we highly recommend installing your OS onto it (alternatively, you could use your SSD as a cache). This is because SSD's offer huge performance increases for desktop usage and boot-times, alongside much faster loading times in games. This SSD has a 512GB capacity giving you ample room for your media files and games.
The Zalman S2 Mid ATX Tower Case has been custom designed to keep your system cool straight out-of-the-box and is one of the best cases we recommend for this budget, thanks to its great build quality and price point. The case features an aesthetically pleasing design and has adequate airflow to keep even higher-end builds relatively cool, with an included 120mm fan pre-installed. It also gives you enough space for custom cooling and extra hardware if you choose to upgrade down the line.
At this price point, compromises need to be made to ensure the performance of the build meets our requirements. In the $600 build, we managed to squeeze a 500W non-modular PSU into the budget. Cable management should be more than achievable thanks to the case used in this build. Here's a comprehensive list of our best gaming power supplies.
By now you should have a pretty good idea of which build best suits your gaming needs, furthermore, you might be starting to consider areas of the build that might impact your gaming experience when you start using it. For that reason, we've decided to put together this short list of key areas we feel need to be considered before tackling a custom PC build. By considering these areas you'll ensure the build is perfect for your needs.
So, let's waste no further time and look at the key areas of this build.
We've already touched upon budget near the start of the article, but something we didn't discuss was the correlation between a PC's budget and the performance it can provide. Almost every build has a different level of performance ability, therefore, choosing the right PC for your needs should start with its price. We had a budget of $600 and we believe we've extracted the maximum amount of performance available at this price point. Our build has the ability to provide an immersive gaming experience at 1080p over the most popular AAA game titles. That's over 60FPS in most scenarios. However, if you're looking for a PC to smash 4k games, VR, and multi-tasking extremely heavy workloads all at the same time, you might want to consider one of our premium builds.
Upgradability & Future-Proofing
One of the most important areas to consider before purchasing a custom build is upgradability and future-proofing. You don't want to find yourself in a situation where upgrading your build is extremely difficult. Luckily, we've already thought ahead for you. The components we've equipped on our build is open to more storage, faster RAM, larger GPUs, and even better CPUs. That being said, this build should last you a good few years before you need to start looking at any upgrades.
Overclocking, who doesn't love getting extra performance power out of their build at no extra cost? It's a great thing overclocking, but for those that aren't fully up-to-speed, be aware that the wrong hardware could end in catastrophic consequences. If you are looking to overclock your build you need to be aware of a few key areas. One is cooling. Both our build comes with a stock cooler which should allow for a small amount of overclocking. If you're looking to push your CPU then I would highly recommend a much more powerful cooling solution.
A first-time builder should always consider how easy a custom build is to assemble. Some projects can be much more strenuous than others. Our build makes use of the Aerocool Cylon PC case which is very forgiving for rookie builders. It comes with a PSU shroud which automatically makes life a bit easier, and cable management is fairly straightforward as well. A lot of people don't really consider static charges an issue, but for those that do, we've put together this handy anti-static equipment article to show you exactly how to use it. It's also worth mentioning that each build comes with its own stock cooler which already includes thermal paste. However, if you're looking for a premium thermal paste then we've got you covered here.
So, we've already established that our build can handle gaming very well. But, how does it operate in other areas such as multi-tasking and heavy workload scenarios? The answer is pretty good. The AMD chip is much more suited to multi-tasking and workload tasks. This is thanks to the multi-threaded nature of the chip. It's certainly an area that should be considered pre-purchase because a lot of budget level builds won't handle heavy workloads too well.
Finally, we come to aesthetics. This is usually the area that gets the least attention when building a budget-level build, and that's because aesthetically pleasing hardware usually comes with a pretty steep price increase attached to them. That being said, we still managed to equip this build with a pretty attractive case with tempered glass. If you want to increase the aesthetic appeal of your build we think RGB fans and lighting strips can really pimp a PC's look.
Calculating The PSU Wattage
Making sure your PSU provides the correct amount of wattage to your custom build PC is an essential part of the build process. For that reason, we've created a handy PSU calculator which will work out exactly what PSU wattage your components require – no matter how many changes you make.
What Games Can This PC Run?
Prebuilt Gaming PC Under $600
Most gamers usually opt to build their own computer since it's much more cost-effective, often with savings in the hundreds! That being said, not everyone is able to build their own machine. For those that don't have the time or the confidence to tackle this custom build project, we've come up with a list of the best-prebuilt gaming PCs around $600.
Note: Let us show you the top 12 PC builder companies currently on the market, check out our guide right here.
This post recommends the best gaming PC you can build for around $600 in 2021. If you're looking to buy a pre-built gaming pc, we recommend the HP Pavilion Gaming Desktop. It's difficult around this price range to get a similar specification system already built so we have recommended one as close to the spec of our build guide.
Upgrade Path for Custom Build
By now you should have a pretty good idea of whether or not this build is right for you and your needs. However, if you aren't quite impressed by the performance power of this build, we've decided to create these upgrade paths which should improve performance exponentially.
All upgrades have been considered based on the performance and budget of the custom build. Let's waste no further time and dive into the upgrades.
NOTE: These will raise the price of the build!
The Ryzen 7 3700X isn't just a step up in performance, it's an increase across the board. With 2 extra cores and 4 extra threads, this CPU can handle almost anything thrown at it and is a significant upgrade for this stellar build. This CPU also features an RGB stock cooler that should do a decent enough job of keeping the CPU at a stable temperature. If you're looking for a serious performance boost then skip the Ryzen 5 3600x and go straight for the 3700X instead.
This GPU is a seriously smart investment. One of the latest cards from AMD Radeon, the 5700 XT has the fantastic performance you need at an incredible price. With this GPU upgrade, you will be able to squeeze a further 100-150% extra FPS out of your favorite game titles and keep fragging for the years to come. It also opens up the entire VR gaming spectrum as well.
Seagate makes solid drives that are built to last, and that is exactly what you get from this 1 TB drive. It'll give you plenty of storage for your OS, favorite games, media and, programs. If possible we recommend upgrading to a larger SSD to squeeze more out of your build but this extra bit of HDD for your media files should supplement the Samsung SSD in this build nicely.  MORE: Best Gaming Hard Drives
Operating System & Peripherals
Building your PC doesn't end there. If you want to really make the build more worthwhile in terms of money and performance, you should consider getting the following peripheral picks.
NOTE: These will raise the price of the build!
When it comes to operating systems, there's only one contender for me, and that's Windows. Well, Windows 10 specifically. This product might add a bit to the overall price, but it allows you to use your new gaming rig to its maximum potential. There are other solutions out there, however, there is no alternative when it comes to a gaming rig. Need Windows 10 in DVD format? Don't worry, we have you covered.
Buying a Windows 10 OS adds a good $80 to the cost of a rig, but it's widely supported by all PC gaming titles. It's probably what you're most familiar with, too. Here is Windows 10 in DVD format for those still using DVD ROM's.
Investing in an optical drive in 2017 is honestly not worth it. (Take it from me– I made the same mistake when I built my rig!) Unless you're shelling extra for a Blu-Ray player, chances are you aren't going to use your PC's optical drive after you've finished building the machine and installing the OS for the first time.
This is why we recommend downloading your OS via USB. Any necessary drivers for a program or device can typically and conveniently be found online. So, instead of dropping an extra $20 on the drive and another extra $20 on actually having a disc delivered to you, just install your OS via USB.
All versions of Windows and Linux can be installed with a USB drive. And while you will need a separate PC to turn your USB drive into an installer, it's still much smarter than paying extra for physical media.
If you're buying Windows, we recommend buying Windows 10. Then, with the help of a 4+ GB USB drive and the Windows 10 Media Creation Tool you will be set.
If you were considering using Linux, then you can find reliable distributions at: UNetbootin or Rufus. Just keep in mind that Linux does not support most games and other common software.
Invest In Antistatic Equipment
Perhaps most importantly, make sure you don't short out any of your components with electric discharge. Investing in an anti-static mat or anti-static wristband will go a long way toward preventing this. And if you don't know how to use the wristband, then don't worry: we made a guide detailing how to properly use an anti-static wristband!
If, for some reason, you can't acquire these, a suitable alternative is ensuring that you're grounded by regularly touching grounded metal objects, but it can be easy to forget and potentially, even if only rarely, costly if you do.
Watch Our PC Building Guide Video
PC building can be an initially daunting task, especially if you've never done it before. However, standoff screws aside, it's honestly a pretty easy, painless experience.
If you are unsure about what to do, it's a good idea to take a look at some building guides for visual assistance first. Check out our very own PC building guide above.
You'll also want to look at the manuals for your components during the build process to ensure you are doing everything to specification. Your first build session can potentially take a few hours largely due to inexperience. However, once you get the hang of it, you'll see that time starts dropping fairly quickly.
Our how to build a PC guide is also a quality resource. Whether you're a first-time builder or a veteran, the easy-to-use steps help you visualize and keep track of what you're doing. This guide includes everything from planning out your budget to installing the drivers and even has some tips on how to safely maintain your computer through years of usage.
Never built a PC before? Let us guide you through everything you need to build your first PC, even if you're a complete beginner!