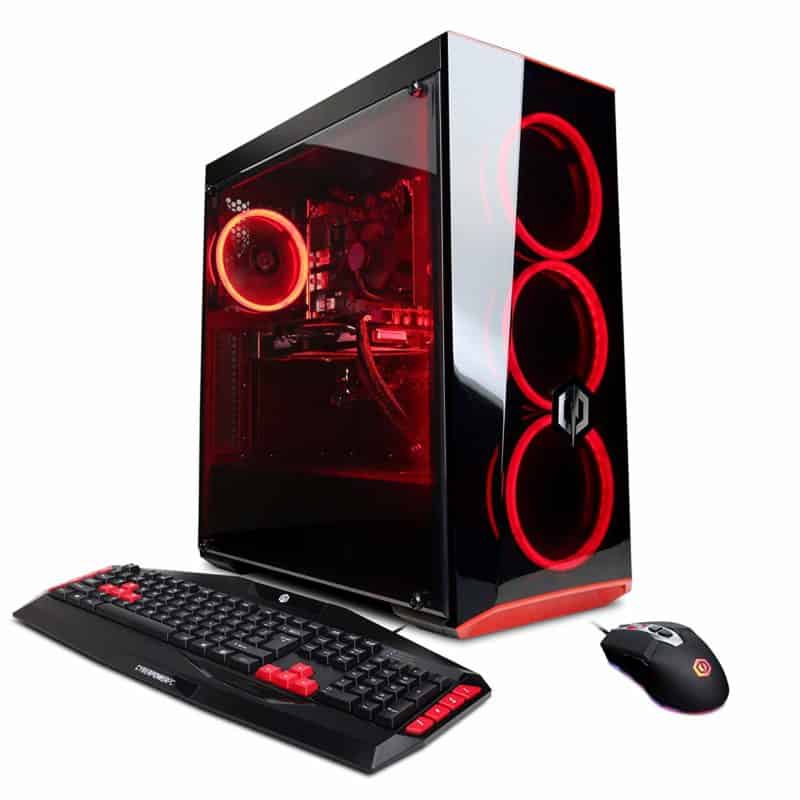 This post recommends the best gaming PC you can build for around $600 in 2019. If you're looking to buy a pre-made one, we recommend the CYBERPOWERPC Gamer Xtreme VR Gaming PC. It's difficult around this price range to get a similar specification system already built so we have recommended one as close to the spec of our build guide.
In this guide, we will learn how to make the best budget build money can buy.
At the $600 mark building starts to become a little more joyful and you can reap more power from your build. This build can last a few years and is a great place to start your PC career. With this system running games at 1080p won't be a problem and pushing 1440p in some titles is possible. VR shouldn't be an issue either with lower spec cards being capable.
To make sure you are getting the most out of your money, we ensured this build kept certain things in mind:
Performance. What's the point of building a machine if you're still getting mediocre performance? With the RX 580 in this build, you have enough to play some demanding titles in high settings and generous resolutions.
Decent cooling. As a rule of thumb, you shouldn't buy a case that doesn't come with intake and outtake fans. These fans can give you a smoother airflow and thermal performance in your rig. The Cooler Master case we've included in this build already features dual intake fans and an exhaust fan, so it's perfect for airflow without you needing to buy any extra fans.
Storage. Don't settle for anything less than 1TB. This should be more than enough to kick start your PC gaming and more.
How We Choose the PC Components
Here at Wepc, we work relentlessly to find the best possible products to recommend. We monitor stock levels of the products we suggest and keep an eye out for better value to bring you better deals.
We are all about games and are genuine computer enthusiasts so we know what's important when it comes to a gamers new rig!
We strive to do thorough research using various platforms such as Reddit and tech websites to supplement our own knowledge and bring you up-to-date advice.
We are here to support you to the best of our ability and try to take much of the stress away from building as possible.
The Best $600 Gaming PC
Update:
cpu
AMD Ryzen 5 2600 Processor
The AMD Ryzen 5 2600 Processor comes with the Wraith Stealth cooler and offers 6 cores at an unprecedented price. That's great value for the performance this can deliver and It also avoids bottlenecking the midrange GPU in this build.
ram
Patriot Viper Elite Series DDR4 8GB
With a full 8GB of RAM, multitasking and gaming shouldn't be any problem.
hdd
Western Digital WD Blue 1TB PC Hard Drive - 7200 RPM
1TB of reliable storage from Western Digital.
psu
Corsair CX Series 450 Watt 80 Plus Bronze - PSU
A semi-modular PSU with bronze certification and the quality that comes with Corsair products.
mobo
MSI Performance B450M Gaming Micro-ATX Motherboard
A solid motherboard that shouldn't give you any issues.
case
Thermaltake Versa H15 Micro ATX mini tower
A satisfactory budget case to house your brand new components.
Order This Build on Amazon
Why is This The Best Custom PC for the Price of $600?
You're not going to get better value out of a $600 gaming PC build than you are here.
We looked at our competitors and noticed overpriced suggestions, inferior components, and money being spent in the wrong areas. We like to suggest builds that will bring you the most joy, so we made absolutely sure that we were on top of our game and produced the best budget PC build possible.
The RX 580 is going to allow you to enjoy 1080p gaming at 60 FPS on max settings while 1440p, 1080p at144hz, and VR will all start becoming accessible from the power of this machine.
We couldn't be happier with the performance on display here, and we think you'll feel the same way with this excellent value build option.

What games can this PC run?
In this section, we're going to tell you how this game should be able to run your favorite games.
Fortnite

- 1080p will be a breeze with this setup, thanks to the included RX 580 GPU. However, 1440p may not be as easy to get running, and may require more significant compromises in settings to achieve 60 FPS.

PlayerUnknown's Battlegrounds - PUBG

should be playable at 1080p high or max settings, but 1440p isn't going to happen above medium settings. The CPU may actually end up being a slight bottleneck as well.

Monster Hunter: World -  MHW

should be easily playable at 1080p and high settings with this PC build, but 1440p will require some compromises to settings.

League of Legends - League

is lightweight and dependable as always, so pushing 1080p @ 144hz shouldn't be an issue here. 1440p should be playable, too.

Dota 2

- See above.

Overwatch

- 1440p60 at high settings should be achievable, but may require a few settings to be turned down. 1080p at max should push over 100 FPS, even more if you turn down some settings.

Rainbow Six: Siege - Siege

should be playable at 1440p, but due to the weaker CPU in this build you may need to turn down the settings to medium to maintain 60 FPS. 1080p won't be a problem, though.

Warframe - Warframe

runs excellently at both 1080p and 1440p, and shouldn't require any major compromises at either resolution.

Grand Theft Auto V - GTA V

should allow you to push it to 1440p and 60FPS at medium settings, but if you want prettier graphics you may want to run it down to 1080p.

Team Fortress 2 - TF2

is CPU-centric, so don't expect the i3 to push super-high frames in this title without a performance config. However, your general performance should be just fine, even at 1440p.
Similar Prebuilt Gaming PC Under $600
Most gamers want to build their own computer since it's much more cost effective often with savings in the hundreds! That being said not everyone is able to build their own machine. For those that don't have the time or maybe not quite confident enough to start building we've come up with a list of the best-prebuilt gaming PCs around $600.
Note: Let us show you the top 12 PC builder companies currently on the market, check out our guide right here.
Upgrade Path for this Build
Since this is PC gaming, we figured out you'll want more. If you are fine with spending a little more money, below are some of the best upgrade options you can get- for under $600.
NOTE: These will raise the price of the build!
OS Options and Recommended Peripherals
Building your PC doesn't end there. If you want to really make the build more worthwhile in terms of money and performance, you should consider getting the following peripheral picks.
NOTE: These will raise the price of the build!
Invest In Antistatic Equipment
Perhaps most importantly, make sure you don't short out any of your components with electric discharge. Investing in an anti-static mat or anti-static wristband will go a long way toward preventing this. And if you don't know how to use the wristband, then don't worry: we made a guide detailing how to properly use an anti-static wristband!
If, for some reason, you can't acquire these, a suitable alternative is ensuring that you're grounded by regularly touching grounded metal objects, but it can be easy to forget and potentially, even if only rarely, costly if you do.
PC building can be an initially daunting task, especially if you've never done it before. However, standoff screws aside, it's honestly a pretty easy, painless experience.
If you are unsure about what to do, it's a good idea to take a look at some building guides for visual assistance first. In particular, we recommend Tek Syndicate's since it is direct and provides good visual examples.
You'll also want to look at the manuals for your components during the build process to ensure you are doing everything to specification. Your first build session can potentially take a few hours largely due to inexperience. However, once you get the hang of it, you'll see that time start dropping fairly quickly.
Our how to build a PC guide is also a quality resource. Whether you're a first time builder or a veteran, the easy to use steps help you visualize and keep track of what you're doing. This guide includes everything from planning out your budget to installing the drivers and even has some tips on how to safely maintain your computer through years of usage.
Investing in an optical drive in 2017 is honestly not worth it. (Take it from me-- I made the same mistake when I built my rig!) Unless you're shelling extra for a Blu-Ray player, chances are you aren't going to use your PC's optical drive after you've finished building the machine and installing the OS for the first time.
This is why we recommend downloading your OS via USB. Any necessary drivers for a program or device can typically and conveniently be found online. So, instead of dropping an extra $20 on the drive and another extra $20 on actually having a disc delivered to you, just install your OS via USB.
All versions of Windows and Linux can be installed with a USB drive. And while you will need a separate PC to turn your USB drive into an installer, it's still much smarter than paying extra for physical media.
If you're buying Windows, we recommend buying Windows 10. Then, with the help of a 4+ GB USB drive and the Windows 10 Media Creation Tool you will be set.
If you were considering using Linux, then you can find reliable distributions at: UNetbootin or Rufus. Just keep in mind that Linux does not support most games and other common software.
Buying the best $600 gaming PC starts here. If you are looking for a decent start in PC gaming then this build is certainly worth looking into.
Once you have ordered this build you're well on your way to enjoying the latest games with a decent frame rate. 
Are you still unsure whether or not you should buy a custom or prebuilt computer? Well, let us know in the comments below if you need any assistance or would like to leave feedback!