PC gaming is one of those things that you can buy into cheap, but don't really reap the benefits fully until you step up your rig. Our build of the best gaming PC build under $800 strikes the "sweet spot" between price and performance, coming in well above a console killer in performance, while still being sub-$1000.
Let's see what's under the hood then, shall we?
AAA games are no match with this build. In fact, shooter games like CS:GO can easily go over 200 FPS on this build.
PUBG, Fortnite, Rocket League, League of Legends, Overwatch - crank up the in-game settings to max/ultra/epic and you get a decent gameplay at over 60 FPS and even over 100, depending on the game.
So, what exactly should be looked for in a build around $800? The goal here is to give a full PC gaming experience with room to spare, all while keeping the budget fairly low.
Top Notch Performance. This machine must perform well above current consoles, even on the level of the PS4 Pro and Xbox Scorpio. It must have support for 4K and VR, and be able to run modern games at high settings with a stellar frame rate.
Lookin' Sharp. While the performance has to be there, the looks have to be there as well. For 800 dollars, it's not enough to just perform great. A solid case that allows all the pretty internals to be shown off is essential for an $800 PC build.
Upgradability. While $800 will last a long time with the right components, this machine is still under the threshold of "future proof". While systems will always need to be upgraded, this system has been set up to allow small upgrades to be thrown in at any time. The 8th gen Coffee Lake, a single stick of memory, and more are organized to make sure this system can continue to perform as well as the day it was built for years to come.
How We Choose the Parts and Components
Having spent almost 10 years in the industry of building computers and playing video games, we know just what matters and what you need. In fact, what we really want to give you is nothing but the best value for your money.
This means we are always on the lookout for new hardware components in the market to keep you from being left out in the dark. Moreover, we also check what other professionals in the industry of computers such as Linus Tech Tips, NCIX Tech Tips, JayzTwoCents, and Tech Deals, have in mind about upcoming products and components to further our understanding on which area it will be best suited for.
So expect to see changes in our builds since we do updates at least once a month to provide you with fresh components at the cheapest prices.
The Best $800 Gaming PC
Update:
cpu
Intel Core i5-8400
One of the best CPU you could get as long as raw and pure performance is concerned.
gpu
ASUS GeForce GTX 1060 6GB
The GeForce GTX 1060 6GB version has significantly better performance than the 3GB version, and will offer great gaming and VR performance.
ram
Ballistix Elite 8GB Single DDR4 2666
Crucial's 8GB DDR4-2666 RAM kit will offer you all the speed and capacity you need for gaming and multitasking alike.
ssd
ADATA SU800 128 GB SSD
ADATA's super-fast 128 GB SSD is a great option for starter storage, especially for your OS.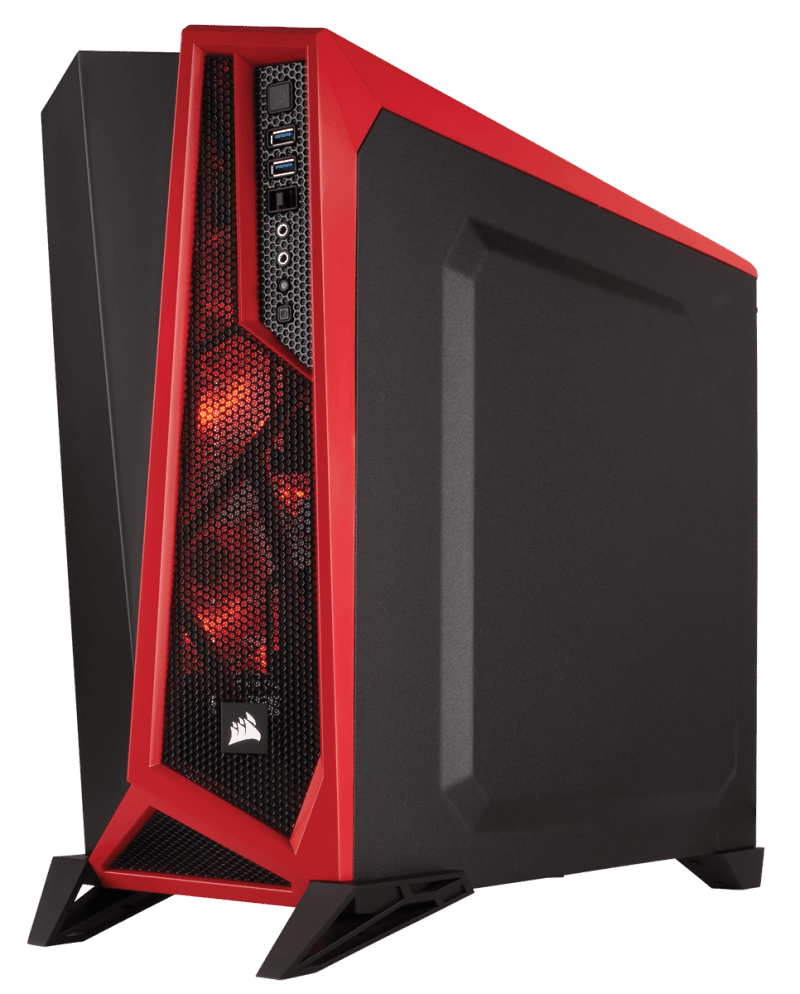 case
Corsair Carbide Series SPEC-ALPHA
A sleek red-and-black case from Corsair with excellent airflow and build quality.
Estimated $811.55 at Amazon
(Price are accurate as of August 29, 2018. Click the button to see the latest prices)
Order This Build on Amazon
Onto everything that's going to be stuffed inside to make this beast of a system.
Why is this the Best $800 Gaming PC?
The best $700 build we came up with boasts a Ryzen 3 1300x. This one is different.
Here's the breakdown:
This runs a Coffee Lake 6 core/6 threads CPU compared to Ryzen 3 1300x's 4 core/4 threads on our $700 build. This means you have more power to push far more FPS when gaming.
The GPU is a 6GB edition of GeForce GTX 1060. This offers more power as a whole and in fact, offers 13% more FPS count when gaming compared to its 3GB GeForce GTX 1060 cousin.
On top of that, you have far more options to upgrade in the future. Future proofing is the main benefit you get with this build aside from pure power and performance.
This is among the new generation CPU Intel had offered so expect to see and hear more about this in the next couple of years.
Similar Prebuilt Gaming PC Under $800
We may have come up with the best 800 dollar gaming PC but sad to say, not everyone has the time and luxury - or even up for the challenge of building their own budget gaming PC.
The increase in GPU price may have affected enthusiasts and builders over the past months but fortunately, we have a list of prebuilt gaming PCs that's basically on par with the 800 dollar gaming PC we have in this article.
Learn more about the GPU price increase and why builders preferred to buy a prebuilt instead over the past months in this link.
You can check it out our 5 best prebuilt gaming desktop under $800
To summarize the 5 prebuilt gaming PC under $800, here they are:
While this machine is very solid for the price this is plenty that can be changed to make it better from the get-go or in the future.
Note: Of course, these upgrades will increase the price.
OS Options and Recommended Peripherals
Most peripherals should be taken care of, especially if you're dropping $800 on a PC. Still, we wanted to give a few recommendations to accompany this system.
Operating System
For a gaming PC, the only real option for an operating system is Windows. While there has been some significant strides in recent years for Linux and Mac support for games, the options are nowhere near what is offered on Windows.
Previous licenses for Windows can be transferred to new machines, but you may need actually get ahold of Microsoft to complete the transfer process.
However, if you are still need to obtain a copy of Windows 10, you can do so from places like Newegg or directly from Microsoft. If you don't have moral issues with gray market products, you can always check out Kinguin.
Mouse and Keyboard
Your mouse and keyboard are vital aspects of your gaming setup. These are the tools you will go into battle with, and you haven't already got some, we have some suggestions for you.
For Starters: ($15)
For $15, the Logitech MK120 set is solid for the price. Yes it is a membrane keyboard, and yes the mouse feels like a feather in weight, but it works, and that's what matters for this price.
With that being said, this set will hold up for quite a while. While it's plastic and not suited for gaming, the kit still bears the Logitech logo, and that's a good thing.
For Advanced Users: (~$150)
For a little bit more on the mouse end, it's hard to go wrong with the Logitech G400S. This mouse is a total tank. I've taken mine all around the U.S. and it still works just as good as the day I bought it.
The 4000 DPI sensor allows on the fly adjustment ranging from 400-4000 DPI which is a huge plus.
Monitor
Once again, at the $800 point, most people have some kind of flat panel monitor that they could use. With that being said, the addition of the GTX 1070 opens up the possibility of 4K gaming, meaning you'll need a monitor of producing those resolutions.
Most 4K monitors are outrageously expensive, easily going past the price of the entire build. While not perfect, the Monoprice 4K 60Hz panel comes highly recommended at only $320. This 28-inch monitor will allow that buildful UHD resolution to come through and features a pretty decent 5ms response time.
On the more expensive end, options like the Asus X34 and HP Omen X35 are amazing displays. It's always nice to dream.
Having every component you need is a start. To actually build everything and piece them together is where the fun is at. Make sure you are doing it right by reading our guides below before you build your very first computer.
This specifically addresses problems that newbies have to give you a heads up and to keep you from doing the same mistakes they did.
Find a Quiet Spot
I cannot stress this point enough. Every time I go to a do a build, I always need to find a secluded space where no one will bother me for multiple hours. It's stressful enough building a computer and having someone breathing down your neck doesn't help.
You're going to want to find a spot that is quiet to keep distraction minimals. Make sure you're building a solid, non-conductive surface (so no carpet) and have everything you need at your disposal like screwdrivers, manuals, etc.
PC builds can last quite a few hours, especially if it's your first time, so make sure you have a block of time sectioned out to work on your build and cut out all other distractions.
Buy Some Zip Ties
Another very important and often overlooked aspect of build - zip ties. These little things are essential when building a PC. It may seem like it's not a big deal, but the moment you start trying to run your SATA cables over your 24-pin ATX power cable, you'll realize why they're so essential.
Most pieces of hardware will come with some extra goodies, and many times those goodies are branded cable ties of some sort. However, it would be wise to pick up a pack of zip ties for yourself on Amazon.
If you are unsure what build you should get, then follow our how to build a PC guide. Here, we have steps such as what do you want to do with your PC, as well as deciding on your budget, and manually ordering the right components.
That is everything to build the best $800 gaming PC! This machine comes out to be a powerhouse, being able to handle the most demanding games with ease and push most games into 4K. Even upgraded consoles like the PS4 Pro and Xbox Scorpio won't be able to hold a candle to this build in terms of resolution, framerate, or graphical fidelity.
The system is easily set up to allow for plenty of upgrade options as well. Whether you want to drop in the second stick of memory or upgrade the card (which you won't have to do for awhile), this build, housed inside of the BitFenix Nova, makes upgrades a breeze.
That's it! For the price of $800, you have a build that you can pretty much enjoy for the next couple of years.
How'd you find our build? Are you having troubles or thoughts of sacrificing some parts but don't know which?
Reach out to us! Comment below and let us help you out directly.