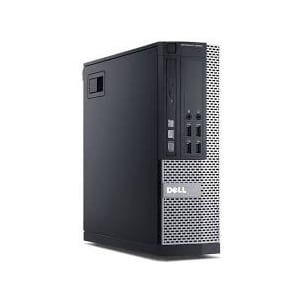 This post recommends the best gaming PC you can build for under $300. If you're looking to buy a pre-made one,we recommend the Dell Optiplex 7010. It's powered by Intel Quad Ci5-3470 and is capable of handling AAA title games at low to medium settings.
In the past, many considered making a 300 dollar gaming PC build a futile endeavor. Using new parts, there's no way you'd get the sheer value that you could from, say, a prebuilt computer! While this is still true to a certain extent, there are compelling options available today that you can use to get a good cheap PC that can become great with time and upgrades.
This is our Best Cheap Gaming PC Under $300, made with two goals in mind: providing the best possible value, which is kind of necessary to have a viable PC in this price range, and components that afford upgradeability so that you can turn it into a better gaming PC in the future.
While we'll talk more about its upgradeability later in the article, there's a lot more you should expect from this build:
Good eSports Performance
Fortnite, Overwatch, and CS:GO should all perform great with this build at Low/Medium settings. While you won't be blown away by stellar graphical performance, you will be able to enjoy acceptable performance without needing to upgrade.
AMD APU 
The Ryzen 3 2200G makes up the beating heart of this build. This is an APU which means it acts as both the CPU and GPU in a traditional PC build. In fact, APUs are made just for these sorts of budget builds. The CPU performance is on par with that of an Intel i3 chip and the integrated GPU performance is on par with that of a GT 1030.
This provides both an amazing value CPU and entry-level GPU performance in one and means that whenever you upgrade your GPU in the future, the strong CPU performance means you won't need to worry about being bottlenecked until you go past roughly RX 580 performance levels!
Quality Components 
Many cheap PC builds decide to skimp on everything but the CPU and GPU in order to provide the best "value". We decided against this, since bad PSUs can lead to full system failures or even fires (and fires can lead to your house being turned into coal… at least if Don't Starve is to be trusted).
Moreover, crummy, low-quality components will work just like that: crummily. Fortunately, we still managed to provide a great value without endangering you or your system.
At least once a month, we check the internet for possible changes on price and search for better alternatives to give you the best budget gaming PC build for your money.
Being in the industry of gaming and computers for almost 10 years now, we know just how important it is to make sure everything is compatible and up-to-date.
This is why we make sure we don't only check reviews, forums, and guides online when new parts and computer hardware come out. Instead, we also check what our fellow professionals in the industry have to say.
Tech Deals offers very extensive and detailed product comparison and recommendation as well as Linus Tech Tips and NCIX Tech Tips for product quality and build evaluation.
The Best Cheap $300 Gaming PC
Update:
cpu
AMD Ryzen 3 2200G
The Ryzen 3 2200G takes the place of the CPU and GPU in this build, and offers the best gaming value in this price range.
ram
Patriot Signature 8GB DDR4-2666 RAM
Patriot's 8GB of DDR4 RAM gives us the memory we need from a trusted manufacturer.
mobo
MSI B350M PRO-VH-PLUS Motherboard
A basic motherboard from a trusted manufacturer serves as the backbone to this budget build.
case
Thermaltake Versa H15
Thermaltake's Versa case offers a perfect body for this $300 gaming PC build.
Estimated $302.35 at Amazon
(Price are accurate as of March 18, 2019. Click the button to see the latest prices)
Order This Build on Amazon
This is one tight, budget-oriented gaming system designed to be the best 300 dollar gaming PC. It's not going to blow any new games out of the water, but should give you a perfectly enjoyable gaming experience overall, especially for eSports titles.
Why is This The Best for the Price of $300?
Simply put, this is the best 300 dollar gaming pc because of its value. And thanks to the Ryzen APUs quad-cores, it will be even stronger in non-gaming performance, so common desktop usage and multitasking shouldn't be a problem (unless you start pushing the RAM).
Another of this build's core strengths is its upgradeability. Once you slap in a proper discrete GPU, like the GTX 1050 Ti or the RX 580, you'll have an extremely potent gaming machine. In turn, slapping in an extra 4GB of RAM will ensure easy, breezy multitasking. If you start desiring a stronger CPU solution, you're on a modern AMD Ryzen chipset… so there's nothing stopping you from slapping in a Ryzen 5 or Ryzen 7 CPU a few years down the line.
Yes, this is a starter PC build. There's no questioning that. Thanks to its modern chipset and stellar CPU performance, however, it can easily become an amazing gaming PC build in its own right with just a little bit of extra time and money put in.
What games can this PC run?
In this section, we're going to tell you how this game should be able to run your favorite games.
Fortnite -

In

Fortnite,

this build should be able to achieve 60 FPS at 1600x900 and medium settings.

PlayerUnknown's Battlegrounds -

In

PUBG

, you'll want to play at 720p and low/medium settings for acceptable frames. If this is your main game of choice, we

highly recommend upgrading to the $400 PC build

.

Monster Hunter: World - MHW

should be playable at 900p30 with medium-high settings with this PC build. Upgrade to the $400 PC build if this isn't enough for you.

League of Legends - League of Legends

is fairly lightweight, so 1080p60 won't be a problem here.

Dota 2

-  Same as above.

Overwatch - Overwatch

is playable at 1080p60 with low/medium settings.

Rainbow Six: Siege - Siege

is actually playable at 1080p60 with low settings. The Ryzen cores in this system really carry their weight here.

Warframe - Warframe

should be playable at 1080p and Medium settings with this gaming PC build.

Grand Theft Auto V

- At 720p and low-medium settings, achieving 60 FPS shouldn't be a problem at all. In 1080p, however, you're more likely to average in the 40-50 FPS range.

Team Fortress 2 - TF2

isn't particularly graphically-intensive, and the Ryzen cores in here are actually pretty good. 1080p60 should be achievable with the Ryzen 3 2200G.
Similar Prebuilt Gaming PC Under $300?
This build, which is possibly the cheapest gaming PC build available (and certainly the cheapest viable build) is perfect for entry-level enthusiasts or those on a budget. However, there are gamers who aren't down with getting their hands dirty (Note: your hands should be clean when you are PC building.).
If you have little to no time to do all the research, comparison, and piecing together that's required with a beginner gaming PC build (after all, it can be intimidating to build your first PC), then fret not-- you're not forgotten.
Below are several respectable prebuilt PCs that are $350 and lower:
NOTE: These will raise the price of the build!
OS Options and Recommended Peripherals
Most build articles assume that you have these down on your own, but in case you don't, we have you covered.

Note: These will raise the price of your build!
Invest In Antistatic Equipment
Buy an anti-static wristband if you don't want to risk zapping and ruining your shiny new GPU with static discharge (Also, avoid rubbing balloons on your head, trust me.). The peace of mind is more than worth the extra few dollars (ditto for the balloons thing).
If you're not sure how to actually use the thing, then it might also be worth checking out our How to Use An Antistatic Wrist Strap guide.
An anti-static mat can also help by giving you a nice, safe place to rest your components when you aren't holding them.
While there are many-- and we mean many-- computer building guides on Youtube (and the internet at large), Tek Syndicate's computer building guide is our favorite.
And, as mentioned in the video, you'll also want to be sure that you consult the manuals that come with your hardware during the building process.
Here on our very own website, we have detailed, step-by-step instructions on how to build a PC. This includes everything from deciding a budget, maintaining your computer long-term.
Between these three resources, you shouldn't have a problem putting together your first PC!
First, grab a 4GB USB stick.
Then, if you're going to use Windows 10 (which we recommend for compatibility if nothing else), use the Windows 10 Media Creation Tool and follow the in-program instructions to create a Windows installer that can fit in your pocket.
If you're wanting to go against the flow, then you might want to look into Ubuntu or Linux Mint. If that sounds like your style, then use UNetbootin or Rufus instead. This will also walk you through the process, but keep in mind that Linux and Ubuntu do not support many of the games and software you're accustomed to using.
It may have taken a lot of penny pinching to create a good gaming computer under $300, but in the end we feel it was certainly worth it, especially if it helped you get into PC gaming when you had previously not had that opportunity.
By opting for a good and inexpensive gaming PC or computer instead of a console, you can enjoy all the benefits of the PC platform. This includes upgradeability, a device that you can use for more than just playing games, and, perhaps most importantly, a cheaper overall gaming experience.
Oh and platforms like Steam, GOG, and Humble Indie Bundle can save you a lot, even the latest AAA games. This is because the computer platform isn't locked down to one publisher or storefront (like consoles are), so there's real competition (yay, free-market!).
Are there improvements you'd like to share? How did you find the build?
If you're having second thoughts or are unsure about something, comment down below so we can help you out!