If you aren't quite ready to tackle your own custom build, then why not take a look at the HP Pavilion prebuilt gaming PC instead. It's a prebuilt PC powered by Ryzen's 2200G APU and is capable of handling entry-level AAA game titles on low/med settings. It's a great alternative if you don't want to go through the process of building your own and offers similar performance to that of our custom build.
It was a tough task putting a $300 custom build together, but thanks to AMD's impressive range of APU's, we were able to do so while still achieving good levels of performance. At the heart of this build sits AMD's entry-level APU, the 2200G. It comes equipped with Vega 8 graphics, which are surprisingly good at handling low intensive games such as CS: GO and Fortnite.
Our $300 Budget Gaming PC Build
Check out our build video below, one of our latest build guides for our $300 gaming PC.
Build Overview - Budget $300 PC Build
Let's quickly go over what this build has to offer in terms of performance and features, and while we're at it, let's discuss some of the roadblocks we encountered and why we ended up choosing the hardware we concluded with.
Budget - One of the main goals for the $300 custom build was to create a gaming PC that could handle AAA titles while remaining under budget. No easy task I'm sure you'll agree. However, thanks to the excellent value of AMD's APU range, we were able to achieve this goal by opting for their entry-level APU, the 2200G.
The 2200G was pretty much the only APU we could go for and remain under budget, but that wasn't a bad thing. By opting for an APU, we no longer had to worry about the cost of a standalone GPU. We had just unlocked a nice chunk of the budget, which could be used to bolster other areas of this build like RAM. We paired the 2200G with 16GB of 3400MHz RAM, which is exactly what this APU needs to run at optimal levels.
Performance - Let's be honest, you aren't buying this build if you're looking to play Farcry 5 in 4k/ultra settings. This build is tailored towards low-intensive games such as CS: GO, Fortnite, and Overwatch. The APU should be able to churn out 50+FPS on these games on low-medium settings.
AMD APU's - An APU, for those wondering, is an accelerated processing unit that comes with its own integrated graphics built-in. Unlike Intel CPUs, an AMD APU comes with VEGA graphics, which is much more powerful. The 2200G comes with VEGA 8 graphics that showcase similar performance levels to a GT 1030. So, not bad.
The integrated graphics of an APU fully depend on your system RAM when in use. For that reason, equipping your build with fast RAM is essential when trying to achieve maximum performance out of your APU.
Our team has years of experience behind them building PCs for a range of needs and budgets. All this knowledge combined with hours of research, user feedback, and onsite benchmarking is what goes into choosing the best components for our builds.
We look for value for money, how the components perform together and focus on gamer's needs to make sure our builds are the best your budget can buy.
We build all these PC's ourselves, in house, so trust us when we say we want to make them as good as possible. We actually use all these builds ourselves day-to-day in the WePC offices.
How We Test The PC Components
We build each of our selected PC's from scratch to make sure all the parts we recommend work well together, fit into the selected case, and provide the best performance possible for the price range.
Once built, the PC's are used in the office for everyday work as well as a range of games from light to heavy-duty. While we test, we also run benchmarking tests to see how well our builds perform, all while keeping an eye on the temperature of the components themselves. 
We tested our AMD builds against their Intel counterparts and found that these CPU's performed better across the board, and for a lower price. This is why we only recommend an AMD version.
The Best Cheap $300 Gaming PC
Update: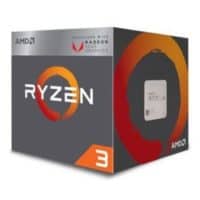 cpu
AMD Ryzen 3 3200G
The Ryzen 3 3200G takes the place of the CPU and GPU in this build and offers the best gaming value in this price range.
ram
XPG Z1 16GB DDR4 3000MHz
XPG's Z1 16GB of DDR4 RAM gives us the memory we need from a trusted manufacturer.
ssd
ADATA SU635 240GB
An SSD is absolutely essential for fast loading times and boot times, it will improve game play and significantly speed up your PC.
psu
CORSAIR CV Series, CV550, 550 Watt, 80+ Bronze Certified
A budget PSU by a well-known, reliable brand.
mobo
MSI B450M PRO-M2 Max
Finally, a budget B450 motherboard that supports 3rd gen Ryzen CPUs. A basic motherboard from a trusted manufacturer serves as the backbone of this budget build.
case
AeroCool Cylon RGB Mid Tower
AeroCool's Cylon RGB case offers the perfect body for this $300 gaming PC build.
Order This Build on Amazon
This budget-oriented gaming system is designed to be the best 300 dollar gaming PC money can buy. FPS may not be very high, but this system should give you a perfectly enjoyable gaming experience overall, especially for eSports titles.
cpu
The Ryzen 3 3200G showcases excellent value for money and dominates the competition in this price bracket. With the release of the Ryzen 3rd Gen CPUs, we see AMD – for the first time in years – finally competing with Intel on a value and gaming spectrum. The recent drop in price, combined with its impressive performance, makes the 3200G one of the best value-for-money products available today. It comes equipped with Vega 8 integrated graphics that showcase similar performance to that of the GT 1030. This, in turn, means you have the ability to run low-intensive AAA games at 50+FPS in low/med settings. Perfect for any entry-level PC build.
ram
We've gone for XPG Z1 DDR4 16GB 3000MHz RAM for our $300 build as it offers excellent performance at a relatively affordable price tag. It does push us slightly over budget, but we feel it's a smart investment as it boosts overall performance exponentially. It's pretty much the perfect pairing for the Ryzen 3 2200G. With 16GB at your disposal, you'll never run the risk of being bottlenecked by this RAM, and it effectively makes your build future-proof for a good few years to come.
psu
Corsair's 550W PSU is perfect for this build as it provides an efficient power source at an affordable price point. It even allows for small upgrades down the road if that's what you're looking to do.  Unfortunately, we had to go for the non-modular option to stick within the budget, meaning cable management will be more difficult, but still very achievable, come build time. That being said, we did save a decent amount of money on this PSU, which went towards a much better RAM kit. If you are curious to know which PSU's we recommend overall, you can find them on our best gaming power supplies page right here.
mobo
The MSI B450M Pro-M2 Max motherboard is an entry-level board that offers excellent features at an affordable price point. It's the perfect starter to any budget build and comes equipped with Ryzen 1st/2nd/3rd Gen support, up to 3466+MHz RAM support, and the reliability that comes with buying MSI products. Furthermore, a turbo M.2 slot is available for users wanting to upgrade down the road. Overall, one of the best motherboards for gamers looking for a cheap platform to build off.
case
The Cylon isn't going to win any awards for style, but this budget case still has a lot to offer. AeroCool has equipped the Cylon with a pre-installed rear fan for out-the-box cooling. The case comes with four options to install extra fans; two on the front and two at the top for intake and exhaust. Although this build will never overheat, the additional fans will allow you to produce a fully-fledged airflow solution for even lower temps when the build is under stress. The Cylon from AeroCool is a compact case with a sleek and refined aesthetic. You can't ask much more from a budget case offering, but if you do find yourself wanting something a little different, you can check out our best PC case recommendations here.
So, by now, you should have a pretty good understanding of how we choose and test the hardware we recommend. You've also had a look at the components that go into making this build. What we've yet to discuss, however, are the areas that need considering before purchasing a custom build. Below are the main areas of consideration, how they impact your gaming experience, and why you should consider them before purchasing a custom build.
One of the main things you need to consider at the start of your custom PC build journey is budget, and what that budget will get you. A lot of people come to us expecting to splash $300 on a custom build that can smash 4k games at 100fps. Unfortunately, that is not the case.
Our $300 build has been custom designed to play less intensive esports games such as CS: GO, DOTA 2, and LoL. Understanding the limitations of your budget at the start will save you a bunch of time in the long run.
It's worth mentioning that Amazon prices do fluctuate regularly. So, this means the builds might not always be under the intended target. Don't worry, though; we check the builds daily to make sure the most up-to-date and best value products are being selected.
Upgradability and Future-Proofing
Another area to consider when building your own PC is future upgrades. Let's be honest; a PC won't last you forever. At some stage, you will need to upgrade its components. Making sure you limit the number of products that need updating when that day comes is a major part of the hardware selection process.
Luckily, we've already done that for you. This build comes with an up-to-date motherboard, which is perfect for future upgrades. The case is also a solid option that will allow for GPU and additional storage capacity upgrades, as well.
Overclocking has become increasingly more achievable in the last ten years, mainly thanks to the quality of the hardware becoming much more overclocking friendly. It's a great way of extracting additional performance at no extra cost. But be careful, just a couple of weeks ago, one of our product testers fried a motherboard by pushing it too far.
This build is set up for light overclocking and will respond if you choose to do so. However, it must be noted that Ryzen chips are extremely well-optimized out-of-the-box. Gaining significant performance increases is probably a thing of the past, for now.
As a first-time builder, it's always a bit daunting having to physically build your rig, especially if the case isn't builder friendly. Always do your research on the case, making sure it's the right size for your components. We found the Thermaltake  Versa H22 very forgiving and an excellent choice for someone new to the building game.
We used a PC building toolkit during this build and recommend you do the same to help make the entire process go that bit smoother. Also worthy of consideration is an anti-static wristband that can be purchased for next to no additional cost.
Another key area to consider is the non-gaming side of a PC build. A large number of gaming enthusiasts will design a build around both gaming and work station tasks. You'll be glad to hear that we've done the same.
This build can handle small workload tasks thanks to its impressive multi-core performance. Simple video editing and photo editing should be more than achievable. If you're looking to stream, then you'd be better served with one of our premium builds instead.
Aesthetics are always important in a custom build because, ultimately, you want your build to look the best it can. However, just like the performance, aesthetics usually have a direct impact on the cost of the build.
Unfortunately, the Versa H22 leaves quite a bit to be desired when it comes to aesthetics. There are a bunch of stylish cases out there; you just need to increase your budget to accommodate for one.
What games can this PC run?
This build will provide 60FPS in all competitive online titles, however, if PUBG is your main game then you would have to look at the $500 build to achieve 60FPS and above. Additionally, the dedicated graphics card and a more powerful CPU would allow you to raise the graphical settings and resolution in all titles. Looking at demanding single-player games such as The Witcher 3, you would be looking at 30FPS at 900p, but well-optimized titles like Forza Horizon 4 allow for 50FPS at 1080p and still look incredible even on Very Low graphical settings.
Prebuilt Gaming PC For Under $300?
Now, you may have gotten this far and have decided you just aren't quite ready to take the step into custom PC building. And that's OK! For those people, we've scoured the web to find relevant prebuilt options that will offer the same performance as our custom build.
We do weekly checks on our prebuilt recommendations to make sure they are in line with our custom build. If we find a more powerful prebuilt option or the current one goes out of stock, we will replace it with a like-for-like product.
Below are several respectable prebuilt PC solutions that are as close to the custom build in both performance and price. Be aware, though; you do pay a premium when opting for a prebuilt.
So, you like the build, but it doesn't quite have the performance power to handle the games you want to play? Well, don't worry. Below are our most recommended upgrade options that will boost your in-game performance exponentially. The products below are fully compatible with the above build and can be swapped out with no ramifications.
Remember, the upgrades will increase the base price of your custom build.
hdd
This Seagate Barracuda drive is amazing for backup storage and always comes at a great price. The 240GB SSD that currently sits in this build is ideal for your O/S and some primary games. However, sooner or later, it will struggle to accommodate your growing library. For that reason, this additional 2TB HDD from Seagate is the perfect backup storage solution for those who need it.
cpu
The first and probably most influential (in terms of performance) upgrade for this build is the CPU. If you're looking to seriously bolster the computational power this thing has then we recommend the Ryzen 5 2600 as it offers hugely improved performance over the 2200G, respectively. Now, even though this is a wise move and not too painful on the wallet, this upgrade does come with a few conditions.
Firstly, if you remove the 2200G then you are completely removing any graphical input you have. The Ryzen 2600 does not have integrated graphics. So, if you're looking to upgrade the CPU then we strongly recommend getting an additional GPU as well. That then puts you into the realms of $500-$600, which is considerably more, but that's the price you will have to pay to see a serious increase in performance.
gpu
This build uses an APU, meaning it uses an integrated GPU. However, you can upgrade the GPU while still utilizing the APU as your CPU. This is where the MSI RX 570 comes into the picture. With a low-profile and quality build, this graphics card represents a huge performance boost over the integrated GPU. This allows you power well beyond other graphics cards around this price. You will benefit from improved graphics and FPS across all games with this extremely well-priced card. MORE: Best Graphics Cards
Cooler
Due to the lack of an intake fan with the case, we highly recommend you buy one of these to use as an intake for your PC. Good airflow will ensure optimal performance and longevity for your components! Noctua's NF-F12 fans may be a little expensive, to be fair, but they're also whisper-quiet and great performers in their own right. That's why we recommend them here. MORE: Best Case Fans
psu
For an easier building process, buying this semi-modular PSU should save you some cable management stress. While this isn't a strictly necessary part of building and will cost you extra, it's much easier than dealing with a fixed, bulky set of cables that come with non-modular PSUs.
Operating System & Peripherals
Note: These will raise the price of your build!
That's pretty much everything you need to know about the custom build and the hardware it comes with. One thing we haven't really discussed, however, is the physical building of this PC. If you're new to the PC building game, then I would recommend checking out our 12 Mistakes that Every Newbie PC Builder Makes article. Furthermore,  our 15 Common Questions About Building a PC should answer the most frequently asked questions first-time builds have.
Below are some of our best building tips for new and old builders alike.
First, grab a 4GB USB stick.
Then, if you're going to use Windows 10 (which we recommend for compatibility if nothing else), use the Windows 10 Media Creation Tool and follow the in-program instructions to create a Windows installer that can fit in your pocket.
If you're wanting to go against the flow, then you might want to look into Ubuntu or Linux Mint. If that sounds like your style, then use UNetbootin or Rufus instead. This will also walk you through the process, but keep in mind that Linux and Ubuntu do not support many of the games and software you're accustomed to using.
Invest In Antistatic Equipment
Buy an anti-static wristband if you don't want to risk zapping and ruining your shiny new GPU with static discharge (Also, avoid rubbing balloons on your head, trust me.). The peace of mind is more than worth the extra few dollars (ditto for the balloons thing).
If you're not sure how to actually use the thing, then it might also be worth checking out our How to Use An Antistatic Wrist Strap guide.
An anti-static mat can also help by giving you a nice, safe place to rest your components when you aren't holding them.
While there are many-- and we mean many-- computer building guides on Youtube (and the internet at large), Shaun from our very own WePC has a fantastic guide on building a budget gaming PC.
And, as mentioned in the video, you'll also want to be sure that you consult the manuals that come with your hardware during the building process.
Here on our very own website, we have detailed, step-by-step instructions on how to build a PC. This includes everything from deciding a budget, maintaining your computer long-term.
Between these three resources, you shouldn't have a problem putting together your first PC!
So, there you have it, our comprehensive guide to the best $300 custom PC build. We've done our best to stick within the strict budget and still provide a PC that offers an immersive gaming experience. Remember, this build isn't going to blow anyone away with incredible graphics. It will, however, provide first-time gamers with the opportunity to play low intensive games without breaking the bank.
If you decided to go for this build, why not leave us a comment in the section below, letting us know how you got on. Better yet, why not swing over to our community and post some pics of the build and any feedback you may have.
We look forward to hearing from you, and good luck!