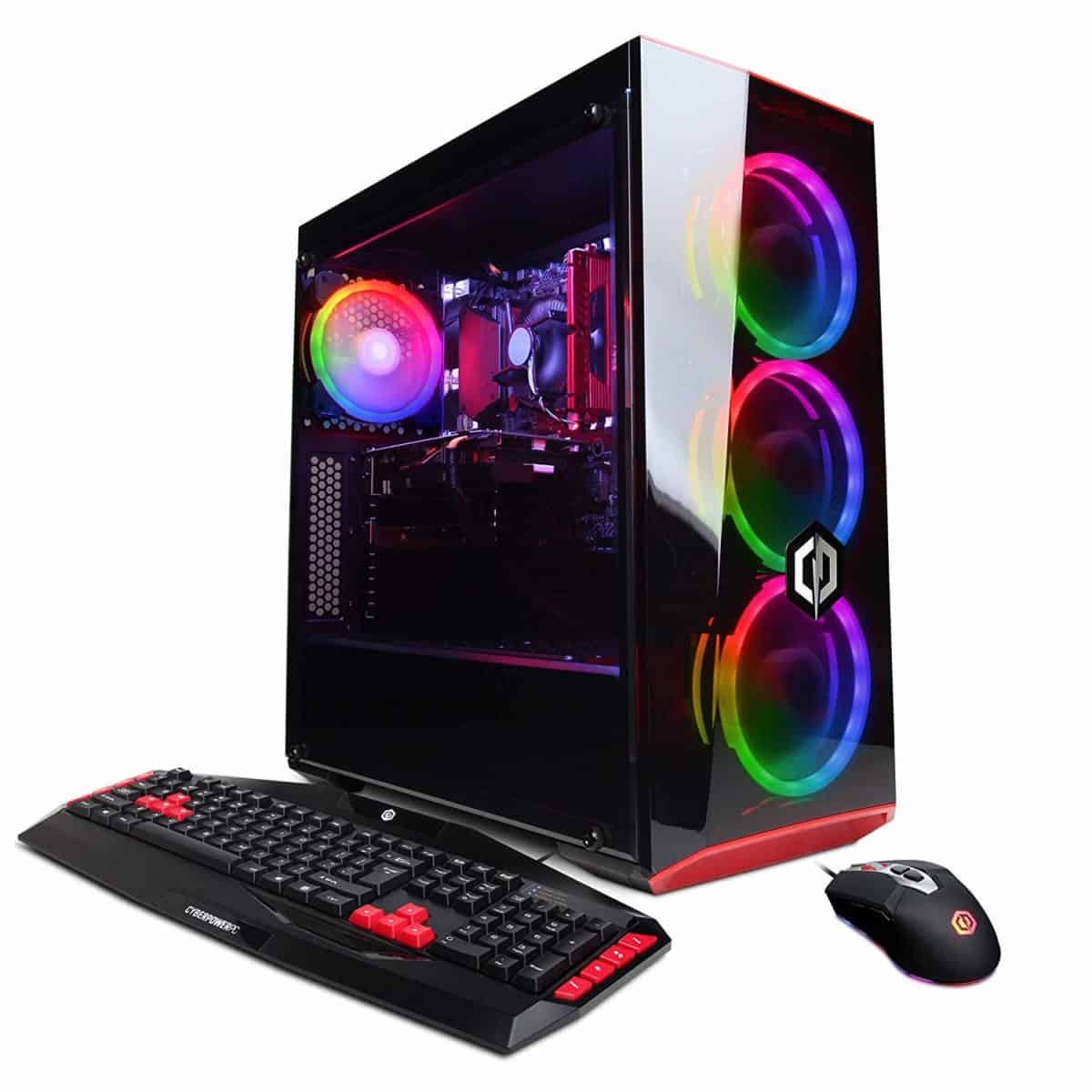 This post recommends the best gaming PC you can build for under $700. If you're looking to buy a pre-built gaming rig instead of going to the hassle of doing it yourself, we recommend the CYBERPOWERPC Gamer Xtreme VR. It's powered by Intel's powerful I5 9400F CPU and Nvidia's 1660 GPU that makes running AAA gaming titles a piece of cake.
So, you've decided you want to join the realms of PC gaming, and you want to do so at a level that not only thrashes console performance levels but also fully immerses you into the world of PC games. 
We present the best $700 gaming PC. With it, you'll be able to enjoy all your games maxed out at 1080p and push to 1440p respectively.
Before we dive into the exact specifications, let's talk about the goals we set for this build. Each build within our 'Best PC build' series has strict guidelines and standards that must be met before we publish it to you, the people. 
Below are a few areas which are touched upon when choosing each component: 
Superb Performance. The GPU in this build has to be on par with, if not better than, the PS4 Pro. Gaming at 1080p and 1440p will be a breeze. In fact, one of the really exciting things about the RX 580 is that, pound for pound, it's considered to be the best GPU in it's price range (aka power relative to cost). With AMD's second generation polaris architecture the RX 580 has the ability to create lifelike visuals and true immersion. Overall a brilliant card which slots nicely into this build.
Upgradeability. If you're buying a console, or any piece of tech, you expect it to be able to last  for years to come. In the case of a PC, the ability to upgrade can increase the life cycle of your machine for up to a decade after its purchase as long as the correct maintenance and upgrades have been applied.
Once this one starts buckling its knees under the weight of intensive games, there's more than enough room to upgrade it.
Reputable Manufacturers. Every component in our build today comes from a reputable manufacturer. This makes your building process easier, and it also means if anything were to go wrong with your components, like during shipping for example, you can count on solid return policies so you don't unfairly lose out on money just because the UPS guy likes launching packages.
How We Choose the PC Components
Building a custom gaming computer from the ground up can be a tedious task if you don't know what you're doing.
What we do at WePC is take the stress away that comes with building your own computer. Just think hours of tireless research, comparing benchmarks and constant price checking to make sure you have the best tech at the best price. We do this for you, we take the stress away and provide you with the best PC build recommendations from our dedicated team of computer experts, all of this support is completely free!
For new products, we make sure that we always have our finger on the pulse by keeping tabs on fellow industry professionals and new tech announcements. 
To make sure you're not missing out on great deals, we update our custom builds every few months. As such, you should expect to see changes on the list from time to time, but understand the changes are made with a better overall product in mind.
The Best $700 Gaming PC
Update:
cpu
AMD Ryzen 5 2600X Processor
If paired with the right hardware, potentially the most powerful, value for money CPU's available.
gpu
Sapphire Radeon Nitro+ RX 590 8GB 1560Mhz
A solid mid-level card for playing AAA titles at 60 - 100FPS and 1080P/1440P.
ssd
Crucial BX500 480GB SSD
480GB of SSD brings the perfect mix of speed and capacity to this hybrid storage build.
psu
EVGA 550W Bronze Fully Modular PSU
A powerful, affordable fully modular PSU from a reliable brand.
mobo
MSI ProSeries B450M PRO-VDH Plus M-ATX Motherboard
A decent gaming specific motherboard which allows for overclocking.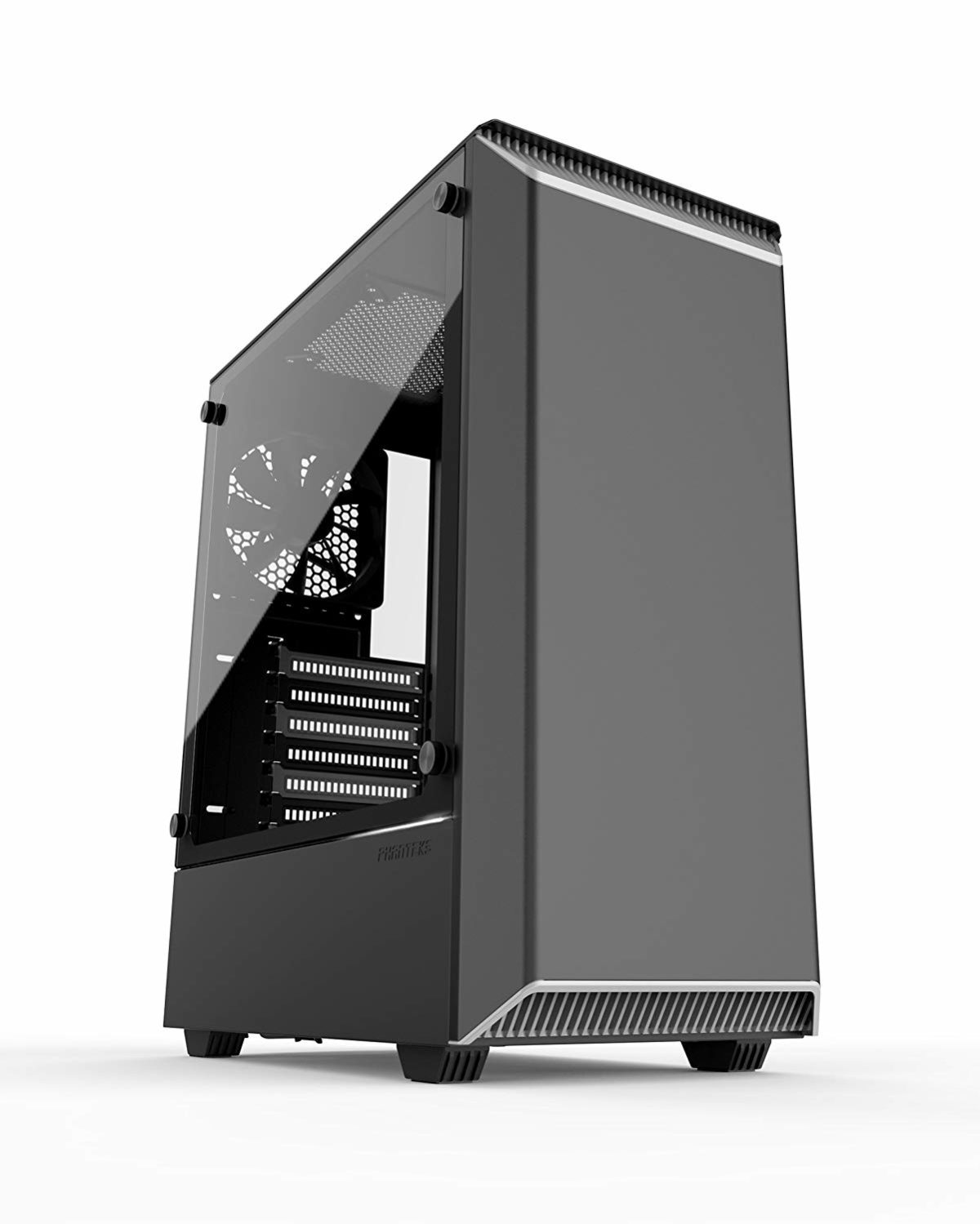 case
Phanteks Eclipse P300 Steel Mid Tower Tempered Glass PC Case
The Phanteks Eclipse P300 is an affordable, budget mid-tower PC case with enough room to enable a quality, efficient build and to house any future upgrades.
Order This Build on Amazon
This $700 1080p Ultra Gaming PC is designed to thrash anything in its path. Let's see what makes up the best gaming desktop under $700.
cpu
The 6 core, 12 thread Ryzen 5 2600x is one of AMD's second-generation high-end desktop processors, renowned for excellent value multi-core performance. It has been replaced by AMD's recently established, third-gen, 3600x as their new Ryzen flagship mid-range CPU. The replacement could only be factored into this build at the expensive of graphical power so when considering value this older generation chip is a great addition. It features a matured Zen+ chip architecture with increased clock speed capable of 4.2Ghz max boost speed.  It comes pre-equipped with a Wraith Spire cooler and is excellent value for money. Overall, this should provide all the gaming performance you need, as well as acceptable streaming and video rendering performance.
gpu
The RX 590 is our pick for the best gaming PC build under $700 thanks to its strong performance. It easily brushes a side the GTX 1060 6gb by utilizing 8GB of GDDR5 memory making it the perfect pick for 1080p and 1440p gaming. Not to mention its ability to perform VR gaming at a decent level. We've gone for one of the top model 590 for this build, as it's within the budget and boosts the performance of the build considerably.
ram
If you're tired of compromising on RAM, don't worry: with 16GB of dual-channel DDR4 RAM running at 3200MHz, you aren't doing that anymore. For most multitasking and gaming scenarios, this will be more than enough for your needs! Since its manufactured by a reputable vendor (Corsair), you can also trust that it will last for years to come without giving you any issues. Further more, pairing the 3200mhz RAM with the Ryzen 2700X helps unlock the CPU's true potential boosting performance levels by as much as 70%.
ssd
What $700 build is complete without an SSD? If you're unfamiliar with how SSD works, the tech inside the storage makes load and boot times considerably faster making for an overall better running system. We've gone for a trusted brand in Crucial for our SSD as it's one of the most trusted consumer-level storage options available. Load your Windows and primary games onto the SSD for lightning-quick load times.
psu
EVGA are an extremely popular, reliable brand who are well known for offering fantastic graphics cards as well as power supply units. This mid-range PSU comes in at an affordable price, yet still offers a fully-modular option for those looking to ensure their cable management is up to scratch. If you don't get a certified PSU you seriously run the risk of endangering the build and potentially yourself.
mobo
We've paired the fantastic Ryzen 2600X with the MSI Micro-ATX B450M Pro-M2 Gaming Motherboard to create a brilliant foundation for what we consider to be the best gaming rig for under $700. It guarantees compatibility with the Ryzen 5 series and has some great little features as well. It is effectively an entry-level motherboard but comes equipped with fantastic versatility and overclocking potential. To touch on overclocking briefly, the Ryzen 5 range was purpose built to be clock boosted, so attaining a solid motherboard which has the ability to utilize this feature is key. Furthermore, the B450m also houses the potential to overclock the RAM as well meaning you can squeeze every possible inch of extra performance out of it.
case
The Phanteks Eclipse P300 is an entry-level PC case that looks like a mid-level PC case. It also comes with a tempered glass window, so you can check out the build as it ticks. The front I/O panel comes with 2 xUSB 3.0 as well as headphone ports. Overall, this is a great case that should look good in most environments and provide the airflow and cooling you're looking for.
Why is this the Best $700 Gaming PC?
I think the performance levels of this build speak for themselves, this is where you start to really enjoy games without worrying about your ability to handle them, especially at 1080p.
You should be able to push up to 60 frames per second on just about everything, and with some settings adjustments you may even be able to perform 144hz in certain games.
The performance of the i5 in this build, alongside the RX 580, means you have all the power you need to tackle gaming at 1080pUltra, 1440pMedium, and even VR and 4k. The i5 also ensures that you won't have to worry about performance bottlenecks if or when you upgrade your GPU to something like the Vega 64 or 1070 Ti.
What games can this PC run?
In this section, we're going to tell you how this game should be able to run your favorite games.
Fortnite

- 1080p/60 and 1440p/60 should both be possible, but you will need to turn down settings for the latter.

PlayerUnknown's Battlegrounds - PUBG

should be able to push 1080p/60 at high settings on this machine, but 1440p will require some compromises.

Monster Hunter: World -  MHW

should do quite well at 1080p and high settings, but 1440p60 will require some tweaking to work properly.

League of Legends - LOL

is a lightweight eSports title, so pushing 1440p60 or 1080p144 should be easy as pie.

Dota 2

- Same as above.

Overwatch

- Ultra settings @ 1440p should net at least 60 FPS on average, but if you want higher frames, turn settings down and go down to 1080p.

Rainbow Six: Siege - Siege

should be easy to pay at 1440p and high settings, with around 60-70 FPS. 1080p will be much more stable, though.

Warframe - Warframe

should be fine with 1440p and 1080p at high settings- at 1080p, you might even push 144 FPS!

Grand Theft Auto V - GTA V

is playable at 1440p medium settings and 1080p high/max settings.

Team Fortress 2 - TF2

is a CPU-heavy title, but this build is more than well equipped to handle it. 1080p should be a breeze, and with the right settings should even push 144 HZ. 1440p at 60FPS shouldn't be a problem, either.
Similar Prebuilt Gaming PC Under $700
While this build screams quality, performance, and value; there is the elephant in the room...
Whispers: Building computers is intimidating. If you aren't ready to take the plunge, don't fret, we got you covered! Check out our top 12 PC builders right here.
Some might critique you for not building your own PC, but we want to make sure our article provides every type of gamer with every option possible. So if you are one of those who would prefer to buy a prebuilt for whatever reason, here's a list for you:
Upgrade Paths for this Build
The $700 gaming PC build already has the power to deliver 1080p gaming experience with at least 60FPS on ultra settings, but this is PC gaming. There's always room to ascend to an even higher level of processing power by making a few tweaks here and there!
Stick around for these recommended upgrades to our $700 gaming PC.
Note: all of these will raise the price of the build, VR especially!
Cooler
Seeing as though one of the main agenda's of this build was overclocking, we'd highly recommend purchasing a liquid cooler to reduce any potential temperature issues you might encounter whilst doing so. We've chosen Corsair as it's both a trusted brand and hold reasonable value for money.
gpu
Whenever we recommend Nvidia GPUs, we almost always go with EVGA. However on this occasion we've gone for a budget RTX 2060 as the upgrade path as we feel it's just in reach financially, whilst still providing an excellent performance boost.  The RTX 2060 comes equipped with all the latest mod cons such as real-time ray tracing and AI enhanced graphics which make it a superb upgrade for future proofing your rig for years to come.
VR Headset
But, if you can afford extra, the best gaming PC build under $700 is capable of VR gaming now. We recommend the Vive most highly, too. You can check out our guide to the best VR headsets right here.
OS Options and Recommended Peripherals
If you're buying the best $700 dollar gaming PC, you may already have a number of these things. However, we understand if you don't, so we've written up this section in case you need anything within.
NOTE: These will raise the price of the build!
Building your own PC isn't that hard. All you need is the right information along with a comprehensive guide (both of which are easier to come by than ever before) and you should be able to successfully build your first PC without any worries.
We know the struggle that first-time builders have, this is why we've compiled a comprehensive list that covers exactly what newbie builders should avoid doing, along with a list of questions you might have when building a computer.
Invest In Antistatic Equipment
First, save yourself some stress. You don't want to worry about frying your components or manually grounding yourself every ten seconds.
Buy an anti-static wristband and/or anti-static mat. With proper setup, you'll avoid the worry that comes with dealing with expensive electronics. And if you're still uncertain, then we even have a guide that will walk you through using an anti-static strip for the first time.
Tek Syndicate's build guide is our personal favorite since it is short and sweet while showing a varied amount of part types. Supplement this with the instruction manuals that come with your components, and you'll be fine. Some personal advice, though: deal with the standoff screws as soon as possible. They're the worst.
Our detailed how to build a PC guide also addresses every single thing that newbies need when building a PC. Among these include deciding on a budget, installing the drivers, setting up your computer for first-time use, and tips to properly maintain your computer.
With the best $700 gaming PC, you'll have all the power you'll need for high-end PC gaming. No 1080p game will stand a chance against your specs even 1440p and VR titles can be tackled with medium to high settings with this build.
What are your thoughts on our build? Is there anything more suitable? Would you sacrifice a potential component to accommodate another? Tell us down the comments and we'll help you out!
Are you still confused whether or not you should go with the custom or the prebuilt? Let us know, you have our ears!