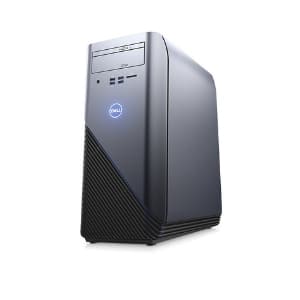 This post recommends the best gaming PC you can build for under $700. If you're looking to buy a pre-made one,we recommend the Dell Inspiron 2018 Newest Flagship 5675. It's powered by AMD's latest Ryzen series and AMD Radeon RX 570 that can run AAA games really well.
You've decided you want in on PC gaming, and you want to do so at a level where you thrash console performance and enjoy all the platform has to offer.
We present the best $700 gaming PC. With it, you'll be able to enjoy all your games maxed out at 1080p!
Before we dive into the exact specifications, let's talk about the goals we set for this build.
Superb Performance. The GPU in this build will be on par with, if not better than, the PS4 Pro. Gaming at 1080p and 1440p will be a breeze. In fact, one of the really exciting things about the RX 580 is that is the best value on the market right now (aka power relative to cost). Okay, maybe it's not that exciting, but I love a good deal.
Upgradeability. If you're buying a console, or any piece of tech, you expect it to be able to last you for years. In the case of a PC, the ability to upgrade can increase the life cycle of your machine for up to a decade after its purchase with the right maintenance and upgrades.
Once this one starts buckling its knees under the weight of intensive games, there's more than enough room to upgrade it.
Reputable Manufacturers. Every component in our build today comes from a reputable manufacturer. This makes your building process easier, and it also means that should anything go wrong with your components, like during shipping, you can count on solid return policies so you don't unfairly lose out on money just because the UPS guy likes chunking packages.
How We Choose the Parts and Components
Building a custom gaming computer from the ground up is a tedious task.
Whether it be researching, comparing benchmarks, or price checking… ugh. Aren't you glad we've provided these great guides? Aside from that, compatibility can be tricky, especially for newbie enthusiasts.
For new products, we make sure that we have a pulse on the community by keeping tabs on fellow industry professionals, like Linus Tech Tips, NCIX Tech Tips, and Tech Deals, just to name a few.
To make sure you're not missing out on great deals, we update our custom builds every few months. As such, you should expect to see changes on the list from time to time.
The Best $700 Gaming PC
Update:
cpu
Intel Core i5-8400 Six-Core Processor
The Intel Core i5 in this build will provide stellar gaming performance and shouldn't bottleneck any potential GPU upgrades.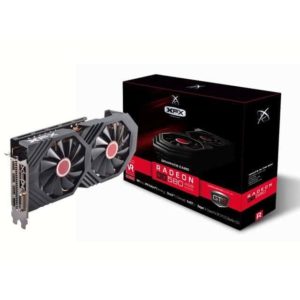 gpu
XFX RX 580 4GB Video Card
1080p killer, 1440p/VR powerhouse. That's really all there is to say here.
psu
Corsair CXM 550W 80+ Bronze-Certified Power Supply
A strong semi-modular power supply from Corsair.
case
Fractal Design Focus G White
A family of budget cases from the reputable Swedish hardware company Fractal Design.
Estimated $723.22 at Amazon
(Price are accurate as of March 18, 2019. Click the button to see the latest prices)
Order This Build on Amazon
This $700 1080p Ultra Gaming PC is designed to thrash anything in its path. Let's see what makes up the best gaming desktop under $700.
Why is this the Best $700 Gaming PC?
This is where you start to really enjoy games without worrying about your ability to handle it, especially at 1080p.
You should be able to push up to 60 frames per second on just about everything, and with some settings adjustments you may even be able to push 144hz in certain games.
The power of the i5 in this build, alongside the RX 580, means you have all the power you need to tackle gaming at 1080pUltra, 1440pMedium, and even VR. The i5 also ensures that you won't have to worry about performance bottlenecks if or when you upgrade your GPU to something like the Vega 64 or 1070 Ti.
What games can this PC run?
In this section, we're going to tell you how this game should be able to run your favorite games.
Fortnite

- 1080p/60 and 1440p/60 should both be possible, but you will need to turn down settings for the latter.

PlayerUnknown's Battlegrounds - PUBG

should be able to push 1080p/60 at high settings on this machine, but 1440p will require some compromises.

Monster Hunter: World -  MHW

should do quite well at 1080p and high settings, but 1440p60 will require some tweaking to work properly.

League of Legends - LOL

is a lightweight eSports title, so pushing 1440p60 or 1080p144 should be easy as pie.

Dota 2

- Same as above.

Overwatch

- Ultra settings @ 1440p should net at least 60 FPS on average, but if you want higher frames, turn settings down and go down to 1080p.

Rainbow Six: Siege - Siege

should be easy to pay at 1440p and high settings, with around 60-70 FPS. 1080p will be much more stable, though.

Warframe - Warframe

should be fine with 1440p and 1080p at high settings- at 1080p, you might even push 144 FPS!

Grand Theft Auto V - GTA V

is playable at 1440p medium settings and 1080p high/max settings.

Team Fortress 2 - TF2

is a CPU-heavy title, but this build is more than well equipped to handle it. 1080p should be a breeze, and with the right settings should even push 144 HZ. 1440p at 60FPS shouldn't be a problem, either.
Similar Prebuilt Gaming PC Under $700
While this build screams quality, performance, and value; there is the elephant in the room...
Whispers: Building computers is intimidating. If you aren't ready to take the plunge, don't fret, we got you covered!
Some might critique you for not building your own PC, but we want to make sure our article provides every type of gamer with every option possible. So if you are one of those who would prefer to buy a prebuilt for whatever reason, here's a list for you:
Upgrade Paths for this Build
The $700 gaming PC build already has the power to deliver 1080p gaming experience with at least 60FPS on ultra settings, but this is PC gaming. That means that you can ascend to an even higher level of processing power!
Stick around for these recommended upgrades to our $700 gaming PC.
Note: all of these will raise the price of the build, VR especially!
ssd
The ADATA Ultimate SU800 is our favorite pick for entry-level SSDs, due to offering great performance and storage capacity at its price. By buying an SSD and utilizing its properly, you can enjoy your OS and your favorite programs for great load and boot times.
Many argue that an SSD is the best way to upgrade your system, just because of the great increase in quality of life. If you opt to buy the SSD in the beginning, be sure to install it before the HDD to save yourself a few headaches during OS installation.
You can also opt to replace the HDD in this build with an SSD, if you'd like to start with this instead and aren't immediately going to fill up your storage.
Cooler
A cheap, solid cooler that'll outperform the Intel stock cooler and may even provide a little wiggle room for overclocking.
gpu
Whenever we recommend Nvidia GPUs, we almost always go with EVGA. This is because they are generally acknowledged to be the best Nvidia GPU manufacturer, thanks to build quality and customer service.
The GTX 1070 will up your game even more, by offering world-class performance at an amazing value. It'll also open up the way to more viable 144hz and 1440p gaming at high settings- no 1080p game will stand a chance!
VR Headset
OS Options and Recommended Peripherals
If you're buying the best $700 dollar gaming PC, you may already have a number of these things. However, we understand if you don't, so we've written up this section in case you need anything within.
NOTE: These will raise the price of the build!
Building your own PC isn't that hard. All you need is the right information-- along with a comprehensive guide (and both of these are easier to come by than ever before)-- and you should be able to successfully build your first PC without worries.
We know the struggle that first-time builders have, this is why we have compiled a comprehensive list that covers exactly what newbie builders should avoid doing, along with a list of questions you might have when building a computer.
Invest In Antistatic Equipment
First, save yourself some stress. You don't want to worry about frying your components or manually grounding yourself every ten seconds.
Buy an anti-static wristband and/or anti-static mat. With proper setup, you'll avoid the worry that comes with dealing with expensive electronics. And if you're still uncertain, then we even have a guide that will walk you through using an anti-static strip for the first time.
Tek Syndicate's build guide is our personal favorite since it is short and sweet while showing a varied amount of part types. Supplement this with the instruction manuals that come with your components, and you'll be fine. Some personal advice, though: deal with the standoff screws as soon as possible. They're the worst.
Our detailed how to build a PC guide also addresses every single thing that newbies need when building a PC. Among these include deciding on a budget, installing the drivers, setting up your computer for first-time use, and tips to properly maintain your computer.
With the best $700 gaming PC, you'll have all the power you'll need for high-end PC gaming. No 1080p game will stand a chance against your specs even 1440p and VR titles can be tackled with medium to high settings with this build.
Are you willing to sacrifice a few to cut down the price? Tell us down the comments and we'll help you out!
Are you still confused whether or not you should go with the custom or the prebuilt? Let us know, you have our ears!