5 Best CPU Coolers 2019 – Air and Liquid Cooling Systems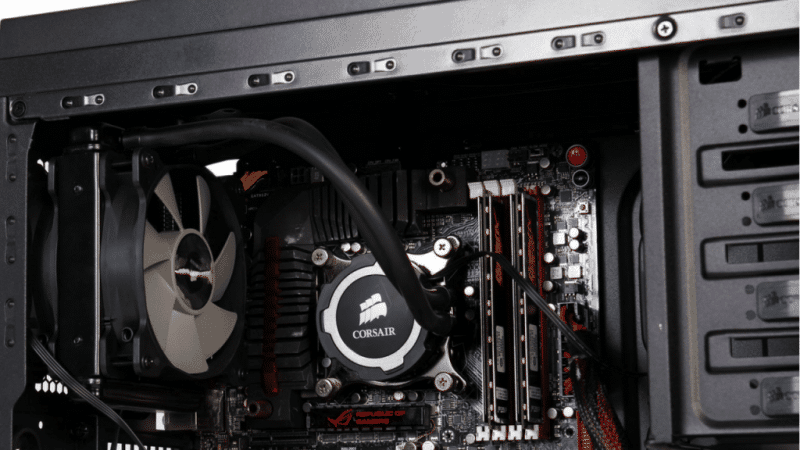 After spending 35 hours researching and testing, we have concluded that the Noctua NH-D15 is the best CPU air cooler. This may be an air CPU cooler but its performance is known for being able to compete pretty well against liquid coolers-- even being better in some cases-- minus the expensive price tag.
If you're looking for the best liquid CPU cooler, don't fret. Its included below.
Also, don't get intimidated if you're not familiar with some of the terms because we'll also cover these later, but first let's take a quick look at each of our CPU coolers.
The Noctua NH-D15 is heavily based on the NH-D14 cooler. This is composed of 2 massive aluminum heatsink towers, newer design features, a smooth copper base plate, 6 copper heat pipes, and 2 140mm fans to deliver outstanding air cooling performance.
An RGB-filled CPU fan done right. This AIO (all in one) is packed with RGB lights, but this isn't just pretty, this fan performs well enough that it can even keep high-end CPUs cool.
This is what you'll want to get if you're all about keeping things silent. It has a large heatsink compared to its predecessor but this heatsink is what makes it the most silent CPU fan on the market.
Equipped with 2 Magnetic Levitation (ML) PWM based fans and RGB lights that can be configured via Corsair's iCUE software, this AIO cooler is an alternative to our top liquid pick that builders can still rely on.
If your budget is tight, you'll want nothing but the Cooler Master Hyper 212 EVO-- this is the low budget CPU cooling king. It's a good cheap CPU cooler that's still viable in 2019.
We didn't come up with our list just because… Instead, we specifically opted for coolers that excel not only in their specific category but according to the following criteria as well:
CPU Coolers-- liquid coolers, specifically-- are notorious for leaking and there's no guarantee that it won't leak even if you install it properly.
This is why we only choose the most reliable coolers. The liquid coolers we have on this list are used by a lot of people and come from respected brands.
All the CPU coolers on our list are proven to perform well in relation to their cost. Specifically, these coolers were all reviewed well in their respective category according to thousands of users from different parts of the world who deal with wildly varying temperature ranges.
CPU coolers are expected to be loud when running at max. However, air coolers generally produce more sound than liquid coolers. There are some general things you can pay attention to that will let you get an idea for how loud a fan will be, like RPMs (revolutions per minute), but ultimately it's best to read reviews to get an idea for how much noise they'll make.
Tips on How To Choose the Best CPU Cooler
Before we really get down to business, here are some basic terms you should be familiar with. Don't worry; there won't be a test!
AIO (All-In-One)
This is in reference to a liquid cooler. This means it comes with the liquid, the pump, reservoir, and everything needed to run. All you have to do is install it and you're good to go. Buying these pieces separately allows you to create a more customized setup, but it will cost you.
TDP (Thermal Design Power)
Also called Thermal Design Point. This is the maximum heat generated by a computer chip. In this case, a CPU.
RPM (Revolutions Per Minute)
Revolutions per minute or RPM is the number of revolutions a CPU fan makes in a minute. More RPMs means more airflow, but it also means it's louder.
PWM (Pulse-Width Modulation)
Pulse-width modulation is a modulation process or technique that performs a predefined action based on either temperature (of the CPU) or system commands.
It simply means a PWM fan lets you control the rotational speed or RPM and lighting (if it's RGB) wirelessly or via a 3rd party software.
dbA (A-weighted decibels)
This directly expresses the relative loudness of sounds in the air as it is perceived by the human ear. A-weighted system decibels means sounds at low frequencies are reduced compared with the unweighted decibels.
Here's a table showing comparative examples of noise levels:
Noise levels
| Example | dbA |
| --- | --- |
| Breathing/pin drop | 10 |
| Rustling leaves | 20 |
| Whisper | 30 |
| Babbling brook | 40 |
| Light traffic | 50 |
| Conversational speech | 60 |
Things to Consider Before Buying a CPU Cooler
When buying a CPU cooler it doesn't end with choosing the right size cooler for your case. Below are a few things to consider:
This is pretty obvious but you don't want to buy something that's not powerful enough to satiate your cooling needs. If you're unsure how powerful your fan should be after reading everything here, then it's still best overkill it since you're not at risk of cooling too much.
Moreover, if you buy an extra powerful CPU cooler, then you might not need to upgrade it when you upgrade your CPU next. Yay for future proofing!
Consider the Amount of Heat Your Computer Generates
Before you can determine how large of a CPU cooler you'll need (and how much money you should budget for) you first need to know how much heat your CPU generates.
Thankfully this is a lot easier than you'd think since you really just need to know the TDP.
If you're one of those who keep all of your computer parts boxes, then the CPU box should tell you everything you need to know.
If you don't have the CPU box anymore, simply go online and type in the model number of your CPU and head straight to the specifications tab and look for the TDP.
If you don't know the model number of your CPU, there is a 3rd party software you can use like CPU-Z (which we highly recommend, too). Once installed, open the CPU-Z software and the CPU tab should tell you everything you need, which we conveniently highlighted as seen on the image below.
The Family, Model, and Stepping codes will help you identify which processor version you have-- especially helpful if the processor has more than one version.
Do You Need a Small, Medium, or Large CPU Cooler?
Now that you know your CPU model, it's time to determine the CPU cooler size that best fits your needs.
If you have a low TDP CPU (around 40W to 70W), then a large cooler will not be necessary. You can go for a cheaper, smaller to medium CPU cooler size. But anything over 70W will benefit from bigger, larger CPU coolers for efficient airflow.
Whether you use a liquid cooler or air cooler, it must fit with the CPU socket.
Even though most CPU cooler manufacturers produce coolers to fit most CPU sockets by offering various brackets, some coolers still only work with specific CPU sockets.
To determine the type of CPU socket that fits your CPU cooler, check your CPU or your motherboard spec sheet.
Should You Use Air or Liquid?
Technically you could just randomly choose air or liquid. In fact, you likely wouldn't destroy your computer doing that! But isn't "Not destroying your several hundred dollar computer" a relatively low benchmark for making decisions? (Yes.)
Anyhow, there are some real pros and cons to take into mind when making your decision. The lowest hanging fruit being that, generally speaking, water cooling solutions are more expensive. However, AIO options mitigate this to a degree.
Clearance: Make Sure All Your Components Fit
One of the most common problems people face when buying a mid- to high-end air CPU cooler is the clearance.
And because CPU coolers can be really big, they leave little to no space left for your RAM and other hardware. So make sure you check the clearance, which should be clearly indicated on the spec sheet of the CPU cooler.
You should also check your motherboard's layout to ensure parts won't be bumping into one another.
If you have plenty of clearance, then will be fine. On the flipside, if you don't have enough clearance, then you'll need to go with a liquid cooler since they take up less space.
Consider the Position of the Fan and the Direction of the Air
Typically, a case will have 4 different locations for radiators to be mounted. However, some radiators can only be installed in either the top/bottom locations or the left/right locations. Most AMD coolers usually belong to the later since they have a rectangular form factor.
Knowing which direction the cooler blows air will help you organize the air circulation inside the case.
If the direction of the CPU cooler's exhaust is jeopardized by a obstructed exhaust port, or perhaps an odd direction toward an exhaust port, then you will most certainly be better off with a liquid cooler.
How Much Do Aesthetics Matter?
It goes without saying that liquid coolers look nicer than air coolers.
However, just because a liquid cooler looks cooler doesn't mean that it is cooler. In fact, there are a handful of air coolers that cool better than liquid coolers.
Just keep in mind that liquid coolers are usually the go-to option when overclocking as they cool better than air at higher temperatures.
The 5 Best CPU Cooler
Product
Details

#1

Noctua NH-D15

air or liquid: Air
max rpm: 1500 RPM (+/- 10%)
max noise: 24.6 dBA
dimensions with fan height x width x depth: 165 x 150 x 150mm

Check Current Price

#2

Cooler Master MasterLiquid ML360R

air or liquid: Liquid
max rpm: 2000 RPM (+/- 10%)
max noise: 37.7 dBA
dimensions with fan height x width x depth: 394 x 119 x 27.2mm (radiator)

Check Current Price

#3

Noctua NH-L9x65

air or liquid: Air
max rpm: 2500 RPM (+/- 10%)
max noise: 23.6 dBA
dimensions with fan height x width x depth: 65 x 95 x 95 mm

Check Current Price

#4

Corsair Hydro Series H100i Pro RGB

air or liquid: Liquid
max rpm: 2400 RPM (+/- 10%)
max noise: 37 dBA
dimensions with fan height x width x depth: 276 x 120 x 27mm (radiator)

Check Current Price

#5

Cooler Master Hyper 212 EVO

air or liquid: Air
max rpm: 2,000 RPM (+/- 10%)
max noise: 36 dBA
dimensions with fan height x width x depth: 120 x 77 x 158.5 mm

Check Current Price
Which is the Right CPU Cooler For You?
Now that we have everything covered, it's time to decide which CPU cooler is perfect for your needs.
If you're still reading up until this point, I hope you learned a lot and are now confident with your next purchase. Which CPU cooler are you planning to get? Or do you have experiences with these coolers? Share your thoughts and experiences down in the comments section!