5 Best CPU Coolers 2018 – Air and Liquid Cooling Systems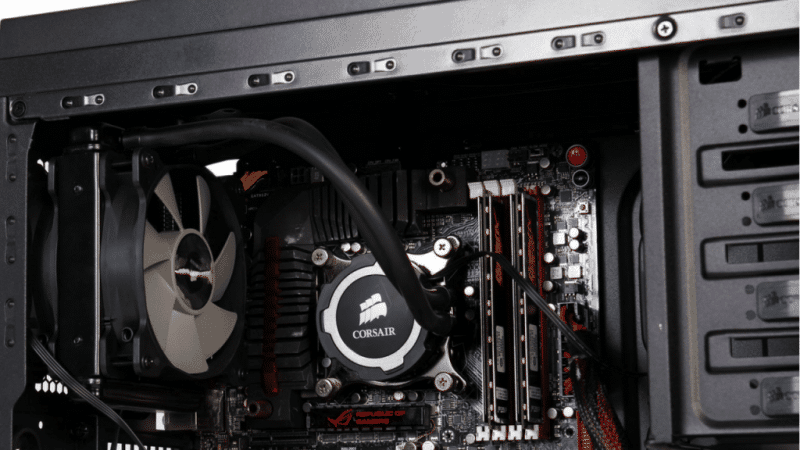 Trying to find the best CPU cooler for gaming wasn't too difficult. All we had to do was round up the best options across various price ranges and present them here for your convenience.
Now that we've done that, it's up to you to decide what's the best CPU cooler for gaming is. Or, more specifically, what the best one according to your needs is.
By taking size, compatibility and cooling performance into consideration, you'll find the best cooler according to your case and your needs. With no further ado, let's hop into the contenders.
Finding The Best CPU Cooler For Gaming: Breakdown
Details
Our Rating

#1

Corsair Hydro H75

compatibility: Modern Intel and AMD (Contact For AM4)
size: Low-Profile, But Requires Space For Radiator
cooling type: Closed-Loop Liquid Cooling

4.5/5

#2

Noctua NH-U12S

compatibility: Modern Intel and AMD, No AM4
size: 158mm
cooling type: Air Cooling

4/5

#3

CRYORIG H7

compatibility: Modern Intel and AMD (Contact For AM4)
size: 145mm
cooling type: Air Cooling

3.75/5

#4

Cooler Master Hyper 212 EVO

compatibility: Modern Intel and AMD (Contact For AM4)
size: 159mm
cooling type: Air Cooling

3.5/5

#5

Alpine 11 Pro Rev 2

compatibility: Modern Intel
size: Only Low-Profile (77mm)
cooling type: Air Cooling

3/5
Form Factor and Size
The size of your cooler is worth taking into consideration, especially if you're working with an ITX or micro ATX build. The smaller your case, the smaller you're going to want your cooler to be.
For especially small cases, you'll want to go with a small form factor cooler. This can be something like the Alpine 11 Pro on the low end or the Corsair Hydro H75 on the high end.
If your case is larger, a large air cooler should be fine. However, you'll want to check the measurements of your case versus the measurements of your cooler before making a purchase.
For the most part, size won't make a huge difference once it's compatible with your build. However, if the heatsink on a cooler is too large, it may block a RAM slot or two.
Keep in mind the width of the air cooler before purchasing if this is a concern.
Liquid or Air?
Another prominent question when purchasing a CPU cooler is whether to go with liquid cooling or air cooling. While you don't necessarily need a liquid CPU cooler in a gaming rig, it does come with certain benefits.
Air coolers are typically large, relying on big heatsinks and fans to dissipate heat from the CPU. Low-profile air coolers are also popular (Intel's stock cooling being a prominent example), but they don't perform quite as well as larger air coolers do.
A high-quality air cooler will keep your system cooler than a stock solution, while allowing some overclocking headroom.
However, if you really want to overclock your CPU, you'll want to go with a liquid cooling solution. Liquid coolers are far better, from a performance standpoint, than air coolers.
Unfortunately, liquid coolers are also much more expensive than air coolers and a little bit more difficult to install in some cases. Because of this, liquid coolers aren't often used outside of enthusiast builds.
Liquid cooling is also good for low-profile builds, too, since it doesn't require as much room for good cooling performance. Liquid cooling is also much less noisy than air cooling solutions, if you want your computer to stay silent during your gaming sessions.
Ultimately, which of these CPUs you choose is up to you.
If you want the best performance out of your cooling solution, the NH-U12S or the Hydro H75 should both provide favorable overclocking while keeping your temps low.
Meanwhile, the Alpine 11 Pro makes a fine Intel stock heatsink replacement.
The Hyper 212 EVO is one of the most highly-praised and purchased CPU coolers on the market. At its price, it's hard to beat.
But if you want something a bit better and smaller, the Cryorig H7 will do that job for you.
Again, which CPU cooler you go with depends entirely on your personal preference. Comment below and let us know which one you picked!