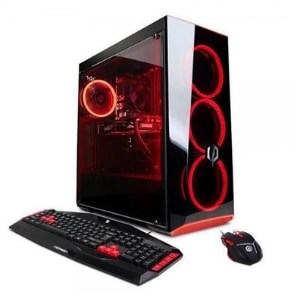 This post recommends the best gaming PC you can build for under $1000. If you're looking to buy a pre-made one, we still recommend the CYBERPOWERPC Gamer Xtreme VR GXiVR8060A5 Gaming PC this 2019. It's powered by a powerful Intel Core i5-8400 processor and a 6GB version Nvidia GTX 1060 that can run AAA games at 60fps 1080p with ease..
With this build, our goal is to provide the best gaming PC build of 2019 for less than $1,000.
It's at this price range that you start needing to make fewer and fewer compromises and can instead focus on excellence. You're now out of the mid range category and officially in the premium category. This is where you easily max out every title at 1080p. You'll also start pushing for 1440p resolutions and still get a solid 60FPS by smartly adjusting some in-game settings.
This is also where high-end tasks, like streaming and Virtual Reality, become reasonable possibilities, too. (You could do these before but with questionable results.)
The best gaming PC of 2019 under $1,000 boasts all the power and performance you'd expect from a premium build. At this point: Every. Title. Is. Playable.
No Compromises. At lower price ranges, you often find yourself making various compromises to get the best for your money. Not so here-- value can be maintained without compromising on any part of the build or its capabilities, allowing the full range of PC gaming to be experienced with this one machine.
Streaming and VR-Ready. If you're paying a thousand dollars, you should be able to enjoy all gaming has to offer. Streaming, content production, and VR gaming fall under that umbrella, so we've ensured that this build can do all of those things.
While you will still need to invest in a VR headset to play VR titles or upgrade to an i7 for a really high-end streaming/video creation, the hardware here is great for those tasks and should be for the foreseeable future.
How We Choose the Parts and Components
Here at WePC, we don't just come up with a build for the sake of giving you a bunch of components that fit into a predefined budget. No, we do extensive research and hours of price comparisons to make sure you get more than what you pay for.
We also check what our fellow professionals in the industry have to say about the upcoming and newly released hardware products to make sure we're not missing even a bit of information. JayzTwoCents, Linus Tech Tips and Tech Deals are just a few.
We also aim to keep our guides up-to-date with the latest hardware releases to make sure we're always giving you the best advice possible. As such, expect to see changes on our builds from time to time.
The Best $1000 Gaming PC
Update:
cpu
Intel Core i5-8400 Six-Core Processor
The Intel Core i5 in this build will provide stellar gaming performance and shouldn't bottleneck any potential GPU upgrades.
cooler
Cooler Master MasterLiquid Lite 240 Liquid Cooler
Even though you won't be overclocking without upgrades, this budget liquid cooler will keep your CPU running cool and your system running silent.
gpu
EVGA GeForce RTX 2060 XC Black Edition Gaming
The RTX 2060 was the best GPU we could slap into this build, and will provide great 1440p and VR performance. Even 4K should be possible! Not to mention the RTX feature.
ram
Patriot Signature Line 8GB DRR4-2400
With a full 8GB of RAM, multitasking and gaming shouldn't be any problem whatsoever for this powerful PC build.
case
Phanteks P400S ATX Mid Tower Case
The Phanteks P400S is an excellent midrange case with plenty of room for expansion and great out-of-the-box cooling.
Estimated $1,055.90 at Amazon
(Price are accurate as of March 22, 2019. Click the button to see the latest prices)
Order This Build on Amazon
We've talked about what this build can do and what the requirements are.
Now, let's talk about what makes up the insides of this 1k rig.
cpu
The i5-8400 provides stellar gaming and all-around performance. With this CPU, you won't need to worry about bottlenecking any graphics card you might slap in here for years to come. Thanks to 6 powerful, hyperthreaded cores (allowing a total of 12 threads), you're well-equipped to handle pretty much anything.  This means higher framerates in CPU-dependent games, and multi-threaded workloads (like rendering and streaming) shouldn't be a problem, either.
The one downside of this CPU is the inability to overclock, since it isn't a K-series processor. Its out-of-the-box performance is still the best you're going to get in this price range, though.
MORE: Best CPUs for Gaming
cooler
While we couldn't fit an overclocking motherboard or CPU into our budget, we were able to bump up our cooling a little bit. With the MasterLiquid Lite 240 Liquid Cooler, your PC will make much less noise when running idle or under load, and your CPU will be cooler than ever, allowing it to run at turbo frequencies more frequently. While not quite what you'd get with a proper overclock, this will still offer a significant improvement in your system's overall performance.
MORE: Best CPU Coolers
gpu
Without question, this is the heart of our $1000 gaming PC build. While we had to make some…slight compromises to make this possible (we couldn't afford an overclocking-compatible setup like we normally do for $1K PC builds), these won't actually impact real-world gaming performance significantly enough to justify going without an RTX 2060.
If you look at this partlist and compare it to our $800 PC build, you may notice a lot of similarities. Don't let the initial looks fool you, though…with this GPU in play, we're seeing gaming performance gains as high as 53% over the $800 PC build, and the i5 still won't bottleneck us! Not to mention you have the RTX feature with this, too.
50% more gaming performance for only 20% more cash isn't a bad deal at all, is it?
ram
This 8GB DDR4 RAM stick from Patriot is from a trusted brand, and comes clocked just a little higher than entry-level DDR4 RAM. Truthfully, you probably won't notice an extreme difference based on RAM speed alone, but thanks to the fact that this is actually 2 4GB sticks, you can run them in dual-channel for a significant boost in memory performance.
This is one of the few non-compromises in this build. 8GB of RAM will serve you fairly well for years to come.
ssd
ADATA makes some pretty solid value SSDs, and the SU800 series is no different. While still operating about as fast as a SATA SSD, the SU800 512GB offers some of the best price-per-gigabyte that you can find in a modern SSD. With half a terabyte of fast storage, you have more than enough room for your operating system and all of your favorite programs. If you're going to put games on here, we recommend sticking to your favorite multiplayer titles, as those will benefit the most from fast loading times.
While it may be a bit more expensive than, say, ~250 GB SSD or a ~125 GB SSD, the actual value you're getting for your money is unmatched. This makes the ADATA Ultimate SU800 512GB SSD our top value SSD pick.
hdd
When it comes to storage, all you really need to do is make sure that you're buying from a trusted brand (Hitachi, Seagate) and you're getting a good value for your money. This 2TB HDD epitomizes that– just make sure that you do initial OS installation on your SSD and not this one by accident, or you won't be able to utilize the benefits of hybrid storage as intended in this build.
MORE: Best Gaming Hard Drives
psu
Finally, modularity! In case you aren't familiar with modular PSUs, they allow you to only use the cords you need instead of coming preloaded with every possible cord preattached.
Thanks to rising prices, we weren't able to fit modular PSUs into our cheaper builds without going over budget. Now that we have just a little bit more flex room, we are able to add a Semi-Modular PSU from Corsair, which will make your building process much cleaner and easier than it would be with a Non-Modular PSU.
The same basic rules of PSU shopping still apply here, of course: buy high quality from a trusted brand (EVGA, Corsair), or risk system loss or a house fire (aka house loss).
mobo
This is an entry-level motherboard for Intel's 8000-series processors. This means that you won't be able to overclock on this build, but it was a necessary sacrifice to be able to fit the CPU and GPU inside…upgrading to an OC-capable motherboard would've added at least $50 by itself, more often closer to $80 if you want a truly high-end motherboard.
Gigabyte's offerings have always been fairly high-quality, though, so even though this motherboard is made for a budget gaming PC, you don't need to worry about it failing you.
case
The Phanteks P400S is our top pick for a case in this price range, thanks to its stellar build quality, quiet fans, excellent airflow, and sleek aesthetic.
There are multiple color options, all of which include RGB LED lighting that emanates from the bottom of your case, adding a little bit of atmosphere to the whole situation. The panels pretty effectively soundproof the system, so for those who like quieter PC builds, this is a great benefit.
There is also tempered glass, which is both durable and provides a great look inside your case at your components, illuminated by an RGB LED strip that you can customize to whatever color you like.
Last but not least, there are two Phanteks fans bundled with this case, providing a great out-of-the-box cooling solution from the get-go. You're welcome to slap in an extra intake fan if you want, but you shouldn't really need to.
MORE: Best PC Cases
Why is this the Best $1000 Gaming PC?
Simply put, this is the best gaming performance that you're going to get for under $1000. While you can continue pushing your budget past this, you will begin to see diminishing returns… Even once you start running 1080 Tis and i7s, you're not looking at massive, real-world performance gains unless you're gaming at 4K. Even then it won't be by much.
The only real compromise we had to make for the sake of this build came in the form of overclockability. We wanted to get an i5 8600K-- the K series being overclocKable, obviously-- in here and pair it with an overclocking-compatible motherboard, but if we included those things we wouldn't have been able to include the GTX 1070.
Ultimately, the 1070 offers better gaming performance here, so we decided to sacrifice overclockability for it.
What games can this PC run?
In this section, we're going to tell you how this game should be able to run your favorite games.
Fortnite

- At 4K and High settings, you should be able to achieve around 30-40 FPS. If you want a stable 60FPS, you'll definitely need to turn down your settings or your resolution.

PlayerUnknown's Battlegrounds

-

PUBG

is probably the most performance-demanding game on this list, so we recommend just playing this one at 1440p and high settings, which should net you a stable 60 FPS. 4K60 might be possible, but only with very low settings.

Monster Hunter: World

-

MHW

should provide a great experience at 1440p, but 4K simply isn't feasible with this build unless you're making sacrifices to framerate or performance.

League of Legends

- This is a lightweight eSports title, so running at 4K60 shouldn't be a problem at all.

Dota 2

- While

Dota 2

isn't made to run on a calculator like

League of Legends

(that's sarcasm) it is still shouldn't be demanding for a build like this and should easily run at 4K60.

Overwatch

- While an eSports title, this is definitely more demanding than the MOBAs. Expect 40-50 FPS at 4K/Ultra settings, and consider turning down to 1440p for the best experience.

Rainbow Six: Siege

- With its real-time map destruction and high-end graphics engine, you aren't going to be able to keep a stable 4K60 at high settings with this game. 1440p should be fine, though.

Warframe - Warframe

is actually surprisingly light on system resources, so you should be able to achieve at least 100 FPS in 4K and high settings with this PC build.

Grand Theft Auto V

- 4K60 isn't happening here unless you turn a lot of things down, but 1440p and high settings should be very easy to achieve.

Team Fortress 2

- This is more CPU-dependent than GPU-dependent, and the i5 in this build is overkill for TF2. 4K60 should be achievable, but due to

TF2's

engine you may encounter some pretty bad performance hiccups- if you do, you'll want to turn some settings down.
Similar Prebuilt Gaming PC Under $1000
Let's face the music: not everyone is fond of building their own PCs. This is why we decided to include a list of pre-built gaming computers in the same price range.
Below are several of the entries from our best prebuilt gaming desktops under $1000 product guide. You can check them out for yourself, or you can read the above article to get a better understanding of what each brings to the table:
Upgrade Path for this Build
This best gaming PC build in 2019 doesn't come without upgradeability, of course! Here are just a few recommended upgrades that we have in mind for this build.
Note: These will raise the price of the build!
OS Options and Recommended Peripherals
Now, ideally, you'll already have a pre-existing OS and peripherals to transfer over from your old machine to your new one. But, in case you don't, we've included this section on peripherals for this 1k rig.
Note: These will raise the price of the build!
This 1k rig might be nice, but the act of physically placing the components together is just as important as carefully choosing the right components.
For first time builders, it is important to be aware of the common mistakes that newbies make. It's also not unusual to have some questions about PC building common, so don't feel silly for needing the extra help.
Invest In Anti-static Equipment
Remember how much fun it was as a kid when you realized that you could use static electricity to shock people, but then you forgot about it for the rest of your life? Well, you'll need to remember it again, because static discharge can fry the sensitive circuitry of the valuable components you just purchased.
There are several easy ways to avoid this. First, you can buy an anti-static mat to place your motherboard and other components on. Second, and perhaps more importantly, is grounding yourself while building, which you can do with an anti-static wristband.
At first, it can be somewhat nerve wracking to use since if you get it wrong, it will cost you hundreds of dollars. That's why we created a nifty guide to tell you exactly how to use an anti-static wristband.
Building PCs can be scary for a first-timer. Fortunately, it's actually pretty simple and there are more resources than ever! With Tek Syndicate's above build guide, plus your component manuals, you shouldn't have a problem putting together your PC.
Secure your wristband and clear your workspace (and your schedule while you're at it) and you'll be on your way. Your first build may take multiple hours, but you'll feel great once you're done.
Newbie builders also are afraid they might be missing something in the process. This is where our how to build a PC guide from this link should come in handy. We have detailed every step of the process from deciding on a budget, to setting up your computer, and installing all the drivers you'll need.
To save money-- and some headaches-- install your OS via USB. To do this with Windows, download and run the Windows 10 Media Creation Tool. All you'll need is a 4GB USB stick and a license key.
If you're thinking of using one of the Linux distributions, try out UNetbootin or Rufus.
If you followed our guide, you've assembled the best gaming computer under $1000.
Enjoy your gaming, and make sure you comment down below if you have any suggestions, or want a second opinion about which build you should pick.