This post recommends the best gaming PC you can build for under $1000. If you're looking to buy a pre-made PC, we recommend the CYBERPOWERPC Gamer Xtreme VR GXiVR8060A5 Gaming PC this 2019. At it's centre this build has a powerful Intel i7 9700F and Nvidia's latest GTX 1660 GPU which as well as a 120GB SSD, 16GB DDR4 RAM and a 1TB HDD.

With this build our main goal was to provide the best gaming PC for under $1,000! It's at this price range that you start needing to make fewer and fewer compromises and can instead focus on raw performance and excellence. You're officially out of the mid range category and have entered into the realm of premium builds where maxing out AAA titles at 1080p and 1440p becomes a doddle. At this price you start to delve into the possibility of 4k and VR gaming which is pretty much the future of eSports.

The great thing about this build is how versatile it can be if performance levels become under par in the distant future. Everything in this build is interchangeable meaning you can easily swap out a CPU or GPU, add extra RAM and storage to keep up to speed with the latest technological advancements.
Overall, we believe this is one of the best all round builds we have put together so far.
please note that prices of the hardware do fluctuate daily, our team works tirelessly to try and ensure the price is as close to $1,000 as possible.
At Wepc we strive to provide you with the best hardware recommendations available thanks to hours of research and benchmark testing hundreds of products. That's why our Best Gaming PC series offers some of the highest performing builds available. So as you would expect our Best gaming PC under $1000 does not disappoint when it comes down to power and performance.
When considering the hardware for a premium build we take the following into consideration:

No Compromises. At lower price ranges, you often find yourself making various compromises to get the best for your money. Not so much here. Value can be maintained without compromising on the higher priority parts of the build (think GPU, CPU and RAM) or its capabilities, allowing us to enjoy the full range of games available the way they were intended to be. 
Streaming and VR-Ready. If you're paying a thousand dollars for a PC build you should be able to enjoy gaming to its maximum potential. Streaming, content production, and VR gaming fall under that umbrella, so we've ensured that this build can do all of the above with relative ease. 
This being said, you will still need to invest in a VR headset to play VR titles, however the hardware we have selected in this $1000 build is more than capable of handling pretty much anything you want to throw at it.  
Future Proof. One of our main goals when building, what we consider as a premium PC, is making sure the rig isn't going to become obsolete in a few years time. How we do this is by researching the latest gaming tech and following brand announcements to make sure what were recommending has the capacity to accommodate such advancements.
How We Choose the PC Components
We are computer enthusiasts, we are gamers, we understand what you are looking for and we try our best to provide you with the most up to date PC builds with value and performance in mind. Please bare in mind we have spent countless hours researching these PC builds and we work tirelessly to check stock and prices of each component in our builds.
We use our own expertise and knowledge along with the knowledge of others across the web, by utilizing resources such as Reddit, PC forums, industry websites and various Youtube channels to keep us up to date with the latest and greatest in PC hardware.
When you visit WePC, you should be comfortable in knowing that you have our support.
The Best $1000 Gaming PC
Update:
cpu
AMD Ryzen 5 3600
The Ryzen 5 3600 in this build will provide stellar gaming performance and shouldn't bottleneck any potential GPU upgrades.
gpu
GIGABYTE GeForce RTX 2060 Gaming OC Pro 6G Graphics Card
The RTX 2060 was the best GPU we could slap into this build, and will provide great 1440p and VR performance. Even 4K should be possible! Not to mention the RTX feature.
ram
Corsair Vengeance LPX 16GB 3600Mhz
Every rig needs solid, reliable RAM and Corsair's Vengeance certainly ticks all the right boxes.
psu
Corsair CX Series 650 Watt 80 Plus Bronze Semi-Modular PSU
A strong semi-modular power supply from Corsair.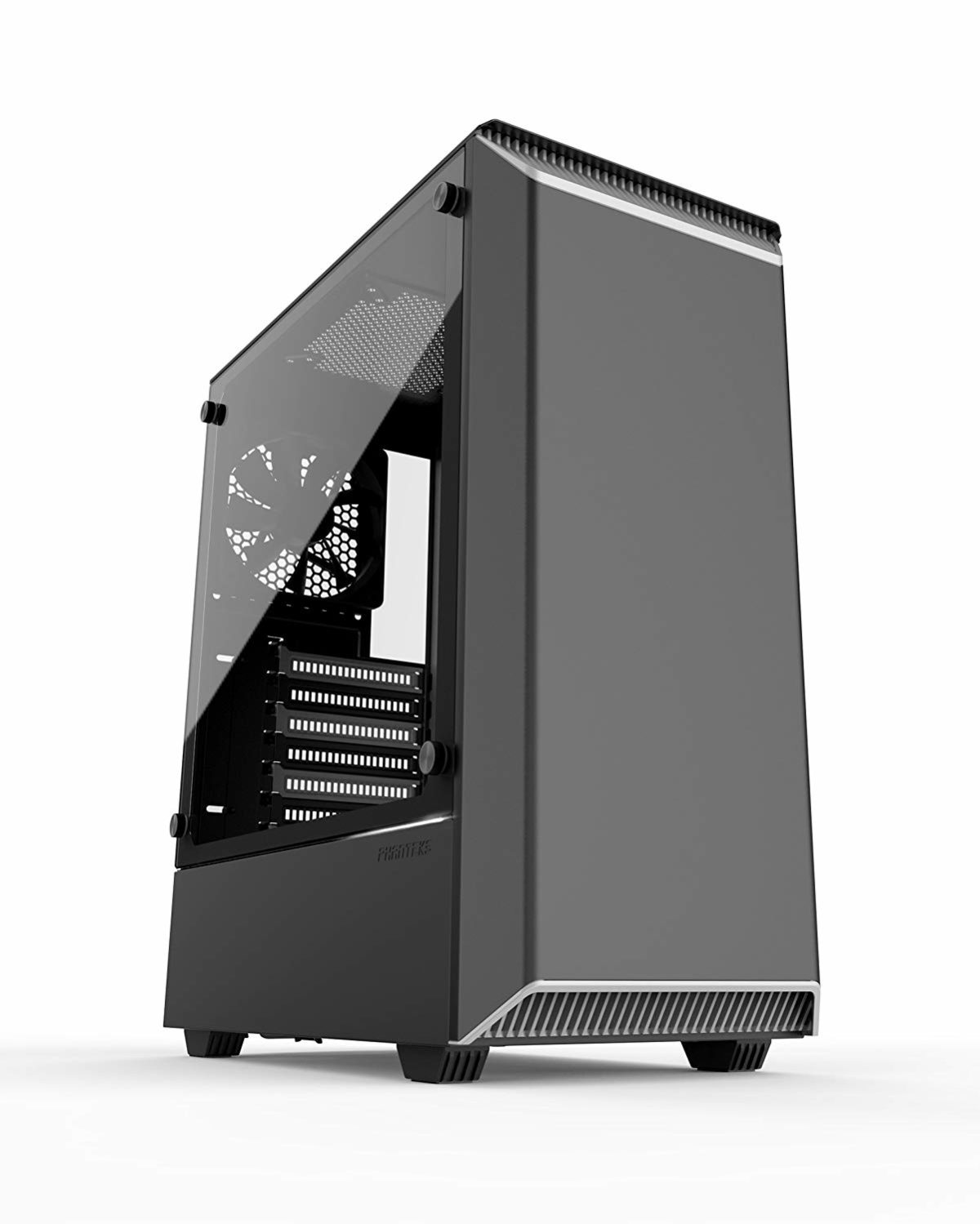 case
Phanteks Eclipse P300 Steel Mid Tower Tempered Glass PC Case
The Phanteks Eclipse P300 is an excellent mid range case with plenty of room for expansion and great out-of-the-box cooling.
Order This Build on Amazon
We've talked about what this build can do and what the requirements are.
Now, let's talk about what makes up the insides of this $1,000 gaming computer.
cpu
The Ryzen 5 3600 is part of AMD's impressive Ryzen 3rd gen processing units which are now considered as the most powerful available. The 3600 comes with a base clock of 3.6Ghz right out of the box. That being said, with AMD's turbo boost you can achieve up to 4.2Ghz respectively thanks to unlocked overclocking. The 3600 is one of the most anticipated CPUs to come out of Ryzen's 3rd gen lineup because it showcases such good bang for the buck. For this reason, we've selected it as the number one pick for this particular build.
MORE: Best CPUs for Gaming
We've run various benchmarking tests on the Ryzen 3rd gen lineup and found the Ryzen 3600 is the best performing CPU for the price. You can check out our Youtube channel and benchmarking videos here.
gpu
Without question, this is the heart of our $1000 gaming PC build. The RTX 20 series is highly renowned as the most powerful family of GPU's available at present and the 2060 was released to have maximum punching power at affordable prices. The 2060 comes equipped with Nvidia's new Turing architecture which makes use of DLSS and real-time ray tracing, effectively future proofing this card for years to come. Pair these new technologies with AI enhanced graphics and the worlds fastest GDDR6 memory and you have the makings of a very impressive GPU.  If you've been taking note of our other builds you may of noticed the improvements we've made over the $800 build. The GPU alone has a massive 55% performance boost and that's not taking into consideration the other components. 50% more gaming performance for only 25% more cash isn't a bad deal at all, is it?
ram
We've gone for 16GB of DDR4 Corsair Vengeance RAM for the $1000 build, an incredibly effective, affordable RAM brand. We could have pushed for more but decided to put the money towards a better GPU which will increase performance much higher than the extra RAM ever could. The great thing about RAM is it's relatively inexpensive, meaning if you want to purchase a further 8GB in the future, it isn't going to kill you in the pocket. Furthermore, the motherboard we've equipped this build with can easily accommodate it when you do.
The Ryzen chip also thrives when paired with 3600+Mhz RAM, it's a great way to maximize your CPUs performance at a relatively affordable price.
ssd
As most will know by now SSD is the way to go if you want to dramatically decrease boot and loading times of your rig. A decent SSD will reduce the amount of time it takes to load games and programs much more than a CPU or RAM upgrade ever could, so choosing the right one is crucial. As many will know, Samsung's 860 QVO SSD is renowned for being extremely reliable, meaning you won't be worrying about a failed drive after a few months with this one. Furthermore, 1TB is more than enough to house windows and a few primary games that require the SSD's fantastic loading speed. The old phrase of quality over quantity has definitely been put into practice here.
psu
Finally, modularity! In case you aren't familiar with modular PSUs, they allow you to only use the cords you need instead of coming preloaded with every possible cord preattached. Thanks to rising prices, we weren't able to fit modular PSUs into our cheaper builds without going over budget. Now that we have just a little bit more flex room, we are able to add a Semi-Modular PSU from Corsair, which will make your building process much cleaner and easier than it would be with a Non-Modular PSU. The same basic rules of PSU shopping still apply here, of course: buy high quality from a trusted brand (EVGA, Corsair), or risk system loss or a house fire (aka house loss). MORE: Best Gaming Power Supplies
mobo
Firstly, let's get that poxy BIOS update issue out of the way. We have a great page on how to update your BIOS when buying a new Ryzen chip and pairing it with an older 400 series motherboard. You will need to update the BIOS before using the new chip.
BIOS aside though, the MSI Gaming plus B450 motherboard is a fantastic addition to this already impressive build. It has everything you would expect from a gaming motherboard and all the overclocking power essential to get the most from your new Ryzen chip. It has plenty of room for expansion and M.2 slots if you ever want to go m.2 SSD in the future.
case
The Phanteks Eclipse P300 is our top pick for a case in this price range thanks to its stellar build quality, quiet fans, excellent airflow, and sleek aesthetics. It's been designed with aesthetics in mind and has been equipped with a large tempered glass side panel to showcase everything this build has to offer.  The case is made from high-quality materials and will you serve you well long into the future. The case, unfortunately, only comes with a single 120mm fan for out-the-box cooling. I would definitely recommend buying additional fans but this is more than enough to get the ball rolling off the bat. 
MORE: Best PC Cases
Why is this the Best $1000 Gaming PC?
Simply put, you can not find a better performing gaming rig for under $1000. You can however continue to push the boundaries of your budget but will start to see diminishing returns in regards to value for money. The only way you will truly see a noticeable difference in real world situations is to upgrade to the highest performing GPU (2080) and pair it with the latest i7 processor (9900k) which as we all know do not come free of charge. 
Usually when you build a gaming PC there comes a point where your budget starts to exhaust and compromises begin creeping into the equation. In our $1000 build this came in the shape of our board and SSD, which are both be considered entry-level, however by compromising here it has paved the way for us to equip this build with a top level GPU. The performance improvements we achieve by doing this overshadow any dip in quality we lose elsewhere.
Ultimately, the 2060 which we've paired with the i5 9th gen CPU make for a ruthless performance set up that can be tweaked with relatively inexpensive consequences. 
What games can this PC run?
In this section, we're going to tell you how this game should be able to run your favorite games.
Fortnite

- At 4K and High settings, you should be able to achieve around 30-40 FPS. If you want a stable 60FPS, you'll definitely need to turn down your settings or your resolution.

PlayerUnknown's Battlegrounds

-

PUBG

is probably the most performance-demanding game on this list, so we recommend just playing this one at 1440p and high settings, which should net you a stable 60 FPS. 4K60 might be possible, but only with very low settings.

Monster Hunter: World

-

MHW

should provide a great experience at 1440p, but 4K simply isn't feasible with this build unless you're making sacrifices to framerate or performance.

League of Legends

- This is a lightweight eSports title, so running at 4K60 shouldn't be a problem at all.

Dota 2

- While

Dota 2

isn't made to run on a calculator like

League of Legends

(that's sarcasm) it is still shouldn't be demanding for a build like this and should easily run at 4K60.

Overwatch

- While an eSports title, this is definitely more demanding than the MOBAs. Expect 40-50 FPS at 4K/Ultra settings, and consider turning down to 1440p for the best experience.

Rainbow Six: Siege

- With its real-time map destruction and high-end graphics engine, you aren't going to be able to keep a stable 4K60 at high settings with this game. 1440p should be fine, though.

Warframe - Warframe

is actually surprisingly light on system resources, so you should be able to achieve at least 100 FPS in 4K and high settings with this PC build.

Grand Theft Auto V

- 4K60 isn't happening here unless you turn a lot of things down, but 1440p and high settings should be very easy to achieve.

Team Fortress 2

- This is more CPU-dependent than GPU-dependent, and the i5 in this build is overkill for TF2. 4K60 should be achievable, but due to

TF2's

engine you may encounter some pretty bad performance hiccups- if you do, you'll want to turn some settings down.
Similar Prebuilt Gaming PC Under $1000
Let's face the music: not everyone is fond of building their own PCs. This is why we decided to include a list of pre-built gaming computers in the same price range.
Note: you can check out our thorough list of the best custom PC builders right here, we've discussed the top 12.
Below are several of the entries from our best prebuilt gaming desktops under $1000 product guide. You can check them out for yourself, or you can read the above article to get a better understanding of what each brings to the table:
Upgrade Path for this Build
This best gaming PC build for 2019 doesn't come without upgradeability, of course! Here are just a few recommended upgrades that we have in mind for this build.
Note: These will raise the price of the build!
cpu
This unlocked version of AMD's Ryzen 3rd Gen CPU is the natural next step up from the 3600x and on average has between 30-40% performance gains in the multi-thread benchmarks. Like the other 'X' CPU's in AMD's hierarchy, the 3800x has the ability to be overclocked past 4.5GHz but has been equipped with 2 more cores and 4 more threads which enable this CPU to be much more efficient.  The great thing about the $1000 build is that if you want to upgrade just the CPU, the board which we have recommended already houses the ability to accommodate both the 3600x and the 3800x!
mobo
We've decided to upgrade to the more powerful, better equipped, X570 for the natural upgrade path here. The Gaming Edge from MSI has a fantastic aesthetic design and plenty of RGB to get your rig looking it's best. It not only has fantastic RGB, but it also has excellent overclocking potential which when paired with either the 3600X or 3800X creates a deadly partnership. With native wireless connectivity and next-gen USB 3.1 support this board is also future proof.
This motherboard supports overclocking and features an EPS12V CPU 8-pin connector (where you power your CPU) and an extra 4-pin. The extra 4-pin is only required for overclocking but can be ignored in any other case.
ssd
SSD is always worth boosting if you have the extra wiggle room within your budget due to how efficient it is at speeding up your system. Installing more games and software onto your SSD will undoubtedly result in a much quicker build, so we've opted for a 500GB SSD upgrade. This isn't just an upgrade on capacity however, we've also gone from the 860 EVO to 970 EVO which Samsung have said boosts performance by up to 6x. All this sounds very attractive and unfortunately comes at a price, which is why we recommend this in our upgrade path only.
Cooler
With our $1000 build having Intel's infamous overclocking CPU range installed, it's always worth bolstering your cooling system as temperatures are likely to increase when testing the CPU's ability. We've selected Corsair's Hydro series H80 liquid cooler which provides uncompromising cooling throughout the entire build. If you're ever in doubt when it comes to cooling your system, go liquid. MORE: Best CPU Coolers
VR Headset
Since you're already buying a beast PC in the form of the 1k rig, maybe you'd like to take your gaming experience to the next level with VR gaming?
HTC Vive
Since you're already buying a beast PC in the form of the 1k rig, maybe you'd like to take your gaming experience to the next level with VR gaming?
Oculus Rift
OS Options and Recommended Peripherals
Now, ideally, you'll already have a pre-existing OS and peripherals to transfer over from your old machine to your new one. But, in case you don't, we've included this section on peripherals for this 1k rig.
Note: These will raise the price of the build!
This 1k rig might be nice, but the act of physically placing the components together is just as important as carefully choosing the right components.
For first time builders, it is important to be aware of the common mistakes that newbies make. It's also not unusual to have some questions about PC building common, so don't feel silly for needing the extra help.
Invest In Anti-static Equipment
Remember how much fun it was as a kid when you realized that you could use static electricity to shock people, but then you forgot about it for the rest of your life? Well, you'll need to remember it again, because static discharge can fry the sensitive circuitry of the valuable components you just purchased.
There are several easy ways to avoid this. First, you can buy an anti-static mat to place your motherboard and other components on. Second, and perhaps more importantly, is grounding yourself while building, which you can do with an anti-static wristband.
At first, it can be somewhat nerve wracking to use since if you get it wrong, it will cost you hundreds of dollars. That's why we created a nifty guide to tell you exactly how to use an anti-static wristband.
Building PCs can be scary for a first-timer. Fortunately, it's actually pretty simple and there are more resources than ever! With Tek Syndicate's above build guide, plus your component manuals, you shouldn't have a problem putting together your PC.
Secure your wristband and clear your workspace (and your schedule while you're at it) and you'll be on your way. Your first build may take multiple hours, but you'll feel great once you're done.
Newbie builders also are afraid they might be missing something in the process. This is where our how to build a PC guide from this link should come in handy. We have detailed every step of the process from deciding on a budget, to setting up your computer, and installing all the drivers you'll need.
To save money-- and some headaches-- install your OS via USB. To do this with Windows, download and run the Windows 10 Media Creation Tool. All you'll need is a 4GB USB stick and a license key.
If you're thinking of using one of the Linux distributions, try out UNetbootin or Rufus.
If you've followed our guide from start to finish you've just assembled what we consider to be the best gaming computer under $1000, Kudos! You now have the ability to play any game out there at mid-high settings in a range of resolutions. The rig supports both 4k and VR gaming and has all the future proofing you'll need to last years into the future.
Enjoy your gaming, and make sure you comment down below if you have any suggestions, or want a second opinion about which build you should pick.