With this build, our goal is to provide the best gaming PC build under $1000.
Now that you've entered this price range, you aren't compromising on any level of performance. You're out from the mid range gaming PC category and officially in the premium category. This is where you easily max out every title at 1080p. You'll also start pushing for 1440p resolutions and still get a solid 60FPS by smartly adjusting some in-game settings.
This is also where even more high-end tasks, like streaming and Virtual Reality, become possibilities, too.
Are you ready to feast your eyes with the best gaming PC build in this price range? Read on!
The best gaming PC in 2018 that cost under $1000 boasts all the power and performance that you'd expect from a build you're spending this much money on. There won't be any compromise in this build because every.title.is.playable.
Let's see where we decided to place that.
No Compromises. When you're working under a budget for performance-oriented reasons, you often find yourself making various compromises to get the best for your money. Not so here- value can be maintained without compromising on any part of the build or its capabilities, allowing the full range of PC gaming to be experienced with this one machine.
Overclocking Capabilities. Being able to overclock your processor and GPU is a vital part of extending the life of your build and providing more user options. While we don't dive deep into that kind of thing here, the hardware we've chosen is ready for you to squeeze more out of it should you want to.
Streaming and VR-Ready. If you're paying a thousand dollars, you should be able to enjoy all gaming has to offer. Streaming, content production and VR gaming fall under that umbrella, so we've ensured that this build can do all of those things.
While you would still need to invest in a VR headset to play VR titles or upgrade to an i7 for a really high-end streaming/video creation, the hardware here is already great for those tasks and should be for the foreseeable future.
How We Choose the Parts and Components
We've been in the industry of gaming and building computers for about 10 years now.
So we know just what you want and need. We don't just come up with a build for the sake of giving you a bunch of components that fit the budget. In fact, we do extensive research and price comparison for hours to make sure you get more than what you pay for.
Furthermore, we also check what our fellow professionals in the industry have to say about the upcoming and newly released hardware products to make sure we're not missing even a bit of information. JayzTwoCents, NCIX Tech Tips, Linus Tech Tips and Tech Deals are just a few.
We always keep ourselves up-to-date with the latest hardware release to make sure we're giving you the best builds and value for your money. Having that said, expect to see changes in all our builds from time to time as we keep them updated on a monthly basis.
The Best $1000 Gaming PC
Update:
cpu
Intel Core i5-8600k
Intel's Gamer/Enthusiast CPU which boasts a stupendous amount of power and performance.
gpu
EVGA ACX 3.0 GTX 1060 6GB
An excellent mid-high end GPU, more than enough for 1080p games at max and VR gaming.
ram
Ballistix Elite 8GB DDR4-2666
All the RAM you need for gaming and multitasking, but maybe not productivity apps.
ssd
ADATA SU800 256GB
An SSD big enough to hold your OS and a good few of your favorite games for fast boot and load times.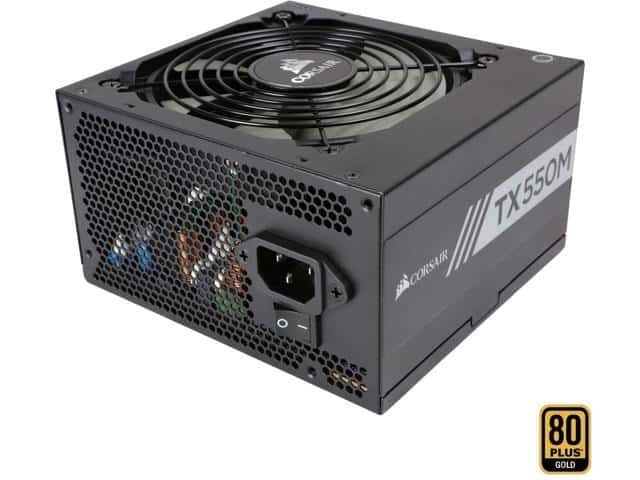 psu
Corsair TXM 550W 80+ Gold-Certified Semi-Modular PSU
A great power supply from Corsair that will provide all the power this build needs.
Estimated $998.58 at Amazon
(Price are accurate as of August 29, 2018. Click the button to see the latest prices)
Order This Build on Amazon
We've talked about what this build can do and what the requirements are.
Now, let's talk about what makes up the insides of this 1k rig - the gaming royalty that you're soon to be a part of.
cpu
To start off, this is what actually defines power and performance in this build. It's gaming performance for an i5 is surprising, and there should be no compromise in power no matter what type of AAA title games you throw at it.
Streaming your games and rendering videos will be a cheese. However, you need to be smart enough to do some tweaks in-game to make sure you deliver a good streaming performance. You can also rely on the CPU when it comes to rendering video, although they are somewhat slower than their i7 Coffee Lake cousins.
cooler
The CRYORIG H7 is an excellent air cooler with plenty of mass on the heatsink and a huge fan to keep it all cool. You can also opt for a liquid cooler if you like, but those are a fair bit more expensive and we've opted to keep those in the optional upgrades section. The H7 is one of the best budget air coolers you can find out there.
gpu
The GTX 1060- both of its versions- is the best midrange GPU on the market. The 6GB version ups VRAM and overall performance in able to be able to take on Virtual Reality gaming scenarios, in addition to stronger 1440p and 4K gaming performance. EVGA is also an excellent Nvidia GPU manufacturer, thanks to their solid build quality and great customer service.
ram
Here we come again with 8GB of DDR4 RAM. While some in this price range may opt for 16GB, we don't find that to be necessary- until you've started getting really deep into content production.
8GB will more than suffice for gaming and multitasking as things are now. We've also bumped up the speed to 2666 Mhz.
Additionally, Crucial's Ballistix Series offers superb performance at every price range. While higher frequency clocks don't offer much in the way of gaming performance increases, buying quality memory will typically save you headaches in the long run.
ssd
We want to make sure that you're getting the best performance for the price of $1,000, this is why we decided to put this here among the list.
Everything you see in this 1k rig is all about speed and performance and having the ADATA Ultimate S800 just gives you faster boot times and loading times with its 560MB/s speeds.
hdd
The Toshiba P300 1TB HDD is a great storage drive, and should hold plenty of your favorite games and media with little issue. You can replace this with a larger SSD in the build if its storage isn't to your satisfaction, but for starters the Toshiba P300 is definitely an amazing way to supplement your SSD's speed and reliability.
psu
Corsair makes some pretty great PC hardware all-around, and their PSUs are among my favorite to recommend because of their build quality and reliability. This 550W Gold-Certified power supply from them is no different, offering more than enough power to be the beating heart of this build and being pretty power-efficient on top of it, hopefully saving you a bit on your electric bill each month.
mobo
Since we want this build to be overclockable, we have to invest in a motherboard with the Z370 chipset. This adds quite a lot of the pricing of a motherboard, but it also adds significantly to build quality and features on hand.
While your motherboard won't affect your level of gaming performance in any realistic way, having a better motherboard enables features like CPU and memory overclocking, alongside more ports and BIOS features for enthusiasts to enjoy.
The GIGABYTE Z370 HD3 is one of the best boards in this price range right now, and we wholeheartedly recommend it.
case
The Corsair SPEC-02 is one of our favorite parts in this build. Thanks to the higher price range, we were able to invest in a case with no compromises at all.
Corsair makes great builder-friendly cases, for one. You're unlikely to have any problems putting together your PC with this as an enclosure.
In addition to superior ease-of-use and build quality, the Corsair SPEC-02 also includes two intake fans in addition to its exhaust, offering superior cooling right out of the box.
Why is this the Best $1000 Gaming PC?
We all know The Rock and Vin Diesel, right?
If our best gaming PC build under $800 is Vin Diesel, this 1k rig is The Rock. It's better to illustrate the power of this rig if you actually visualize it.
Maxed out AAA games (Kevin Hart) at 1080p resolution are easily thrashed by this 1k rig (The Rock). You get no compromise in whatever areas when gaming. In this price range, it's clear why this is the best gaming PC build in 2018.
You have the unlocked i5-8600k in this build. Paired with CRYORIG's H7 cooler, you get a decently cooled overclocked performance for the price of $1,000. You may be just a little over the mid-range gaming PC category but you get more power and performance being in the $1000 budget range.
Moreover, you still get a 256GB SSD on top of your 1TB HDD for faster loading and boot times. Have your OS and your favorite games stored here for a more premium feel when gaming.
Similar Prebuilt Gaming PC Under $1000
There's no doubt about this being the best 1k gaming PC. But we have a slight problem here that may affect some of your reading this…
Not all of you are fond of piecing each part together. That aside, you may have heard of the battle between Prebuilt vs Custom PC - Why You Should Buy a Prebuilt PC Now.
This is why we decided to include a list of pre-built gaming computers of the same price range so we could all have a great time at the end of the day - isn't that great?
We carefully checked each of the PCs we have in our best prebuilt gaming desktop under $1000 and to make it more convenient, here's a quick link for each of them:
This 1k rig doesn't come without upgradeability, of course! Here are just a few recommended upgrades that we have in mind for this build.
Note: These will raise the price of the build!
Cooler
The Corsair H60 is a great budget water cooling solution, and if you plan on overclocking your CPU, you're advised to buy it. This is because liquid cooling grants much lower temps than what you can get with air cooling.
The cooler your CPU can run, the higher and safer you can overclock.
gpu
The EVGA GTX 1080 is a beast of a GPU, but this model comes with a factory overclock and EVGA's excellent ACX cooler. Expect top-of-the-line graphics performance alongside firstclass cooling, build quality and customer service with this card.
While the 1070 can beast through most games you put on it, the GTX 1080 is even more crazy-powerful. It should allow you to easily max out games at 1440p and even start pushing higher settings in 4K/VR titles.
OS Options and Recommended Peripherals
Now, ideally, you'll already have a pre-existing OS and peripherals to transfer over from your old machine to your new one. In case you don't, though, we've included this section on peripherals for the One-K King, including OS, mouse, keyboard and monitor selections.

Note that all of these will raise the price of the build!
Deciding on building the One-K King allows you to do more than just streaming and VR. However, to build them accordingly is as important as carefully choosing the right components.
For first time builders, it is important that you check mistakes that newbies make to avoid doing the same mistakes newbie PC builders do. Similarly, our list of common questions when building a computer should give you insights on what to do when building your computer.
Invest In Antistatic Equipment
Static discharge can fry all those valuable components you just purchased. If you want to prevent this from happening to you, you definitely need to buy an anti-static wristband for the build process. You can also use an anti-static mat to place your motherboard and other components on, but we recommend you don't go without the wristband.
Make sure you refer to our guide in this link if you haven't used an anti-static wristband before
Watch Building Guides
Building PCs can be scary for a first-timer, but, fortunately, it's actually pretty simple. With Tek Syndicate's build guide above, plus your own discretion with the manuals of the components you've purchased, you shouldn't have a problem putting together your PC.
Secure your wristband, clear your workspace, and clear your schedule while you're at it. The first-time build may take multiple hours, but, once you're done with it,you're going to feel great.
Newbie builders also are afraid they might be missing something in the process. This is where our how to build a PC guide from this link should come in handy. We have enlisted detailed steps such as deciding on a budget, setting up your computer for first use, and installing the right drivers needed.
Install OS Via USB
To save money and some headaches, install your OS via USB. To do this with Windows, download and run the Windows 10 Media Creation Tool. All you'll need is a 4GB USB stick and a license key, and you won't have any problem installing your OS off your flash drive. If you're thinking of using one of the Linux distributions, try out UNetbootin or Rufus.
And that's it!
If you followed us properly, you've assembled the 1k rig and have the best 1000 dollar gaming PC.
Enjoy your gaming, and make sure you comment down below if you have any suggestions, recommendations, or perhaps you have second thoughts on picking which path you should take.
We can guarantee that we'll get back to you. Give it a try!