Computer Case Sizes
Size matters, well, sometimes. Of course, we are talking about PC case sizes, what were you thinking about? The size of your case determines the size of the components that will go inside, what kind of custom loop you can install, and other boring stuff like airflow!
The case is responsible for not only housing your components but cooling them to. There needs to be adequate room in a case for air to circulate, so naturally, a bigger case often will have better temperature performance. Not only will the larger cases dissipate heat at a quicker rate, but they also have the capacity for larger heatsinks, making cooling a breeze.
Computer cases come in quite a few different sizes, shapes, and styles, but what does it all mean? In this article, we are going to go over the different computer case sizes, and what the positives of the particular sizes are.
So whether you are looking for the best case you can buy, a smaller budget case, or an interesting tempered glass case, read on and make a more informed choice!
Computer Size Comparison
Full Tower
Mid Tower
Mini Tower
Smaller Form Factor
Motherboards
Mini-ITX
MicroATX
ATX
EATX
Mini-ITX
MicroATX
ATX
Mini-ITX
MicroATX
Mini-ITX
5.25" Drive Bays
3-6
2-5
1-2
1
3.5" Drive Bays
6-13
6-7
4-6
1-3
2.5" Drive Bays
0-10
0-6
0-4
0-2
Expansion Slot
7+
5-7
4
2
Graphics Cards
3-4
2-3
1-2
1
Case Fans
8+
3-8
2-4
1-3
Computer Case Size Breakdown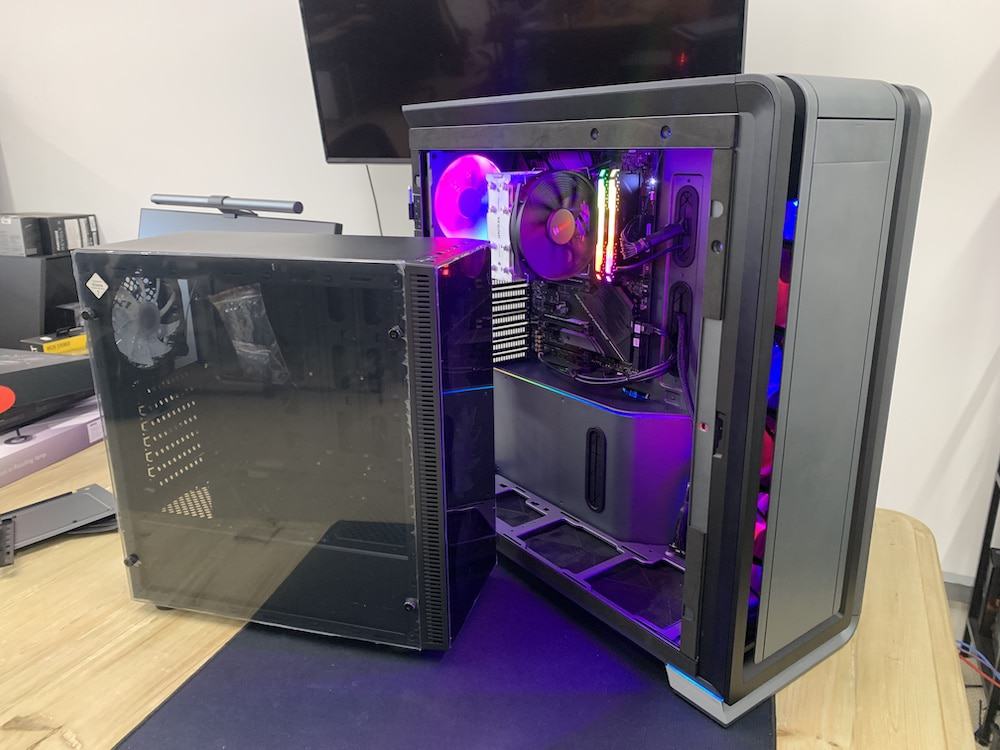 Full Tower Case
Full towers have always attracted enthusiasts for their expansion compatibility, custom loop accommodation, and improved thermal performance. It isn't just gaming cases that enjoy this size bracket; server cases are also considered to be EATX as they need to accommodate an extra CPU and RAM.
Any builds that will utilize an EATX, or SSI CEB sized motherboard will need to go into a full tower as mid towers only have room for up to ATX. A full tower enters the mix if you are considering overclocking your components. Overclocking requires a lot of cooling as heat can ramp up rapidly. To combat the heat big radiators, triple heat sinks, and water cooling will all need extra room. It isn't just clearance that is the issue when cooling; you also need to concern yourself with airflow, and these full towers have plenty of that!
You could be a hardcore gamer, streamer, or video editor. If you are one of these, then you could potentially have or want a multi-GPU set up, and you are going to need extra room for those extra PCI-e lanes.
Mid Tower
Mid towers are the most popular with some of the greatest flexibility on the market (plus they don't weigh a ton!). Many enthusiasts prefer a bit more of a compact looking build to showcase the various splashes of RGB, and a mid-tower case is the easiest way to do that.
Most cases can support two graphics cards, but with the mid-towers, you often find they can squeeze in three. Three is probably more than enough PCI-e room for most gamers, and they still leave a bit of room for future expansion. It is important to know that modern high-end GPUs can take up two PCI-e slots on your motherboard so be wary if you are planning to SLI in one of these and check the specs!
Of course, with the smaller form on these cases compared to the full tower we see a rise in ambient temperature as you cant have as many fans, and there is less airflow in a smaller case. It isn't just airflow that is going to impact the temps; there will be fewer routes and space to cable manage, leaving more chance for a birds nest and greater chances of higher temps.
Mini Tower
Smaller cases have always interested people thanks to their savvy space-saving designs, portability, and when fully built, they look outstanding. There are quite a few things going for mini-towers, and obviously, price is a big one.
Aside from the very unique looking tempered glass mini-ITX cases, the cases in this size category are often a bit cheaper. These smaller cases also fit smaller(cheaper) components, and your general build is going to come out cheaper overall.
This obviously isn't the case for all mini-tower cases as it is quite popular to set up custom loops in these smaller cases as it can have some astounding aesthetic results.
Smaller Form Factor
Smaller form factor cases are a tight squeeze, but they do give builders some fantastic options. Depending on the case you can fit some really powerful components into these miniature cases, and they can be great for LAN parties or as HTPCs.
These little machines can save you a lot of space in whatever environment you choose to set one up. Not only will these take up no room at all, but you can easily move it around the house/ flat and even take it away with you thanks to their small stature.
PC Case Features To Look Out For
Apart from the size of the case, there are a few other features to look out for when buying. The higher the cost of the case almost always reflects the features that it possesses. If you are new to cases and are considering your next move, then read below to familiarise yourself with some of these factors below.
Drive Mounting - You need to make sure your new PC case has enough room for your current 2.5" SSD, 3.5" HDD drives and any 5.25" drives you may have. Some cases will provide the correct drilling for mounting your drives directly onto the cases sheet metal. Some cases will provide you with a removable caddy to easily access to your drives, and others will just have basic drive bays.
Toolless design - As mentioned above, some manufacturers take a lot of the stresses of building out by making some simple things easier. One of these modern approaches is called toolless design. This can be anything from a thumbscrew to a clip-on drive nay; these parts of the case will make your life easier but can incur extra costs.
Cable management - Budget cases tend to have less cable management options and less room for at the back for storing any unwanted cables. Cable management is hard, and it can take time to get things perfect.
Cable management is particularly important with smaller cases as there is less airflow and higher temperatures in general. There are cable management holes cut out in most cases today with some even featuring rubber grommets. Rubber grommets will improve the overall aesthetics but can, again, cost extra or only feature in more premium cases.
Water-cooling support - The best all in one coolers out there at the moment are nothing compared to custom loop water cooling, and they never will be. When it comes to a custom loop or all in one cooler, you are going to need radiator support. Of course, the bigger the case, the more radiator support you will have, and it should be clearly labeled.
It shouldn't have to be said, but if you are planning on installing a huge 360mm + radiator into a mini-tower, then you could meet some issues regarding clearance. Water cooling doesn't have to go in a large case to work or look good, but you just need to make sure your parts are compatible!
Final Thoughts
For the enthusiasts out there, a full tower case could be the way to go. Not only are they the ultimate for airflow, but they have ample room for upgrades, and of course, water cooling.
For a well-rounded case option, you may be leaning towards a mid-tower case. A mid-tower case can fit all motherboard sizes apart from EATX and server boards, making it a versatile case option. Not only will these cases fit quite a lot in, but they don't leave you with large distances to cover from your wires, making them easier to cable manage at times.
For a smaller case option, you can always go for the smaller form factor cases, but a mini-tower is probably the better way to go. A mini-tower can be great for anyone who would prefer a bit of portability from their PC. If you are struggling for room in your bedroom, office or workspace, then a mini-tower could be ideal.
Of course, what you pick is entirely down to your preferences and build, but now you are clued up on what the computer case sizes can do for you, there is no stopping you!