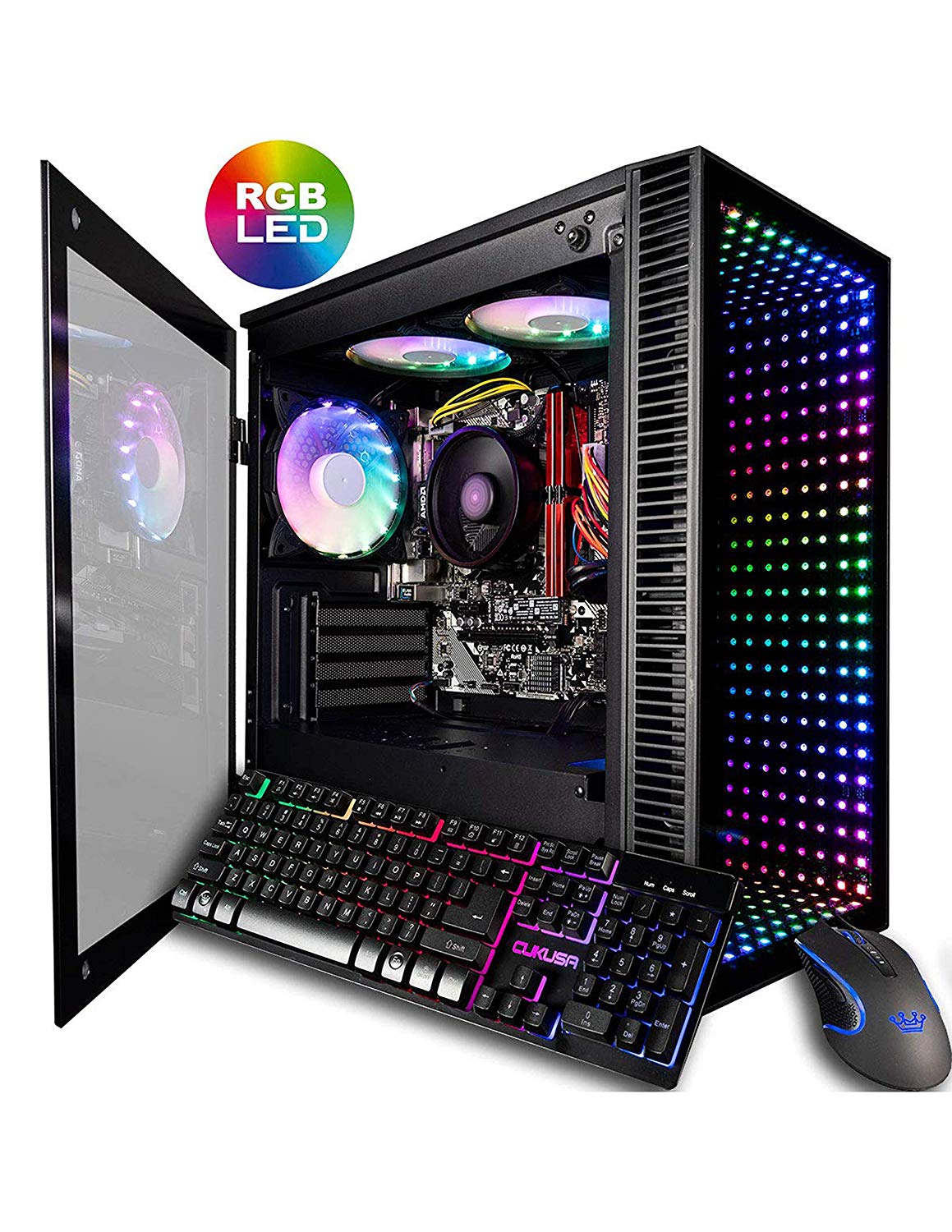 This post recommends the best gaming PC you can build for under $500. If you're willing to spend a little extra on a pre-built machine, we recommend the CUK Continuum Ryzen 3200g pre-built. It's powered by AMD's latest APU - the Ryzen 3200G, 16GB of rapid 3000Mhz DDR4 & 256Gb SSD. 
Getting into PC gaming can be a little intimidating, but by following our guide for the best budget gaming PC under $500, will ensure you have all the tools you need to create the perfect gaming rig for your needs. Furthermore, with this budget build, you'll be able to enjoy all your favorite AAA games without breaking the bank.
In the modern age of computing and technology many will be surprised what a $500 budget can buy, however what we have here is the best gaming rig you can purchase for that price tag. Think 1440p gaming, VR compatibility and more! All sounds too good to be true? Well it's not, you just need to know which areas to prioritize and which to compromise....
So, what else sets it apart? Well, let's take a look:
High Performance. The graphical performance of this build is easily on par with that of the PS4 Pro (if not better) and easily trumps the original PS4. The CPU is also a significant step up from the power of the PS4 Pro's (which is roughly equivalent to an Athlon X4 860K).
Upgradeability. This build has been purpose designed to serve one specific goal, decent gaming performance at an affordable price whilst still having the ability to upgrade in years to come. Take the CPU and GPU as prime examples. You can upgrade both your CPU and GPU to much more powerful counterparts in the future thanks to the versatile MOBO we've gone for which in theory should last much longer than anything else in it's price range.
Simplicity. We went with a builder-friendly case for this rig. We've deemed this case to be the perfect size for beginner builders and isn't too complicated when you get into the thick of it. It comes equipped with 3 off the shelf fan's which means no additional cooling has to be purchased, however, if you are planning on upgrading down the line you have the piece of mind that further cooling assistance can be purchased if required.
How We Choose the PC Components
Here at WePC, we have years of experience building computers and giving advice to friends, families and our readers. All of our build recommendations have been carefully researched, utilise similar builds we have completed ourselves in the office or for personal use and most importantly are built with budget and performance in mind. We work tirelessly to ensure our builds are up to date, efficient and offer high performance to the lucky reader who is going to build it.
We don't just use our own knowledge and experience, we also keep up to date with the latest tech in our industry and use various benchmarks to allow us to quickly compare multiple components. We also check our builds daily, to ensure everything is still in stock and the price still offers you the best bang for buck. We are here to support you.
The Best Budget $500 Gaming PC
Update:
cpu
AMD Ryzen 5 2600 Processor
The Ryzen 5 2600 provides great all-around performance at a fair price. It also avoids bottlenecking the strong GPU in this build.
gpu
XFX Radeon RX 570 RS XXX Edition 1286MHz 8GB GDDR5
The RX 570 is widely considered the best budget gaming GPU in today's market which still provides fantastic performance.
ram
Corsair Vengeance LPX 16GB 3200MHz DDR4 RAM
With a full 16GB of fast RAM, this powerful $500 build has the ability to multitask and game at the highest level for its price range.
hdd
Crucial BX500 240GB SSD
This 240GB of SSD storage should be a great starting point, loading games, and applications ultra fast.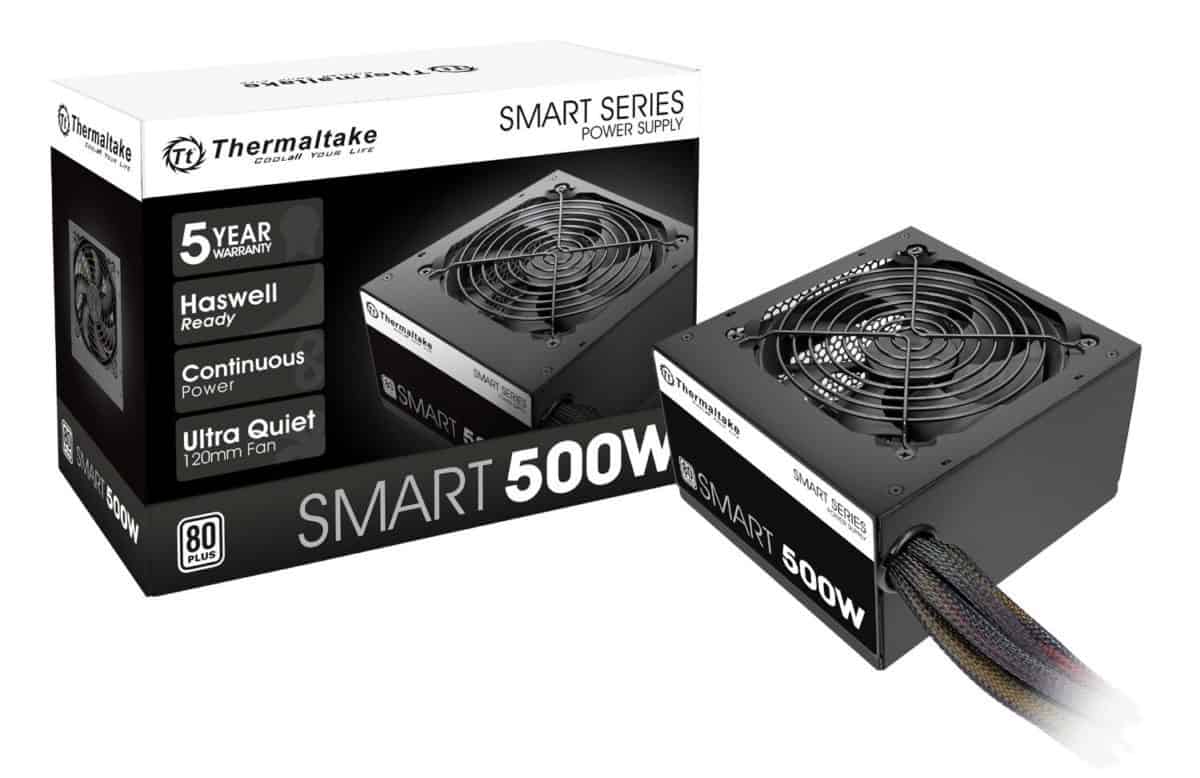 psu
Thermaltake Smart 500W 80+ White Certified PSU
We've gone for a non-modular 500W PSU for this build, with 80+ white certification and the peace of mind which comes with buying a Thermaltake PSU.
mobo
MSI ProSeries B450M PRO-VDH Motherboard
A budget motherboard that shouldn't give you any issues.
case
Thermaltake Versa H22 ATX PC Case
An astonishingly cool (aesthetically and literally) budget case that dominates other value options in the same price range.
Order This Build on Amazon
If you want a good cheap $500 dollar gaming pc, you're in the right place. Now, let's hop into the belly of this beast.
Why is This The Best Cheap $500 Gaming PC Today?
If you're into playing AAA games or competitive shooters, then this is the best budget gaming PC you can get your hands on in it's price range.

The 8GB RAM allows you to comfortably play just about any game (8GB is still the threshold for gaming) while also letting you do some multitasking on the sides.

Both the CPU and the GPU of this cheap gaming PC build are enough to deliver 1080p gaming with an average of 60FPS for most titles. (You may have to play around with the settings some for newer AAA games to maintain that frame rate).
What games can this PC run?
In this section, we're going to tell you how this game should be able to run your favorite games.
Fortnite - Fornite

should run great at high-to-max settings in 1080p60.

PlayerUnknown's Battlegrounds - PUBG

should run at medium-high settings in 1080p60.

Monster Hunter: World - MHW

should run at medium-high settings in 1080p60.

League of Legends - League

will do just fine at max settings in 1080p60.

Dota 2

- See above.

Overwatch - Overwatch

should do well at high-to-max settings at 1080p60.

Rainbow Six: Siege - Siege

should perform at medium-to-high settings in 1080p60.

Warframe - Warframe

is pretty light, so max settings @ 1080p60 should be easy to achieve with this build.

Grand Theft Auto V - GTA V

is pretty intensive, so expect medium-to-high settings at 1080p60 and lower framerates if you decide to max it out.

Team Fortress 2 - TF2

should generally perform fine at 1080p and 1440p, but due to the weaker CPU in this build it won't have the most stable performance without a performance config.
Similar Prebuilt Gaming PC Under 500 dollars
As many will already know, you pay a premium when you buy pre built rigs, so ideally you'd want to build a cheap gaming PC yourself and save money in the process (or get a better value for your budget). However, some people aren't comfortable even trying to build their own gaming PC.
If that's the case for you, then don't worry. Here are some options for you:
Upgrade Path for This Build
Our best budget gaming PC in the 500 dollar price range is already a potent machine on its own, but what if by making a few tweaks and pushing your budget ever so slightly you could improve the performance considerably. 
Rhetorical question. This is PC gaming. Of course, you can do that.
NOTE: These will raise the price of the build!
gpu
For a graphical punch which will surpass that of the PS4 Pro, bump up your GPU to a GeForce GTX 1660. The 1660 is more than enough to thrash games at 1080p High/Max, and is a worthy upgrade for this build and shouldn't be bottlenecked by the 8100 CPU. If you'd like even more graphical power, I'd recommend taking a look at the GTX 1660Ti  and the $800 Gaming PC. However, note that such a massive leap in performance will come with a similarly massive leap in price.
hdd
The build features some fast SSD storage but you may need some extra HDD space for all your other files. This 1TB barraCuda will certainly do the trick, giving you plenty of storage to load the majority of your media files and possibly some games on too.  If you're just getting into PC gaming, chances are you don't have a large enough Steam library to stuff this full of games. By the time you've built that library, you should have the money to get another HDD as a storage upgrade. MORE: Best Gaming Hard Drives
Cooler
If you want to reach the Thermaltakes full potential we recommend kitting it out with 2 of these, relatively cheap, additional fans. With all 5 fans installed you will reap the rewards of Thermaltakes brilliant design which has been engineered to enhance cooling. MORE: Best Case Fans
OS Options and Recommended Peripherals
Ideally, you'd already have some or all of these things before buying the best gaming computer under $500. Unfortunately, we don't always live in an ideal world, so we've provided this section just in case you need it.
So, finally you've arrived at the section in this article which hosts a whole bunch of helpful building tips if you're a beginner builder. 
We know there's a lot of common mistakes that rookies make when PC building (it's just part of the learning process) and that's why we wrote a guide to nip that in the bud. For you to successfully build your $500 gaming PC, you need the right guide to do it correctly and efficiently.
Before you even get there, though, we know you'll have a lot of questions. And, well, we've already answered a lot of commonly asked PC building questions here.
Invest In Anti-static Equipment
Alright, time to get serious about Static Shock (+20 internet nostalgia points if you remember this cartoon).
If you electric discharge while assembling your rig, you could ruin your components! While this is a rare occurrence that can be avoided with the right grounding practices, you can save yourself a lot of stress by just investing in some cheap equipment.
An anti-static mat or an anti-static wristband will help you avoid tragically frying your electronics while assembling them. If you only buy one, we recommend the wristband. It may cost a little extra, but that is worth the peace of mind while building your gaming PC.
Be sure to check out our how to correctly use an anti-static wristband guide if this is your first time using it.
This Tek Syndicate video guide will walk you through every step of the PC building process. This is our favorite guide on the topic thanks to its brevity, but it might be a little fast for you, so don't be afraid to look for some other guides (and leave them in the comments; maybe you'll find our new favorite).
If you supplement it by paying close attention to the instruction manuals included with your new components, then everything should go right.
You'll find that most of the difficulty involved in PC building is being careful and being patient. In other words, it's pretty much the same skillset involved in making great Lego creations. Good luck with the standoff screws, though. Those suck.
If you're still overwhelmed by the entire process, then you might find our comprehensive guide on How to Build a Gaming PC useful. This guide covers everything from planning a budget to long-term computer maintenance.
We've already recommended which OS you should use, but now let's talk about installation. Don't spend extra on having a disc shipped to you or buying a disc drive when you can just install your operating system via USB.
To install Windows 10 over USB, download the Windows 10 Media Creation Tool onto a 4GB+ USB stick. For Linux distributions, use UNetbootin or Rufus instead.
And we're done!
Once you order your parts and put them together you'll have what we consider to be the best gaming desktop for 500 dollars. While you may not have the biggest muscle on the market, you can always upgrade later on thanks to the flexibility of the PC platform.
While a console gamer may save more up front when purchasing a console, you'll save much more in the long run by utilizing Steam, GOG, and Humble Indie Bundle sales to get the best games cheap. Oh, and don't forget the wonderful, free modding community which extends the life of your games significantly.
Welcome to the world of PC gaming. Enjoy the best budget $500 gaming PC!
Tell us what you think of the build! Are there improvements you want to add/recommend? Comment down below and we'll debate!