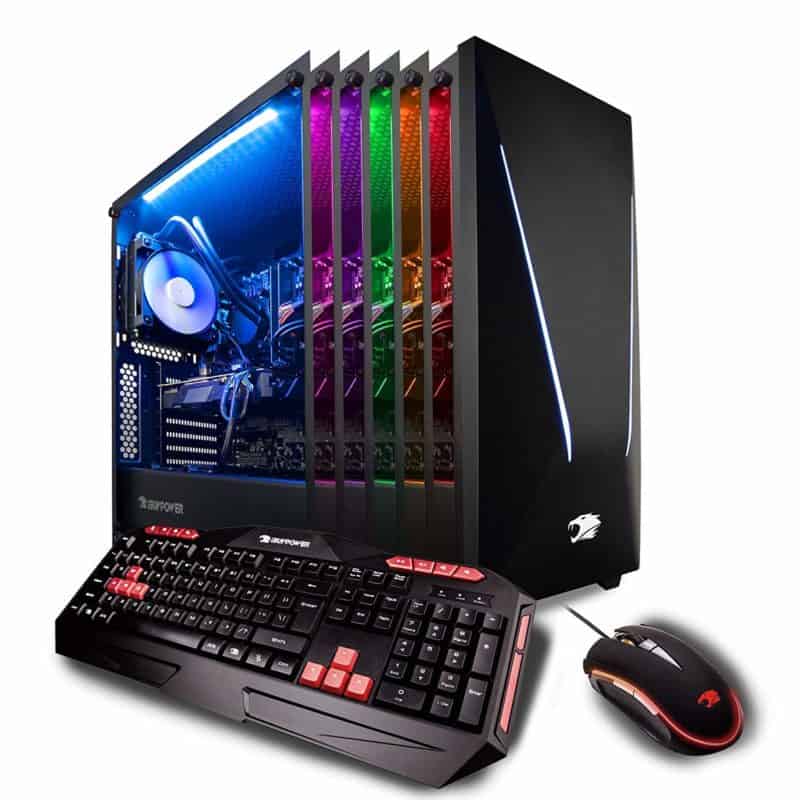 This post recommends the best gaming PC you can build for under $1500. If you're looking to buy a pre-made one, we recommend the iBUYPOWER Pro Gaming PC. It's powered by Intel i7-9700k and NVIDIA GeForce RTX 2070 that can run AAA games at ultra/high settings.
With the best gaming PC build for around $1500, you'll enjoy the highest end of gaming, productivity and content production.
Let's have a look.
Since we're building a PC with a fairly high price point, we don't have to compromise too much on graphical and processing power.
This build was made with the following requirements in mind:
Incredible streaming/rendering performance.  Hobbyists, true enthusiasts, and professionals need high-end hardware capable of managing raw video and other productivity tasks as fast as possible. The i7-9700k won't cause CPU bottlenecking and is one of the better CPU's available. 
The RTX 2070's performance offers up to 60 FPS at 4K in some titles and easily maxing out games at 1440p/1080p with even higher frame rates.
This setup is VR ready also. It operates well above the minimum spec that developers target and therefore minimizes stutters, a known cause of nausea in VR gaming.
How We Choose the PC Components
We choose parts based on quality and performance. Without a CPU like the i7, any high-end GPU will end up bottlenecked in games, ruining the point of going high-end at all.
In addition to being the best $1500 gaming PC, we've also ensured that this build is balanced with components to create a system that doesn't bottleneck itself and accomplishes the best performance possible.
The Best $1500 Gaming PC
Update: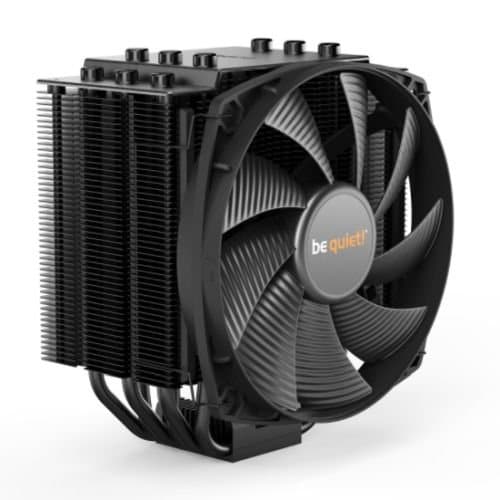 cooler
be quiet! Dark Rock 4 Fan Cooler
A large but quiet fan cooling setup, perfect for your needs and will keep cooling even when overclocked.
ram
Corsair Vengeance LPX 16GB (2x8GB) DDR4 DRAM 3000MHz
All the RAM you'll need in a build like this at a great speed also.
hdd
Western Digital Blue 1TB HDD - 7200 RPM
This 1TB hard drive will be more than enough to hold all the games and media you need, but won't be as fast as your SSD.
psu
EVGA Supernova 750 G3, 80 Plus Gold 750W, Fully Modular Power Supply
A stellar PSU from EVGA that will offer all the power this beast needs to stay alive.
mobo
MSI Z390-A PRO
A Z390 motherboard that is perfect for overclocking purposes - with extra features on top of it.
case
NZXT H500 – Compact ATX Mid-Tower Case
A sleek case from NZXT, It's a great size and has good cable management options.
Order This Build on Amazon
This high-end computer was designed to bring out all the computing power you'll need to beast out games at high settings on larger resolutions while also providing silky-smooth streaming/ rendering performance.
Why is this the Best $1500 Gaming PC?
We looked at competing $1,500 builds and they're dreadfully outdated. Unlike them, we managed to cram in a full overclocking setup, a high-quality 250GB m.2, 16 gigs of RAM and an RTX 2070. No real compromises were made here, just intelligent and up-to-date part selections to ensure that you're getting the best PC for $1,500 on the Internet.
In addition to the performance that you'll get after initial assembly, the ATX OC-compatible motherboard and the decent sized case will allow for all the upgrade options you'll ever need. If you're spending a lot on tech, you probably want it to be an investment, and with the right upgrades, this PC should continue to live on for at least the next five years before you even need to think about replacing it.
What games can this PC run?
In this section, we're going to tell you how this game should be able to run your favorite games.
Fortnite

- At 4K and Epic settings,

Fortnite

should be playable at roughly 40-50 FPS. We recommend making some settings adjustments if you're playing at 4K, or turning down to 1440p Epic instead.

PlayerUnknown's Battlegrounds

-

PUBG

is fairly demanding, and may not be playable at 4K60 with max settings. With some settings adjustments or a downgrade to 1440p, however, you should have a great gaming experience with this PC build.

Monster Hunter: World

-

Monster Hunter: World

is a pretty massive performance hog, so 4K 60 will require a lot of compromises. We recommend adjusting resolution scaling or turning down to 1440p with this game.

League of Legends

-

League of Legends

is a lightweight eSports title and this build destroys it in just about every way. You won't have problems playing at 4K60 with this PC build.

Dota 2 - Dota 2

should be playable at 4K 60 FPS with plenty of room to breathe- as high as 130-140FPS, in fact. We highly recommend playing with a 1440p/144hz monitor with this build and this game.

Overwatch

- At 4K with Ultra Settings enabled, you should generally be sticking right around the high 50s and low 60s in

Overwatch

. If you find yourself dipping more often than you like, consider adjusting some settings or your resolution scaling.

Rainbow Six: Siege

- At 4K, you may need to make some settings adjustments to maintain a stable 60 FPS. In 1440p and Max settings, though, you should experience anywhere from 70-80 FPS in this game.

Warframe

- This build is more than powerful enough for playing

Warframe

at 4K, Ultra settings and 120+ FPS.

Grand Theft Auto V

- Playing at 4K, you should be able to achieve 40-50 FPS with Very High settings. You may want to adjust your settings or turn down the resolution to achieve 60 FPS, however.

Team Fortress 2

-

TF2

is primarily a CPU-centric game, so running this game at 4K60 should still be quite feasible with the i5 in this build. However, if you experience spikes of bad performance, you may need to turn down some settings.
Similar Prebuilt Gaming PC's around $1500
Considering the fact that not everyone is into the idea of building gaming desktops from scratch, we took the initiative to give you alternatives.
Note: you can use our extensive list of custom PC builder brands to find the best company for you to purchase from.

All of the below picks are equipped with at least an RTX 2070 graphics card to make sure you get quality gaming experience.
Upgrade Path for this Build
We mentioned in the requirements section that you could climb to an even higher tier with this build. Here are our recommended upgrades if you want to take the best gaming desktop under $1,500 to the next level!
Note: These will raise the price of the build!
OS Options and Recommended Peripherals
Since you're buying the best $1500 PC build, you might already have your OS and peripherals from your old PC. If you don't, however, we've written up this section to help point you toward what you need.
Note: These will raise the price of the build!
Invest In Antistatic Equipment
This is one of the most important building tips out there. Basically, static electricity can destroy the complex, yet sensitive circuitry on your various parts. You can use an anti-static mat which you set your components on before mounting them. An anti-static wristband is another option; this product anchors you to reduce any charge you might be holding.
We even have a guide on to help you how to properly use the anti-static strap.
This video guide will walk you step-by-step through the PC building process. Supplement it with the instruction manuals included with your components and you should be fine.
For a more detailed list, our How to Build a Gaming PC guide includes everything a newbie builder needs. 
If you have a 4GB+ USB stick laying around, congratulations: you can save some money and space by just installing your OS via USB (as opposed to being forced to install a disk drive on your computer and then use an installation disk).
Use the Windows 10 Media Creation Tool to create a Windows installation USB stick. UNetbootin or Rufus can be used to do the same with a Linux distribution.
You now know how to build the best gaming PC for around $1,500.
Games at the highest of frames and resolutions, streaming and rendering without a breaking a sweat.
So what do you think? Are you still confused? Is there something essential that's missing? Or did you try out the build for yourself and just want to tell us how you're enjoying it? Comment down below and we'll help you out!