Best Full Tower PC Cases For The Money of 2019 & 2020
For the enthusiast, the best full tower case of 2019 can often be a necessity and not just an option. Despite what you might think there is more to these giant cases than just sheer size. Full towers are often known for having the best airflow performance with the ability to mount a high amount of extra fans. Temperature performance is usually also pretty decent in a full tower thanks to the amount of space inside and of course those fan mounting options, which makes them great for anyone looking at making a custom loop water cool build.
These 5 large computer cases are perfect for builders who want to overclock their rigs this 2019. Featuring spacious interiors and sleek designs, with a high amount of airflow. If you're interested in seeing what sets them apart from other full-size PC cases, then read on.
Top Pick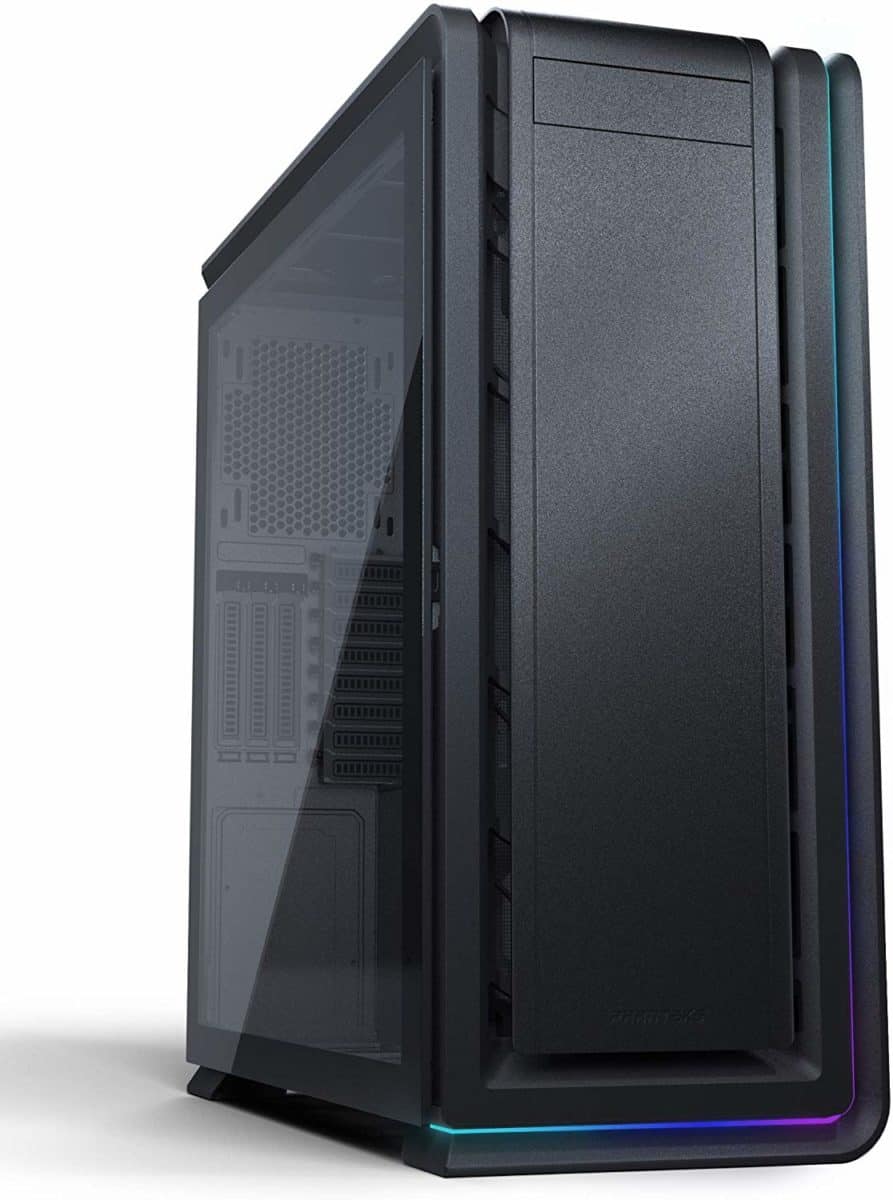 Phanteks Enthoo 719
Best Premium Full Tower Case
The Enthoo 719 from Phanteks is one of the best priced full tower cases on the market. Along with its sleek design and large tempered glass hinged panel, the case feature incredible mounting options for fans and rads. Furthermore, you can essentially customise this case to fit your exact build and it can fit a dual system inside!
The case supports large form factor components such as E-ATX motherboards, E-ATX PSUs, 420mm radiators, and several graphics cards. The price tag is a bit high though, coming in at over $300 which is more than some spend on a processor or graphics card. This monster of a case is meant to house some serious hardware inside and is constructed to the highest quality.
Runner Up
Corsair Obsidian 1000D
Best Full Tower Case for Watercooling
The Corsair 1000D is bigger than what most would consider a full tower, which is why Corsair refers to this case as a super tower. The PC is so big, it can actually hold two motherboards and two power supplies, meaning it can house two separate PCs at once.
This case is one of the largest on the list and that is down to its ability to house a dual build. If you intend on attempting any serious overclocking or you want to configure several GPUs into your next build, this is the case for you. The obsidian 1000D can support a whopping 13 fans inside and up to 4 radiators. If you are planning a super-sized custom loop water cooled build then this may be the perfect fit.
The Enthoo form Phanteks may be 'budget' but it is still a brilliant computer case. This is a big PC case and it comes with a lot of options again making it perfect for those high-end builds.
This case is incredibly easy to work with for a lot of reasons. The side panels are easily removed by lifting up on their handles. Its highly-vented and spacious interior promotes exceptional airflow, which is aided by the high amount of fan/water cooling options. The back panel reveals some well thought out cable management options and of course the quality from Corsair is top notch.
The 780T has 15 drive bays, 9 expansion slots, and it can support a plethora of 120/140mm fans.
This be quiet! Dark Base lives up to name and is one of the best for keeping the noise levels down. The included case fans perform well, especially when it comes to their acoustics (or lack thereof). Combined with the thick noise-canceling foam, you won't have to listen to noisy fans humming even when set to a high RPM.
Things To Know About PC Cases
When it comes to choosing a case for your new PC build, there's more to consider than meets the eye. If you're new to PC building, you have a lot to learn and this section will hopefully make your life a lot easier.
Cases and Motherboard Form Factor
Your motherboard's form factor is the first thing you need to consider before buying a case since large motherboards can't physically fit into smaller cases. The three most popular form factors are ATX, Micro-ATX, and Mini-ITX.
For example, you won't be able to fit an E-ATX or ATX motherboard into a Micro-ATX or Mini-ITX case. Larger cases sometimes support smaller form factor motherboards but not always so make sure you check the specifications.
Smaller cases have less room for components and tend to have fewer features as well. If you're a minimalist, this isn't a problem. Large cases, on the other hand, are ideal for enthusiasts who are putting together high-end builds.
There are 3 prominent types of computer cases (although there are more) and each is compatible with different types of motherboards:
Full-tower cases

are the largest cases and can work with ATX, Micro-ATX, Mini-ITX, and sometimes feature E-ATX support.

Mid-tower cases

are the most popular and can also work with motherboards that are as large as ATX.

Mini-tower cases

sacrifice the larger ATX boards, but can still use Micro-ATX and Mini-ITX boards.
Airflow and Water Cooling
In case you didn't know, PC components emit a lot of heat. Components are designed to operate at high temperatures without being damaged, but they can still deteriorate over time quicker if their temperature rises too high for too long.
This is where your case fans come into action. When a cooling system is properly configured, your case fans will regulate the internal temperature and pump that hot air out whilst sucking in cooler air.
Fan configurations will vary based on the design of your case and the amount of airflow your system needs. I'd recommend using a push/pull configuration like mentioned above which is when some of your fans are drawing cool air into the case, and the rest are exhausting hot air from the rear. With this configuration, your components will be subject to a constant stream of cool air, keeping your system and components at a stable temperature.
Drive bays and Expansion slots
In general, cases ship with three different kinds of drive bays, each with their own uses:
2.5-inch bays

are generally used for SSDs (solid state drives)

3.5-inch bays

are used for standard mechanical hard drives.

5.25-inch bays

are used for optical drives (aka DVD or BluRay readers). However, many manufacturers have started to do away with 5.25-inch optical drive bays since physical disks are becoming less and less popular (or needed).
With full tower cases, you often get a lot of cables compared to smaller cases and this can be down to extra fans, controllers and more front I/O options. Regardless of the case, you're going to need to actually do something with those cables, rather than letting them sit there in a big jumbled mess.
Most cases have lots of cable management options, such as grommet holes in the motherboard panel or a little indented groove for the cables to sit. It is unlikely you will have any issues with a full tower case for cable management as they are usually quite expensive and cable management is factored into most designs quite effectively.
These large cases can mount multiple fans which can get noisy quite quickly. Nobody wants to hear a constant whirring noise in the background, so make sure your case fans are quiet or you chose a case that has factored some noise cancellation into the design. When you read reviews online, pay attention to the cases fans' dBa audio levels.
Ensure your case's build quality is of solid construction. If it has a side panel window, tempered glass is ideal. Plastic here and there is fine, but you can't go wrong with a steel frame. When it comes to full towers the build quality will often match the price so even the budget ones often have a high-quality build. 
Taking a Closer Look at the Best Full Tower Cases
Now it is time to look at each case, examine the pros and the cons, discuss the cases' design, and any notable features.
Product
Details

Phanteks Enthoo 719

motherboard support: E-ATX, ATX, Micro-ATX, Mini-ITX, SSI-EEB
dimensions hxwxd: 595 x 570 x 240 mm
drive bays: 21
included supported case fans: N/A

Check Current Price

Corsair Obsidian 1000D

motherboard support: E-ATX, ATX, Micro-ATX, Mini-ITX, SSI EEB
dimensions hxwxd: 695.96 x 307.34 x 693.42mm
drive bays: 11
included supported case fans: 4 included, supports 13 total

Check Current Price

Phanteks Enthoo Pro Tempered Glass

motherboard support: E-ATX, ATX, uATX, mitx, SSI EEB
dimensions hxwxd: 536 x 235 x 551mm
drive bays: 12
included supported case fans: 3 included, supports 8 total

Check Current Price

Corsair Graphite Series 780T

motherboard support: E-ATX, ATX, Micro-ATX, Mini-ITX
dimensions hxwxd: 602 x 288 x 637mm
drive bays: 11
included supported case fans: 3 included, supports 9 total

Check Current Price

be quiet! Dark Base Pro 900

motherboard support: E-ATX, ATX, Micro-ATX, Mini-ITX
dimensions hxwxd: 586 x 243 x 586mm
drive bays: 17
included supported case fans: 3 included, supports 10 total

Check Current Price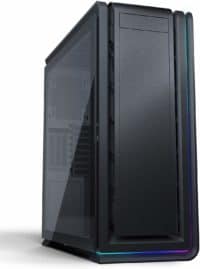 TECH SPECS
Motherboard Support

E-ATX, ATX, Micro-ATX, Mini-ITX, SSI-EEB

Dimensions HXWXD

595 x 570 x 240 mm

Drive Bays

21

Included Supported Case Fans

N/A
PROS
Impressive build quality
Dual system support
Plenty cable management room
Great value
Attractive design
CONS
Could be too tall for some desks
Phanteks are serious players in the case manufacturing game, and they already have some fantastic models under their production belt. Phanteks have cases to suit all budgets, but the Enthoo 719 sits nearer to the top of that pile. This case is huge, and the massive tempered glass hinged door looks superb.
The first thing to note from the Enthoo 719 is its impressive motherboard support. The chassis accommodates for SSI-EEB boards all the way down to mini-ITX. Furthermore, this case also supports a dual system set up, meaning you can have your main motherboard at the top and a secondary system mounted to the PSU shroud.
Despite being a budget full-tower, it is a Phanteks, and the Enthoo 719 comes with a plethora of premium features. The case features are tailored primarily for custom water-cool builds, with some added cutouts for different system configurations. Furthermore, the drive mount options are astronomical, giving you 11 places to mount a 2.5" SSD and 12 places for your 3.5" drives.
The included fan hub from Phanteks is excellent, and it really helped me tidy up the RGB cables at the back without any issues at all. There are small touches here and there, but this budget case from Phanteks is an absolute bargain.
#2
Corsair Obsidian 1000D
TECH SPECS
Motherboard Support

E-ATX, ATX, Micro-ATX, Mini-ITX, SSI EEB

Dimensions (HxWxD)

695.96 x 307.34 x 693.42mm

Drive Bays

11

Included/Supported Case Fans

4 included, supports 13 total
PROS
It can support any build
E-ATX to Mini-ITX compatibility
Dual 480mm front radiator support
Can house two builds
Great cooling performance
The Corsair Obsidian 1000D is one of the largest full tower cases featured in our roundup. Its gigantic size has warranted the nickname 'super tower' and it is easy to see why. 
It supports Extended ATX, ATX, Micro-ATX, Mini-ITX, and SSI EEB. Standing nearly 700mm tall this case is a heavy beast and should only be considered for the biggest of builds. Its humongous interior has enough room to accommodate up to 13 case fans (8 120mm fans can fit in the front of the case alone) and up to four radiators; all at the same time.
The 1000D features a special triple-chamber design with convenient hinged glass panels on the side. The main feature of this full tower case is the fact it can house an E-ATX build and a mini-ITX build at the same time. The larger E-ATX/ATX build features in your standard spot on the back panel whereas the mini build is housed on the PSU shroud.
The case's exterior is surrounded by tempered glass. The top has two brushed aluminum trims which frame the glass nicely. The front offers plenty of space for air intake through the dust filter. Looking at the back panel of the case and we find it has seven expansion slots for multiple cards.
Storage capacity is also impressive, as the case has enough room to fit five 3.5-inch HDDs and six 2.5-inch SSDs. Traditional 3.5-inch hard drives and 2.5-inch solid state drives each has their own storage chamber, both of which are located next to the PSU shroud. You'll find space for two power supplies under the shroud for those that want to go for the dual build option.
The front I/O panel has RGB lighting with built-in smart lighting and Corsair's Commander Pro fan controller. The fan /lighting controllers allow you to control up to six PWM fans and two RGB LED strips, in addition to having four temperature probes.
With its insane number of mountable fans and RGB lighting options, this is one of the best full tower cases on the market.
#3
Phanteks Enthoo Pro Tempered Glass
TECH SPECS
Motherboard Support

E-ATX, ATX, uATX, mitx, SSI EEB

Dimensions (HxWxD)

536 x 235 x 551mm

Drive Bays

12

Included/Supported Case Fans

3 included, supports 8 total
PROS
2 x 120mm + 1 x 140mm fans included
Great value
PSU shroud and rubber grommets to hide cables
Tempered glass side panel
Good radiator support
CONS
No internal LED lighting included
The Phanteks Enthoo Pro TG edition is a damn good case for the price and it was an easy budget pick. The case has been designed with performance in mind, maximising airflow with the sheer amount of mounted fans it can cope with and plenty of room for a custom water cooled setup. Unlike the previous version, this one now sports a tempered glass side panel adding some serious style points to the edition.
This full-tower case has plenty of room and can hold 6 x 3,5" drives and 3 x 5.25 drives. The case is designed to support water cooling and supports 1 x 360mm radiator at the top of the case, and a 240mm to at the front. The drive bays pop out for extra room with your custom build too.
On the back panel, we see plenty of room for cable management, the rubber grommets and included velcro straps to tie everything down. The cases are extremely user-friendly and a dream to build in, making it ideal for those custom builds or strenuous large system builds.
The case comes with magnetic dust filters which some prefer due to how easy they come on and off but it is worth noting they are of low quality when you compare it with some of the Fractal Design ones. A great feature to the case is actually something quite simple and that is its hinged side panel door. This may not seem like the best thing in the world but it gives you easy access to your system when you need it without the need of having to slide that panel on and off.
The construction is solid and you know you are getting a quality product from Phanteks as they are well established in the case manufacturing business. Overall a great choice and if you like understated and simple yet highly functional designs, this could be perfect.
#4
Corsair Graphite Series 780T
TECH SPECS
Motherboard Support

E-ATX, ATX, Micro-ATX, Mini-ITX

Dimensions (HxWxD)

602 x 288 x 637mm

Drive Bays

11

Included/Supported Case Fans

3 included, supports 9 total
PROS
Three 140mm fans included
Supports CPU coolers up to 200mm
Spacious interior
Supports multiple radiators
CONS
Mostly plastic construction
No internal LED lighting included
The Corsair Graphite 780T has rounded, hexagonal corners and an angled nose that slopes down. To the front, you'll find a thin white backlit strip, as well as, two 5.25-inch optical drive bays and two LED-backlit 140mm front intake fans that live behind an enormous dust filter.
The side doors also have handles which are used to effortlessly remove (and reinstall) the side door panels, ever they are not hinged so come off like a classic side panel.
The 780T provides a ton of cooling options and ventilation, not to mention expansion capability. As well as those included fans the front of the case can also accommodate either three 120mm fans or a single 280mm or 360mm radiator.
In the rear of the case, you'll find two tubing holes for water cooling pumps. A 140mm exhaust fan is located right above these, which brings the total number of included cases fans to three. The case does support another pair of 120mm fans on the bottom, but the plate holes are not pre-grommeted.
The rear exhaust fan is mounted on one-inch-long slider rails that allow you to fine-tune the fan's placement around other components which is a good touch. This added flexibility can come in handy, especially if you're using this case for a water cooled rig.
There are six 3.5-inch drive bays and two 5.25-inch drive bays, and lastly, there are three snap-in 2.5-inch drive caddies that can be inserted into a 3.5-inch drive bay to accommodate SSDs. Some may prefer dedicated 2.5-inch drive cages, but their decision to exclude them from the case saves space and the caddies are much more user-friendly. Altogether you've got nine drive bays for hard drives and SSDs but they can come out for a more custom configuration.
Lastly, it is worth noting that the case is mainly constructed from plastic, which isn't ideal for a case in this price range. Personally, I would have preferred stainless steel or brushed aluminum. In any event, the 780T is aesthetically pleasing and more importantly, incredibly functional.
#5
be quiet! Dark Base Pro 900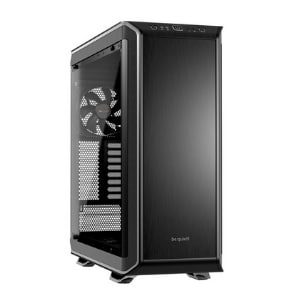 TECH SPECS
Motherboard Support

E-ATX, ATX, Micro-ATX, Mini-ITX

Dimensions (HxWxD)

586 x 243 x 586mm

Drive Bays

17

Included/Supported Case Fans

3 included, supports 10 total
PROS
Solid construction
Great acoustic performance
Attractive design
Modular design
CONS
Cable management isn't the best
The be quiet! Dark Base Pro 900 is enclosed by a steel frame with orange accents between the beveled edges and supports E-ATX, ATX, Micro-ATX, and Mini-ITX motherboards. Flexibility is a common theme here, as the case has plenty of cooling options and there is some modularity.  
Tinted tempered glass covers the left side panel of the chassis, adding to the cases visually pleasing design. The bottom of the case is lacking ventilation, but there are two internal fan mounts that draw in cool air from between the two panels.
The motherboard tray can be installed at different heights on either side of the case. Dropping the tray one hole down still provides enough space for a single slot card to be installed at the bottom of the board. The HDD storage system is also an area you can customise for your specific building needs.
The motherboard side panel has a hidden fan mount that can accommodate two 120mm fans. Noise-canceling foam within the Dark Base Pro 900 reduces fan vibrations and aids the silent nature of the case. The case ships with three Silent Wings PWM case fans pre-installed, but it has 10 fan mounting locations in total.
This silent beast also supports water cooling radiators, from 120mm all the way up to 420mm, and radiators can be mounted on the top, bottom, or the front of the case. Whether you want silence or not this case is perfect for beginners and enthusiasts alike.
If you're building a high-end gaming PC, you're going to need a case with plenty of room, cooling support, cable management options, drive bays and extra features. These best full tower cases provide just that.
We hope this helped you not only understand why it's important to choose a good full tower case but also how to make better case decisions in general. If you have any questions related to full tower cases don't hesitate to ask in the comments section below.