For anyone looking to build a new gaming PC, finding the best gaming motherboard is a crucial, often overlooked step. You could already have a gaming rig setup but want to take advantage of a new Gen CPU and need one of the latest motherboards to go with it. looking for the best AMD motherboard specifically? We have an article for that.
You may stumble across this page and be unsure how to navigate through a motherboard correctly as it may come across as tricky obstacle to hurdle! We've got you covered.
READ MORE: Motherboard parts explained
Either way, finding the best motherboards out there can be incredibly difficult, and for some, the terminology and fear of getting compatibility issues can stop people in their tracks!
We want to take this headache away here at WePC, and we do that by doing the research for you.
We have been busy researching motherboards for various chipsets and socket types, we have purchased, built with, and tested our selections, all to give you a helping hand.
Sit back and have a read through our article, and by the end, you'll be ordering the best motherboard for your needs.
If you are still a little unsure as to what may be compatible with what, then you can check all of your components are compatible with each other if you need to.
Watch Our Video Rundown
The Best Gaming Motherboard For AMD
The Best Gaming Motherboard For Intel
ASUS ROG Maximus Z690 Hero WiFi
The Next Best AMD Motherboard For Gaming
ASUS ROG X570 Crosshair VIII Hero
The recommendations we see here are considered the best motherboards for gaming and have been hand-selected for a reason.
Firstly, we conducted a thorough search to discover which motherboards gamers tend to prefer while trying to balance those with the highest reviews against those with the lowest price tags.
Reviews from various manufacturers were taken into account, as well as reviews from others in the PC gaming industry.
Next, we get our hands on as many of our recommendations as possible so we can see the build quality up close.
From CPUs to the best motherboards for gaming, we like to get hands-on with all the hardware we recommend. Testing the products is a huge part of our overall selection process and it is a way we can be sure that a specific option is the best for the job.
Products must pass our testing which is largely a lot of gaming, with some other boring stuff but most if not every recommendation will have gone through a strict testing process.
With motherboards regardless of the chipset, we need to assess build quality, performance, and finally, value.
This process enables us to provide you with an accurate take on how well a motherboard performs and, ultimately, if it's worth your hard-earned cash.
Now that you're aware of the best options available to you, you're going to have to choose a gaming motherboard that best suits you and your needs.
If you're asking yourself, "What motherboard should I get?" we'd like to make sure you know what makes a good gaming motherboard, because there are a lot of factors to consider.
Here at WePC, we believe an educated consumer is an empowered consumer!
Form Factor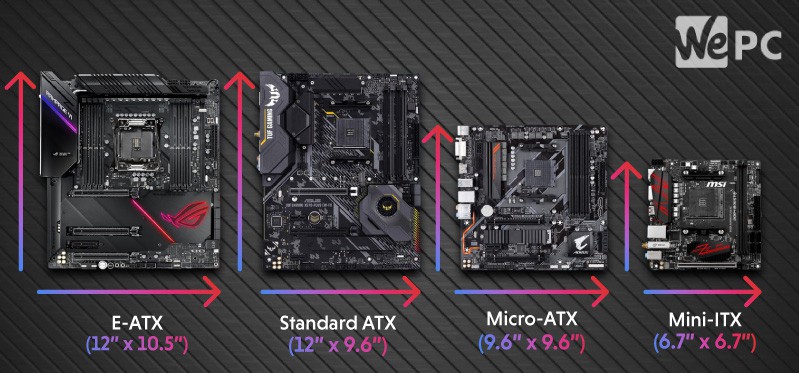 The physical footprint may be something you need to consider when choosing your motherboard. If you're tight on space, you may want to consider a smaller-sized ITX computer case.
If you've got plenty of room and want to build an impressive system, then going for a larger form factor could be beneficial.
Whatever your case may be, there are several main types of form factors that motherboards come in:
Form Factor
| Form Factor | Size (in inches) |
| --- | --- |
| Mini-ITX | 6.7 x 6.7 |
| Mini-ATX | 5.9 x 5.9 |
| microATX | 9.6 x 9.6 |
| ATX | 12 x 9.6 |
| eATX | 12 x 13 |
Socket
Every motherboard is going to have a specific socket type. This is the physical slot on the motherboard that holds your CPU in place. You're going to have to match up the socket type of your motherboard to your CPU making sure they are compatible.
Trying to fit the wrong processor into the wrong socket type can cause fatal damage to your components, and no one wants that.
To make sure your CPU and motherboard are compatible, check the specs. Let's take a quick look at some examples:
Socket
| Motherboard | Gigabyte Z390 Aorus Xtreme | MSI MEG X570 Godlike |
| --- | --- | --- |
| Processor | Intel Core i9-9900K | AMD Ryzen 3900X |
| Socket | LGA 1151 | AM4 |
Chipsets
A large factor when determining which motherboard is right for you and your needs is the chipset. Your chipset is a key factor in determining which features your motherboard comes with.
This ranges from PCIe lanes to SATA ports, and even overclocking support. Even if your processor allows overclocking, if the motherboard's chipset doesn't support it, then you won't be able to do it.
With AMD & Intel having non-compatible sockets and chipsets, it's always worth making sure that your latest hardware components are compatible. Especially when new RAM, motherboards, and CPUs are being released on an all too regular basis.
Let's take a look at some chipsets from both Intel and AMD:
Intel
Intel
| Chipset | PCI Express Lanes | SATA Ports | M.2 Ports | USB 3.1 Gen 1 | USB 3.1 Gen 2 | Overclocking Supported |
| --- | --- | --- | --- | --- | --- | --- |
| H310 | 6 PCIe 2.0 | 4 | None | Up to 4 | None | No |
| B360 | 12 PCIe 3.0 | 6 | Up to 2 | Up to 6 | Up to 4 | No |
| H370 | 20 PCIe 3.0 | 6 | Up to 2 | Up to 8 | Up to 4 | No |
| Z370 | 24 PCIe 3.0 | 6 | Up to 3 | Up to 10 | None | Yes |
AMD
AMD
| Chipset | PCI Express Lanes | SATA Ports | M.2 Ports | USB 3.1 Gen 1 | USB 3.1 Gen 2 | Overclocking |
| --- | --- | --- | --- | --- | --- | --- |
| | | | | | | Supported |
| A320 | 1 PCIe 3.0 | 4 | 2 | 1 | 6 | No |
| | 4 PCIe 2.0 | | | | | |
| B350 | 1 PCIe 3.0 | 4 | 2 | 2 | 6 | Yes |
| | 6 PCIe 2.0 | | | | | |
| X470 | 2 PCIe 3.0 | 6 | 2 | 2 | 10 | Yes |
| | 6 PCIe 2.0 | | | | | |
| B450 | 6 PCIe 2.0 | 6 | 2 | 2 | 2 | Yes |
| B550 | 6 PCIe 3.0 | 6 | 2 | 2 | 2 | Yes |
| X570 | 16 PCIe 4.0 | 12 | 3 | 0 | 8 | Yes |
Memory
When it comes to checking memory compatibility, you need to pay attention to four things: Max supported memory, memory speed, multi-channel support, and how many memory slots are on the board.
Check the specs against the motherboard, this will let you know precisely what the motherboard will support when it comes to speed and how many memory slots there are.
Memory Location
Also, some motherboards will have their memory slots a little closer to the CPU than others. Once in a while, this can cause an issue with the CPU heatsink.
If you have a larger than normal heatsink for your CPU, you might want to make sure it won't barge into your memory slot area.
PCI slots
Peripheral Component Interconnect, or PCI, is the physical slot in which you can expand the capabilities of your basic system.
This includes, but not limited to things like:
Wi-Fi card
Video card
Extra USB ports
NVMe expansion cards
There are two types of PCI slots: PCI and PCI Express (PCIe). The PCIe slot is a larger, faster version of the PCI slot.
Basic expansion cards such as a wifi adapter only require the much smaller PCI slot, while larger, more powerful cards such as your graphics card, require the larger and more powerful PCIe slot.
Making sure you have enough PCI slots for all of your components is important.
If you're running multiple GPUs and want to add in say a network and a sound card or an NVMe expansion card, you might have to check to make sure your motherboard has enough slots to accommodate.
The other thing to look for is plenty of spacing. If you're planning on running multiple GPUs that are large, you may need PCIe slots that are further apart to allow for adequate space.
Fan Headers
The last thing you need to make sure of is that you have enough fan headers for everything you plan on running.
If you're running a lot of fans, or maybe RGB controllers, you're going to have to make sure you have enough headers on the motherboard to support this.
If you're interested in learning more about motherboards, then you can read all about how motherboards are made, as well as what all of the main components do.
Which Gaming Motherboard Is Best For You?
So, you know the motherboards available to you, but which one is the best fit for you? Let's take a moment to talk about that.
High-end
A high-end motherboard would be for someone who is either looking to push their gaming performance to the next level or needs something to help with their content creation.
The benefits of a high-end build include:
More PCIe lane bandwidth, allowing for faster gaming and processing
More expansion ports
Better quality components to handle the increased usage
Mid-range
Buying a mid-range motherboard would be a good investment for anyone who doesn't need all the bells and whistles of a high-end board, but still wants solid performance out of their machine.
The benefits of a mid-range build include:
Better price point
Good quality components for longevity
Enough bandwidth for performance
Budget
Those that are interested in budget motherboards are probably looking for something that will get them up and running without breaking the bank.
Ultimately, budget boards make compromises to accommodate such low prices. However, that's not always a bad thing.
The two budget boards we've recommended are from reliable providers, and have plenty of room for add-ons, making them very versatile and good value for money.
Learn how to enable TPM 2.0 here.
The Best Gaming Motherboards For 2022

ASUS ROG Maximus Z690 Hero WiFi

ASUS ROG X570 Crosshair VIII Hero

ROG Maximus XIII Hero Z590
The Best Gaming Motherboard For AMD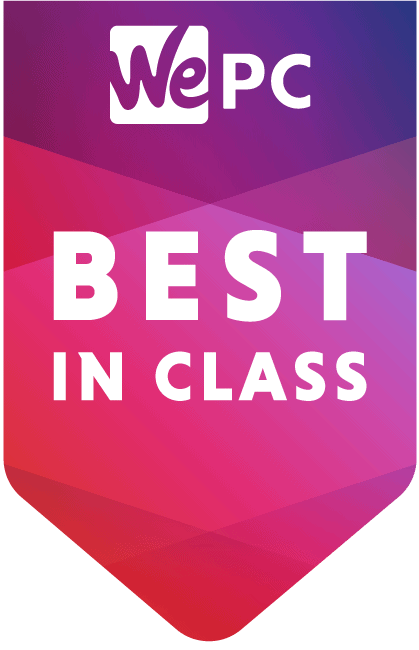 One of the nicest looking boards available
Great overclocking potential
The MSI x570 Godlike is regarded as one of the best boards you can buy with a huge amount of features to go along with its rather large price tag. This motherboard is by no means a budget option as it comes with a high quality 14+4+1 digital power phase design, which requires the large thermal heat sink.
Design-wise it's hard to beat the MSI Godlike. The motherboard features Mystic Light RGB with an "infinity" RGB window in the corner. The board also has a small OLED display that will show you any debug codes when things go wrong or it can display temps for hardware monitoring.
Other more functional features include the Frozr heatsink design, M.2 expansion card, and 10g ethernet card. To the back of the board, we see a clear-CMOS button which is very handy for the overclocker.
This Clear-CMOS function will allow you to push your RAM to the limits without having to go into your system and try to get the CMOS battery out. Next to the SMOS button sits a BIOS flash button so you can update your BIOS without breaking a sweat.
Overall this is a superb motherboard and its onboard WIFI capability is fantastic. MSI is not messing around with the Godlike, as you can probably tell from the Gigabit jack, 2.5 Gigabit jack, and the 10g ethernet card. This board can only enhance your build!
The Best Gaming Motherboard For Intel

ASUS ROG Maximus Z690 Hero WiFi
6400+ (OC) MHz max memory speed
4X 32GB DDR55 DIMM slots (128GB total)
Less power stages than the most premium models
Memory slots: 4 X DDR5
Max memory: 128GB Dual Channel
Max memory frequency: 6,400 MHz
Intel 12th Gen Processors
2 x PCIe 5.0 x16 slots
Intel Z690 Chipset
1 x PCIe 4.0 x16 slot
SATA ports: 6
M.2 Ports: 5
The ASUS ROG Maximus Z690 is a fantastic premium motherboard and the best Z690 you will find. This latest iteration features everything you need to get the best out of your Intel 12th Gen Alder Lake CPU.
If you've no interest in buying a 12th Gen CPU then we'd probably recommend going for a Z590 instead, but the Z690 offers maximum future-proofing.
Equally, if you're looking to pick up a lower end Intel CPU this board probably isn't worth your money either, as you wouldn't make the most out of the features available here which are geared (and priced) with high-performance users in mind.
The ASUS ROG Maximus Z690 board comes with a LGA 1700 socket as befitting an Alder Lake compatible motherboard. As far as motherboards go it has a fairly striking look, between the integrated aluminum I/O cover and Aura Sync RGB lighting system.
The board comes with all the features you'd want for a high-performance, premium board with a robust power solution of 20+1 power stages rated for 90 Amps and a sizable VRM heatsink, not to mention ASUS' Intelligent Control technology (essentially AI overclocking) and ROG water cooling zone.
Ports include PCIe 5.0, PCIe 4.0, Dual Thunderbolt 4 USB-C, as well as a ROG Hyper M.2 card with Gen 5 M.2 support. Although we would have liked to have seen 10GB Ethernet support in a motherboard of this price range, the 2.5GB will do for most users.
The Next Best AMD Motherboard For Gaming

ASUS ROG X570 Crosshair VIII Hero
High performance networking
Solid overclocking potential
Memory slots: 4 X DDR4
Max memory: 128GB Dual Channel
Max memory frequency: 4,800 MHz
3rd Gen AMD Ryzen Processors
2 x PCIe 4.0 x16 (x16 or dual x8)
2nd Gen AMD Ryzen Processors
2 x PCIe 3.0 x16 (x16 or dual x8)
2nd and 1st Gen AMD Ryzen with Radeon Vega Graphics Processors
1 x PCIe 3.0 x16 (x8 mode)
AMD X570 chipset
1 x PCIe 4.0 x16
1 x PCIe 4.0 x1
SATA ports: 8
M.2 Ports: 3
The Asus ROG Crosshairseries has been quite popular over the years, and this X570 chipset is likely to follow suit. This board comes after the anticipated release of the new Ryzen chips with provision for PCI-e 4.0 and lightning-quick storage. The Hero overall is an excellent board with few weaknesses to differentiate it from the rest.
The design appears to be similar to the Formula motherboard as the base without the display and excessive VRM water block. The motherboard is incredibly aesthetically pleasing as you would expect from the ROG department. The large heatsink features an RGB ROG logo, as does the I/O shroud, making the motherboard pop visually.
It is worth noting that this particular board only supports 2nd and 3rd Gen Ryzen CPUs. Despite being an AM4 socket, it doesn't work with the 1st Gen Ryzens, and if you plan on taking advantage of the PCIe 4.0 functionality, then you are going to need to pair this with a 3rd Gen Ryzen chip.
We see 2.5G LAN support along with Intels WIFI 6. You also get a Type-C USB port, a BIOS flashback button, and a clear CMOS button to take away some of the overclocking headaches RAM can bring.
Overall the Asus ROG Crosshair VIII Hero is packed with features and performs as well as some of the best. This board and its plethora of USB ports is an excellent board and a fantastic alternative to the Godlike for performance and financial reasons. The layout of This motherboard is great, the RGB is catchy, and it's better than its predecessor!

ROG Maximus XIII Hero Z590
Very aesthetically pleasing motherboard
Comes with a capture card
Memory slots: 4 X DDR4
Max memory: 128GB Dual Channel
Max memory frequency: 5,333 MHz (OC)
2 x PCIe 4.0 x 16 slots
1 x PCIe 3.0 x 16 slots
1 x PCIe 3.0 x 1
SATA ports: 6
M.2 Ports: 4
The Asus ROG Maximus XIII HERO is the best Z590 you will find. Not only does it let you get the most out of your Intel 11th Gen Rocket Lake CPU, but also comes with backwards compatibility for anyone still using the 10th gen Intel Comet Lake series.
The Maximus XIII HERO board comes with a LGA 1200 socket, a nice spacious layout and thermal cladding. The overall aesthetic design is quite impressive, the armored aluminum I/O shroud and ROG RGB lighting meld well with each other.
The board comes with a solid array of features, 14+2 VRM power stages rated for 90 Amps and enlarged VRM heatsinks. Ports wise you get the full array, featuring PCIe 4.0, Thunderbolt 4, and Wi-Fi 6E.
Best Budget Motherboard For Gaming
Overclocking capabilities
The MSI B450 Gaming Plus MAX is officially the cheapest budget range board on our list, however, don't be totally fooled with the price tag. MSI has had to make some compromises to achieve the low price range but they have kept the core features gamers are most concerned about.
With 64GB of 4,133MHz RAM supported, this board is perfect for an AMD Ryzen build. Having said that, you can still make use of the excellent features to pair this board with any of the Ryzen 3rd gen CPUs. You won't even have to update the BIOS either.
MAX means this board is already updated to the latest BIOS so you can simply pop your new chip into this motherboard without the fear of a none boot.
Unfortunately, the Gaming Plus only comes with 1 M.2 slot meaning future expansion is going to be fairly difficult if you're looking at using multiple M.2's. It's easy to let them off though seeing as though it comes to shelves at such an affordable price.
One of our favorite boards here at WePC that's great for anyone looking to build a decent first time gaming rig.
So, there you have it, the best motherboards for gaming. Which motherboard will you choose? The X570 and Z490 Godlike are easily the best motherboards you can get for the respective AMD and Intel chipsets.
The top four boards on this list would make any build go to the next level and give you plenty of opportunity for overclocking.
See alongside this article for related motherboard pieces. Please also consider leaving a comment below if there's any other motherboard or topic you would like us to cover that we haven't already.