Best motherboard for mining
With mining becoming ever-popular, we decide to take a look at the market's best motherboards for the job
Updated: Jun 27, 2022 3:13 pm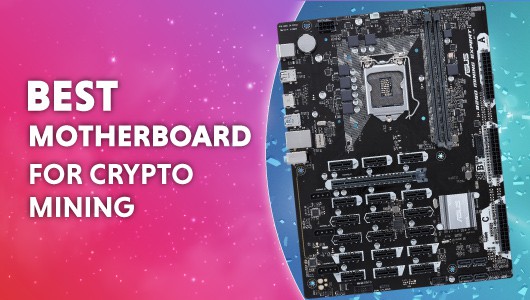 Crypto mining can be done on some level by nearly every PC in the world, but if you want to be making serious money then you're going to need a specialized mining rig. These rigs consist of a CPU, power supply, RAM, GPU, and motherboard like any normal PC. However, some of the components are highly specialized and require some component knowledge to select the best choice.
One of those components is the motherboard. Mining motherboards often have components normal consumer motherboards do not. Another staple of mining motherboards is the inclusion of more PCIe slots, to allow more GPU connectivity (as GPUs are the heavy-lifters when it comes to Crypto mining).
Looking for another motherboard? Check out some of our 'best of' pages.
Before we jump into it, let's cover the basics so we're all on the same page.
Top picks
01

Best Motherboard For Mining

ASUS B250 MINING EXPERT

02

Advanced Motherboard For Mining

Biostar TB250-BTC PRO

03

Budget Motherboard For Mining

Gigabyte GA-H110-D3A
What is Cryptocurrency mining?
Cryptocurrencies have emerged as an extremely popular form of payment and investment over the last few years. You can generate and transfer these cryptocurrencies through the process of mining. Mining is complicated in itself but can be explained in lesser terms quite simply.
To mine securely a computer will make guess attempts on a string of data. This, in Bitcoin's case, is based on the SHA-256 algorithm. The GPU has to output a hash that starts with 17 zeros, so to do this it will have to make multiple attempts. It is this number of attempts per second that determines the hash rate, measured in GH/s.
The mining process is quite complex and stems from its blockchain. Blockchain is a public ledger that records every transaction in its network. Every time a Bitcoin is bought or sold a record is made and the transactions are assembled into a continuous line of blocks, hence the name.
In order for a transaction to be valid, they need to be verified by other users on the network. This process avoids the issue of double-spending where someone would try and sell the same bitcoin multiple times.
To put it simply, cryptocurrency mining is a process of rewarding users with bitcoin for validating these transactions.
What is a mining motherboard?
A mining motherboard serves the same purpose as a normal motherboard, and that is to carry data and power between PC components to allow them to communicate with one another.
A mining motherboard differs in the fact that it has better VRM and chipset cooling as standard, and will feature a much higher number of PCI/PCIe slots. This allows miners to run their mining rig 24/7 without the worry that their mining setup will overheat. Most mining boards are in the ATX form factor, to have the physical space to support all the additional USBs, SATA ports, GPUs, and other hardware required to comprise a passable mining rig.
Why all the PCI-e slots?
A GPU mining motherboard will feature many more PCIe slots than a standard motherboard. This is so, you guessed it, you can connect many GPUs to the motherboard. The hash rate of the system increases with every graphics card addition, so it's optimal to have as many GPUs as possible to maximize mining potential.
Power consumption
Mining motherboards are designed to be more power-efficient than most, as a high electricity bill would eat into your crypto mining profits. Contrarily though, a lot of mining motherboards have the potential to overclock should you need more power. This is all thanks to strong VRMS that all provide stable voltage and overvoltage protection to the motherboard.
Not all mining motherboards have these advanced VRMs, however, as they're a feature only available on the higher-end GPU mining motherboards. Low power consumption is key when mining cryptocurrency
Socket
CPU sockets come in all shapes and sizes, but the best mining motherboards focus on one particular CPU socket. That socket is the LGA 1151, which seats 6th generation and 7th gen Intel Core processors. There have been newer motherboards released that focus on newer sockets, but they tend to be a little more expensive and power-hungry. Sometimes older is better.
BIOS
The BIOS or (Basic Input-Output System) is responsible for initializing the system before it boots into an operating system. You have to make sure that the BIOS your motherboard comes with is easy to use and reliable. This is because the more components you add to a system, the more complex it becomes. The BIOS needs to be able to handle all the extra GPUs connected to the motherboard.
In-depth review: best mining motherboard
Here, we're going to take a closer look at our top picks for the best mining motherboard.
Asus B250 Mining Expert
Best motherboard for mining
Asus B250 Mining Expert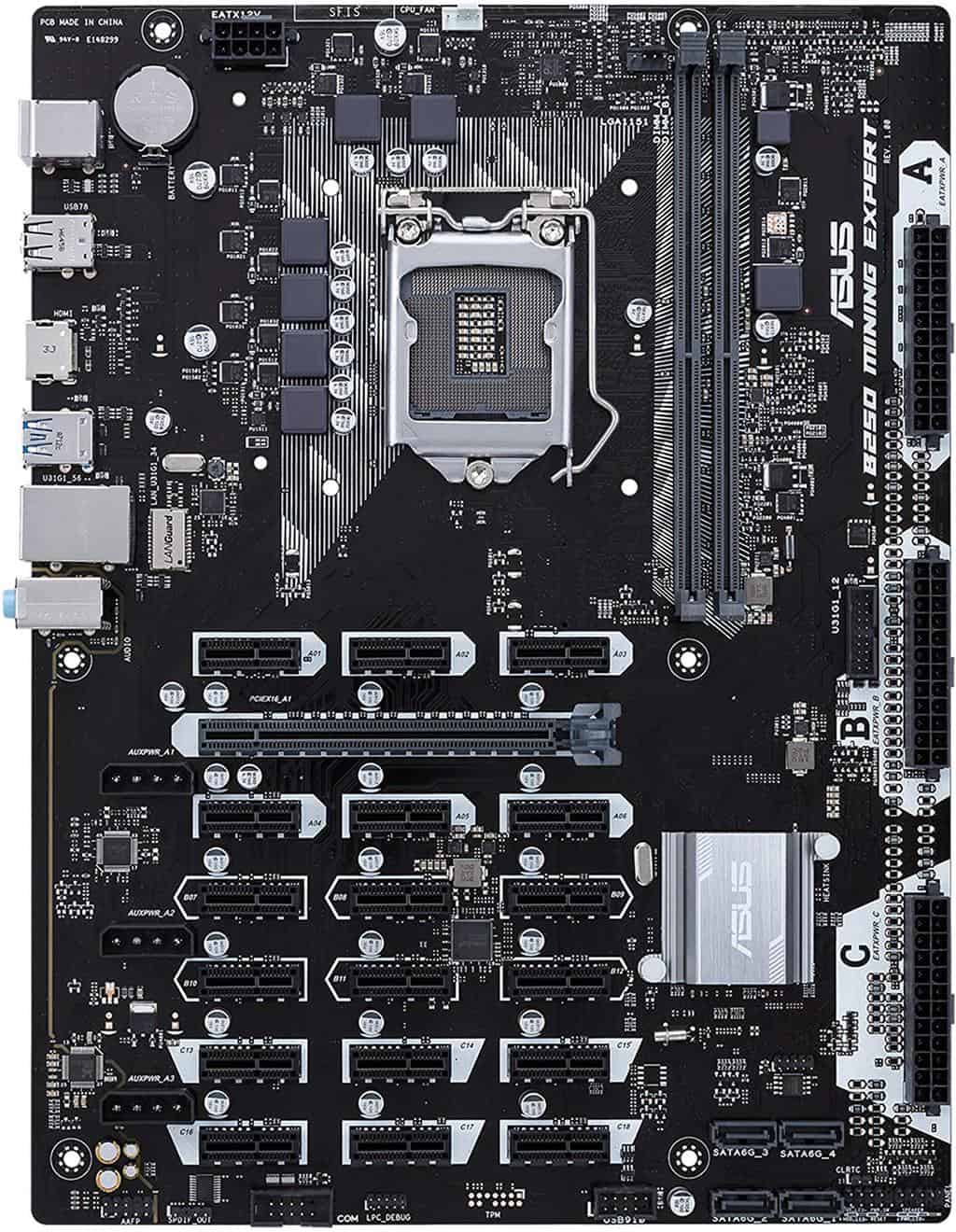 6th/7th gen Intel (Socket 1151)
1 x PCI Express 3.0 x16, 18 x PCI Express 2.0 x1, 2 x DDR4
19 PCi slots

Efficient

Strong VRMs
As you probably guessed from the name, this motherboard is a dedicated mining board. The Asus B250 Mining Expert has a bit more going for it other than its support for a whopping 19 GPUs.
This board from Asus features an onboard mode that is tailored for mining. The board can maximize the hash rate whilst maintaining the voltage with components. We see a triple ATX12V power delivery which splits the 19 PCIe lanes into three. These three dedicated 24-pin power connectors bring reliable power performance to your mining rig. This B250 also features PCIe slot state detection to provide you with a real-time indication of your GPU status.
In addition to these improvements, the B250 Mining Expert brings about the standard of quality we know and love Asus for. The Mining Expert does exactly what it says on the tin.
The fact that the ASUS Mining Expert supports up to 19 GPUs should be enough on its own to tell you that it's the best mining motherboard on the market. However, the motherboard is very hard to find, and when you do it's incredibly expensive.
Biostar TB250-BTC PRO
Advanced motherboard for mining
Biostar TB250-BTC PRO
6th/7th gen Intel (Socket 1151)
1 x PCI Express 3.0 x16, 11 x PCI Express 2.0 x1, 2 x DDR4
12 GPU support

Inexpensive

Lots of I/O
Here we have another dedicated motherboard for mining but this time from Biostar. The TB250-BTC Pro hits the list with support for up to 12 GPUs with some tweaks.
This board supports all 6th and 7th gen Intel CPUs and DDR4 RAM maximum frequency rate of 2400 MHz. The additional power connectors will also provide the rig with advanced stability while mining. The TB250 also supports up to 12 GPUs, if you run them all from extenders on PCI slots.
This board works well regardless of what you choose to mine with it and the factory settings are already pre-configured for mining.
A downside to this many GPUs is the limitations of the software like operating systems. Windows isn't a big fan of more than eight graphics cards being installed so you may require Linux to run them.
Gigabyte GA-H110-D3A
Budget motherboard for mining
Gigabyte GA-H110-D3A
6th/7th gen Intel (Socket 1151)
1 x PCI Express 3.0 x16, 5 x PCI Express 2.0 x1, 2 x DDR4
Budget

6 GPU slots

VRM cooling
Less powerful VRMs

Less efficient than other boards
ASRock makes some fantastic motherboards for mining and the H110 D3A is no different. This board is an excellent choice for miners out there as it has high SPU support to maximize profits.
This board offers great value for money and some mining features to boot. If you are looking to build a multi-GPU rig with this board and manage them remotely then you may want to take advantage of the KVM switch support. With this allowing support for up to six graphics cards, you may want to opt for blower cards as they may be tightly packed together.
This is a cheap and cheerful mining-specific motherboard, that comes with advantages and disadvantages. The main disadvantage is that this motherboard has the lowest number of available PCIe slots, so you're limited to mining with six GPUs if you opt for this motherboard. However, This board features two layers of copper to lower temperatures, increasing thermal performance and bringing you a more stable product that can be run indefinitely.
Best Mining GPU
Zotac NVIDIA GeForce RTX 3060 Ti Twin Edge OC
IceStorm 2.0 Cooling Solution
To pair with your shiny new motherboard, we recommend an RTX 3060 Ti. With crypto prices where they stand today, you could have an ROI in 475 days with $0.84 per day earnings. The none LHR model nets a 57.6MH/s hash rate means turning a profit in just over a year with multiple GPUs. Even better if you can negotiate a bulk deal on GPUs with a supplier.
Final word
Cryptocurrency mining is an expensive game and one that requires some set-up if you want to get serious about it. Hopefully, with this article, you have found the tools you need to get your own mining operation up and running with the best mining motherboard.
Whether that's the beastly B250 mining expert and its 19 GPU capacity or the more budget-friendly GA-H110_D3A. You're in good hands no matter what you choose. 2
---