Best Micro ATX (MATX) Cases of 2019 & 2020: 5 Budget & Top Picks
If you are looking to build a more compact system then buying the best micro-ATX case is important. These cases make transporting your system very easy and of course, they take up less room in your gaming environment.
Micro-ATX builds are pretty popular in the gaming community due to their more affordable price and let's face it they do look cool when finished! It is worth noting, the best Micro-ATX cases provide enough room for some high-end systems whilst also having a smaller form factor. Perfect for both casual and hardcore gamers alike.
After careful consideration and sifting through multiple manufacturer's options we came to the conclusion that the Phanteks Evolv is the best micro-ATX case overall and features in our best PC case of 2019 article also. Below are some tips to consider before buying a micro-ATX case. With these tips, you can be sure of making the right choice.
The recommendations are of solid construction, have spacious interiors, and promote excellent airflow. If you're interested in seeing what sets them apart from other cases, then read on.
This sleek case from Phanteks makes light work of making a micro-ATX case look and feel high-end. This case boasts multiple component mounts and plenty of features to boot.
This case also supports radiators up to 360mm for gamers who want to squeeze maximum performance from their computer. This tempered glass case may be small but it packs a big punch and would look fantastic on your desktop.
This all-steel construction case is a brilliant blend of black and white and looks the part. As you would expect from our top mini-ATX pick you get a tempered glass side panel, a PSU shroud, brilliant airflow, and high build quality.
Cable management is really easy in this case and as its the 'i' series it comes with a fan controller. The performance of this case will not let you down and is highly recommended!
The Corsair Crystal 280X's design is in the form of a cube so it is naturally a bit of a chunky case in this category but that shouldn't put you off. The case is a great space saver thanks to its dual compartments and it features clever SSD mounts, and3 x tempered glass panels. 
You can set up a custom loop or an air cooling solution easily, whichever you prefer. It has room for 2 x 120mm fans in the front, top, and bottom.
This case has fantastic cable management solutions and will make producing a clean PC build pretty easy to accomplish. It has all of the features you'd want in a case compacted into a micro-ATX design.
Value Pick
Fractal Meshify C Micro ATX/Mini ITX Case
Best Value Micro-ATX Case
This mini version of the Fractal Meshify C is a fantastic little case that features all the positives of its bigger brother but compacted into this glorious micro-ATX case. You benefit from Fractal Designs airflow and superb cable management options.
Sometimes when people see the word 'value' they can think that the item lacks quality in order to produce those savings but that is not the case with this case from Fractal Design.
The Fractal Meshify C 'mini' is the smaller brother to the mid-tower version and its an unbelievable case for the price. You aren't paying for any fancy bells and whistles with Fractal but what you do get is premium quality build, great airflow and easy to manage cables.
This case is priced competitively and features an aesthetically pleasing tinted tempered glass window to view inside.
Budget Pick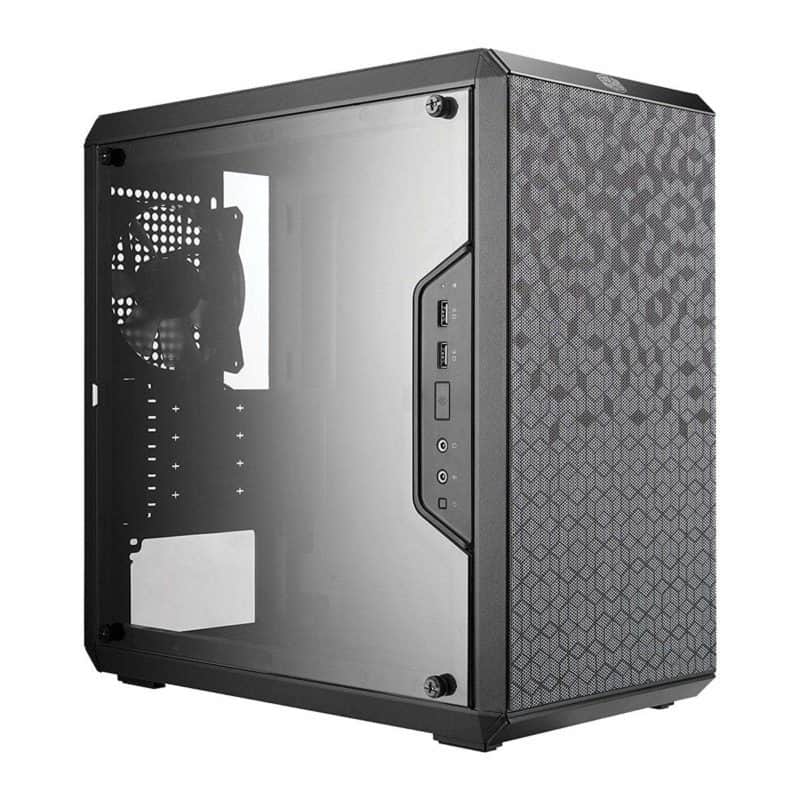 Cooler Master MasterBox Q300L mATX Case
Best Micro-ATX Case On A Budget
This budget pick is one cheap case yet it looks fantastic. The dust filters have a nice geometric pattern on them and with the side panel being see through you get a great compacted view of your micro-ATX build. You get a surprising amount of space inside and this barely costs much at all!
The MasterBox is the ultimate budget case that will satisfy a lot of different gamers needs. This versatile case can be used for a water-cooling setup with some impressive space inside but you probably aren't going to bother doing that in this case.
It doesn't have any flashy features or bright blinking lights, but that doesn't mean the case isn't visually pleasing. This case offers the budget builder something pretty stylish and functional for a very low price.
All the cases on this list are viable options that we ourselves would build in. We conducted a search to discover which micro-ATX cases would suit gamers best. In this search, we strive to balance those with the highest reviews against those with better value.
We want to try and offer recommendations to fit as many needs as possible so we read reviews from various manufacturers daily to find any potential issues a case can have.

Things to Know About PC Cases
All of these factors are important to take into consideration before buying your case. That's why we'll go over these things in some more detail.
There are a few things to consider before just clicking buy on a case you love. Firstly be aware of the size of your components (form factor). Motherboards, GPUs, and PSUs form factor can vary in size so it is important to check it will be compatible! before jumping into a build it is worth considering how many fans you will be mounting, hard drives you require and what size radiator your cooler has!
don't worry we will go into these different factors in some more detail below.
You are going to need to know your motherboard's form factor before you begin. The common motherboard sizes are ATX, Micro-ATX, and Mini-ITX, with ATX being the bigger of the 3 and Mini-ATX the smallest.
Smaller boards will have less room for your components and will generally have fewer features too. This isn't bad if you don't need a lot, but if you're making a high-end gaming build or a mid-range build you intend to upgrade in the future, then you might want to stick with the classic ATX board and therefore visit some different case options.
You will normally find the motherboard compatibility labeled in the name of the case or very easily in the specs and this outlines the maximum sized motherboard you can fit into the case!
There are 3 prominent types of computer cases (although there are more) and each is compatible with different types of motherboards:
Full-tower cases

are the largest cases and can work with ATX, Micro-ATX, and Mini-ITX. Their large size is more meant for extra components rather than exceptionally larger motherboards.

Mid-tower cases

are the most popular and can also work with motherboards that are as large as ATX.

Mini-tower cases

sacrifice the larger ATX boards, but can still use Micro-ATX and Mini-ITX boards.
It is worth noting that your micro-ATX build will look great in any sized case from the smaller 'node' style boxes to a mid-tower case. Often some cases will cater for motherboards with smaller sizes but you may struggle when it comes to cable managing your front panel connectors as they will be stretched if your case and motherboard arent of similar form factors.
Things to Consider Before You Buy a micro-ATX Case
When purchasing a case with a smaller form factor, there are certain things you will need to consider before just purchasing components at will.
Are you sure you want a compact build? The chances are if you are looking for the best micro-ATX case then you are set on building a smaller sized PC. It could be that you are looking for power at a fraction of the cost, you could be tight for space at your work/gamestation, or you could just like the look of a compact build as they do often look quite cool!
Power supplies and motherboards will display their individual form factors in the description so you should always make sure it will be compatible before buying! Other than the specific component size it's all about making sure your cooler fits as some will have a large heatsink!
Cable Management Is A Must
Cable management is highly important but often forgotten about when you get into building a micro-ATX system. This neglect comes from smaller systems tending to be of lower quality but that isn't always the case and cable management is more important than ever due to the decreased airflow in your compact system and often less fan mounting solutions to properly cool the inside. So keep those cables routed properly around the system to maximize cooling performance.
Taking a Closer Look at the Best Micro-ATX PC Cases
Now it is time to look at each case, examine the pros and the cons, discuss the cases' design, and any notable features.
Top 5 Best Micro-ATX Cases 2019
Product
Details

Phanteks EVOLV mATX Case

type: Micro tower
motherboard support: Micro-ATX, Mini-ATX
dimensions hxwxd: 453 x 230 x 400mm

Check Current Price

Corsair Crystal 280X RGB Micro-ATX Case

type: MicroATX
motherboard support: Micro-ATX, Mini-ITX
dimensions hxwxd: 398 x 276 x 351mm

Check Current Price

Fractal Meshify C Micro ATX/Mini ITX Case

type: Micro tower
motherboard support: Micro-ATX, Mini-ATX
dimensions hxwxd: 412 x 217 x 409 mm

Check Current Price

Cooler Master MasterBox Q300L mATX Case

type: Micro Tower
motherboard support: Micro-ATX, Mini-ITX
dimensions hxwxd: 378 x 230 x 387mm

Check Current Price

NZXT H210 – Mini-ITX

type: Mini Tower
motherboard support: Mini- ITX

Check Current Price
This micro-ATX case from NZXT is a solid performer across the board and features as our top pick in this category. The H400i comes in a variety of colours like most cases from NZXT and features brilliant cooling potential. Whether you want an air fan, custom loop, or an AIO (all in one), you can do it with the H400i.
The case allows for two 140mm fans in the front, two in the top panel, and a singular 120mm fan in the rear. Evidently, the case's airflow is top-notch. This case ships with two AER F120 case fans in the front and one AER F120 case fan in the rear. You can also mount a 280mm radiator on the front if required with room on the rear for a 120mm solution too.
This chassis can house up to four 2.5-inch drives, but there's only room for a single 3.5-inch, which is definitely a drawback. Moreover, there aren't any 5.25-inch bays, which is also something to keep in mind.
The case has a white finish with black accents and a large tempered glass window on the left side panel. The interior of the case still feels spacious, allowing for good airflow and cable management.
Overall, the case won't let you down. It's compact yet spacious design packs in plenty of features into a small case with great airflow and support for water cooling too. A great pick for many needs.
#1
Phanteks EVOLV mATX Case
TECH SPECS
Type

Micro tower

Motherboard Support

Micro-ATX, Mini-ATX

Dimensions (HxWxD)

453 x 230 x 400mm

Included fans

1 x 140mm fan
PROS
Spacious
Great Design
Hinged Tempered Glass Side Panel
CONS
No optical drive bay
No PCI-E pass-through on PSU shroud
This tempered glass case from Phanteks is visually near perfect. The Enthoo Evolv mATX gives gamers a compact case that doesn't compromise on style whatsoever.
This case came in a close second and shares a high price tag too which some may consider a bit too expensive for a case this size but once you look at the materials used in construction and the overall quality you begin to see why. With this mATX version of the bigger brother, they have kept most of the best features from that case whilst removing the 5.25" drive tray which can provide extra room for water cooling setup!
The case actually comes with a pump mounting bracket in the box like water cooling was meant to be. The bracket isn't all, you get great RGB compatibility, a sleek tempered glass panel, dust filters, a unique looking front panel, and 2 x 140mm fans
The case is incredibly roomy inside and it makes building relatively simple for a case this size. Its fairly chunky and does have some weight to it but that just adds to the feeling of the overall high quality.
This sexy case will elevate the performance and look of any build, a solid choice!
#2
Corsair Crystal 280X RGB Micro-ATX Case
TECH SPECS
Type

MicroATX

Motherboard Support

Micro-ATX, Mini-ITX

Dimensions (HxWxD)

398 x 276 x 351mm

Included Fans

2 x Corsair LL120 RGB fans
PROS
3 sides of tempered glass
Sleek and compact case
Supports watercooling
Aesthetically pleasing
CONS
Not the coldest of cases
Pricey for the size
The Corsair Crystal 280X offers a unique cube-like option that doesn't compromise on looks or performance.
This case isn't too different from the Corsair Air 240 and they do share a similar layout underneath the shell but that is where the similarities end thankfully. This RGB version has 3 x glass panels for you to enjoy, a lighting controller and 2 x RGB fans thrown in for some colourful airflow. While you will be paying more for the RGB version you do get the expensive Corsair fans with it which makes it the sensible choice of the different options. The case also supports full ATX power supplies and you can also mount an additional 120mm fan on the back side panel for extra airflow if you wished.
The thing that sets this case apart from the rest on this list is the fact it has a dual chamber. The dual chamber does wonders for temperatures inside as your components aren't all together in one chamber and there are fewer cables sitting in the bottom. This case could be better suited for the builders wanting to squeeze the most out of a micro-ATX system as adequate cooling can be mounted to this case.
#3
Fractal Meshify C Micro ATX/Mini ITX Case
TECH SPECS
Type

Micro tower

Motherboard Support

Micro-ATX, Mini-ATX

Dimensions (HxWxD)

412 x 217 x 409 mm

Included fans

2 x Dynamic X2 GP-12
PROS
Visually nice
Fantastic for cable management
Good airflow
Great value
Fractal cases feature in a few of our build recommendations here at WEPC and this is down to the quality they offer for such a low price.
The 'Mini' here is a smaller case in the Fractal Meshify series which are designed for high airflow, great ventilation, and to be builder-friendly with brilliant cable management options. Storage is savvy in a case as small as this and it owes it to Fractals great design. The spacious interior only enhances the airflow of the system as it remains relatively unobstructed meaning it can penetrate the components easier and keep your temps down.
The ability to mount 3 x 2.5″ SSD and 2 x 3.5″ hard drives is nifty from a case of this size. The included fans work flawlessly and you generally won't have to replace them unless you want extra silence from the build(not that they are loud).
This simple looking case is overflowing with quality and for such a low price it cant be ignored.
#4
Cooler Master MasterBox Q300L mATX Case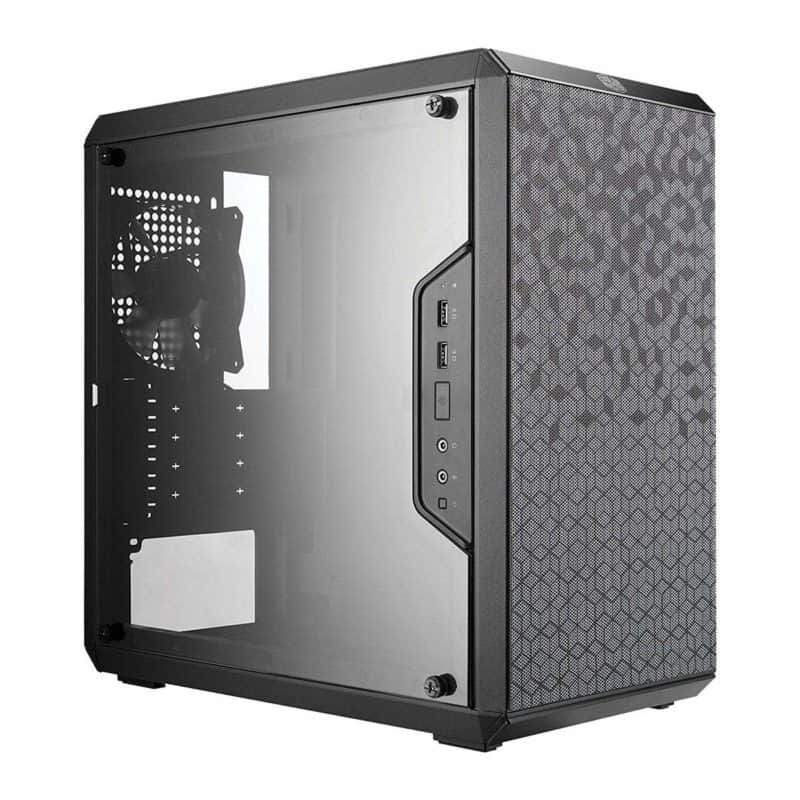 TECH SPECS
Type

Micro Tower

Motherboard Support

Micro-ATX, Mini-ITX

Dimensions (HxWxD)

378 x 230 x 387mm

Included Fans

1 x 120mm fan
PROS
Visually pleasing design
Brilliant value
Comes with a set of dust filters (magnetic)
Can fit ATX PSU
CONS
Flimsy metal around disposable PCI slots
One included fan
The Masterbox Q300L is an intriguing micro-ATX case from Coolermaster and for such a budget price it actually looks quite nice straight out of the box. The first thing you notice is the unique looking dust filters along the top and front of the chassis. The dust filters do a good enough job and feature a visually pleasing geometric pattern.
The interior is very spacious and can house large GPUs and some air CPU coolers too. It is, in fact, possible to get a good water cool solution going inside with the ability to mount a 240mm radiator on the front. Storage is also well considered with room for both 2.5" and 3.5" drives.
You get a nice windowed side on this case which only adds to the stellar appearance of the Masterbox and not only that you get plenty of space on the back panel for cable management which is important in a case this size.
For the price, there are not many cases that can beat this one and it is our top budget pick!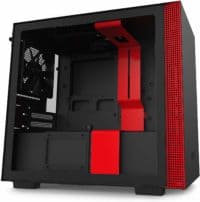 TECH SPECS
Type

Mini Tower

Motherboard Support

Mini- ITX

Dimensions (H x W x D)

349mm x 210mm x 372mm

Included Fans

2 x 120mm Aer F120 fans
PROS
NZXT's stylish design
Good airflow for a mini tower
CONS
Some consider this a bit noisy
The H210i from NZXT features the same tempered glass and steel design of their larger versions of this case and is available in the same variety of colours, such as black and white, black and blue and also the one we feature here, the red and black. The H210 is a mini-tower(small) and only supports boards that are mini-ITX. Despite the H210's hefty price tag, there aren't many downsides to this case as it is one of the best performing Mini-ITX cases we have had the privilege of using.
The H210's strong performance and value are good enough reasons to purchase this alone but with its aesthetic steel and tempered glass design, it's a real sight for the eyes.
The importance of a PC case cannot be overstated. Your case protects the rest of your components and provides them with airflow to ensure they're running at a stable temperature but with a micro-ATX case, you can add convenience and some real space-saving solutions into the mix!
We would like to know what case you went for to house your build in and also if you have any alternate suggestions we should look into!