What Is The Best SSD For Gaming? – 2019 Reviews and Top Picks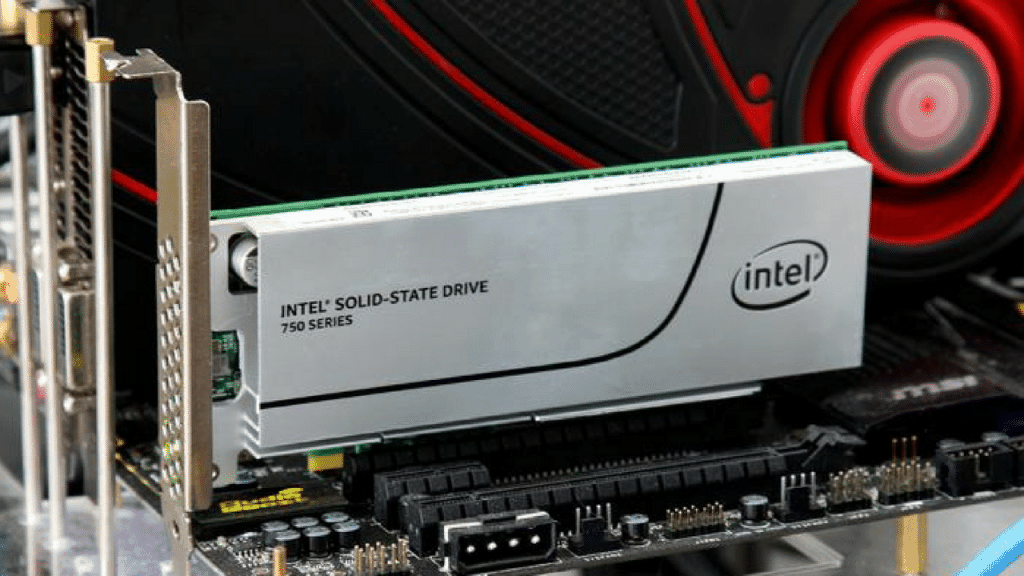 If you're trying to find the best SSD for gaming to maximize your gaming experience this 2019, look no further. We've rounded up 5 amazing options for great SSDs to accelerate your gaming experience.
Finding the best SSD for gaming wasn't a total walk in the park- it did take some looking around. We found the highest-rated, highest-forming SSDs across various price ranges and have put them on this list for your convenience.
Regardless of which SSD you choose, your in-game loading times will plummet, as will your boot times and program launch times.
With no further ado, let's hop right into our five contenders for best SSD for gaming and choose which one is right for you.
Finding The Best SSD For Gaming: Breakdown
PROS
God-tier read/write speeds, thanks to PCI-E interface
CONS
Poor price-per-GB
PCI-E makes it prohibitively expensive
Last but not least is a PCI-E SSD from Intel. Intel's 750 Series SSD offers 400GB of solid-state storage.
And, thanks to being a PCI-E drive, it offers better performance than anything else on this list could hope to match.
Unfortunately, however, this comes at a very real downside: price. The price spent for the amount of storage you get is pretty ridiculous and is a major downside when compared to other SSDs.
However, the performance increase will ensure virtually non-existent loading and file transfer times. Because of that, SSDs like this are most popular in server and enterprise environments.
Also, because of that, this level of performance is fairly overkilled for gaming scenarios. We only recommend opting for an SSD at this level if you're using serious productivity applications alongside your gaming.
Why buy an SSD for gaming?
Roundup aside, some of you may be left wondering why to use an SSD for gaming, or what performance benefits it actually offers. We're going to hop into that now.
If you're buying an SSD expecting it to boost your in-game FPS, it won't. Unless the game has issues loading in assets during gameplay that hurt its FPS, your performance won't see a boost from investing in an SSD.
Where an SSD will make a difference on the gaming front is in loading times. Loading times, especially loading screens between maps, will plummet significantly on an SSD versus any hard drive.
SSDs will also improve your experience outside of games. Transferring large games or large files will become much quicker on an SSD when compared to an HDD.
Additionally, if you install your OS and your programs on your SSD, everything will run much faster. Even on systems with weak CPUs, the drive is the main bottleneck behind operating system boot times and program launch times.
This is why many people buy SSDs to revive old computers. It's one of the best user-experience upgrades that a user can buy for their system.
SSDs, as a whole, do come with one key downside: price-per-GB. Because of this, people generally supplement an SSD with a larger, cheaper HDD.
Storage Capacity
Due to their faster speeds and more expensive manufacturing methods, SSDs are much more expensive per-gigabyte than an HDD. Because of this, most enthusiasts prefer to have an SSD in their system alongside an HDD, so they aren't losing out on either performance or storage space.
When selecting your SSD, you'll want to figure out how much of it you actually intend to use. If you already have an HDD to use alongside it, use the HDD to store most of your media and games.
Your operating system and your most-played games should be stored on your SSD. Modern games come in at anywhere from 10-50GB, so keep this in mind when comparing the SSDs that we've provided.
If you aren't going to supplement your SSD with an HDD, you'll want to spend more on your storage to compensate. You should also get used to managing your existing storage space more carefully.
Interface
There are three main interfaces for SSDs: SATA 3, M.2 and PCI-E.
SATA 3 is an interface shared by standard HDDs, and has limited speeds when compared to M.2 or PCIe. However, even with the SATA speed penalty, SSDS go far beyond an HDD's speed capabilities.
M.2 is both an interface and a form factor, designed for tiny SSDs and tiny slots for them to plug into. These slots can run a SATA or PCIe signal for the same or better performance, all while saving significantly on space for installation.
The PCI-E SSD is mounted in the same way as a desktop GPU: in a PCI-E slot. PCI-E SSDs have world-class performance and are most often used in enterprise environments, thanks to the memory bandwidth and speed offered by a PCI-E slot over alternatives.
Most PCI-E SSDs stand in their own tier, but we've included one in this article just in case you're interested in them. Just note that it'll cost you.
Finally, it's up to you to select an SSD of your choosing. Our personal favorite pick would be the ADATA Premier SP550, thanks to its fair pricing and great performance.
In truth, a SATA SSD over a PCI-E SSD won't result in much of a difference in gaming. We only recommend the PCI-E option if you have needs besides that, like managing large video files or running a server.
With the SP550 as our pick, what's yours? Comment below and let us know what you went with.