What Is The Best SSD For Gaming in 2020? Ft. Budget Sata & M2. SSDs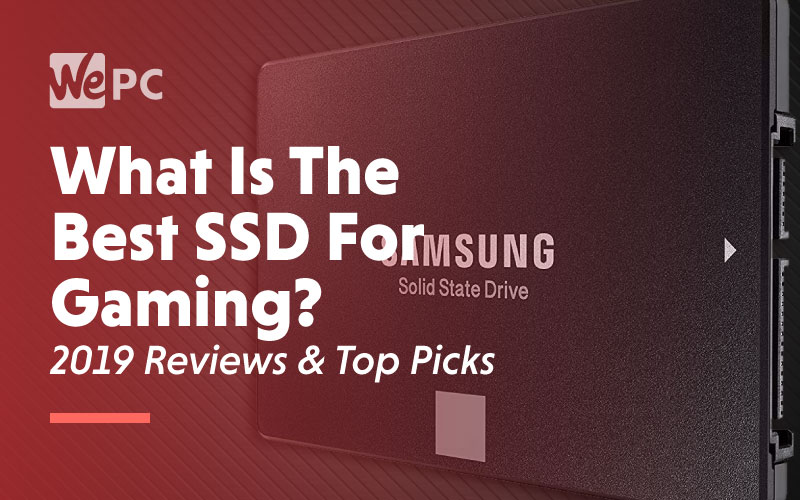 If you're trying to find the best SSD for gaming in 2020 which maximizes your overall experience then look no further. We've rounded up 6 amazing options for great SSDs to accelerate your gaming experience.
Finding the best SSD for gaming wasn't a total walk in the park, it took some looking around to make sure what we recommended was the best option out there. We found the highest-rated, highest-forming SSDs across various price ranges and have put them on this list for your convenience.
Regardless of which SSD you choose, your in-game loading times will skyrocket, as will your boot times and program launch times.
With no further ado, let's hop right into our six contenders for the best SSD for gaming and choose which one is right for you.
Best NVME Performer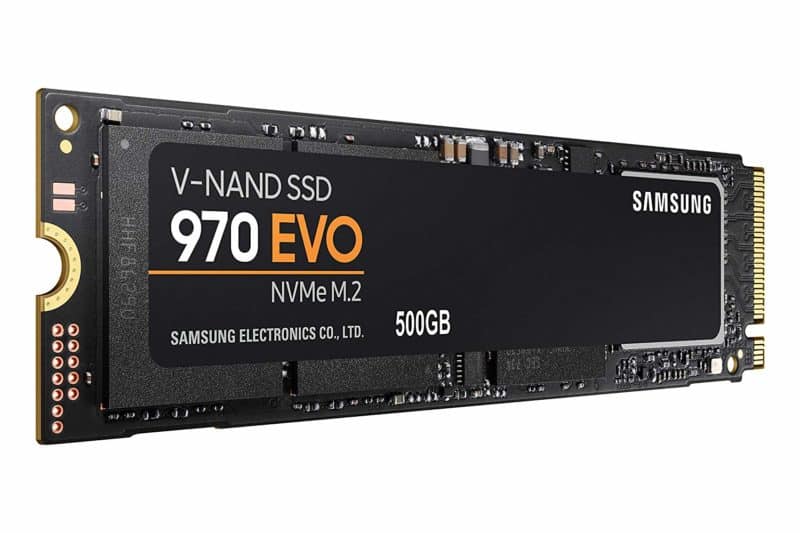 Samsung 970 EVO Plus 500GB
The 970 Evo Plus is truly one of the best products on the market right now and for good reason, it has lightning-quick read/write speeds that destroy most of the competitor offerings currently available and comes to shelves at a very competitive price.
We couldn't think of a more fitting entry to fill our top spot, the Samsung 970 Evo Plus is a brilliant piece of hardware.
The 970 EVO plus range is, without doubt, the most powerful SSD's in our list, the benchmark results we discovered were in the 100th percentile. Samsung has always been known for providing quality, reliable SSD and has once again taken a huge step in the right direction with the EVO plus range.
Runner Up
WD Black SN750 NVMe PCIe
Western Digital is rapidly closing the gap between themselves and the top tier SSD providers. The SN750 boasts speeds almost as quick as the 970 EVO and has the quality build assurance you get when buying WD products. Overall a great SSD and just misses out on the top spot.
You're literally buying peace of mind when you choose Western Digital as they are widely considered to be one of the best producers of hard drive solutions around. With their new SSD range, they not only move away from SATA speeds but take one step closer to the likes of Samsung's 970 line.
Honourable Mention
Adata SX8200 NAND NVMe M.2
You're probably as surprised as I am when you see ADATA gets a spot in our best SSD's of 2019, but the performance stats can not be argued with.
The SX8200 is actually more efficient and faster than the WD Black SN750 but due to the brand, and it's clouded past, we have decided just to give them an honorable mention here.
For the price of this SSD, you're getting unbelievable value for money.
ADATA is a relatively new brand, formed in 2001 and primarily manufactures memory and storage solutions at relatively low prices. However, consumers haven't been overly impressed with their products for the last couple of years thanks to poor build quality and premature life spans. Keeping that in mind though, we were super impressed with the SX8200 SSD they released at the end of 2018 and feel like ADATA may be starting to make movements into the upper tier bracket of storage solutions.
Best Budget 1TB SSD
Intel 660p NVME M.2 1TB
Intel is widely known as the best producer of CPU's but they do dabble in other hardware areas as well. With their 660p SSD, they have provided consumers with a fantastic budget choice for a storage solution.
It is by far the cheapest NVME PCIe 3.0 SSD on this list.
Intel's sole purpose when developing the 660p M.2 SSD seems to be undercutting the competition. Essentially giving consumers on a budget another option to consider. If their SSD's are anywhere near as good as their CPU's then we're going to have a brilliant hardware component at our disposal.
Best Budget SATA SSD
Crucial MX500 500GB
We had to give a shout out to the SATA users out there and we feel like the crucial is by far the best budget option in today's market.
It may not have the speed or raw performance power of the NVME models in this list, but there's certainly a market for SATA out there and this gives those guys a brilliant option at a cheap price.
As many will presumably already know, SATA SSD's are considered much slower than the newly enhanced NVME M.2 which are becoming much more mainstream. This being said, the price of SATA is starting to become much more attractive than ever before. The MX500 is the ultimate budget edition to our list and fills that side of the consumer market nicely.
Luxury Pick
Samsung 970 EVO 2TB
Finally, we have the 970 EVO plus 2TB edition. Truly a monster in the SSD world. We've called it our luxury pick because not only is it the fastest and biggest, it's also the most expensive, and by a long way.
For the guys wanting the best of the best then look no further, however, if you're sticking to a budget you might want to pick something else!
If money is no option then we've saved the best till last, our luxury pick is the all singing all dancing SSD which knocks everything else in this list out the park. However, it does come at a price... a price we feel is just too expensive to justify giving it a place at the top.
The Best SSD For Gaming: Breakdown
#1
Samsung 970 EVO Plus 500GB
PROS
One of the quickest available
Improved longevity
Great value
CONS
Doesn't have a huge capacity
Fairly expensive
Samsungs 970 EVO plus was released earlier this year and likely marks the last PCIe 3.0 version before we move onto the higher performance PCIe 4.0 which will coincide with the release of AMD's 3rd Gen Ryzen chips, due out later this summer. The new 970 Evo Plus came to shelves at almost half the price of the 970 EVO's release price which arrived a little less than a year ago making this SSD extremely good value for money. You can thank the dramatic drop in memory prices for this.
So what we have here is an extremely efficient SSD which, from a consumer point of view, is much more powerful that the majority of the SSD's in its price range. For this reason, we have given the Evo plus the crown for best NVME performer this 2019 and it's hard to argue against it. If you have room for it in your budget we definitely recommend spending the extra over the 860 EVO which is currently in our $1000 build.
Why buy an SSD for gaming?
Roundup aside, some of you may be left wondering why to use an SSD for gaming, or what performance benefits it actually offers. We're going to hop into that now.
If you're buying an SSD expecting it to boost your in-game FPS, it won't. Unless the game has issues loading in assets during gameplay that hurt its FPS, your performance won't see a boost from investing in an SSD.
Where an SSD will make a difference on the gaming front is in loading times. Loading times, especially loading screens between maps, will plummet significantly on an SSD versus any hard drive.
SSDs will also improve your experience outside of games. Transferring large games or large files will become much quicker on an SSD when compared to an HDD.
Additionally, if you install your OS and your programs on your SSD, everything will run much faster. Even on systems with weak CPUs, the drive is the main bottleneck behind operating system boot times and program launch times.
This is why many people buy SSDs to revive old computers. It's one of the best user-experience upgrades that a user can buy for their system.
SSDs, as a whole, do come with one key downside: price-per-GB. Because of this, people generally supplement an SSD with a larger, cheaper HDD.
Storage Capacity
Due to their faster speeds and more expensive manufacturing methods, SSDs are much more expensive per-gigabyte than an HDD. Because of this, most enthusiasts prefer to have an SSD in their system alongside an HDD, so they aren't losing out on either performance or storage space.
When selecting your SSD, you'll want to figure out how much of it you actually intend to use. If you already have an HDD to use alongside it, use the HDD to store most of your media and games.
Your operating system and your most-played games should be stored on your SSD. Modern games come in at anywhere from 10-50GB, so keep this in mind when comparing the SSDs that we've provided.
If you aren't going to supplement your SSD with an HDD, you'll want to spend more on your storage to compensate. You should also get used to managing your existing storage space more carefully.
Interface
There are three main interfaces for SSDs: SATA 3, M.2 and PCI-E.
SATA 3 is an interface shared by standard HDDs and has limited speeds when compared to M.2 or PCIe. However, even with the SATA speed penalty, SSDS go far beyond an HDD's speed capabilities.
M.2 is both an interface and a form factor, designed for tiny SSDs and tiny slots for them to plug into. These slots can run a SATA or PCIe signal for the same or better performance, all while saving significantly on space for installation.
The PCI-E SSD is mounted in the same way as a desktop GPU: in a PCI-E slot. PCI-E SSDs have world-class performance and are most often used in enterprise environments, thanks to the memory bandwidth and speed offered by a PCI-E slot over alternatives.
If you are still looking for information on the best SSDs or storage-related guides, then check out our selection below.
Finally, it's up to you to select an SSD of your choosing. Our personal favorite pick would be the Samsung 970 EVO Plus 500GB, thanks to its fair pricing and great performance.
In truth, a SATA SSD over a PCI-E SSD won't result in much of a difference in gaming. However what you will see is huge improvements in overall, general system usage. We can not recommend an SSD enough, it is truly one of the greatest system improvements you can buy.
So, we've gone for the Samsung 970 EVO Plus as our top choice, what's yours?
Comment below and let us know what you went with.