Best Hard Drive For Gaming – 2019 Reviews and Top Picks
After spending 11 days of back and forth testing and benchmarking 12 different HDDs, we have concluded that the Seagate Barracuda (3TB) is the best hard drive for gaming. It may not have the hybrid speed of a FireCuda SSHD but it is ranked as 12th among the 1,002 HDDs in the market when it comes to real world speeds. We decided to include a budget HDD if you just want an entry-level HDD for gaming. Read on to find out.
Our Pick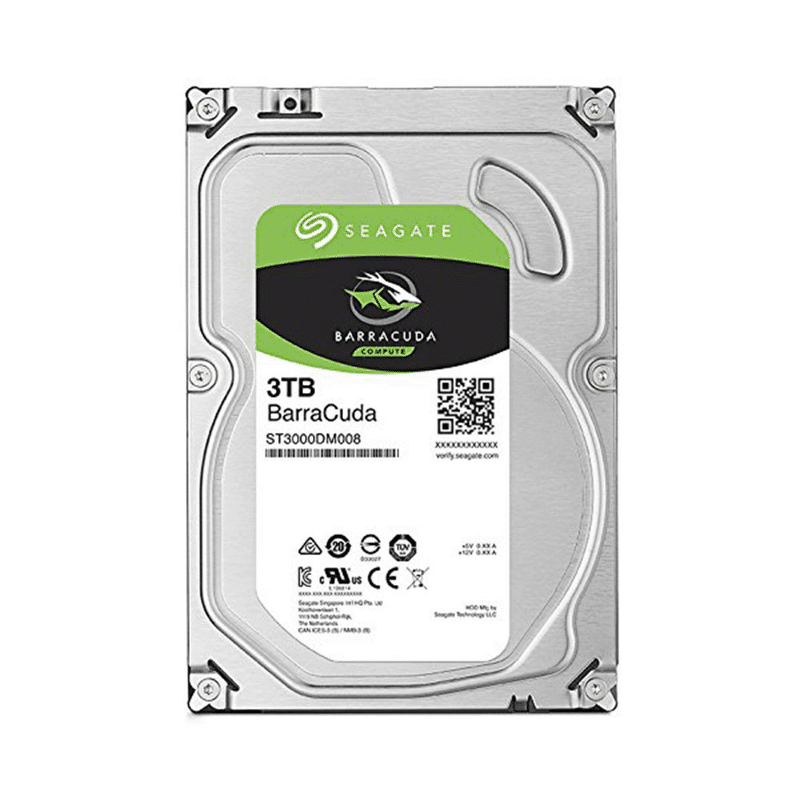 Seagate Barracuda (3TB)
Best 3TB hard drive for gaming
This is the best gaming hard drive for those who want to install and play all the games they could find. This is purely for the hardcore "I play every game I find" type of gamer. With a storage space this large, you won't need an upgrade for quite some time.
Seagate is a name you can rely on when it comes to storage devices.
This is the only hard drive storage junkies should get. Period. You have a solid 3TB of storage space for you to mess around with - that is enough storage space to accommodate all your steam games, media files, and important files. To that off, you still have enough space for more.
Keep in mind that modern games today are starting to require spaces of at least 20-ish GB. With this, you can easily store about 120 25GB games no sweat. It is without a doubt, the best internal hard drive for gaming.
Runner Up
Seagate FireCuda (2TB)
Best 2TB hard drive for gaming
This may look like a regular mechanical hard drive but it's actually a hybrid storage device. It's an SSHD storage device that gives you similar speeds of an SSD and a storage capacity like a regular mechanical hard drive. Thanks to the 8GB NAND solid state memory, boot and loading times are significantly improved.
This is packed with 2 features that a storage device should have - speed and capacity.
This is an SSHD drive that has the features of an SSD and that of an HDD. More importantly, you have the speed of an SSD beast - although not as fast but sure is faster than your regular mechanical hard drive. Thanks to the 8GB high-performance solid state memory, boot and loading times will be a breeze.
This may only have 2TB of storage space but let's be honest, it's still a lot.
Like the 2TB FireCuda, you get both speed and storage capacity in one.
You get 1TB of storage space to store your games with a kick of faster boot and loading speeds like that of an SSD (though not as fast). If you're looking at the Seagate FireCuda 2TB but you found it to be way off your budget, or perhaps the 2TB space is just too much for you, here's a Seagate FireCuda 1TB version just for you.
Essentially, this does what the 2TB version can do but you only have 1TB of space.
This may sit at the 4th place on our list but this still has a decent 1TB of storage space for you to play around with. This may not have the hybrid features like the FireCuda but this still is a great option to consider, especially if you aren't planning on storing too many games or media files.
If you just want a 1TB storage space that's decent enough for you to rely on, get the popular pick - Seagate Barracuda (1TB).
Budget Pick
Western Digital Caviar Blue
Best budget hard drive for gaming
This may be a Western Digital storage drive but this is a name that's known to have produced quality and durable storage devices over the years. It only has 320GB of storage space but the fact still remains that this follows the 7200 RPM speeds instead of 5400 like older HDDs.
When you're on a really tight budget but you badly need a storage space in the meantime, this surely is the best you could get. With a price that's under $15, you get a 320GB storage space with a 7200RPM speeds - enough to make sure you get a decent performance compared to what you could find in the price range.
How We Choose the Hard Drives
Since games this 2019 are becoming more demanding, we did an extensive research online to make sure we get to test the best type of hard drive for gaming.
Since SSDs are king when it comes to speeds, we decided to limit our review to the HDD and SSHD boundaries. We didn't solely rely on what we found on our end but instead, we also checked what our fellow professionals have to say about the hard drives to get a deeper understanding of the features.
Instead of just randomly picking colorful and cool hard drives we could find online, we spent an entire week to check reviews, forums, benchmarks, as well as feedback from manufacturer websites like Seagate, Toshiba, and Western Digital.
After spending over 6 days of hunting and foraging information, we purchased 12 hard drives that a lot of you guys are recommending over the internet. We want to personally test them out and see whether or not they perform according to what they were claimed to be.
We have all the benchmarks and results below and if this is what really matters to you, you can go ahead and check it out right away.
Disclaimer: The HDDs we tested were purchased and were not sent to us to make biased opinions or feedback.
Features to Check When Choosing The Right Hard Drive For You
First and foremost, address your storage needs.
If you're a PC enthusiast and you have a large library of games you play regularly, a large HDD is a no-brainer. This becomes even more important once you start using game recording software, like Shadowplay, which generates large raw video files on your HDD for you to deal with.
Since 2019 games are becoming heavier and heavier, it's important to invest in a storage device with at least 1TB of space.
If you're a gamer who isn't trying to play every game under the sun, however, a smaller drive may be better-suited for you. Console gamers can probably stand to go for the 1TB SSHD option we've provided since your storage will only be mainly used for games and not media files.
If you're just squeezing in a budget, our Western Digital drive may be your best bet. While we'd highly recommend updating your storage at some point in the future, buying PCs in the $300 and under price range often means sacrificing storage for performance.
Does Hybrid Actually Matter?
Hybrid HDDs are an amazing compromise between an SSD's speed and an HDD's raw storage and are often just the compromise people need.
If you wanted the absolute best performance in all your gaming and applications, a 2TB SSD would get that job done and then some. Unfortunately, SSDs cost way more per GB than HDDs do, and having space for all your games on an SSD simply isn't feasible for most.
Meanwhile, a 2TB HDD is more than enough space for most people to store their games and media. I've been using a 2TB HDD for years now and I still haven't quite filled it up, despite all the downloads and video recording I've done on my PC!
However, an HDD can sometimes translate to slower loading times. As my HDD has aged, I've noticed its performance drop, meaning I'm left sitting on loading screens much longer than my contemporaries are.
A Hybrid HDD balances the benefits of both storage types but doesn't quite replace either of them.
When it comes to HDDs, brand is extremely important.
Fortunately, Western Digital and Seagate are some of the best HDD manufacturers out there, with consistently high reviews and solid build quality.
If, for some reason, you decide to buy an HDD that isn't on this list, make sure you're buying it from a reputable manufacturer. A few other good manufacturers include Toshiba and Samsung.
We do need to address the elephant in the room here, though: SSDs exist.
With an SSD, you can install your OS, programs and a few of your favorite games for rapid-fire loading and response times. SSDs are one of the most highly recommended user-experience upgrades that you can get on your PC.
If you're okay with sacrificing storage space for speed, we highly recommend you get an SSD instead. It's also worth noting that if you have the money, this isn't necessarily an either-or situation.
You could buy a small SSD to enjoy its benefits with your OS and a few of your favorite games, then buy an HDD for your other games and your media storage. At least, you can do this with desktop PCs.
This usually isn't possible on laptops and gaming consoles.
Read more: What Is The Best SSD For Gaming?
Aside from the packaging - which is pretty much straightforward, there's nothing more we can do but perform an in-depth testing on the hard drives straight away.
Below is a table that shows the results based on the 3 benchmarking tools that we used:
We boiled down to only 5 hard drives to save you time and to make it convenient for everyone.
The 5 Best Hard Drive for Gaming in 2019 (HDD Buying Guide) benchmark
Name
Sequential
4K
Read [MB/s]
Write [MB/s]
Read [MB/s]
Write [MB/s]
Seagate Barracuda (3TB)
175
160
0.67
1.53
Seagate FireCuda (2TB)
134
168
0.65
5.04
Seagate FireCuda(1TB)
133
165
0.71
4.9
Seagate Barracuda (1TB)
168
154
0.81
1.52
Western Digital Caviar Blue (320GB)
85.4
82.7
0.5
1.64
We want to make sure that we're getting the right numbers so we decided to do the test 5 times per hard drive. The numbers above were the average results based on the 5 tests performed.
Since we want to make sure you're getting the best value for your money here, we want to keep you updated with how each of these perform long-term…
...so as a side quest, we'll update and add a new section here to show you how well they performed down the line. Come back in the next 5 years. 🙂
The 5 Best Hard Drives for Gaming
#1
Seagate Barracuda (3TB)
PROS
Large storage capacity for games and media
Can Fit 120 25GB Games
Won't Need An Upgrade Anytime Soon
CONS
No Hybrid Benefits
Won't Fit In Consoles And Laptops
Out of the 12 hard drives that we tested, we already anticipated that the Seagate Barracuda (3TB) is going to be the best gaming hard drive. But after doing the benchmarks and tests, we're more surprised at what's under the hood.
Here's why:
The 2TB Seagate FireCuda may be 231% faster when it comes to 4K random write speeds but the 3TB Seagate Barracuda is still 10% faster in terms of real-world speed.
The 3TB storage capacity allows you to store a huge amount of modern games in your library. In fact, this is capable of holding all the games you could possibly have in your drive right now and still has enough room left to accommodate more.
A word that you need to keep in mind though is that this won't fit in laptops and consoles since this is a 3.5-inch HDD.
However, if you're on the hunt for an HDD that you could fit on your laptop or console, the next 2 candidates should fit just fine.
Which HDD is Right For You?
Hardcore gamers should get the 3TB Seagate Barracuda in 2019. Period. It's the best gaming hard drive.
This may not have the hybrid feature that the 2TB FireCuda boasts but if you're going to check real-world speeds, it's actually 10% faster. So, not only that you have the speed you need for a quality gaming experience but you also have a hefty 3TB at your disposal.
If you're a casual gamer, however, we highly recommend you get the 1TB Seagate FireCuda. If you have the cash, by all means, go with the 2TB version. This should give you the speeds you need to enjoy quality gaming experience with no compromise in space.
While the 1TB FireCuda is enough, the 2TB FireCuda should give you a fair amount of breathing time to save up and spend on other hardware components. Overall, this is great for long-term use or future-proofing.
If you're a console gamer or perhaps you want to upgrade your laptop storage, we strongly recommend you either get the 1TB or the 2TB FireCuda SSHD since these are 2.5-inch drives that should fit perfectly well.
Lastly, if you're on a really tight budget, make sure you get the Western Digital Caviar Blue. Compared to the rest of the HDDs in this price range, this has a speed of 7200 RPMs.
Ultimately, everything comes down to what fits your budget and your needs.
If you're squeezing performance-per-dollar to the max with a budget build, go with the Western Digital Caviar Blue (320GB).
If you're still performance-per-dollar oriented but want some decent storage, go with the Seagate Barracuda (1TB). It offers a reliable 1TB of storage for under $50.
If you want faster loading times without severely sacrificing storage space, opt for one of the two Hybrid drives. Seagate FireCuda 2TB and Seagate FireCuda 1TB will both serve you well in that regard.
Finally, if budget isn't a concern and you just want room for all of your games, buy the Seagate Barracuda 3TB. It's a massive 3TB drive and should suit your needs fine.
Our pick is the Seagate Barracuda 3TB.
What's yours?