Evoo laptop buyer's guide
Also known as the Walmart gaming laptop, we look at the best Evoo gaming laptop & other Evoo laptops for general use
Updated: Jun 30, 2023 1:47 pm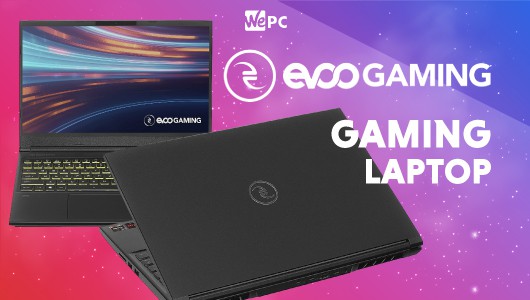 01

120Hz Evoo laptop pick

Evoo Gaming 15.6" Laptop LP-7 (120Hz, Ryzen 7 4800H, RTX 2060)

02

60Hz Evoo laptop pick

Evoo Gaming 15.6" Laptop (60Hz, i5-10300H, GTX 1650)
Everything you need to know about the different Evoo laptops available: if you want to know which Evoo laptop is worth buying, whether it be an Evoo gaming laptop or a more general-purpose browsing and typing machine, look no further.
Evoo is the in-house Walmart gaming laptop line, aimed at the lower end of the price spectrum. This article isn't a 'best-of' guide as such, but the page below features a couple of budget Evoo gaming laptops that are worth considering if you're after a cheap mobile gaming platform, and a couple of other models that you should avoid at all costs. Read on for more information.
Is Evoo a good brand of laptop?
Evoo is a budget-focused brand, and so Evoo gaming laptops and their general use notebooks are both on the cheaper side in terms of build quality and can be relatively underpowered compared to the competition. There are a couple of models worth considering in the Evoo laptop lineup, and we have listed these below, however there are also many models we recommend you steer clear of, as the worst Evoo laptops are pretty bad indeed.
Have a read of the Things to consider when buying an Evoo laptop section below to learn more about the brand.
---
Things to consider when buying an Evoo laptop
Who makes Evoo laptops?
Evoo laptops are manufactured by Chinese company Shenzen Bmorn Technology, which also produces models in the Gateway brand. As stated, the brand itself is owned by Walmart, and Evoo laptops are sold as one of their in-house brands (though you can also find them on Amazon and elsewhere).
Evoo VS Gateway laptops
Gateway laptops often look very similar to Evoo laptops, and have many of the same sort of features, given they are both made by the same manufacturer. You may find that Gateway laptops typically have slightly improved build quality and battery life, at the expense of gaming performance and the general power of their internal components, which is often superior in Evoo machines. However, this can vary between models within the same sub-brands, so it's only a rough rule of thumb to distinguish the two lines.
Do Evoo laptops come with warranty?
Evoo laptops come with a one-year limited warranty as standard. When you purchase them from Walmart you may also get an extended warranty from the retailer in addition to this.
---
Evoo laptops that are worth a buy
Evoo Gaming 15.6" Laptop LP-7 (120Hz, Ryzen 7 4800H, RTX 2060)
This 15-inch Evoo gaming laptop is a good choice for those looking for an affordable gaming machine. Although it makes sacrifices in terms of its build quality, and doesn't exactly run quietly, the core components pack a respectable punch for the money. It also comes with an uncommonly strong array of ports and sockets, including a full-size SD card reader.
Evoo Gaming 15.6" Laptop LP-7 (120Hz, Ryzen 7 4800H, RTX 2060)
This Evoo gaming 15.6 laptop comes with relatively powerful components for the price, including a previous-gen Nvidia GeForce RTX 2060 graphics card and an AMD Ryzen 7 4800H CPU. The main trade-off you get for this though is its cheap feeling, plastic chassis with less than desirable build quality.
The 120Hz refresh rate of the 1080p IPS display is realistically above the FPS you're likely to get playing most games with these core components, so is perfectly sufficient. The color gamut of the display is about average for a budget gaming laptop, well below what you'd need to do any kind of color accurate work, but good enough for gaming, and the same is true of the contrast. The peak brightness is a bit below average, unfortunately, and the display can come across as a bit dim in bright environments.
For a gaming laptop, the eight hours battery life you can squeeze out of it is pretty respectable; this assumes you stick to web browsing and YouTube, keep the battery saver settings on and work at about half brightness.
The impressive array of ports is a rare sight for laptops in this price range, coming with three forms of video output: HDMI, DisplayPort, and USB Type-C. It also comes with the rare inclusion of a full-sized (i.e. not micro) SD card reader. The keyboard and trackpad are both of average quality, and the 720p webcam and built-in mic aren't great but neither are those of the competition, so again pretty average.
Although this Evoo gaming laptop is a solid choice for a budget gaming machine, its main issue is that for a similar price you can find a 2020 version of the HP Omen 15, with the same core specs, but improved build quality, slightly better speakers, less noisy fans, and a 144Hz refresh rate screen instead of 120Hz (if you plan on playing undemanding games on the lowest graphical presets to achieve this FPS). Still, the Evoo LP-7 is a decent budget machine, and if you manage to find one at a reduced price compared to the Omen 15 then it could be the more preferable pick.
Evoo Gaming 15.6" Laptop (60Hz, i5-10300H, GTX 1650)
This even lower-priced Evoo gaming laptop is aimed at those looking for a real entry-level gaming experience for a cheap price. Although its core components are about what you'd expect for this price range, the main issue is that the screen has a maximum 60Hz refresh rate, which consequently caps your effective Frames Per Second in-game to 60FPS. Competing $800 gaming laptops from other brands can be found specced out with 120Hz displays, which are much better for gaming on, as well as better overall build quality.
Evoo Gaming 15.6" Laptop (60Hz, i5-10300H, GTX 1650)
Intel Quad Core i5-10300H
The Evoo gaming laptop with Intel Core i5-10300H CPU and Nvidia GeForce GTX 1650 is a respectably powered machine for the price. Both these core components will produce playable in-game FPS on older titles or on newer games with the graphics settings turned to their lowest. Both CPU and GPU are a common sight in this price category, with only the odd GTX 1650 Ti machine pulling slightly ahead. The same can be said of the 16GB of RAM and 512GB SSD.
Ultimately the thing which lets down this machine is the display: 60Hz really isn't good enough for a machine in this price range, and severely hinders our ability to recommend it as a gaming laptop, when 120Hz options can be found for the same cost. Besides the refresh rate, the display is pretty standard in terms of color and contrast, which is to say not great, but definitely good enough to game on. Much like its more expensive Evoo LP-7 cousin, brightness is less than ideal so we wouldn't recommend using it in more brightly lit spaces.
Besides this, you'll get between 8 and 9 hours of battery life in non-gaming, general usage with the brightness set to about 50%, which is good for a gaming laptop. The selection of ports and sockets is again above average, similar to the RTX 2060 version but with a microSD card reader instead of a full-size one. The keyboard and trackpad are again both of middling quality, and the 720p webcam and built-in mic are also of the standard you'd expect at this price range.
All in all, there are better budget laptops for this price out there, but if you can find one significantly reduced price, it may be worth your time.
Evoo laptops to avoid
Evoo Ultra Thin Notebook (14.1")
With the cheaper models in the Evoo brand, Walmart are obviously trying to target the absolute bottom end of the market, putting out laptops for those who don't know a lot about tech, but who just want a general-purpose laptop for Word processing and browsing the web as cheap as possible. Unfortunately for these people, who will almost all be looking for a machine that can run Windows, the Evoo Ultra Thin Notebook is not fit for purpose. You would be better off buying a Chromebook or a more powerful second-hand Windows laptop.
Evoo Ultra Thin Notebook (14.1")
Intel Celeron N3350 (2.4GHz)
The 14.1" Evoo Ultra Thin Notebook isn't a complete disaster in every facet, but ultimately just doesn't make sense given its core specs. The Intel Celeron N3350 CPU is just about powerful enough for a mere browsing machine but with its meager 64GB eMMC disk space and only 4GB of RAM, running Windows 11 to any sort of standard is out of the question (you will be able to install it with these specs, but do nothing else afterwards). Running Windows 10 will be easier, but again, the amount of disk space and headroom left for the RAM to run other programs will be very small. Expect this Evoo laptop to slow to a crawl after a few weeks of use.
You will find Chromebooks recommended with similar core specs, but the key difference is they will only need to utilize a fraction of both disk space and RAM that a Windows machine will need to operate.
Build quality is poor but we can't really put this down as a negative, as what else can you expect for $200? The Evoo Ultra Thin Notebook does get points for having both a 14–inch 1920 x 1080 display and 720p webcam, which for a mere couple of hundred dollars is a pretty tasty offering, but without the ability to actually use the machine in any meaningfully useful way, this is pretty much by the by. There is a cheaper 12.5" option with even lower core specs that is even less worth your time. We'd recommend instead opting for a Chromebook, or buying an older laptop second-hand with double the RAM, disk space, and a more powerful CPU.
EVOO Convertible Touchscreen Laptop (11.6 in)
We include this Evoo laptop in this list, not because it is worth your time, but as a warning for buyers to beware. Do not under any circumstances buy this machine. Either a Chromebook or a second-hand touch screen Windows laptop can be bought for slightly more money with higher specs that will actually function as a browsing machine that will work for longer than a couple of months.
EVOO Convertible Touchscreen Laptop (11.6″)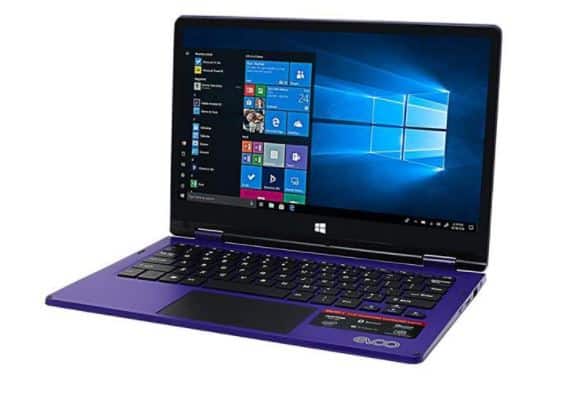 We won't waste your time by discussing this 11.6" machine at length, as the main concerns we have with it are exactly the same as its larger cousin, the 14-inch Evoo Ultra Thin Notebook, but even more so. Suffice to say, the even lower 32GB of disk space is half the amount needed to even install Windows 11, and only 12GB above the minimum amount needed to install Windows 10.
Combined again with a meager 4GB of RAM, if this laptop doesn't slow to a crawl after a month of use on Windows 10, you will be very lucky.
Though, once again, a 1920 x 1080 screen and webcam is great value at this price, not to mention the added touch screen functionality of this machine which can use its 2-in-1 design to behave as either a laptop or tablet; if the machine cannot function in the most basic manner for any length of time, then this is completely redundant. Do not buy.
---
Evoo laptop FAQs
Is an EVOO laptop good for gaming?
There are better gaming laptops out there than Evoo laptops, however if you can pick one up for cheap enough it may be worth it.
Generally, the build quality on Evoo laptops and the quality of display is worse than many of the big name brands out there, so if you can find one for similar specs for the same price, it's generally best to go with the other brand.
Do EVOO laptops come with Windows 10?
Any EVOO laptop you buy will come with either Windows 10 or Windows 11. If it's a later model and you're buying it brand new, then it's more likely to come with Windows 11.
Some of our other gaming laptop articles
In-depth laptop reviews
'Best of' brand guides
'Best of' price guides
Evoo laptop buyer's guide : Final word
This has been our Evoo laptop guide. We hope that it has proven useful in helping you decide which Walmart gaming laptop, if any, is worth your money, and which ones aren't worth your time. Be sure to also check out our other gaming laptop guides covering different price ranges and laptop brands.
---