Video Game Industry in France
Female gamers have almost closed the gender gap with a current share of
with it's male counterparts currently at 53%
Female video gamers in France currently are at a distribution percentage of 47%, though it has gone down 1% it is steadily closing the gap to making gaming more inclusive in France.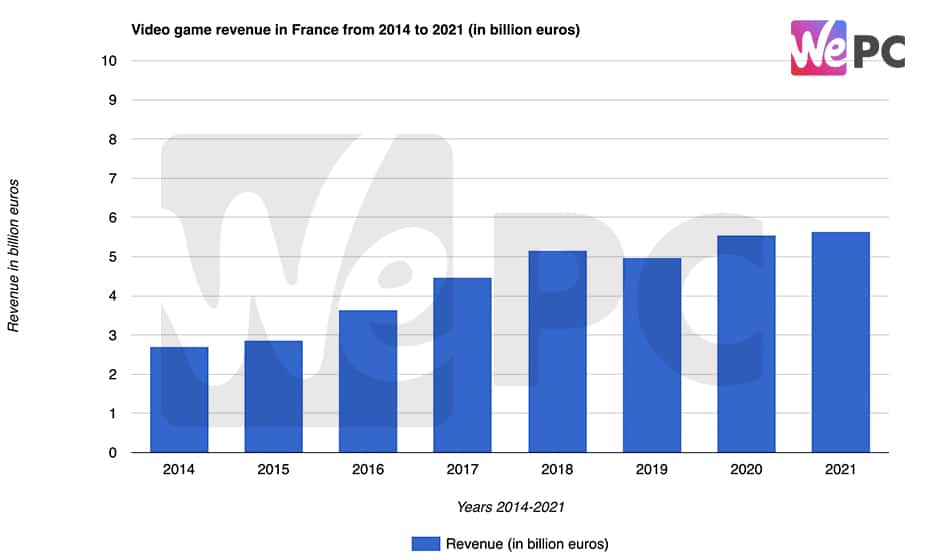 Video Game Revenue is expected to increase from the previous recorded year of 2020 from $5.5 billion that year to $5.6bn in 2021.
In 2021, hardware was the fastest growing video game segment in France. This segment generated approximately 1.7 billion euros in sales and had increased 11% percent year-over-year.
Console gaming reigns king in France, with a last recorded revenue of almost 2.75 billion euros in turnover. PC Gaming was ranked second with 1.49 billion euros in annual sales
The average revenue per user in France is forecasted to be around $33.80 U.S dollars on average. The majority of the revenue per user spent on Video Games is through mobile gaming with an average revenue $89.07 U.S dollars
In 2025, it's to be forecasted that in France the majority of revenue being brought in through Video Games will be from Mobile Gaming of $1.9 billion U.S dollars.
The PlayStation Store remains to be the most popular platform to obtain video games in France with 34% responding they do so through a survey by Statista.
In 2020, more than a quarter of released video game titles in France were suitable for gamers aged 3 and more, while 16 percent of games required players to be above 18 years of age.
In 2021, FIFA 22 was the best selling game release in France. This game generated 56.9 million euros in sales during the measured period. After this came Mario Kart 8 with over 24.4 million euros in physical sales.
In 2021, action games were by far the best selling video game genre in France – approximately 5.4 million units were sold. Sports games were led by football series FIFA which generated 3.27 million unit sales – this made it the second most popular gaming genre.
22% of respondents from a survey conducted by Statista mentioned that they have purchased video games – through downloads. A further 35% followed up with the survey with 'no' indicating no further consumption on video games within the past twelve months.
France fare out slightly under the global average of gamers who play video games at least once a week weekly at 78.9%, the global average as of Q4 2020 currently sits at 84.1%.
By 2025 it's forecasted that in France Mobile Gaming will be the most popular gaming segment with 22 million users. This would be an increase of the current recorded in 2021 with a number of 18.9m with 3.1 million in difference.
Last recorded in 2020, the percentage of female gamers went down 1% compared to it's previous year to 47% while for male counterparts, went up 1% to 53%.
France are ranked third with most gamers in European markets at 36.5 million gamers as of 2021.
France are currently underneath the worldwide average of 83.6% of global gaming penetration to where they currently sit at 78.4%
As of 2021, the current revenue through mobile gaming took a dip from 1.42bn euros in 2020 to 1.41bn in 2021, however the segment has doubled since 2017 which sat at 778m, showing perennial growth every year.
Last recorded in 2020, casual solo games were deemed most popular amongst gamers in France with an average usage score of 2.15, according to a survey by Limelight Networks.
33% of respondents from a survey by SELL mentioned that they pay video games every day or nearly everyday, a following 22% mentioned they play video games several times a day.
The most popular gaming device as of Q3 2021 was last recorded to be smartphones with a response percentage of 56.7%, according to a survey by DataReportal.
However, Airport Security remained the top downloaded game in February 2022 with a total of over 625,000 downloads in that month, beating Clash Royale (454,354).
On the flip side, Android have pictured a different story with Coin Master being the most grossed game on the Play Store app with 9.7million, marginally beating Clash Royale with 2.5m U.S dollars.
Clash Royale have amassed a total of 1.7m U.S dollars in February 2022, leading the most revenue in games on the App Store in France for that month.
However on the iPad, the leading gaming app on the App Store is Airport Security with a total download number of over 73,000 in February 2022.
As of February 2022, the number one leading game on the App Store is Clash Royale which recorded a total of 390,460 downloads in that month.
Kamet0 also currently has the most peak viewership on Twitch amongst all French streamers with 408,707 concurrent views within the past 30 days, according to Twitchmetrics.
Gotaga is currently the most popular French-language Twitch streamer with 3.6m Twitch followers as of April 2022, according to Twitchmetrics.
Kamet0 as of April 2022 have amassed the most viewership of 8 million hours watched in the past 30 days. Otplol_ is followed with 6 million and ZeratoR with 5.4 million.
As of 2021, only 39% have engaged with Twitch in which they either broadcast or watch channels, however 63% of respondents have said they do not use these sites.
Ceb (Sebastien Debs) has amassed the most lifetime earnings with 5.7 million U.S dollars. Apex has come second with 963,000 as of March 2022.
Sebastien Debs (named Ceb) have amassed the most earnings compared to all the eSports players in France as of 2021 earning a total of 214,000. Second to this is Amanek (Francois Delaunay) with 149,000.
FIFA has remained as the biggest competitive eSports title by gaming audiences of 32%, according to a survey by Mediametrie
In 2021 according to a survey by Mediametrie, 20% of internet users were eSports viewers or players. It also revealed that more than nine million were gamers and viewers in France.
More Countries Statistics