Best prebuilt gaming PC under $1000 in 2023
We scour the web to find only the best gaming PCs under $1000 for a silky-smooth 1080p gaming experience
Updated: Sep 8, 2023 10:50 am
A common price point for a lot of budding gamers to save up is around $1000. The best prebuilt gaming PC for under $1000, in some cases, features better graphics cards than those under $800 but not always. A gaming PC under 1000 may have similar spec GPUs but often feature stronger CPUs, more storage, and better RAM.
$1000 is a lot of money and is an ideal amount for those looking at playing games in glorious detail, with some capable of 1440p performance. We would all love a premium $2000 prebuilt gaming PC but these affordable prebuilt options below might surprise you.
01

ABS Stratos Aqua Gaming PC (i5 13400F, RTX 4060)

02

Skytech Shiva Gaming PC (i5-12400F, RTX 4060)

03

Skytech Gaming Blaze 3.0 Black Gaming PC (R5 3600, RX 6600 XT)
Today's best gaming PC deals
*Prices are subject to change. WePC | Let's build your dream gaming PC is reader-supported. When you buy through links on our site, we may earn an affiliate commission.
Learn more
Best prebuilt gaming PC under $1000 at a glance
ABS Stratos Aqua Gaming PC (i5 13400F, RTX 4060)
Skytech Shiva Gaming PC (i5-12400F, RTX 4060)
Skytech Gaming Blaze 3.0 Black Gaming PC (R5 3600, RX 6600 XT)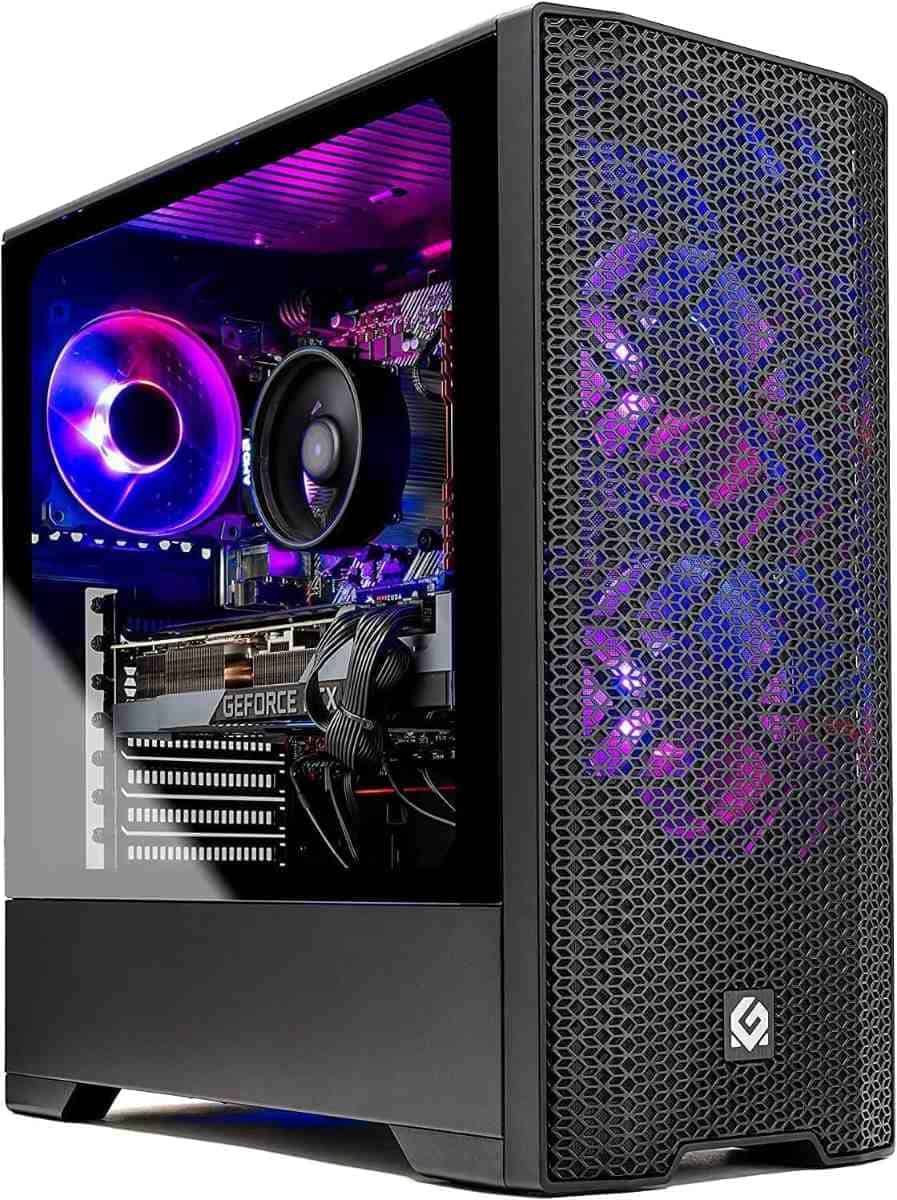 Skytech Shadow 3.0 (R5 3600, RTX 3060 Ti)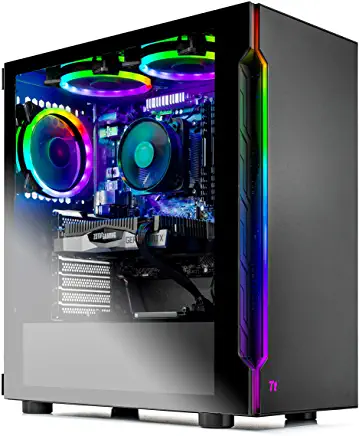 IPASON Gaming PC Desktop (i5 12400F, RTX 3060)
Best prebuilt gaming PC under $1000
Best prebuilt gaming PC under $1000
ABS Stratos Aqua Gaming PC (i5 13400F, RTX 4060)
Great airflow with a mesh front for optimized cooling

Modern CPU comes with new and fast DDR5 RAM

RTX 4060 brings new gen tech to the performance of the system
For the top selection of best prebuilt under $1000 the ABS Stratos provides a great new-gen pick of hardware that is on the cutting edge of tech. As well as bringing great performance with it for you to enjoy.
It offers up the new RTX 4060 as part of its specifications which brings plenty of new features and performance to keep your rig up to date. The performance you might expect from the GPU is around 90 FPS at 1080p or 60 at 1440p, so it is a rather good entry-level machine It also uses a 13th Gen Intel processor on the latest platform and incorporates the latest RAM as well.
It offers 16GB of DDR5 memory, which is rather fast and gives you a responsive performance out of the machine. This is also the case for storage as with a 1TB NVMe you get a great fast and capacious storage pick to keep you going. The case does bring an airflow focus to it that should provide the system with cooling to keep it going.
Next best gaming PC under $1000
Skytech Shiva Gaming PC (i5-12400F, RTX 4060)
Fast NVMe boot drive with 1TB capacity is an ideal start point

New gen RTX 4060 gives great performance and features
Blocked up front panel limits airflow into the case
The second best option still offers up the new gen of hardware under $1000. The Skytech Shiva provides the new features and hardware available.
Running an RTX 4060, the PC brings with it some grand features including DLSS 3 and frame generation while coming in at a low price for it at a more entry level. Providing mostly 1080p performance with a push for 1440p, it is a good selection for entry-level gaming with support for many years. The 12400F CPU brings a low choice that keeps the price down without the graphics module, it still offers a great performance for its level.
It also has a standard 16GB of RAM and 1TB NVMe to keep your system responsive and fast-loading. Although the restricted airflow from the case might get your core temps up and detract your performance.
Best AMD PC under $1000
Skytech Gaming Blaze 3.0 Black Gaming PC (R5 3600, RX 6600 XT)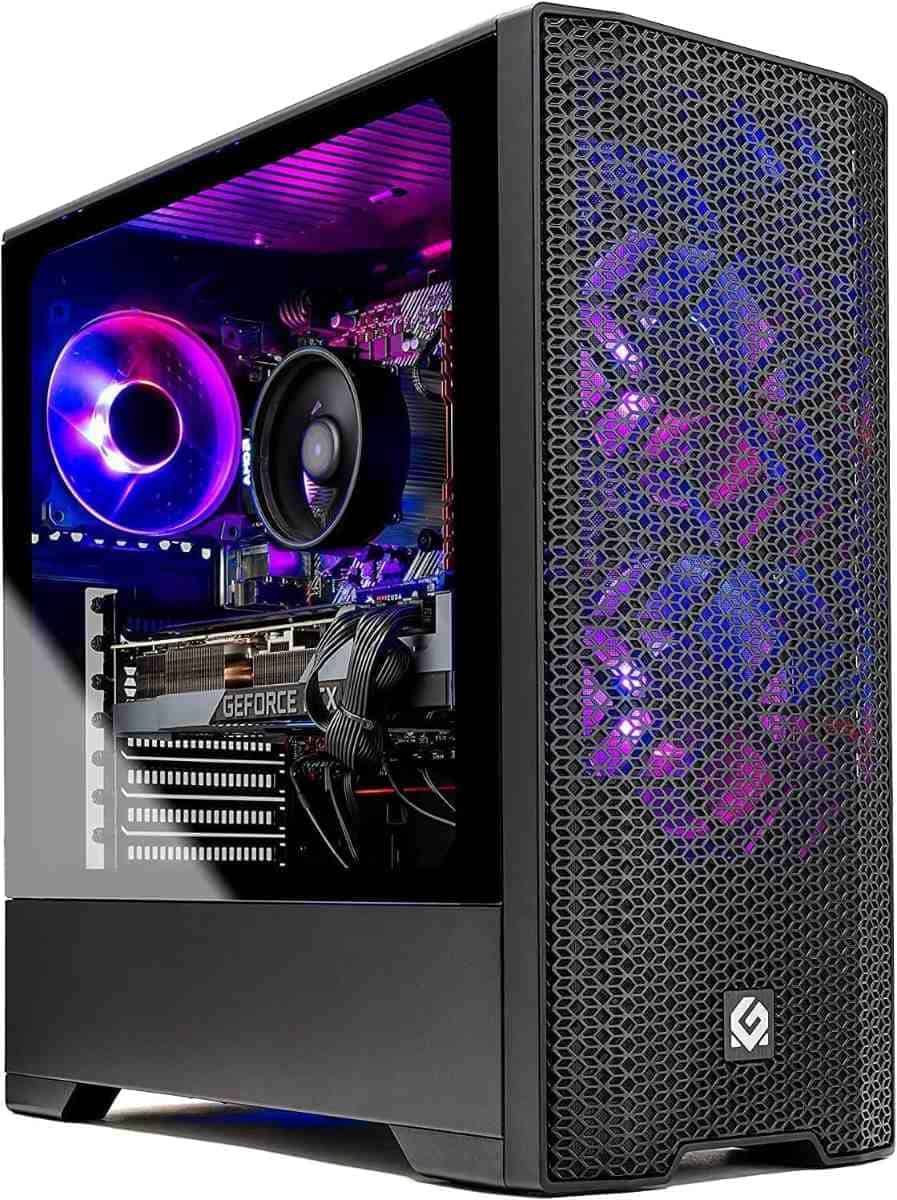 Small and compact build can fit in plenty spaces

Airflow optimized case and fans
Old gen hardware might be becoming obsolete especially AM4 platform
A rarer find in many prebuilts, if you're looking for an AMD-based PC the Skytech Gaming Blaze 3.0 offers up a great combo for a whole system.
Built with an AMD Ryzen 5 3600 and Radeon RX 6600 XT, it provides a great pick of gaming performance at the level. The GPU is capable of achieving over 100 FPS on average at 1080p and over 80 at 1440p in some benchmarks so it may vary. It does combine well with the CPU that can unlock its full potential with Smart Access Memory and make sure you get the most out of both.
That is also the case for the RAM and storage, which have become standard but offer up a good opportunity for performance. As with 16GB, you are set up for modern gaming. The 1TB NVMe gives you a fast boot device with plenty of storage to fit all your games that will load much quicker. The mesh front panel and fans also provide plenty of cooling for your system although the stock CPU cooler might limit its potential.
Best value gaming PC under $1000
Skytech Shadow 3.0 (R5 3600, RTX 3060 Ti)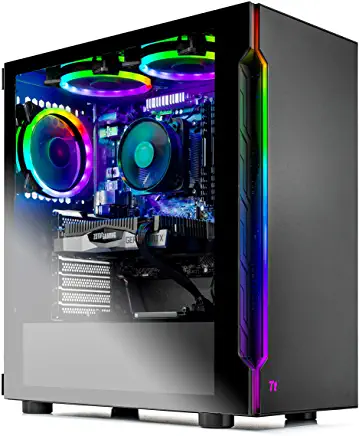 Fast storage for booting and loading
Solid front panel may limit airflow and performance

Built on an old gen platform that is obsolete for upgrades
A great value for money that sits right at the $1000 mark, the Skytech Shadow 3 does provide a great option for a gaming PC. Offering up some older hardware it still provides a great performance.
Running an RTX 3060 Ti, it utilizes one of the more popular cards of its generation. Aimed at 1440p gaming, it does stretch even further than that. With averages above 100 at 1440p, and 150 at 1080p it certainly is a power horse of its time even if the VRAM capacity is a bit more limited. Paired with a Ryzen 5 3600, it does offer up a good budget pick, even if it is a rather old and now obsolete platform that limits your upgrade path.
While the rest of the system, you get 16GB of DDR4 memory and a 1TB NVMe. A more standard setup these days does offer up a good base for gaming these days. With a good memory setup while also providing a fast and responsive system with the SSD.
Best budget prebuilt gaming PC under $900
IPASON Gaming PC Desktop (i5 12400F, RTX 3060)
Recent generation GPU that has a lot to offer

Features a lot of fast storage out of the bat
Slightly above the $800 budget, might require a sale for the top value
For those after a machine with a lower price point, with under $900, it does save you a bit more money. However, that also cuts down on its performance from what the higher options can do.
As for its graphics card, it goes for a tier lower with the RTX 3060. That does mean it is a lower tier of performance and you're more limited to 1080p performance as the card averages around 80 FPS at that tier. With it being under 60 at 1440p, it would require a bit of tinkering to make it more playable at that level. For its CPU it has the i5 12500F, that middle-of-the-level processor that unlocks the machine overall.
For the RAM it does have 16GB of 3200MHz DDR4, which is a more standard option for this machine even if it's a bit slow. The storage option is a 1TB NVMe as well as a standard option that provides a good starting point for all your work and installs.
How we choose
We scoured popular and reputable prebuilt gaming PC manufacturers such as Dell, HP, iBuyPower, CyberPowerPC, and even the latest prebuilt gaming desktop PCs from companies that specialize in upgrades and customizations such as CUK (Computer Upgrade King).
After an extensive search, we came up with a long list of potential candidates, we then: examined the specs, compare them, and came up with the five best gaming PCs under $1,000.
How we test
To give you an idea of how well these prebuilt gaming PCs performed, tests were made and benchmark results were recorded across a number of different games and platforms. We specifically picked popular games to give you an up-to-date reference.
Things to consider
We understand that not everyone can find the time to build their own custom PC but when buying a prebuilt gaming PC there are just as many things to consider before making that final purchase. While these prebuilt computers for under $1000 are highly capable, we still need to make sure you walk away with the right PC for your needs.
What to expect from a prebuilt gaming PC under $1000
When it comes to a prebuilt gaming PC for under $1000, you would be forgiven for thinking that there are no compromises. well, despite being considered "high-end", there is only so much room in the budget for a GPU. This means you will often find the older components but usually, this is just the previous generation, however, some include the entry-level GPUs to the latest ranges. In any case, a gaming PC under $1000 is going to smash 1080p gaming and offer plenty of performance in 1440p too!
Graphics Card
Whether it's a prebuilt or a custom-built gaming computer, the graphics card is the most important component. It's the powerhouse of any gaming computer.
Prebuilt gaming computers around the $1000 mark are technically on the high-end side of things but still have a couple of compromises here and there, one of which is the GPU. Graphics cards in these systems are going to be able to play anything in any setting when gaming in 1080p, with some of the PCs able to take on 1440p too.
These also vary with the connectors you have for your monitor. So if the number of HDMI or DisplayPort connections available. Although you're unlikely to find older connectors like DVI or VGA on new GPUs, so you might need to consider that for your older monitor without a Display Port connection available.
Processor
When buying a prebuilt computer in this bracket, you are likely to be getting older processors. Don't worry though, the good news is that while these may not be the latest and greatest CPUs, they are often just the previous gen, with high speeds, and solid for gaming that is clocked at good GHz rates.
RAM
$1000 prebuilt gaming PCs are where we start to see 16GB of fast RAM included. This is great news for gamers as 16GB is becoming more and more optimal, plus it will future-proof your setup a while longer than 8GB. How much RAM do you need for gaming? this depends on what you are going to be using the PC for but considering how affordable a 16GB kit of RAM is, try to always opt for this over 8GB.
Storage
Storage solutions in $1000 prebuilt gaming PCs vary from manufacturer to manufacturer, with some offering dual-storage and others large 1TB SSDs. In any case, you are likely to end up with more than enough storage to get you going but you can expect anything between 500GB and 1TB.
Motherboard
One of the parts that kind of gets left behind is the motherboard. Although most times it's not necessary to have the top end selection, some offer different features and connections though. Such as the number of USB ports, and what ethernet speed it supports. So you want to make sure you can plug in your gaming keyboard, mouse, and all other peripherals you might need for your rig. Especially when it comes to RGB lighting you want to be included.
Best gaming PC under $1000 vs custom
We always recommend that you build your own computer here at WePC and that is for one simple reason – value. It is no secret that you can squeeze in better hardware for your cash when building your own system, with the markup on prebuilt computers usually costing the same amount as an entire component ($100-$300).
Performance
While the performance of these $1000 gaming PCs is solid, when building your own you could in theory include a better CPU or GPU into your computer without spending more. This means you could get even better performance for your hard-earned cash, get better in-game results, and future-proof your investment for longer.
Convenience
The main selling point behind a prebuilt gaming PC is it saves you the hassle. We understand that not everyone knows how to build a computer and may not even have the time to learn this new skill, so the convenience of a prebuilt makes a lot of sense. Of course, there are many more benefits to buying a prebuilt gaming PC from manufacturers, obviously, it takes the stresses away from finding all the compatible components, while also preventing damage to said components when the time comes to build it.
With one of these gaming PCs, you are going to be able to send it back to the manufacturer if anything goes wrong. Furthermore, if you feel you need an upgrade, suppliers will often do this for you or at least insist you send it to them for an upgrade. Manufacturers will also dish out a warranty, usually covering parts and labor for around a year but some companies offer impressive warranties and you can always spend extra on insurance, giving you a lengthy/ lifetime warranty.
These computers are from the biggest manufacturers around the world and aren't just packaged nicely for you either, they normally stress test the system to ensure the components are working before shipping and that it performs as it should. You will also receive your system with software, usually with Windows and drivers pre-installed, so you can simply plug it in and start downloading games.
Build A Gaming PC By Price
Check out some of our price-focused custom PC build guides below.
Other Related Custom PC Guides:
Build A Gaming PC For Specific Games
Check out some of our game-focused custom PC build guides below.
Related Prebuilt Gaming PC Guides
Check out some of our related prebuilt PC guides below.
Best Prebuilt Gaming PC Brands
Every recommended prebuilt gaming PC in this article is from a reputable manufacturer. You are probably wondering how we know what the best gaming PC brands are. Well, we have done our research and purchased PCs from these brands.
Most notable brands:
Alienware
Corsair
CyberPowerPC
SkyTech
iBUYPOWER
Thermaltake
MSI
Scan 3XS
Overclockers UK
Final word
There you have it, the best prebuilt gaming PC under $1000. All five prebuilts offer excellent gaming performance, whether you are playing games in 1080p or 1440p. While some may prefer slightly more storage, the combination of the powerful CPU, GPU, and RAM is going to give you some impressive results.
With these selections, you can rest assured that each one is of high quality and is manufactured by some of the biggest names in the business, meaning all you have to worry about is picking up the right spec for your gaming rigs needs. If it's high-end gaming or not, there are good options for a good frame rate gaming experience.
FAQs
Is $1000 good for a gaming PC?
Yes, $1000 these days will get you a good prebuilt gaming PC. With the tech pricing in a much better place, you get a lot of performance once again for that price point. As we see options for RTX 3060 or 3060 Ti's give great 1080p maybe even 1440p performance.
How much is a decent prebuilt gaming PC?
For a decent prebuilt gaming PC, you could spend a lot, but we reckon $1000 is a good price point. It will be a decent 1080p performance along with high framerates and good quality. But if you need to get more out oof it you do have to look higher up.
---