Last Updated:
Over the last few years, Black Friday has grown and grown into one mega savings holiday. What was once a single day of sales has turned into a week-long deals event with more retailers getting involved each time around. And, even though we now have so many different brands to choose from, we still find ourselves running back to Amazon first every year – it's hard to argue with their great deals after all.
We've put together a huge list of all the best RAM deals that you'll be able to find anywhere when this year's Black Friday sales roll around. Let's face it, RAM is something that you just can't do without when it comes to running a computer. Even if you have it, not having enough, or your RAM not being fast enough can be just as bad. When it comes to having a computer that handles your weird obsession with keeping 100s of Chrome tabs open, then there's nothing that you need more than a really decent high-speed RAM upgrade this November.
*Prices are subject to change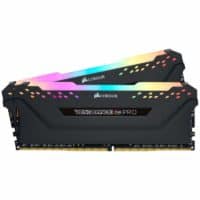 Corsair Vengeance RGB PRO 16GB (2×8) 3200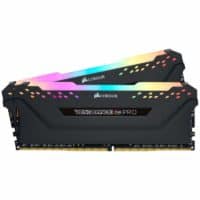 Corsair Vengeance RGB Pro 32GB (2×16) 3200
Corsair Vengeance LPX 16GB (2×8) 3600
Corsair Vengeance LPX 32GB (2×16) 3200
Corsair Dominator Platinum RGB 32GB (2×16) 3600
Corsair Vengeance LPX 16GB (2×8) 3200
CORSAIR – VENGEANCE LPX 32GB (2 x 16GB) DDR4 3600 (PC4-28800) C18 1.35V Desktop Memory – Black
PNY – 8GB 2.4GHz PC4-19200 DDR4 SO-DIMM Unbuffered Non-ECC Laptop Memory – Black
PNY – Anarchy-X 16GB (2PK 8GB) 3.2GHz DDR4 Desktop Memory – Red
PNY – 16GB 2.666GHz PC4-21300 DDR4 SO-DIMM Unbuffered Non-ECC Laptop Memory – Black
Black Friday is something of a crazy event. There are limited-time deals, big red "SALE" stickers everywhere, and a general kind of buying frenzy seems to wash over people. But, there are ways to make sure you find the best Black Friday deals. We've written a detailed guide to finding the best deals, but here are our top tips:
Plan ahead – make a list, and stick to it!
Set up deal notifications on Amazon – make sure you're there early
Keep an eye on our pages – our team will be updating them with the best deals as soon as they go live
Set a budget – don't overspend and end up regretting your purchases
Why buy RAM this Black Friday
RAM is an incredibly important part of any computer build, no matter whether you're using your 40th homemade rig, or your first MacBook. You need to make sure that you've got enough memory in your computer to do the things you need to do. Sure 8GB of RAM running at 2400Mhz will probably make your computer work, but it's also going to throw a fit if you're writing a lot in Google Docs and have too many tabs open in Chrome at the same time. Making sure that you've got high-quality, and more importantly, high-speed RAM running in your machine is an integral part of having a computer-using experience that feels as intuitive and smooth as possible, and the best time to get a good deal on RAM is going to be this November.
How much will RAM be Discounted on Black Friday 2021?
Black Friday is going to be a great time to buy that RAM upgrade you've been sorely needing if previous years are anything to go by. During last year's Black Friday events, some retailers were discounting high-end RAM kits by as much as $35, depending on the speed and size of the RAM in question. As with many products, the best savings are going to be found on the most expensive sticks, having said that, you can still expect to shave a fair few dollars even off of budget kits at lower speeds.
We're big fans of Corsair Vengence RAM here at WePC, and we definitely won't argue with some hefty discounts to help kit out our PCs with a bit of extra memory (and RGB, of course). Another fine producer of sticks of the memory stuff. G.Skill is a go-to manufacturer when it comes to RAM and again you can watch the links above for a good price. Another major player in the world of RAM, Kingston deals can be had around Black Friday time as they slash the price of their DDR4 so you can pick up a veritable bargain.
The answer to this question is a pretty simple one; everywhere. We look through the likes of Amazon, Best Buy, Newegg, Currys PC World, Gamestop, and many more, just so that we can bring you the freshest and best value deals to appear during the 2020 Black Friday season.
Don't worry if you can't find what you are looking for though. Drop a comment below with any questions you might have, as our team are on hand to help you in any way possible, and hopefully grab any relevant deals on the market for you whilst they are live!
Good luck with your Black Friday shopping!
More Black Friday deals
Still can't find the deal you are looking for? Why not check out our other Black Friday pages and secure that bargain.