Ethereum, a decentralised blockchain consumed a total of
The estimated energy consumption of Ethereum, a blockchain was last recorded at 177.4 TWh up until October 2021.
Ethereum, a decentralised blockchain has accumulated a total value lock of
The DeFi industry's total value locked is accumulated of variety of blockchains with Ethereum at a TVL share of 62.73%, the largest amongst other blockchains.
Statista, 2022 / January 2022
The biggest decentralised Exchange in the world is Uniswap with an accumulated trading volume of
On topic of DEX or Decentralised Exchanges the largest in the world is Uniswap based on the trading volume as of September 2021.
Decentralised Exchanges or DEXs have a current market value at
Decentralised Exchanges or DEXs is where one can trade both cryptocurrency and non-fungible tokens, the market size currently sits at $30.4 billion U.S dollars.
As of September 2021, the NFT platform Nifty Gateway amassed a total of $8.5 million U.S dollars of monthly sales to which it was last recorded on the platform.
Statista, 2021 / September 2021
OpenSea, a popular NFT trading platform generated a total of
OpenSea – a popular NFT trading platform made over ten times more protocol revenue in August 2021 than it the month prior.
Statista, 2022 / January 2022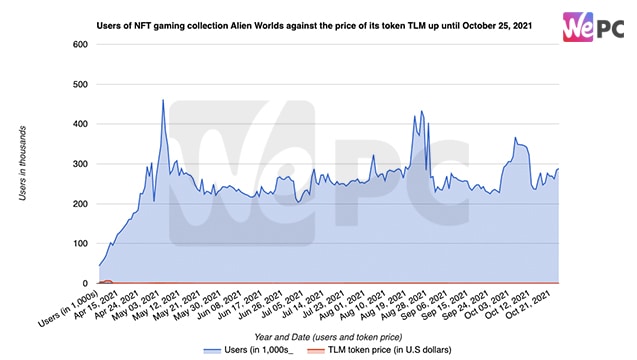 NFT metaverse Alien Worlds reached over 200,000 users as of late Sept 2021 – the game grew in popularity along other games such as Axie Infinity or Splinterlands and allows players to compete against each other on the Ethererum, WAX and BSC blockchains as they explore planets.
NFT trading game Splinterlands, formerly named Seem Monsters saw an increase in sales volume in September 2021 as it became one of the most popular blockchain games available.
Sales in Axie Infinity are declining since August 2021 – when the game from Vietnamese studio Sky Mavis ranked as the world's most valuable NFT collection – this could be due to the fact that the Philippine government declared games like Axie Infinity as taxable
The player count of NFT metaverse Alien Worlds was as high as that of blockchain games Spilinterlands and Galaxy Blocks combined
Sales in CryptoKitties – one of the oldest NFT collections available went up within the month of September '21, NFT trading was also soaring around this period too.
NFT collectible Bored Ape Yacht Club sell millions worth of profile pictures on the ETH blockchain each day. For BAYC, benefits include access to a Discord server where people can fellow owners including celebrities / pro athletes and ownership of the NFT has further additional collectibles including trading for potentially high amounts of money
Between May 2020 – November 2021, Nifty Gateway amounted to roughly $408.8 million U.S dollars overall – this is included within the primary and secondary market.
Based on Google Searches, consumers from Asia and Oceania were relarively more interested in NFTs than their counterparts from Europe, Latin America and MENA.
One out of 10 Americans invited in NFTs in early 2021, although most investors were found among millennial men – 22% of millennials indicated in an online survey held in March 2021 they were currently invested in NFTs.
NFT trading activity more than doubled between July and August 2021, according to the number of unique wallets that either bought or sold an NFT. By August 2021, there were roughly 280,000 unique buyers / sellers.
As of July 2021, OG eSports generated roughly $987,000 via three NFT drops throughout the year which saw the company sell 10 digital artworks associated with 3,336 NFTs – generating $511,000 U.S dollars – the most expensive NFT drop in eSport history to date.
Key inspirations to invest in Sports NFTs were amongst influencer marketing when Rob Gronkowski in March 2021 had an NFT drop on OpenSea which allowed NFT to become tapped into sports fans.
NBA Top Shots saw transactions rise in 2021 compared to 2020 – the partnership between the NBA and Dapper Labs deals with virtual basketball cards. These cards consist of "Video Clips" or "Moments" of specific players in the NBA including the likes of LeBron James, Luka Doncic and Stephen Curry.
NFT marketplace OpenSea had overtaken DeFi exchange UniSwap by January 2022 in terms of usage on the Ethereum blockchain int he past 24 hours.
Ethereum, BSC, Solana, Terra and Polygon together made up a large majority of the DeFi industry's total value locked in 2022.
NFT Marketplace OpenSea had an all-time trading volume in 2021 that was three times higher than online game Axie Infinity.
More Blockchain Statistics