EwinRacing has been making some quality gaming chairs with industry-leading features for some time now. However, the Flash XL is something special. It is designed for people up to 7ft in height and can handle weights up to 550lbs/35 stone. We've been taking it for a spin recently. It can handle the weight, but can it handle us?

EwinRacing Flash XL Series

Huge size & weight capacity

Some manufacturing tolerance issues
Assembly

The assembly of the EwinRacing Flash XL was a pretty smooth, standard process, nothing too tricky, and all the necessary Allen keys are provided for you. They also include a set of gloves – why do all chairs include assembly gloves these days?

The only issue we ran into during assembly was the instructions. As with other gaming chair instructions each stage is accompanied by an image with a caption describing what to do. It's a tried and tested method but instead of running left to right, top to bottom, the stages snake back and forth down the page. Admittedly there are arrows that guide you through but it's an unintuitive layout and we can't see any reason for doing it this way.

Once we figured out the confusing order of the instructions, the assembly was an easy process that took less than 30 minutes. We'd recommend getting a friend to help out as holding the seatback in position as you bolt it to the base is a challenge on your own.
Comfort

The Flash XL is unsurprisingly marketed towards the larger individual and the comfort reflects this, with pretty firm padding and the widest seat base we've seen in a gaming chair. The firmness of the padding continues from the base to the back and is supportive without being too plush. One thing is certain – it's a behemoth of a chair, but it's actually pretty comfortable too.

A nice side effect of the super-wide seat base is that if you have a penchant for sitting cross-legged or with one leg folded up underneath the other, you've got a broad platform to do it on. This is a pretty common seating preference and the almost totally flat base is far more receptive to this position than other chairs with curved bases.

If you're of average height or anywhere below around 6ft 3in you will feel distinctly undersized in this chair, which is actually quite nice as it allows more room for different seating positions. We've seen far, far worse in terms of comfort than the Flash XL.

Black Friday 2021 offer

Get 30% off the Flash XL Series gaming chair at EwinRacing using the code 'WePC'

We've teamed up with EwinRacing to bring you a massive 30% off everything this November, which means you can bag over $160 off the price of the Flash XL Series now if you're quick. Use the code 'WEPC' on the EwinRacing site.

Materials

The materials used are pretty standard. The faux leather that covers the contact surfaces of the chair is fairly soft and seems to be quite hard-wearing. The lumbar support cushion and neck pillow are bound in the same material and are pleasant enough to the touch, though the foam inside the cushions is very basic. Considering the $500 price point we'd have liked to see some implementation of memory foam here.

The other materials such as the ones that make up the plastic covering of the fastenings and the various elastics and clips that hold the cushions onto the chair feel bog standard. They're functional enough but nothing special.

The chair we were given for review is all black and has a pretty professional look to it. If you remove the pillows it wouldn't look out of place in a corporate office setting. It is worth mentioning that the Flash XL is available in various styles with a large number of colorways to choose from, including a fancy-looking gold option and some aggressive oranges, reds, and blues. Some of the variants are actually cheaper, dipping to around $470 in price. However, the other colorways do not feature the same wide and flat seat base that we love.
Build quality

Once assembled, the chair feels solid with relatively few wobbles or creaky bits. The reclining mechanism is of particular note in terms of solidity, with the handle clicking smoothly in and out of position to allow the scarily wide range of 85-155 degrees. The armrests are unfortunately rattly but hold their position well and are capable of the standard four dimensions of adjustability – back/forward, up/down, and rotating inwards/outwards.

The plastic shrouding that covers the moving parts and hardware is functional but has some considerable flex. The manufacturing tolerances also feel like they need some refining as there are gaps in some places and pieces fighting for space in others. The stitching of the upholstery managed to resist our best efforts to pry it out, which is an admittedly juvenile test, but one worth doing. EwinRacing has done well here.
Ergonomics

Now comes the time to talk about boring things like health and posture. Boring, but vital. If you're anything like us at WePC you probably spend a lot of time in chairs, either at work or gaming at home. Happily, the Ewin Flash XL performs well in this regard.

Lumbar support

The included pillow is fastened via a pair of elasticated straps which allows you to adjust the position to match your height and preferred seating position. It's nicely squishy and holds its position well, but does protrude a bit too much for our liking. It will soften up as time goes on of course and given the size capabilities of the chair the cushion needs to be able to support far larger people than we have available for testing. Additionally, some will find the distinctly 'F1' aesthetic that the straps give the chair to be a bonus.

Neck support

The pillow that comes with the Flash XL is firm and supportive but unfortunately you can't adjust it, and even people of average height will find the pillow propping up their shoulders instead of their neck when they take a seat. You can give it a quick yank to position it correctly to cradle your neck but it will fall back into a lower position as soon as you stand up. It's not an effective solution due to this constant need to readjust and it gets rather irritating very quickly.

Armrests

The adjustability is good and they feel sturdy enough to withstand quite a bit of weight. The material has a slight softness to it but it doesn't feel nice against the skin. They do exhibit a wider range of adjustability than other comparable chairs such as the noblechairs HERO TX and the Secretlab TITAN EVO 2022, which gives it a solid mark in terms of ergonomics.
Final verdict

Overall we were pleasantly surprised with the EwinRacing Flash XL. The build quality is mostly excellent and the comfort is impressive even for those who don't weigh 500lbs. The excessive size provides ample room for different seating positions which is a rare feature in gaming chairs. Once the instructions are deciphered the chair is easily constructed and feels robust enough to last many a late-night gaming session.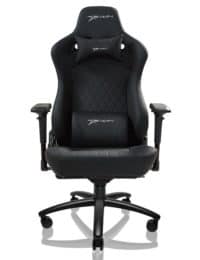 EwinRacing Flash XL Series
EwinRacing comes in swinging with the Flash XL. The comfort levels are immense and will result in a healthy, effortless seating experience for people of all heights, all the way up to the staggering 7ft, 550lb people it's designed for. We are fans of the wide, flat base in particular as it allows any seating position. The build quality has some issues, especially the plastic coverings. This prevents the Flash XL from achieving true greatness. But we still recommend it if you're in the market for a considerably versatile gaming chair.