The 5 Best Gaming Headsets For Under $100 In 2019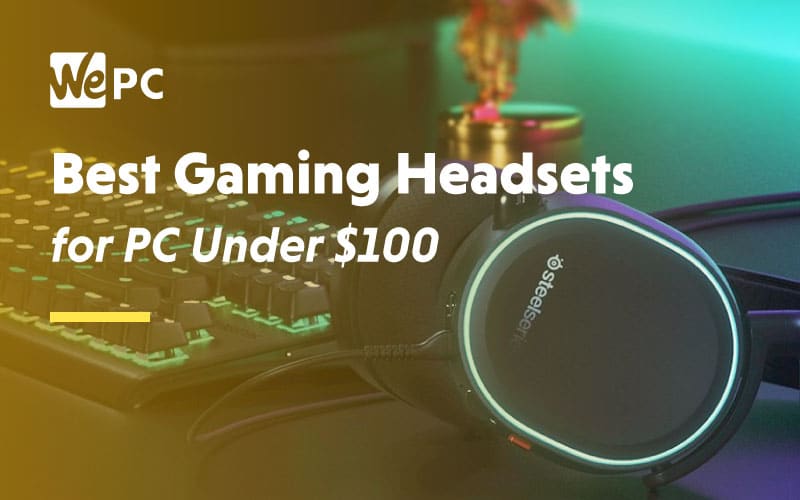 When we start looking for the best gaming headset for under $100, the options all of a sudden seem to ramp up in overall quality. With more features, better build quality, and improved sound quality, this category fends off the gaming headsets for under $50 with ease. With the purse strings being a little looser in this category, we see some premium features such as wireless entering the mix.
In this article, we are going to give you the top five gaming headsets available for under $100. The selections will not only give you an advantage in the competitive sphere, but they will also give you some excellent value for your hard-earned cash.
The 5 Best Gaming Headsets Under $50
Product
Details

SteelSeries Arctis 5

weight: 0.3 KG
cable length: 3.1m
audio jack: USB/3.5mm
frequency response: 20Hz - 22,000Hz

Check Current Price

HyperX Cloud Flight Wireless

weight: 0.3KG
cable length: 1.8m
audio jack: USB/3.5mm
frequency response: 15 - 23,000Hz

Check Current Price

Corsair Void Pro

weight: 0.4 KG
cable length: 1.8m
audio jack: USB
frequency response: 20Hz - 20,000Hz

Check Current Price

Razer Kraken TE

weight: 0.4KG
cable length: 1.3m
audio jack: USB/3.5mm
frequency response: 12 - 28,000Hz

Check Current Price

Logitech G433

weight: 0.2 KG
cable length: 1.5m
audio jack: USB/3.5mm
frequency response: 20Hz - 20,000Hz

Check Current Price
Things to Consider When Choosing A Gaming Headset
When it comes to parting with between $50-$100 you need assurances that you aren't just wasting that hard-earned cash, so there are certain things to consider before purchasing. The headset market is a minefield with large amounts of different manufacturers saturating the market with hundreds of different options. Let's go over a few things before you start to make your decision.
In the under $100 category, it's much more common to see removable and retractable microphones for a greater amount of flexibility in your usage. Obviously, communication is the key to success in almost all multiplayer titles, especially for the competitive bunch out there. With the best gaming headsets for under $100, we see a rise in microphone quality and some exciting features like noise cancellation.
All the microphones in this category are great for gaming communications and will be a reliable companion; however, only some on this list are of good enough quality for live streaming.
As we go up in budget, we also increase the audio quality from the gaming headsets in the respective category. Gaming headsets are known for flat, mediocre sound quality, and that is why we have ensured we pick the best we can for the respective budget.
While the quality of the audio could come down to preference, the stereo imaging is highly important in the gaming world.
You want to make sure your new headset is compatible with whatever you plan to use it with. If you buy a gaming headset with a USB connector but want to use it on other devices like a phone, then you could be disappointed. It isn't hard finding out what a specific gaming headset will work with because the information should be clearly listed on the products selling page or box.
Comfort is up there in terms of importance, as gamers can wear these headsets for hours at a time. An uncomfortable headset over time can start to annoy you and possibly affect your in-game mentality.
In this category, comfort shouldn't be compromised as decent materials are used, and the construction tends to be of high quality. If you can get your hands on a gaming headset that has room for adjustment and also feels solid, then you are potentially onto a winner in the comfort game.
Surround sound is quite a common feature when buying a gaming headset for under $100, and it is one of the most immersive ways to play certain titles. This technology utilizes several direction audio drivers which make the sound seem like it's coming from behind you or in the distance. Surround sound is a useful gaming tool and is dropping in price all the time. 
Of course, surround sound isn't a necessity, and stereo provides excellent gaming performance, but you won't get that 360-degree arc with your sound.
The drivers in a headset can determine the quality of sound you are going to experience. 50mm neodymium drivers are the most common, but you do see headsets feature 35mm and 40mm. Manufacturers tend to tune the drivers to their own specifications, so when buying from reputable manufacturers, you can often find better sound quality. If a company claims to use proprietary drivers, you can rest assured that they'll produce high-quality sound.
There is a wireless headset featuring in this list, and they can come with many advantages over their wired counterparts, but they can also suffer from some major drawbacks too.
The range, or frequency response, is one of the more technical terms for a wireless gaming headset. The lower end of the frequency response is responsible for the bass notes and the higher end of the frequency bringing you high notes. So, if one headset can produce 15hz, and another can only produce 20hz, the first can theoretically produce lower sounds. The frequency doesn't really refer to the overall sound quality though, so don't get carried away by large ranges.
If you go for a wireless headset the last thing you need is running out of charge so battery life is key when it comes to these types of headsets. The average battery life for a modern headset is somewhere between 15 and 30 hours which is roughly a week of playtime, so anything more and you're all set.
When you are connected wirelessly, a signal is used which can be delayed if your connection isn't fast enough. When it comes to wireless connectivity you should aim for a minimum of 2.4GHz.
To bring you a more legitimate selection of recommendations we don't just stop after doing our research, we purchase and test a wide range of products. We always want to buy the products first (unless we get sent them) to ensure what we are saying is actually correct.
Testing is massively important, as it gives both us here at WePC and you the computer loving nerds, a better idea of what makes a gaming headset truly the best. To ensure we are giving well-informed advice, we take our newly purchased products and use the hell out of them until we have whittled the selections down to about five or seven products.
PROS
40mm neodymium drivers
Award winning sound qualtiy
Excellent design
USB ChatMix dial
Studio quality voice clarity
The SteelSeries Arctis 5 gaming headset offers a brilliant sound that can be further tuned for personal preference, exceptional comfort and one of the best microphones in the under $100 category.
It is good to see SteelSeries haven't overdone it in terms of design and while keeping things simple they have managed to create some very sleek looking headphones. The simplistic color and look are matched by relatively unoffensive shapes and some very nice earcups with just the right amount of RGB lighting.
This gaming headset is relatively lightweight at just 0.3 KG and they don't look or feel too bulky like some other gaming headsets. The suspended strap cushions your head nicely while the soft padding on the earcups never seems to irritate or crush your ears too much. Overall the Arctis 5's are supremely comfy and the construction feels solid, leaving you with a great long-lasting pair of headphones.
This set has award-winning sound quality that will see you through in gaming however I wouldn't expect these to replace a good pair of audio headphones for music any time soon. To accompany the sound quality we see a studio-quality microphone featuring to give you some clarity with those in-game calls.
The SteelSeries Arctis 5's are an excellent set of gaming headphones with a comfortable design and intuitive software to boot. This headset offers refined sound and will serve you well for gaming however the cable is rather too long so a bit of cable management may be required.
What you pick is always down to you. But, as long as you go for a gaming headset that is compatible with your needs, then all of our picks in the under $100 category are worthy selections.
The Arctis 5's from SteelSeries came out on top for us as a well-rounded package for the money. For a cheaper yet premium-feeling headset the Razer Kraken TE's offer some excellent value.
For a wireless gaming headset option, the HyperX Cloud Flight's have some unreal features, and despite just narrowly going over budget they are an excellent pair of gaming headphones.
So there we have it, our picks for the five best gaming headsets under $100.
Which of our best gaming headsets for under $100 do you think is best for you? Let us know down in the comments.