Best 4K Gaming Monitors in 2019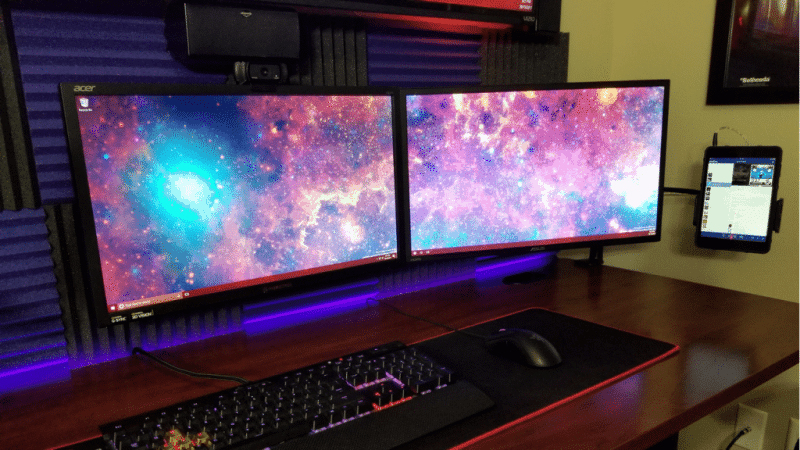 As technology evolves so does gaming and these days you can get some seriously impressive resolutions to display with your high powered graphics. Today we are looking at the best 4K gaming monitors with these new screens producing some highly detailed pictures. Due to most consoles running at 60fps, a 60Hz 4k monitor is a great option for any console gamer but the PC community has also embraced this new technology and gaming has never looked better! 4K monitors do have their limitations with most having lower refresh rates and response times.
A 4K resolution which is also referred to as a '4K' is an ultra-high-definition (UHD) display. Standard high-definition is made up of 1920 x 1080 pixels resulting in a picture with more than 2 million pixels. A 4K monitor has 4 times the pixels of a traditional HD monitor (3840 x 2160) with a width of almost 4000 pixels.
The best viewing experiences do come from a 4K monitor thanks to its enhanced amount of pixels. This extra amount of pixels makes the picture sharper and gives you a clearer overall display. A 4K gaming monitor may not be the most responsive but wow the display they produce with the improved colour vibrancy is out of this world. Ultra high-definition is sure to become the new standard in the future and investing in this technology will give you some really satisfying results while gaming, watching entertainment, and editing.
Key Things To Look For In A 4K Gaming Monitor
With a high resolution such as 4K, you are going to get a higher amount of detail shown from the monitor with enhanced textures and vibrant colours. These differences may seem subtle on monitors that are 27" and below but as the size of the gaming monitor increases the 4K resolution really comes into play. This difference comes down to pixel density which is essentially how many pixels are crammed into the display. If for example, you have an ultra-wide 32"+ monitor in 1080p you could possibly begin to see the individual pixels clearly and you don't really want this so a 4K gaming monitor could be the solution.
Most monitors with this resolution will often feature a 60Hz refresh rate and this can limit some gamers with high-end builds that want to achieve higher frame rates than 60fps with G-sync or Freesync. There are some 4K gaming monitors that do not compromise on features such as 144Hz refresh rates or response times that are 4ms or lower but they will cost a lot more in the current market.
It is worth noting that you will need a top end GPU to push out high frames when gaming with a 4K monitor!
Our 4 Best 4K Gaming Monitors
Product
Details

Best 4K Gaming Monitor

ASUS ROG Swift PG27UQ

size: 27"
refresh rate: 144Hz
response time: 4ms

Check Current Price

Best G-Sync 4K Gaming Monitor

Acer Predator XB271HK

size: 27"
refresh rate: 60Hz
response time: 4ms

Check Current Price

Best Freesync 4K Gaming Monitor

ViewSonic XG2700

size: 27"
refresh rate: 60Hz
response time: 5ms

Check Current Price

Best Budget 4K Gaming Monitor

ASUS VP28UQG 4K Monitor

size: 28"
refresh rate: 60Hz
response time: 1ms

Check Current Price
The 4K Gaming Monitor Breakdown
Having a serious amount of top features with a monitor unsurprisingly comes with a top price and this monitor is not short of features. The Asus ROG Swift PG27UQ is arguably one of the best gaming monitors available at the moment for overall ability but it is quite expensive. This monster monitor is out of this world but the clear bright images of the 4K display isn't all it has to offer. The monitor is of course G-sync and HDR ready with ample connection types to satisfy most and the amazing stand from ROG that does a fantastic job of cable management.

Assuming you have the PC to match or at least run this monitor in all its glory then don't hesitate as this is one of the best displays I have ever used for gaming. The price might put you off but if it doesn't then take full advantage of the 144Hz refresh rate on a 4K monitor, you won't be disappointed.
PROS
4ms response time
4K resolution
4-way ergonomic stand adjustment
G-Sync ready
Flicker-free technology
IPS panel for sharper, crisper image
Built-in speakers
Thin bezel
If you are after a decent 4K gaming experience but don't want to go all out on a premium monitor like the Asus ROG Swift then there are some alternative options. The Acer Predator is a fantastic display and although it's significantly cheaper than the premium option it will still draw a lot of power so again make sure you have the setup to fully enjoy 4K gaming before going for this one.
This monitor has a meagre refresh rate of 60Hz  and this is normally the trade off when it comes to 4K monitors and their cost. Despite this, the monitor offers a fantastic display on an IPS panel in a glittering 27 inch frame.
This isn't a HDR ready monitor and you would be saving quite a lot of cash because of that however it is still G-sync compatible so tear free gaming is an option. If you have the PC build to support this monitors power and don't mind the compromise of price over features then you will enjoy this one. It's display is crisp and clear and can only enhance the way a game looks with its ultra high-definition resolution.
The ViewSonic XG2700-4K gaming monitor is a great one and comes at a fraction of the price to some of the more premium monitors making it an ideal Freesync option. With this cheaper option you will be sacrificing a higher refresh rate and response time but the image quality is still fantastic assuming your rig can handle it.

The adaptive sync technology paired with the amazing 4K resolution creates some amazing gaming experiences with the colours being phenomenal on the IPS display. The monitor covers your HDMI and DisplayPort needs with some extra USB slots and an audio jack for easily plugging in peripherals/ media devices. So if you have an AMD card and want to take advantage of Freesyncs smooth gameplay then this has to be considered!
#4
ASUS VP28UQG 4K Monitor
PROS
4K resolution
Fast response rate
With Adaptive/FreeSync technology
With Asus Eye Care Technology
Easy-to-navigate 5-way OSD joystick
With GamePlus and GameVisual setting
CONS
Poor viewing angles
Not VESA compatible
Only has tilt adjustment
This 4K gaming option from Asus is our budget pick with a price tag that is pretty impressive for a 4K display. PC and console gamers alike can get a bit of enjoyment in 4K out of the Asus VP28UQG for a seriously low price.

This monitor may have a TN panel but it is it for purpose in the realm of gaming and will give many out there a chance to experience 4K resolution gaming. Whether you are a casual gamer after some crisp 4K displays or just on a budget then this could be a great option to begin with as it's relatively inexpensive and will still give you some amazing looking gameplay. Do bare in mind the quality is what you pay for so if you have extra in the budget consider an IPS display. Negatives aside, overall this 28-inch monitor has a lightning fast response time and is freesync compatible so well worth a look for the 4K enthusiast!
The technology around 4K monitors is only going to get better and investing in a 4K gaming monitor that supports it is a future proof idea but if it's worth it or not comes down to your preferences. Avid competitive players usually opt for monitors with quicker refresh rates so a 1080/1440p  resolution monitor maybe better suited if you are one of those as you can find a wider variety of options.

If your a fan of graphically powerful games and want the best display you can game with then a 4K monitor is definitely a great investment but be aware of the fact they are largely available in 60-75Hz.
For some gamers out there a smooth gameplay experience takes priority and with the introduction of sync technologies from the tech giants Nvidia and AMD this became a reality some time ago. When a frame is drawn by your GPU it normally has to wait for the monitors refresh cycle before displaying it. When the timing of this is off it can appear on your screen as a screen tear which may only appear for a very short time but can annoy some gamers.
These sync technologies essentially cap your frame rates to match your monitors refresh rate to try and limit this tearing and they tackle this issue in different ways which are often reflected in the price.
G-Sync, Unlike V-sync which caps the frame rate to match the monitors refresh rate, allows the monitor to work at a variable refresh rate matching the GPU and ultimately eliminating the chance of tearing and lag as it accounts for dips and peaks in performance. G-Sync modules often bring a higher cost and usually feature in the higher end monitors.
It's worth noting while G-sync locks the frame rate to the upper limit of the monitor Freesync can bypass this and give you higher frames. This would result in some tearing as your frame rate and refresh rate wouldn't match but would keep input lag very low.
In the past it was simple, to use G-Sync you needed an Nvidia graphics card and for Freesync you needed an AMD GPU. Now however some Freesync monitors are compatible with Nvidia's G-Sync, opening the market up a bit for potential monitor choices.
144Hz is considered to be the optimal refresh rate for competitive players and this is largely down to how responsive it feels when playing which can give players the edge when it matters.
For the more casual gamer though where a competitive edge isn't necessary 144Hz doesn't really matter as much unless you want a higher frame rate when using technologies such as G-Sync. It is not uncommon for most 4K gaming monitors to be 60Hz but they will often feature a decent IPS panel and give you a fantastic display to match the huge 4K resolution.
The refresh rate comes down to your gaming preference but know the best of the best try and fit in as many key features into one monitor as they can, catering for the majority of gamers but at a higher cost.
It is worth noting that 144Hz does improve smoothness and the jump from 60Hz to 144Hz is something you will definitely notice.
If you are looking for an all-rounder 4K monitor that will provide knock out performance in-game and also throw out a fantastic image whilst watching a movie, then check out the BenQ EW327OU 4K monitor at 32" it provides a beautiful picture at a very affordable price point.
The 4K HDR gaming monitor comes with flicker-free technology, USB-C ports, 10-bit display, 3000:1 contrast ratio and FreeSync technology.