Razer has matched its award-winning mouse shape and implemented the best sensor they have arguably ever had into the new Deathadder Elite, to give gamers an awesome weapon at their disposal.
The Deathadder Elite is Razer's latest version of the slithery beasts product line that has been in our shops and (some) hearts for over ten years now. The Deathadder has been regarded by some as one of the best gaming mice since its first release thanks to its brilliant ergonomic shape and reliable performance. The newest iteration features performance upgrades but the shape and weight remain the same.
The Deathadder Elite replaces the DA Chroma and features the PMW3389 which is a custom made sensor between razer and PixArt and brings up to 16,000 DPI. This newer version also carries a few extra buttons for on the fly DPI switching. It weighs a mere 96 grams which aren't too bad and sees it somewhere in the middle when comparing to others. Its awesome shape means a variety of hand sizes and grip types are compatible with the Deathadder. Despite being released in 2016 this refined version still retails at around £60/$60 which is just about affordable for a luxury E-sports gaming mouse.
[mks_col]
[mks_one_half]
Pros
Comfortable – Ergonomic shape
Great Performance – High-quality sensor
Intuitive software – User-friendly software
Thumb buttons – High quality and very functional
[/mks_one_half]
[mks_one_half]
Cons
Tied To Software – Need software for customised DPI/polling rate
Right-Hand Only – No left-handed option like the 2013 version
[/mks_one_half]
[/mks_col]
[mks_col]
[mks_one_half]
Mouse Size & Weight
Weight: 96g
Size: Medium
Length: 12.7cm – 5 inches
Width: 7cm – 2.7 inches
Height: 4.4cm – 1.7 inches
Hand Orientation: Right
[/mks_one_half]
[mks_one_half]
Mouse Tech
Sensor: PWM3389 Optical
Buttons: Co-developed Omron switches (50m)
DPI: 100-16000
Polling Rate: 125 / 500 / 1000Hz
Connection: Wired
Cable: Braided
Cable Length: 2.1 m
[/mks_one_half]
[/mks_col]
What's in the box
The packaging is nothing new its the classic black box featuring the product on the front accented by lovely bright green.
Inside we get:
Razer Deathadder Elite mouse
Welcome letter
User Guide
Size & Weight
The Deathadder Elite is the exact same dimensions as its previous iteration at 12.7 x 7 x 4.4 cm and its designed to fit medium-sized hands. Some do find it a bit long but it's only a millimetre shorter than the EC1-B from Zowie whilst being the same amount wider and higher. It's a great size and fits in my hand snuggly, you can actually notice the 1mm difference in length to the EC1-B. I can relax my palm and hand on the mouse when casually browsing without touching much of the mouse pad. However, when it comes to gaming the smoothly rounded hump in the middle supports me leaning with my knuckles and gives my grip extra comfort. The mouse is great for my hand (18×11 cm) but if you have long hands don't be put off,  its shape feels long enough to accommodate for longer hands while being wide enough to support even the thickest of sausage fingers.
The Deathadder is a mouse for all and has cut the weight by around 40g from its previous version (148g) which is a massive difference. It doesn't feel heavy at all and could, without doubt, be used by a gamer with small hands thanks to the shape being so easily gripped. It weighs the same as the Rival 600 but the Elite feels lighter than its previous version due to having bigger feet on the bottom, which are now two large strips similar to the Mamba allowing the mouse to move with more freedom. The weight of the Elite is heavy enough that you notice pushing around the mouse but light enough for it to glide with ease and assist with fast fragging.
Shape & Texture
The Deathadder line of mice are ergonomically designed to fit in your right hand and it achieves high status by being arguably one of the best shapes you can buy in a mouse. The Elite is an extremely good looking mouse through its simple shape and high quality finish. It's riddled with soft gentle curves and sloping bends to give the ultimate experience in comfort. The thumb groove appears to be the perfect size for my thumb and features textured rubber grips that cement your hand to the device. The grips have a nobbly hexagon like texture and feel part of the mouse rather than stuck in place (which they definitely are). The raised middle of the mouse sits right under your knuckles and seems to add to the feeling of complete control when you grip the mouse. The DA Elite gently slopes towards the front allowing your fingers to nestle in the grooves of the buttons.
The matte black finish is all over this version and is no longer a mixture of materials or shades. With the matte finish, rubber grips and a fantastic shape this mouse isn't going to go flying out of your hand even with the last resort 180 flick shots. The smooth finish is great but particularly so for anyone with a slightly sweatier palm. The top shell is all once piece of thin robust plastic that feels very sturdy. I shook and squeezed the mouse to see if there was anything lose or weak but I couldn't notice any issues.
Buttons
The Elites primary buttons feature co-developed Omron switches that last 50 million clicks which is very durable. They have an excellent actuation and a very satisfying audible click. It's worth noting the main buttons are part of the main shell to the mouse but this didn't bring any issues and the switches were still easily clickable when placing my fingers further towards the middle of the mouse. In full palm grip, I did accidentally click the right-hand primary button a couple of times but it was while browsing the internet not playing.
There is a clickable scroll wheel sat in the middle of the switches as you would expect which you can program. The wheel gives tactile feedback when you scroll and does it almost silently which I like as I found the new Zowie EC series to be far too loud when scrolling. There is a nice bumpy rubber texture on the wheel to give you some extra grip.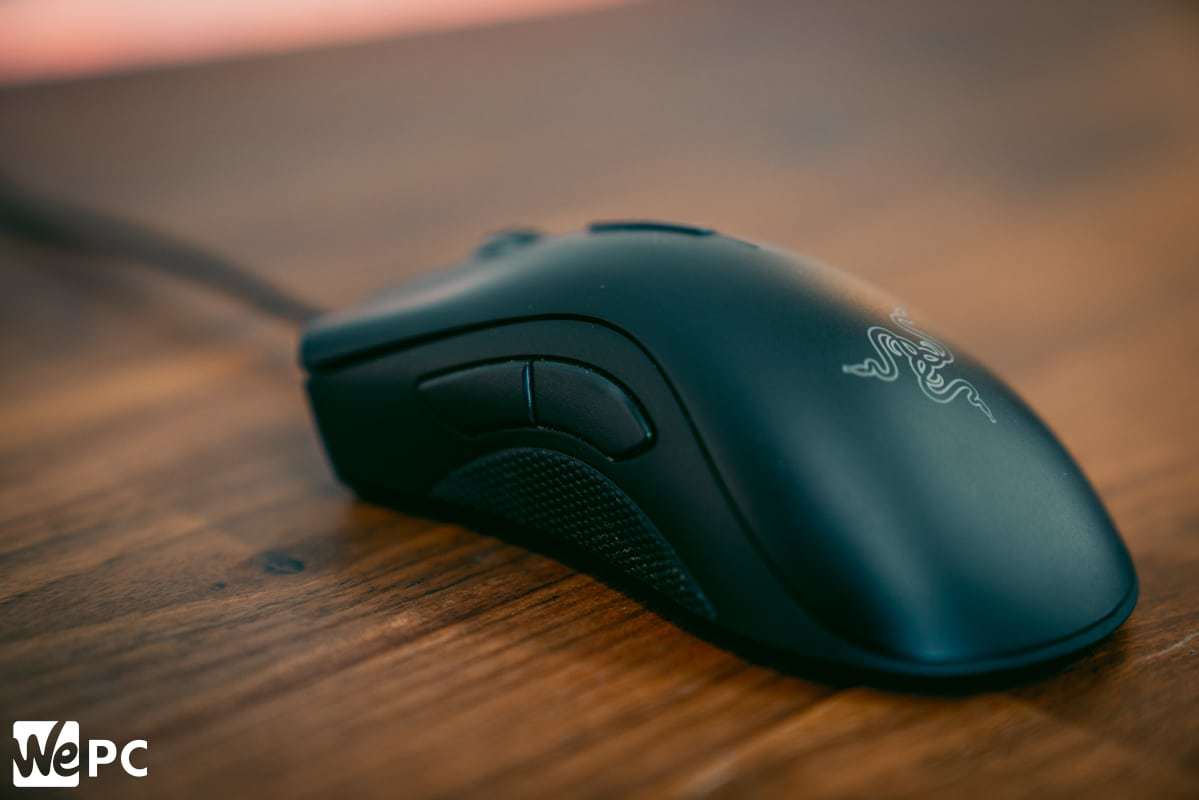 Sat behind the wheel is two DPI buttons we see on a lot of Razer mice these days for on the fly changes which is only really useful in certain games like overwatch but if you have ever used a 'sniper' button in the past then this could emulate that without being as convenient. I personally don't change DPI as it's been set the same for the last 10 years now but they have a nice responsive click and work so no complaints here.
The side buttons on the Deathadder Elite are really good and probably the best in terms of how easy to use they are compared to other mice. they sit just above your thumb and depending on your grip you may be slightly touching them already. Its the position of the buttons that makes them so easy to click as I can just roll my thumb up to either when I need to actuate them. They feel sturdy and don't move around too much as some cheaper mice buttons do. I made use of the side buttons for quickly selecting grenades and they never let me down in CSGO once.
Cable
The cable is 2.1 metres long and is braided like most Razer mice. The braiding is quite tight though and gives a fairly smooth feel to the cable making it snag a lot less compared to other braided cables I've used. The braiding does offer extra protection but as I use a bungee my cables don't really get damaged anymore or snag. They do however pick up dust and most braided cables are obviously harder to clean than non-braided but to be fair to razer the pros outweigh the cons for the cable. I only use wired mice with bungees (its a personal rule) and unfortunately, the cheap budget bungee wasn't very useful and the cable was sliding up and down like a fireman.  All of the other bungees I've tested held the cable perfectly though without any slipping.
Sensor & Performance
It's harder to get a reputable mouse over £50/$50 that has a terrible sensor these days and as you'd expect from this newer Deathadder its got some great performance under the shell. It features the slightly tweaked PMW3389 sensor we have seen Razer use in a lot of their latest mice. The sensor can go up to 16,000 DPI if you ever needed this monumental option but more importantly, it has an IPS speed of 450 meaning you can accurately track targets at inhuman speeds.
The sensor was flawless in-game and tracked with zero smoothing or jitter. I mostly play FPS and this mouse was excellent in CSGO largely down to the incredible shape but this sensor didn't let me down and I found snapping to targets very easy once I was used to the weight of the mouse. Zoomed in on targets I didn't notice any strange movements from my crosshair even on my relatively old mouse pad. While making fast movements with the mouse I didn't get any spin-out from the sensor. The precision of the sensor when accompanied by such a comfortable shape gives you a real weapon in your hand and it's definitely a mouse worth getting used to if you haven't already.
Software
The DeathAdder comes preprogrammed to its lowest DPI option (800), so you could never use the software if you wanted but to truly customise your device you will need to install Synapse which in recent years has become a lot easier to use and a lot more reliable. If you already have Razer Synapse installed for another device it will instantly recognise and install any new Razer devices for you. Through the software, you can check for updates and customise the mouse to your own specifications. You can also have the software automatically update device drivers for you.
Our Verdict
Overall the Deathadder Elite is a brilliant mouse. It's worth mentioning you could probably get a similar spec mouse for less like the Hyperx Pulsefire Pro but would it have the same shape and materials? No. I don't think the value of the Deathadder is bad at all and I know Razer does charge a premium but this mouse is surely worth it. It has one of the comfiest shapes I've ever played games with and it's so good it feels natural across all games I've played not just FPS. The finish and added grip is a welcomed change from older versions as the mouse now sit permanently in my palm and it's very hard to lose control of the mouse. It doesn't feature any cosmetic customisation and it doesn't have as many programmable buttons as other mice do but this high performing serpent is the deadliest I've ever held and has to be considered by the masses!