Razer Mamba Elite Wired Mouse Review
Widely considered as the underdog to the Deathadder, the Mamba elite equipped with new Ergonomic design and Optical sensor begins to rival its close neighbour. We sit down with Razers Mamba Elite and put it through WePC's Vigorous tests. Designed for both gamer's and everyday users the elite has been equipped with their infamous 5G 16000 DPI sensor for what they like to describe as a new standard of precision and speed. It boasts a handsome 99.4% resolution accuracy to help you stay ahead of the field when it comes to those intense gaming battles but has also been ergonomically designed for comfort and usability in everyday situations. It has Razer's fantastic RGB setup hosting 20 lighting zones and over 16 million different customizable light settings. Onboard Memory and cloud storage allow users to bind, assign macros and automatically save user profiles to access on any PC. We put the elite through the paces to see if it stands up to the likes of the Deathadder Elite and more.
Sleek and stylish design with a hardcore gaming brain, this mouse truly is for every situation. Of course many are only interested in how it performs within the gaming world and it's safe to say this mouse excels on a number of different platforms. Great weight for FPS gaming, Ergonomics which eliminate finger drags points and reduced overall hand stress are 2 features that I really appreciated. I've used most of the mice in the Razer range now and can safely say the ELITE certainly takes on the task when attempting to break its way into the gaming Universe.
Pros
Fantastic Ergonomic Design
Powerful Optical Sensor
Excellent 50 Million+ Button Life Span
Beautiful 20 Zone Colouring RGB
Intuitive Synapse 3 User-Friendly Software
Cons
Limited Buttons
Very Resistant Scroll Wheel
Mouse Size & Weight
Weight:  96 g
Size: Medium
Length: 12.5 cm / 4.92 in
Width: 6.99cm / 2.75 in
Height: 4.33cm / 1.70 in
Hand orientation: Right-handed
Mouse Tech
Sensor:  PMW339
Buttons: Omron D2FC-F-7N(10M)
DPI: 100-16000 True DPI
Polling Rate: 125 / 250 / 500 / 1000Hz
Connection: Wired
What's in the box
No one will be surprised to find an elegant looking classic matte black case with neon green exterior for the Razer Mamba Elite. Upon opening, you will find the Mamba mouse in its protective plastic housing, with the cable bound with a rubber stopper tied neatly behind. Potentially worth noting is that the cable, being 2.1 metres in length is tied in a small bundle, around 3 inches per loop, meaning once you've unboxed you are left with a 'kinked' cable.  This however being temporary is still a little off-putting in my opinion. Inside you will, of course, find your welcome note, extensive user manual, and 2 Razer stickers.
Inside we get:
Razer Mamba Elite mouse
Welcome letter
User Guide
Design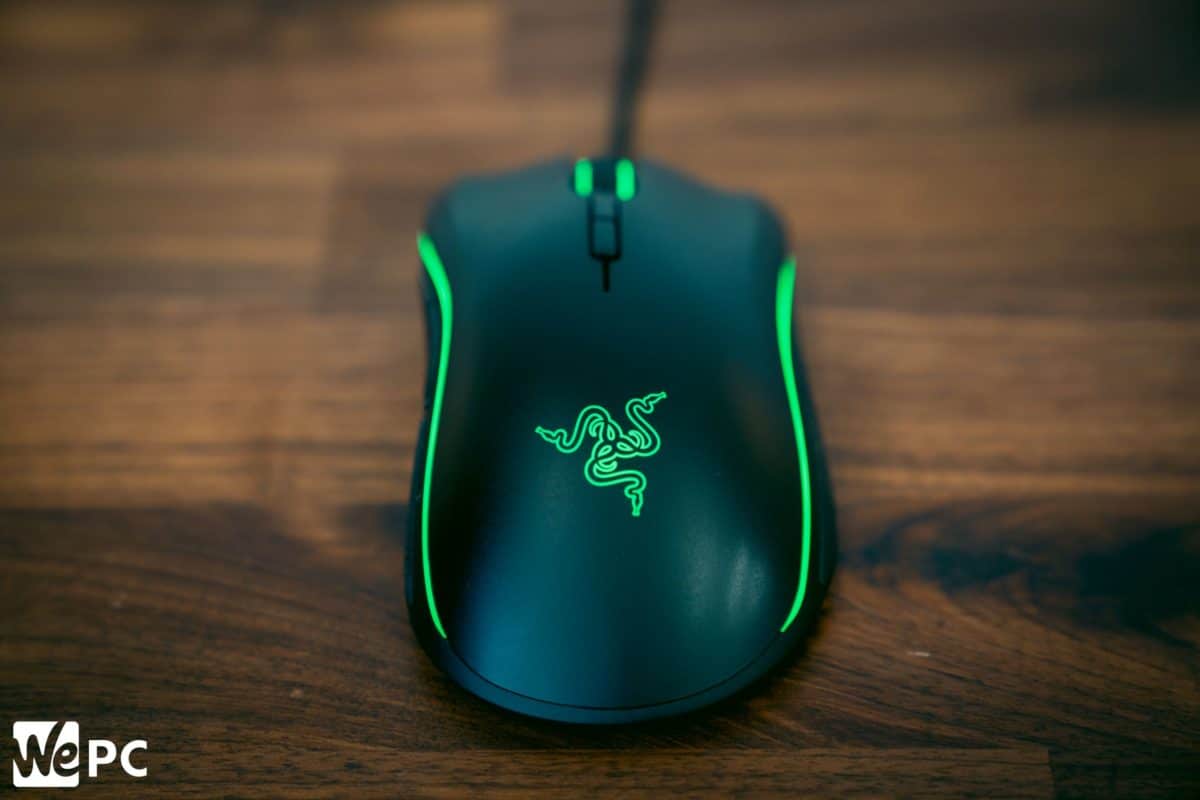 Size & Weight
Without sounding biased, I have always been a huge fan of the Razer's designs and the Mamba Elite has yet again not failed to please my needs when it comes to comfort for short and long term usage. Being a huge gamer I always seek out mice that have been designed with this in mind and feel the Mamba has created a fantastic environment for this very need. Sitting at a slender 96g makes this mouse identical in weight to its neighbour the Deathadder Elite which has the perfect balance between light, quick movements and steady, slow accuracy. The mamba elite is a medium-sized mouse that fits perfectly into my own hand but lends itself to both small and large-handed users, they have really designed this with a wide field of users in mind. With improved ergonomics and state of the art side grips, the Mamba Elite allows for hours of seamless, unstressed gaming. Razer engineers have designed this mouse with reduced palm and finger stress in mind, creating a mouse that boasts complete elimination of finger drag points. Impressive.
Shape & Texture
Razer mice never really waver too much from the classic look you'll find across the board, and the Mamba is no different. However, there are a couple of intricate differences I would like to point out. The texture is classic Matte finish with 2 newly designed Side gripping pads to boost comfort and eliminate user error whilst in the heat of battle. For me, the pads do provide grip, but with fps gaming comes aggressive swiping and accelerated movements, and for me, I would appreciate something with more stability. Personally, I don't tend to GRIP the mouse but let it sit under my palm, this, in turn, struggles to create a great deal of friction for a gamer such as myself. The Mamba has a smooth finish and after using it for a couple of hours, hand perspiration could very well be a factor for some users out there. This being said designers have made both primary mouse buttons concave creating a lovely well for your finger to sit in, making for a snug grip in the hand. All being said the Mamba is still a fantastic looking mouse, with its typically impressive Chroma boasting 20 lighting zones. You will find 2 grills either side of the 2.1m braided cable which would not be out of place on any vehicle, but do please my aesthetic senses. Overall a great looking mouse but for me personally could do with a few tweaks surrounding the current side grips.
Buttons & Switches
Mamba designers have created this mouse with gamers in mind and have subsequently armed this with 9 bind-able mouse buttons which are all customizable through Razer's user-friendly Synapse 3 software. All buttons have been created with a sleek finish and none of the buttons are too pronounced which is exactly what I like. The 2 side buttons are in such a position that promotes usage during gaming. I'm a gamer who loves binding commands to their mice and after a few games, I was extremely pleased with the positioning and ease of which the buttons could be used. Worth a mention is 3 of the buttons are however taken by the mouse wheel, which for me isn't something I would ever use for binding commands.
This mouse has co-developed Omron switches that have a life span of upwards of 50 million clicks, which I'm sure we can all agree is extremely durable. The primary buttons are extremely easy to use and resistance doesn't change a great deal based on where your fingers lie. I tested the buttons in full and results actually show that even pressing the switch almost at its base, created no additional resistance. The right and left buttons are both concaves giving you additional comfort and stability when gaming in those intense moments where concentration is absolutely crucial. The mouse 1 and mouse 2 buttons have been designed in such a way that they are one with the shell of the mouse, which after a discussion isn't desirable by all parties. However, I feel it gives the mouse a better-finished look.
Cable
The cable is once again a standard braided cable with excellent durability and when paired with the Razer Mouse bungee makes for an almost wireless feel. We have tested the mamba elite both with and without the bungee, and for most people the cable, although not completed unusable, does become somewhat of an issue. It is, however, an extremely light cable so the mouse isn't being obstructed by it, but you definitely notice it's there. Alternatively if wireless is more your idea of a good time I would highly recommend checking out our Mamba Wireless review.
Pro tip – get a bungee.
Performance
Being an FPS gamer primarily, and a huge fan of both the Deathadder and Basilisk its safe to say that using the Mamba Elite was a great experience. Firstly we need to talk about the design, Razer engineers have classified the design optimization as Advanced Ergonomics, which means the most natural position of the hand no matter the type of grip. In short, Regardless of your hand size/shape/grip, you are going to find this mouse extremely comfortable. It feels very natural when in the palm of your hand which creates very accurate tracking when in any long-range FPS situation. I experienced no lag and very accurate crosshair positioning when practicing largely aggressive movements which are ideal for games such as CSGO. It is worth mentioning that day to day tasks were equally as enjoyable as you would imagine with such a great design. Unlike other mice in the Razer range, the ME doesn't come with a clutch button but with its perfectly positioned side buttons, you could easily bind the sensitivity change to those. In conclusion, the mouse performed extremely well under all of our strict tests and came out with very similar results to the Deathadder Elite, which as we all know is regarded as one of the greats.
Features
Everything in the current Razer range is built with the highest level of technology and software available, so to say anything other than the sensor is brilliant is an understatement. You will notice that the Mamba Elite has scrapped the Laser sensor and has opted for its acclaimed 5G optical sensor with true 16,000 DPI to increase reliability, precision, and speed. However, I could not find a situation in which using full 16000 DPI is practical. The main switches are co-developed Omron switches with a life span of over 50 million clicks, very impressive considering many of the Razer range only has 10-20 million clicks. The 2 primary buttons are both concave to promote comfort, style, and ease of use, a feature I have always been a huge advocate of. In the past primary mouse buttons that have been attached to the shell have had reduced click life and a lesser overall palm friction level, but with today's technology and Omron's input, this is certainly not the case here.
Software
The Mamba elite, like the DE, comes pre-programmed to DPI level 800, handy as this is on average the most popular setting for gamers. However, if you want full customization then you will have to download and install Razer's latest version of Synapse 3 which allows total control over your mouse setting. Over the years Synapse has been slated for not being as user-friendly as it could be, but with today's current market you will find a much better package at your disposal. Drivers can automatically be updated through the software.
Our Verdict
Having sat down and used the Mamba Elite for almost a week and putting it through the pace of a highly active gamer I can safely say this fits right into Razer's elusive list of top quality gaming mice. With the shadow of the mighty Deathadder Elite looming large, it was always going to be difficult to create something similar yet different that was going to have its own unique audience but I feel the Razer engineers have achieved this very feet. This is a brilliant mouse that withstood all the WePC tests and It would certainly be high on the list of recommendations when needing something that is both ready for battle and easy to use on a regular day to day basis. Ultimately the greatest feature of this mouse is its ergonomic design which creates an 'at one' feel with the mouse. As we all know practice makes perfect and with the Mamba Elite you can really rack up the hours with the absolute minimum amount of stress on the hand.
Razer Mamba Elite Wired Mouse Review
Summary
Widely considered as the underdog to the Deathadder, the Mamba elite equipped with new Ergonomic design and Optical sensor begins to rival its close neighbour.