Razer Abyssus V2 Mouse Review
Updated: Apr 21, 2022 3:16 pm
Simple in design but deadly on the battlefield.
Today we sit down and test the ultra-simple, "tournament-grade" branded Razer Abyssus V2. A cult classic that has been revamped for today's market with upgrades including a new optical sensor, ergonomically designed in-mold rubber side grips and a sleek new form factor ambidextrous shell which has been manufactured for all grip types. The V2 weighs in at a slender 80g which is perfect for modern-day FPS gamers and has been stripped back to the bare essentials giving it a fantastic, simplistic appearance.
The Abyssus has upgraded its RGB to 3 lighting zones with both the emblem and scroll wheel being customizable but is limited to only a few different profiles. DPI ranges from 100-5,000 but as we all know anything above 1,800 is considered ridiculous. However, with a sleek new design and attractive price tag, I'm very much looking forward to seeing how this one performs under the spotlight. We see if these new changes have made the Abyssus V2 into a contender for our best gaming mouse recommendations.
[mks_col]
[mks_one_half]
Pros
Lightweight
Ergonomic design which feels great in the hand
Excellent side grips
Sleek, minimal design
Highly effective sensor
[/mks_one_half]
[mks_one_half]
Cons
Limited Buttons (4)
Lift-Off Distance too High
Feels Budget Made
[/mks_one_half]
[/mks_col]
[mks_col]
[mks_one_half]
Mouse Size & Weight
Weight: 80g
Size: Small
Length: 11.7 cm / 4.6 in
Width: 6.4 cm / 2.5 in
Height: 3.8 cm / 1.5 in
Hand Orientation: Ambidextrous
[/mks_one_half]
[mks_one_half]
Mouse Tech
Sensor: PMW3360
Buttons:
DPI: 100-5000
Polling Rate: 125 / 250 / 500 / 1000Hz
Connection: Wired
[/mks_one_half]
[/mks_col]
What's in the box
Like all Razer mice, the box continues with the same theme of black and green, which I've always found aesthetically pleasing. However, unlike other mice in the Razer range which use cardboard and plastic protective interior, the Abyssus box comes with 2 plastic shells which the mouse sits in tightly. It's worth mentioning that the quality of the plastic doesn't feel great and if you were to accidentally drop or put something heavy on the box it's much less likely to withstand the damage. The 1.8m cable is tucked away behind the mouse and is subsequently hidden behind your user manual and a welcome note. All very standard for Razer.
Inside you find
Razer Abyssus V2
User Manual
Welcome Note
Decals
Design
Size, Weight, Shape & Texture
The Abyssus comes in a shade over 80 grams and just under 12cm's in length which we can all agree is a small design by today's standards. Lightweight mice, however, are becoming much more desirable by top-level gamer's as it helps aid in flick shots and 180 degree spins when in the heat of battle. Think CSGO and Quake. The length, 11.7cm, is on the short side but after extensive usage, I found the mouse extremely comfortable and very satisfying to use for both day-to-day tasks and extended gaming sessions. You can thank the ergonomic design for this which Razer has said increases both comfort and grip. The Abyssus has been designed for all Grip types and after multiple test's we can conclude discomfort is not an issue. Even those strange fingertip folks out there enjoyed its feel. Razer has given the Abyssus an ambidextrous design to cater to all users, sometimes this affects the ergonomics of the mouse but with the V2 we still consider it to have a brilliant hand feel.
I found the shape of the Abyssus very user-friendly during my testing time, not only for in-game sessions but everyday use as well. At its peak the Abyssus sits a mere 3.8cm's high which for me sat perfectly with my palm grip, helping make the transition from Mamba Elite to Abyssus effortless. It gently slopes down towards its primary mouse buttons and has two raised shelves either side to aid in stability and counter slipping which was very welcomed. The mouse widens slightly at the front and rear which helps lend itself again to all hand types. The main shell of the Abyssus has been manufactured using high-quality plastic with a subtle rough finish to help promote extra grip which feels impressive. However with this surface type if perspiration were to occur using it could become a bit of a nightmare. But so far I haven't encountered any major issues.
Buttons
Razer has designed this mouse with simplicity in mind quoting 'Less is more' and 'Designed with only the most important features for tournament-grade gaming'. Once unboxed this definitely seems to be the case with the Abyssus. The design really hasn't changed much since its predecessor which was released in 2014 and no additional buttons have been added which I felt was a missed trick by Razer. The V2 has 4 Buttons that include the two primary buttons, the DPI cycle button and the scroll wheel which can be pressed. You can, however, bind commands to scroll wheel up and down and this can be achieved through the Razer Synapse software which has to be running for the mouse to function efficiently. The primary mouse buttons have a solid, tactile feel to them which is always desirable and is resistant enough that miss-clicks will not become a nuisance. The scroll wheel can be used as a button with the extra force that is required to activate it, again not a huge issue but potentially worth noting. If you use the DPI buttons to change your DPI on-the-fly then be aware that the Abyssus only has a cycle button that goes up in increments until you've reached maximum DPI. Once this is achieved it will restart the cycle at the lowest setting which I believe is 800 on a standard setup. I have forever been a promoter of FPS gaming binds and really struggle to understand why a mouse that is designed for tournament-grade gaming has only 4 buttons, even 2 additional thumb buttons would be a huge improvement on the current design.
Cable
You'll find that most mice in today's current market equip their mice with the ever-popular braided fibre cables which boast improved resistance and durability but the V2 has been designed with a standard 1.8m plastic cable. Have they done this to cater to users not using a bungee so mat/cable resistance and dragging are eliminated? I'm not sure, however, I have noticed that it is definitely an improvement in the 2014 version which feels much less resistant to abrasion. Ultimately I've never disliked the standard plastic cables and if looked after correctly will last just as long. The Abyssus, unfortunately for some, doesn't come with a wireless counterpart but if you are looking for something with a similar design I'd recommend checking out our Logitech G PRO review.
Performance & Sensor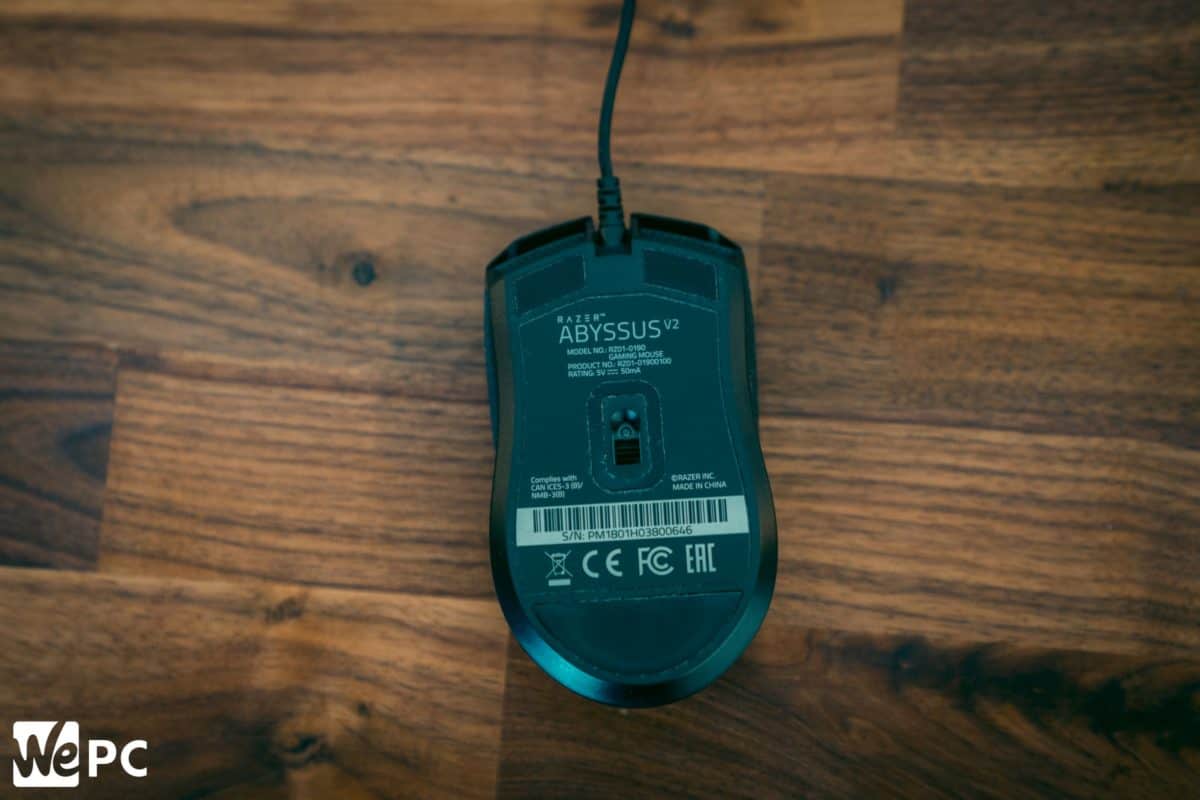 Performance
Firstly, when a company like Razer promotes a mouse as being designed for tournament-grade gaming, you naturally expect the product to perform at the highest level and that's why this section is the most important when reviewing the Abyssus V2. Initially, I'd like to point out that I have recently made the switch from Mamba Elite Wired, highly considered the best ergonomic design of any Razer mouse, to then review the Abyssus V2. Sometimes this can be problematic due to your palm becoming accustomed to the old mouse but with the simple design of the Abyssus, the switch was made with relative ease. Overall when gaming I found the feel of the mouse to be extremely comfortable and didn't experience any of that 'new mouse awkwardness' that you sometimes get with new mice. The sensor, which I believe is a 3325 or 3329 optical, is by no means the greatest available in today's market but did perform great during game testing. Tracking was very nice as was response time which is always a necessity when playing FPS due to the high frequency of aggressive movements. Another issue that is sometimes experienced when using a lessor sensor is spin out. This is mostly experienced by gamers with low sensitivity, such as myself (800dpi 1.0 sensitivity in-game), who require much faster mouse actions. However, to my surprise, I didn't encounter any problems in this department. It is worth noting that I have read discussions that have raised issues with spin-out, but up to now I have yet to encounter any. Overall, I actually really enjoyed using the Abyssus V2 for competitive gaming and would seriously consider making the full-time switch if it were not for a couple of issues.
Something I would class as a small negative has to be the thumb buttons or lack of. For a tournament-grade gaming mouse, I would definitely expect the guys at Razer to implement at least a minimum of 2 additional thumb buttons. Command binding is utilized heavily by almost all top-level gamer's today and the V2 shoots itself in the foot by only having 4 buttons total. However buttons aside, the newly designed in-mold rubber side grips do promote a much better grip for optimized control which is a massive bonus for me. The grip's design is comprised of hundreds of little hexagon's which create fantastic grip and overall a great feel which aids in liftoff swipes and fantastic precision. However lift-off distance was considered to be quite poor with us being able to put 2 cd's under the mouse and it still activating, but we'll get into that later.
Features
Optical Sensor & DPI, Polling Rate, Switches and Connectivity
The Abyssus, as mentioned earlier, has been equipped with what we believe to be the 3325 or 3329. A great overall sensor but could definitely be improved. With the V2 being a budget mouse I feel the designers were handcuffed slightly as the next sensor up would have likely boosted the price to nearer £70/£80. This being said the sensor worked great and I didn't experience too many issues. The switches are again co-developed Omron switches with a life span of 20 million clicks which today is considered under par. However, most people upgrade long before switch life has expired. Polling rate is as you would imagine with all gaming mice 1000hz and connectivity is established via the Abyssus' 1.8m plastic cable. The mouse does, however, force you to use Razer Synapse software to optimize efficiency which can become a little frustrating. However, with the latest version of Synapse (3) bugs and unresponsiveness seem to have been repaired.
Mouse Software
Over the years Razer has been slated by consumers for their massively below par product software, which in past times has been considered slow, buggy and sometimes unresponsive. However, with the latest improvements to the software, the new version of Synapse (3) seems to be getting closer to something that can be considered a decent overall package and comes with some neat features. For the Abyssus V2, the lighting optimization is considered fairly basic but does the trick if you are impressed by 3 different light settings. However, our favourite innovation in the new software is the lift-off optimization. This allows the user to alter the sensitivity of the lift-off distance which we thought was pretty handy. This being said, the tool seemed very unfinished and nothing seemed to change in LOD when calibrated to my needs which were very frustrating. The latest software updates and drivers are automatically downloaded by Synapse and seem to work fine.
Our Verdict
Ultimately the Abyssus V2 is a budget versatile gaming mouse that caters to all users. I really enjoyed using the mouse in competitive play and the switch from the Mamba Elite was made with ease due to the great design Razer has implemented. Overall I would say the mouse felt great when aiming and the newly designed side grips help massively in creating a feeling of total control. My only true issue with this mouse is the lack of additional buttons which I feel are essential for FPS gaming. However, if you can cope with the bare minimum then you're going to really enjoy this one. For the price tag the Abyssus really packs a punch and for me sits highly on the list of budget mice out there today.
---