ROCCAT Kain 122 AIMO Review
Updated: Nov 28, 2022 2:44 pm
The ROCCAT Kain 122 AIMO is a powerful wired gaming mouse that brings plenty to the table. Having said that, it is clearly tailored towards FPS shooters and falls flat in other areas. 
ROCCAT's Kain lineup of mice has been a hit amongst gamers for a long time now thanks to their ergonomic design and excellent gaming performance. Like most great mouse lineups, the Kain sees another addition enter into its ever-growing roster of impressive mice. Today, we'll be looking at the latest to hit shelves, the Kain 122 AIMO.
The Kain 122 AIMO is a great gaming mouse that comes to the table offering decent grip, a highly accurate sensor, a lightweight design, and of course, RGB. The 122 AIMO falls into a pretty competitive price pool as far as the peripheral market goes, so it'll be interesting to see how it stacks up to market leaders and other mice within the ROCCAT group.
So, with all that in mind, let's waste no further time and dive straight into it!
[mks_col]
[mks_one_half]
Pros
High grip coating
Good gaming sensor
Vibrant RGB
Lightweight design
Newly designed cable
[/mks_one_half]
[mks_one_half]
Cons
Competitive price point
Limited buttons
[/mks_one_half]
[/mks_col]
[mks_col]
[mks_one_half]
Mouse Size & Weight
Weight: 89g
Size: Medium-Large
Length: 12.4 cm / 4.88 in
Width: 6.5 cm / 2.55 in
Height: 4.3 cm / 1.69 in
Hand Orientation: Right-handed
[/mks_one_half]
[mks_one_half]
Mouse Tech
Sensor: Owl-Eye 16k
Buttons: Omron Switches
DPI: 50 – 16000, in steps of 50
Polling Rate in HZ: 125 / 250 / 500 / 1000
Connection: Wired
Cable length: 1.8 m
[/mks_one_half]
[/mks_col]
What's In The Box
Mouse manufacturers have steered away from elaborate box designs in recent years, with the ROCCAT Kain 122 AIMO being no different. Like most other mice, this one comes in a fairly basic box that displays the mouse on the front and information regarding key features on the back. You'll also find some tech specs underneath. Inside, the mouse is bundled in a thin layer of plastic which feels relatively well secured.
Inside you find:
ROCCAT Kain 122 AIMO
Starter Guide
Design
The Kain lineup has always been well known for its ergonomic design, providing a nice grip and an excellent overall feel for gamers with medium to large-sized hands. With that in mind, the Kain 122 AIMO continues this trend offering another subtle, yet effective, design that feels great in most gaming/general use scenarios.
The Kain 122 AIMO comes in two different color variations, black and white. We have the white one, and quite frankly, it looks superb. The smooth coating gives this mouse a luxurious aesthetic – not to mention a ton of grip – that really pops when paired with the impressive RGB. The buttons have been separated from the main shell of the mouse, while the two side buttons have been finished in black to contrast nicely with the white shell.
Aside from the ROCCAT logo on the back which is illuminated by vibrant RGB, the only other sign of ROCCAT's branding can be found on the left clicker. ROCCAT has stamped their name across this button giving it their usual flare.
A piece of silver plastic can be found in the midst of the two main clickers, housing the DPI button and the scroll wheel. This piece has been finished with a brushed aluminum style which I feel finishes off the look of this mouse nicely. As far as aesthetic design goes, this is one of the better-looking mice out there, in my opinion. Overall, great job ROCCAT.
Size And Weight
The Kain 122 is a mouse that sits in the upper reaches of the size spectrum, offering a great ergonomic design for medium-large sized hands. It has a peak height of 4.3cm, while the two main clickers sit at around 2.8cm. That's a little higher than other mice in today's market, but I suppose that's all part of the Kain 122's ergonomic charm. The width sits at 6.5cm, giving this mouse a really wholesome feel while in-game – something I personally enjoyed. The size is ideal and provides no awkwardness whatsoever, allowing you to concentrate on those vital headshots over hand placement.
The weight of this mouse is 89 grams, so fairly light, but nothing compared to some of the super lightweight mice we see populating the market right now – ROCCAT's own Kone Pure Ultra for example. The weight seems to be well distributed and tailored towards FPS gaming, something that will please CS:GO fanatics such as myself.
Overall, another great combination of nicely thought out aesthetics and lightweight engineering.
Shape And Texture
So, onto shape and texture, two areas where I feel this mouse excels. The Kain 122 AIMO has a fairly prominent hump directly in the middle of the shell, with the main clickers sloping gently forward creating a nice sitting position for your fingers. The main clickers have even been finished with a concave shape to promote comfort even further. The sides slant in slightly to help with the grip. However, the coating of this mouse – something we'll discuss in further detail shortly – provides plenty of that in abundance.
Even though this mouse is classified as a right-handed mouse, it certainly has a lot of characteristics you'd find in an ambidextrous design. Having said that, the fairly aggressive left-right slant pretty much ruins the ergonomics for left-handed users.
The shell of the mouse is fairly flat, even with that hump in the middle, making it useable by most grip styles. The limited amount of buttons this mouse offers all sit fairly flush with the shell of the mouse, giving the overall shape of this mouse a clean finish with limited angles.
One of the best features of the new series of mice coming out of the ROCCAT lab has to be the new shell coating. Like the ROCCAT Kone Pure Ultra, the Kain 122 has been kitted out with new coating technology that offers a smooth finish, yet still extremely grippy. Not only is this thing very grippy – even with hand perspiration – it's extremely easy to clean as well. I've been using this mouse for some time though and not much build-up has occurred.
Buttons
Unlike some of the more elaborate mice that ROCCAT offer – Tyon and Kova – the Kain 122 AIMO doesn't offer a great deal in the button department. The Kain has been equipped with six buttons that are all reprogrammable via the ROCCAT Swarm software suite. The two main clickers have been newly designed for better response and actuation. And I have to say, I feel ROCCAT has done a great job with the new buttons, they feel excellent. Furthermore, they offer a nice actuation sound and feel fairly robust.
The side buttons, again, offer up decent comfort, actuation, and response. Unlike other mice, the ROCCAT Kain 122's side buttons have little to no sponginess whatsoever. The side buttons are well positioned and don't get in the way when using this mouse for everyday tasks. However, when put in a gaming scenario, they feel very well placed to promote usage.
The scroll wheel feels extremely well-made and robust, with decent resistance between each notch. Using the scroll wheel in-game felt very accurate, especially when switching through weapons, while the scroll wheel button itself felt great for grenade binds. The scroll wheel comes with its own RGB zone that can also be altered within the Swarm software suite too.
Underneath the scroll wheel users can find a DPI switch that toggles through various DPI presets. Like the rest of the buttons on this mouse, it feels nice and tactile. Overall, the buttons on the Kain 122 AIMO feel extremely well designed and a definite improvement over some of the older models within this range of mice.
Cable And Build Quality
Next up we have the cable and build quality of the review. We'll start off by looking at the latter.
The build quality of the Kain 122 actually feels very good. One of the big improvements I've seen in the newer mice has to be when it comes to the build quality. They just feel a great deal better than the older models. The new coating has clearly been well designed, whereas the shell itself offers excellent strength and robustness. When shaking the mouse aggressively you can hear the scroll wheel and main buttons rattle a little, but nothing too crazy.
Underneath, the Kain 122 offers two very thin skates that provide smooth movements across most surfaces. The cable is a newly designed braided cable that brings 30% more flexibility for easier mouse movements and less resistance. I'm personally not a huge fan of the braided cables, but they certainly have a part to play in modern mice as they do provide much more robustness. This one seems pretty well made when comparing it to other braided cables out there, so fair play.
Sensor And Performance
So, we finally come to the part of the review most people have been waiting for – the sensor and performance section. This is where we take a closer look at the interior specifics of the mouse and how they perform in a gaming scenario.
So, let's jump on into it.
Firstly, let's take a closer look at what sensor ROCCAT decided to use in this mouse. To no one's surprise, they opted to use their new Owl-Eye sensor, a variant of the PMW 3389. It's been used across many of their best gaming mice  – like the ROCCAT Kone series – and provides excellent accuracy and response, as you'd expect. It's worth mentioning that most modern mice come equipped with high-performance sensors these days. You will rarely see a gaming mouse in today's market that doesn't offer flawless performance. Anyway, the Owl-Eye 16k sensor brings a max DPI of 16,000 to the table, not that you'll need it, and 1000Hz polling rate – all of which can be altered within the software suite.
So, as always, I started by firing up CS:GO, my go-to game when it comes to testing high-performance gaming mice. After playing deathmatch for a couple of rounds, it was safe to say this thing was no joke. I have medium-sized hands, so using this was absolutely fine for the most part. I've recently been using an MX518 Legendary, so making the transfer from that to the ROCCAT Kain 122 was fairly unproblematic. I found aiming with this mouse really quite easy, mainly thanks to how comfortable the mouse felt in my hand. Because you have such great grip with this mouse, your confidence to make long-range sprays and AWP flick shots increases, dramatically – or it did for me anyway.
The weight of the mouse felt nicely distributed in the center, meaning once I got used to the mouse, I could throw it around quite aggressively and it actually felt pretty agile. The skates provided plenty of smoothness, while the new coating offered up all the grip I required. To touch upon the weight again briefly, the Kain 122 comes in at 89 grams which, for the most part, is characterized as"middle of the road" as far as weight is concerned. And whilst mice seem to be getting lighter for competitive esports reasons, I feel 89 grams is a great mix of build quality of weight distribution.
After playing CS:GO and Call Of Duty for some time, I pretty much concluded the Kain 122 AIMO was a decent mouse as far as FPS gaming is concerned. However, how does this mouse fair in different scenarios? Well, I tried playing a couple of MMO titles shortly after this, and the lack of buttons soon became apparent and problematic.
It's always nice having extra buttons when playing these particular game styles, however, the ROCCAT Kain 122 AIMO only provides a couple of additional buttons for bindable commands – so not the best. Having said that, this mouse isn't geared towards MMO titles, so we'll let it off for that.
Something we haven't touched upon properly yet is the RGB. Like many gaming mice in today's market, the ROCCAT Kain 122 AIMO comes with a couple of RGB lighting zones to make the aesthetics pop. And by pop, I really do mean pop. The RGB on this mouse is extremely vibrant and outshines most mice in today's market. You can customize the two lighting zones by entering the SWARM software suite, along with most of the other areas too. You'll have a ton of different preset options and color patterns to choose from to make this mouse look however you want it to.
The bottom line is, as far as FPS gaming is concerned, this thing really does excel. It has nicely distributed weight and feels extremely responsive and agile while in the heat of battle. As far as other gaming styles go, there are probably better mice out there, but that's no big deal considering this is tailored towards FPS gamers.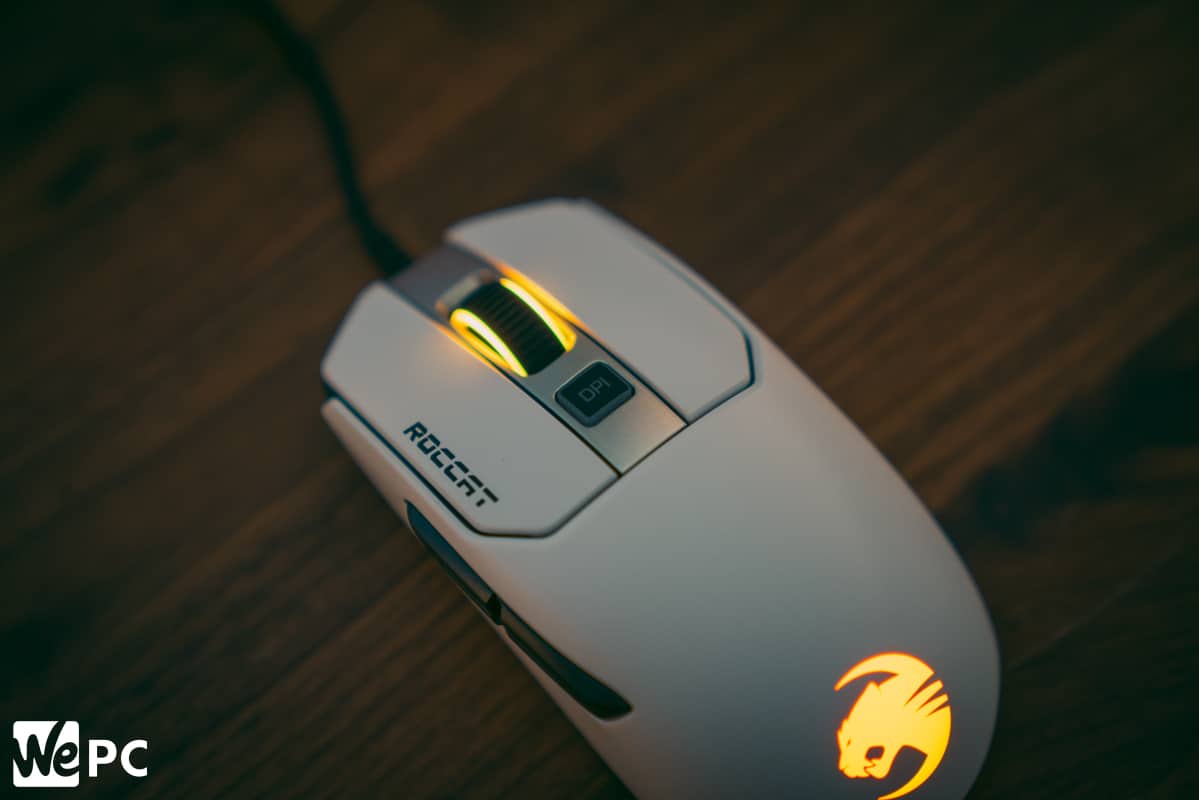 Software
ROCCAT, like almost all mouse manufacturers, provides consumers with a handy software package (SWARM) to help customize this mouse to your exact requirements. Inside the software package, you will be able to customize RGB, DPI, polling rate, LOD, and pretty much everything else you can think of too. The RGB has a ton of preset options and 16.8 million colors to choose from. DPI and polling rate can be altered in steps of 50 and profiles can be saved to the mouse itself for on-the-fly usage.
The one thing I will say about the SWARM software, however, is that it feels quite confusing if you aren't used to using this kind of application. It isn't the most user-friendly piece of kit I've had the pleasure of using, that's for true.
Luckily, this mouse is pretty much plug-n-play, meaning it's good to go right out the box.
Our Verdict
And with that, we finally come to the end of the ROCCAT Kain 122 AIMO mouse review. This is where we round up our final thoughts regarding this mouse and see how it compares to similarly priced alternatives that currently sit within the market.
So, what did I think of this mouse? Well, to be honest, I've been really impressed with some of the mice that have come out of the ROCCAT camp recently. Their Kone Pure Ultra performed and felt extremely good, and the Kain 122 feels very similar. As far as performance went, this thing was pretty flawless when it came to FPS gaming. It handled pretty much everything I threw at it and made aiming a real joy, especially when spraying down individuals where accuracy is crucial.
However, on the flip side, this mouse isn't great for other uses. It didn't really offer much up in the MMO gaming scenarios as it lacked the buttons required to really compete in that market.
So, as far as FPS mice are concerned, where does this mouse lie? Well, it currently retails for around $65 which, if I'm being honest, reduces a lot of the value that comes with this mouse. That puts it into and above the realm of leading gaming mice such as the Razer Deathadder and the MX518 Legendary. Comparing to those two mice, it has similar performance levels with a slightly different design, but a more expensive price tag. The Deathadder is one of the most highly regarded mice in today's market; however, the ROCCAT definitely brings better build quality to the table. The same can not be said when comparing it to the Logitech, however. Overall, I feel it's pretty well placed, but certainly has some stiff competition surrounding it.
So, the bottom line is, if you're someone who has fairly large hands and requires a super accurate gaming mouse that feels responsive and agile, I feel this mouse should be high on your list of considerations.
---