Razer Basilisk V2 – Original Shape, New Technology. 
The Razer Basilisk (original) has been a hugely popular FPS gaming mouse since its arrival a couple of years back. It was released to try and compete with the impressive G502 from Logitech – a mouse that (at the time) claimed to house the world's best DPI sensor. Unfortunately, though, the Basilisk was unable to keep up with the G502 and fell short thanks to some standout features.
Move forward a couple of years and Razer has decided to release a "souped-up" version of the original; the Basilisk V2. It comes to the table boasting an array of cool features and a newly improved optical sensor which Razer says is one of the best available.
So, how does the Basilisk stack up in a market that is already flooded with high-performance first-person shooter mice? And more importantly, how does it compete with the likes of the Logitech G502?
Let's find out!
[mks_col]
[mks_one_half]
Pros
Aesthetically Pleasing – Stylish design that fits your hand well
Decent Build Quality – High-quality materials used throughout
Good Overall Performance – Razer's Focus+ optical sensor offers excellent gaming performance
Price – Reasonably priced
[/mks_one_half]
[mks_one_half]
Cons
Feels less grippy than its predecessor
Lighter 
[/mks_one_half]
[/mks_col]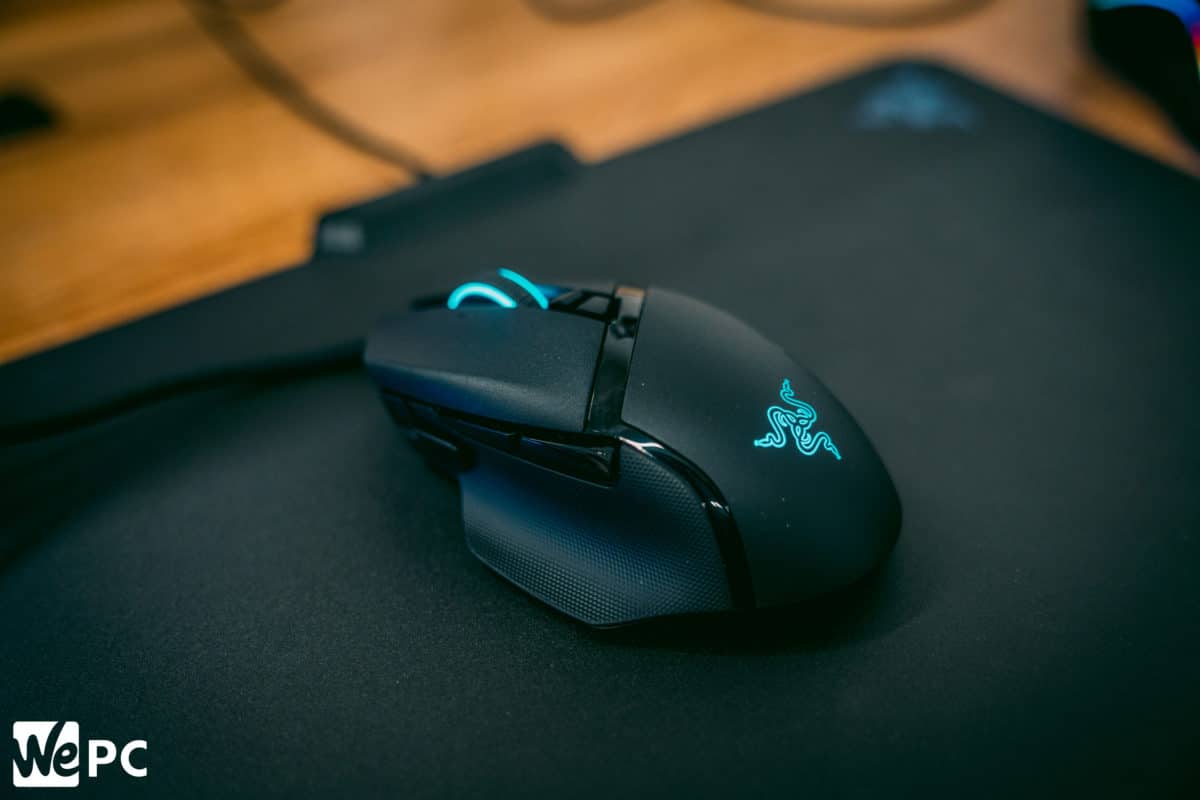 [mks_col]
[mks_one_half]
Mouse Stats
Sensor: Focus+ Optical
Weight: 94g
Size: Medium (13 x 6 x 4.2 cm)
Game Types: Primarily FPS
[/mks_one_half]
[mks_one_half]
Hand Size Guide
[/mks_one_half]
[/mks_col]
Note: This review is part of our best gaming mouse series. For details on competing products and how we tested them click here.
---
What's In The Box Section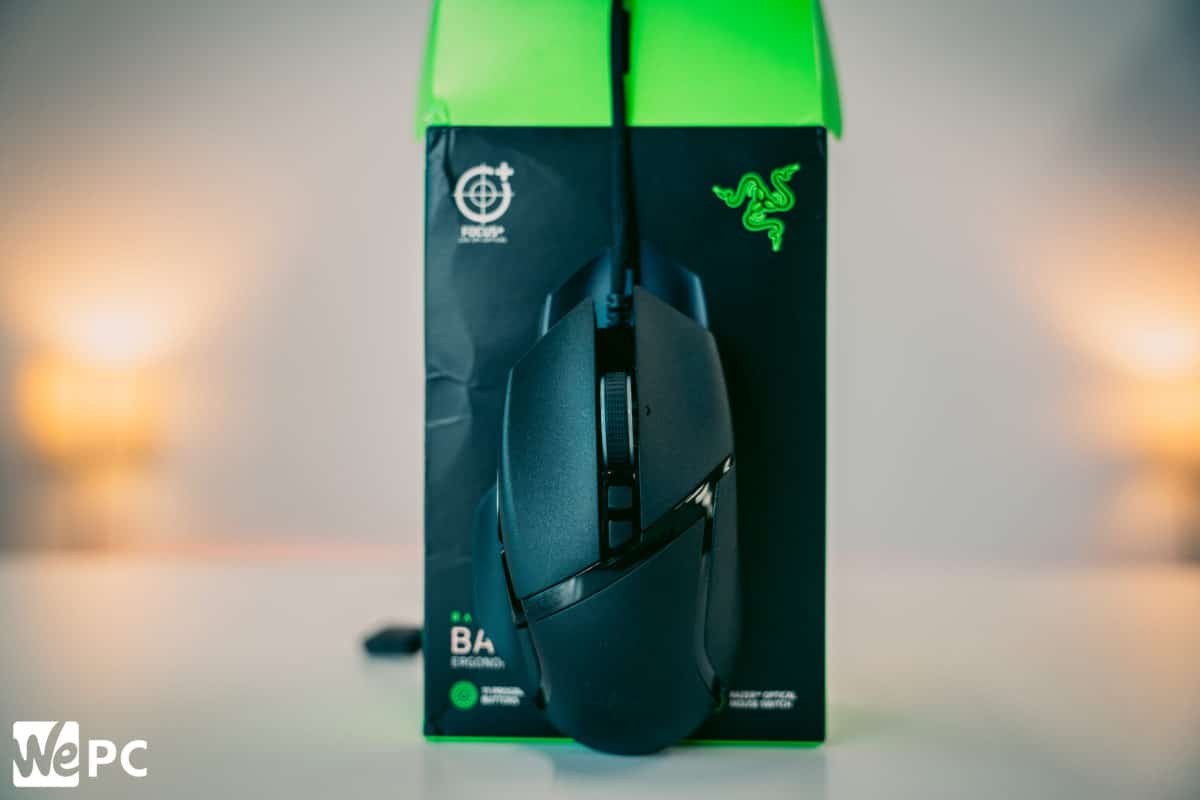 The box, for anyone wondering, is classic of all Razer products and comes to shelves with their black and green branding. The mouse is displayed upfront alongside some major specs like the sensor and button mapping. The back showcases further specifications and some generic copy. Inside the box, you will find the Basilisk neatly bundled inside a thin layer of cardboard. Underneath you will find the cable along with the manual and additional details. All pretty standard from Razer.
Size & Weight
As far as size is concerned, the V2 is pretty similar in terms of its profile when compared against the original. It offers almost identical dimensions and when put side-by-side, doesn't really showcase any size differences. However, Razer has decided to shed some weight from the original – taking it from around 105grams down to 93grams. This is probably thanks to the Logitech G Pro (a mouse that's massively popular amongst gamers around the globe) which is around that weight.
Shape & Texture
Moving onto shape & texture, the Basilisk V2 doesn't really sway from the original when it comes to shaping either. As mentioned above, they both come to the table displaying a very similar profile – this even includes the heavy right/left slant we see when looking at this mouse from head-on.
The texture, on the other hand, has changed dramatically from the OG, with the V2 offering a much coarser feel for the most part. The shell has been finished with a brush-like texture (designed to offer additional grip whilst gaming), whereas the side grips have ditched the groove-style design of the original and have opted for a micro-textured grip instead. Both sides of the mouse have been finished with this grip style creating a well-rounded feeling tailored to increase accuracy when in the heat of battle.
Buttons & Switches
The Basilisk V2 has 11 mappable buttons that are all fully customizable via the Synapse software – something we'll touch upon later -which is an increase of 4 over the original version. The main clickers have a gentle downwards slope and accommodate your fingers nicely. They both feel relatively tactile and offer decent actuation feedback – ideal if you're into noisy mice. The two DPI buttons have changed dramatically when comparing this mouse to its predecessor. Razer has ditched the slender design and has opted for something much squarer. The larger DPI buttons of the Basilisk V2 are now housed in a little recess between the two main clickers and protrude slightly. With an angled design, they certainly feel more tactile that the original Basilisk and should offer much fewer miss-clicks. The side buttons are, once again, slightly larger than the original's and have a tactile yet slightly spongy feel to them. The scroll wheel is extremely grippy and offers an adjustable resistance setting via the dial underneath. This is great if you like an extremely tactile scroll wheel when gaming but like something a little more free-flowing during work and general use.
The Basilisk V2 has been equipped with Razer's optical switches that offer infrared technology for an industry-leading response time of 0.2 milliseconds. The new switches no longer require traditional physical contact to actuate, meaning the new form of actuation has a hugely reduced miss-click rate and debounce delay. Great for gamers. The infrared technology used within the Razer switches means actuation occurs with light-speed effect – a huge upgrade from traditional mechanical switches. They are rated at well over 50 million clicks which is 40% more than previous versions.
Cable
The cable is another big improvement over the original basilisk and is now designed using, what Razer likes to call, SpeedFlex cable technology. The new cable design offers much more flexibility, a better lifespan, and much less resistance. That being said, however, one gripe I do have regarding the new cable is the thickness of it. It's around twice as thick as the cable equipped to the OG, making it a bit uglier and much more hassle when it comes to installing it into a bungee. It required a fair bit of a force to get it in Razer's own bungee, nevermind other brands. It does offer a decent 2.1m length though, more than enough for most people's general requirements.
Sensor & Performance
As far as specifications are concerned, the Basilisk V2 comes to the table boasting an array of high-performance specs that include Razer's Focus+ optical sensor, 11 mappable buttons, a thumb seat for a more secure grip, and an ergonomic design which is tailored towards gamers. Furthermore, the cable (which Razer calls their SpeedFlex cable) now offers greater flexibility and much less drag as well. The skates on the Basilisk V2 are another improvement made over the original and now boast a 100% PTFE design – offering slick movements across almost any surface. Oh, and let's not forget that handy little resistance dial to help tune-in your scroll wheel to your exact needs.
Let's start by discussing that sensor though. The new sensor from Razer was developed alongside Pixart and supports up to 20,000 DPI with a 99.6% resolution accuracy (so they say) – which in the simplest possible terms means the V2 is extremely accurate at portraying your hand's movements. Now, let's not get carried away with DPI as we all know most users don't go above 1,200 or so. I mean, for me personally, I still use around 800 DPI when it comes to FPS games. Having said that, when using this mouse in fast-paced shooters like CS:GO, I did find it to be extremely responsive and accurate for the most part. So thumbs up for the sensor.
If CS:GO, or any other FPS game isn't really your cup of tea, don't worry, this mouse also performed very well when it came to MMO titles as well. Straight out the box, the Basilisk V2 has an impressive 11 buttons to play with. Razer didn't stop there though, they equipped the V2 with a profile toggle button which effectively doubles the number of buttons this mouse comes with. The onboard memory can store a number of different button profiles that can be toggled at the click of a switch to access an additional 10 button binds.
The resistance scroll dial certainly came in handy in a few different scenarios – but for the most part, I kept it at high-resistance. For me, this is a gaming mouse and it's set to my gaming requirements. One good thing about the resistance scroll dial is that you can really crank it up to a point where you can feel each and every click of the scroll wheel. That makes quickly scrolling through to the correct item in certain games much more accurate than mice with lesser resistant scroll wheels. However, if you do prefer to set two different scroll styles, it's very simple and quick to do.
So, how did this thing perform in-game?
Well, we've already touched on how the sensor performed in terms of responsiveness and accuracy – it was flawless. I've been using this mouse for a good few weeks now and it feels really nice. The ergonomic design took no time to get used to and the sensor feels snappy and pixel-accurate. The buttons were all easy to actuate and offered a click-resistance that felt great when getting those crucial headshots. Thanks to its wide base and large footprint, the V2 has a hunkered-down feel when you're gaming. This makes minute adjustments much more accurate when in long-range battles. The mouse felt great in my hand and the light-weight design actually allowed for longer gaming sessions for the most part.
Razer Synapse Software
The Basilisk V2 makes use of Razer's intuitive Synapse software. Historically, the software has been slated for lacking in features and not being user-friendly. Having said that, Razer has optimized the software over the past few years making it much easier to use and much more reliable. If you already have Razer's Synapse software installed, it will automatically recognize the Basilisk V2 once you plug in the USB. From there you'll be able to set button profiles, customize RGB, change the DPI settings, and pretty much everything else you can think of in a mouse. It will also automatically update the drivers when a new version becomes available.
Our Verdict
So, I suppose it's time to answer the long-awaited question you're probably asking right now – is the Basilisk V2 worth your hard-earned cash? Well, that comes down to a number of different factors – so let's get them out of the way straight up.
This mouse is not ideal for people with very small hands. Its large design is going to make gaming and general use a little inconvenient. Secondly, if you're a person that enjoys the weight of the original Basilisk, this one probably won't do it for you. It's much lighter (over 10grams) and feels every bit of it.
Having said that, if you're someone who enjoys fast-paced FPS games and requires a super accurate mouse, the Basilisk V2 could provide exactly what you need. The design and sensor the Basilisk V2 comes equipped with will offer a platform to try and take your game to the next level. It's hugely accurate and provides an ergonomic design that fits perfectly into most grip sizes. Oh, and it displays pretty good value for money as well.
So, when all's said and done, the Basilisk V2 can be thought of as this: a classic design with the latest technology. What more could you want?