SteelSeries Rival 110 Mouse Review
Updated: Oct 19, 2023 11:56 am
Can a budget mouse under £40/$40 really be considered as a competitive gaming mouse? We see what the Rival 110 has to offer.
The Rival 110 hits the WePC office today and for lack of a better metaphor can simply be described as the Rival 100 on steroids. They've kept the same design and shape of the Rival 100 but have changed all the internal gaming technology to try to bring it up to today's standards. It comes equipped with the Steelseries truemove1 Optical sensor which boasts 7200 CPI, true 1 to 1 tracking, 240 IPS and 1000hz polling rate. The guys at Steelseries have described the 110 as a "streamlined, pure performance gaming mouse" and I can't wait to see what the new improvements have done to try and achieve this goal.
It's really tough for today's consumer to get a decent gaming mouse which can be classed as both functional and affordable. However, the guys at SteelSeries may have achieved this with the Rival 110. It's been packed with the latest gaming mod-cons and surprisingly sits at under £40/$40. We put the Rival 100's big brother through its paces to see how it stands up to the likes of the Roccat Kone Pure and the Logitech G203, widely considered the standout budget gaming mice available.
[mks_col]
[mks_one_half]
Pros
Lightweight
Great Optical Sensor
Ergonomic Design
Budget Price
[/mks_one_half]
[mks_one_half]
Cons
Thumb Buttons Feel A Little Tacky
Cable Doesn't Feel The Best
[/mks_one_half]
[/mks_col]
[mks_col]
[mks_one_half]
Mouse Size & Weight
Weight: 87.5g
Size: Average
Length: 12cm – 4.72 inches
Width: 5.8cm – 2.28 inches
Height: 3.8cm – 1.6 inches
Hand orientation: Semi Ambidextrous
[/mks_one_half]
[mks_one_half]
Mouse Tech
Sensor: True 1 Optical Sensor
Buttons: Omron Switches (30 million click lifespan)
CPI: 7200 CPI
Polling Rate: 125 / 250 / 500 / 1000Hz
Connection: Wired
[/mks_one_half]
[/mks_col]
What's in the box
Steelseries Rival 110
User Manual
Steelseries have kept the box really simple with the Rival 110 designing it for its purpose with no waste. The box is only slightly bigger than the mouse itself and has a white, red and black colour scheme. Inside the box, you find the housing for the mouse which is predominantly thick cardboard which feels extremely strong. I really appreciate when a brand uses decent materials to package their products because you know it won't of been affected by bumps or drops. The 110 is tucked away inside the cardboard with its cable bundled behind. The only other thing you will find inside the box apart from the mouse and the protective material is your user manual.
Size & Weight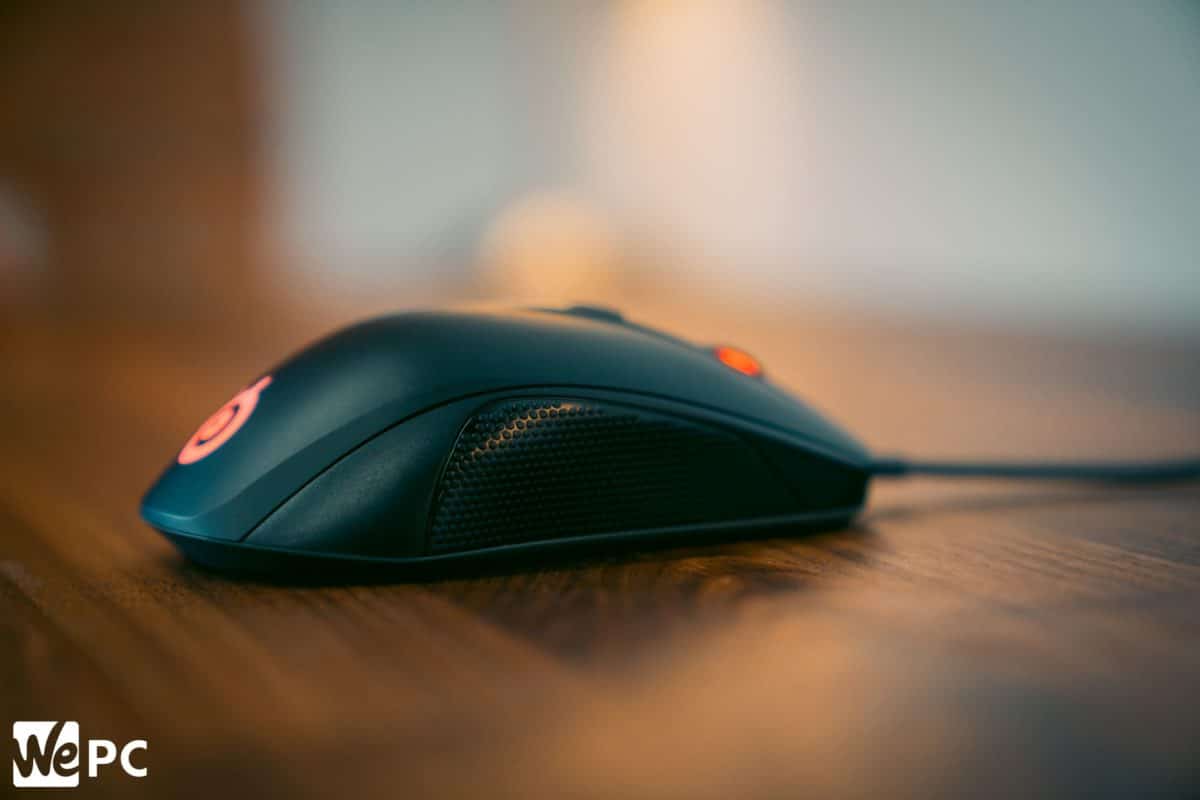 I have to say the size of this mouse feels really great in my hand (18.5cm x 9.5cm) and you can probably thank the great ergonomic design for that. The design itself sits at 12cm long and feels like the perfect length for claw and fingertip grip users. A width of 5.8cm means it falls into that 2/1 ratio which seems to be ever popular and stands at 3.8cm creating a fantastic palm feel. The size of the Rival 110 is considered average in today's market and that helps Steelseries cater this mouse to a bigger demographic. The weight currently sits at 87g and is leaning towards the light side, however with light mice becoming more popular it doesn't surprise me that another sub 90g mouse has been designed specifically with competitive gamers in mind. The mouse has a fantastic centre of gravity which sits centrally to the mouse but just in front of the sensor creating that feeling of total control. It's worth mentioning that a lot the pro players today are using sub 100g mice as it aids in controlled spraying and better flick shots. However, I would tend to lean on a heavier mouse if I wanted better accuracy in long-range situations.
Shape & Texture
The Rival 110 looks almost identical to its predecessor the Rival 100 but with a few subtle differences. The overall shape of the mouse can be classed as ambidextrous but only has buttons on the left side which is going to be problematic for left-handed users. The shell is made up of 3 parts that have been finished in matte black and have a subtle roughness which feels pretty good but could be a minefield for picking up sweat and oil. The Rival 110 also comes in steel grey and arctic white if you want something a little different. The top of the 110 has a subtle hump which peaks around 2 thirds back and feels ideal for claw and fingertip grip. Palm grip buyers can also use this mouse but engineers haven't designed it with that in mind. The hump gradually slopes down towards the front which is pretty symmetrical when viewing from head-on and doesn't have a noticeable lean. It's worth noting that both primary mouse buttons have been finished with a rounded edge to them, it looks pretty snazzy but ultimately creates a feeling of insecurity which I wasn't a massive fan of. Something a little more concave like the Razer Mamba Elite has a much nicer finger feel. The 2 side panels are made up of textured plastic for additional grip and seem to do the job well but didn't blow me away.
Buttons
The buttons on the Rival 110 are unfortunately where this mouse comes under a bit of scrutiny, however, it isn't all negative. The primary mouse buttons are without a doubt the star of the show here and have been equipped with Omron switches boasting a life span of 30 million clicks. A bit below par for today's standards but we'll let the 110 off as it's a budget mouse. They are one with the shell unlike the 110's close neighbours, Rival 310 + Rival 710, which both have separate main buttons. For me, I actually prefer the design of a mouse when the buttons are integrated into the shell and so far haven't experienced any issues whilst using them. The 2 side buttons have a long, thin design which really promotes their usage whilst in-game. They have a little bit of travel in them but I didn't struggle using them at all. They do however have a slightly cheap feel and I can see them being problematic down the line. The DPI/CPI button does feel solid though and can be customized via Steelseries product software, Engine 3. The scroll wheel is probably the worst button on the mouse and feels fairly difficult to press, I did notice sometimes when trying to activate it I would accidentally move the mouse wheel which got me in trouble a few times. This being said the button feels well built has a decent step resistance and comes equipped with its own RGB zone.
Quickly touching on the cable, Steelseries has scrapped the braid and given the 110 a light plastic cable which is 2m long and finished with your standard USB 2.0. The cable is lightweight and feels fairly decent with little abrasion when using it on my Asus Rog Sheath. With it being so lightweight a bungee isn't essential however we would always recommend using one especially if you're trying to take your gaming to its peak. Steelseries haven't released a wireless version of this as it would probably double the 110's price, however, if you are looking for something similar but without the wire, I would recommend the Logitech G305.
Mouse Performance & Sensor
The Rival 100 was a big hit with FPS gamer's so I started my performance tests on CS: GO and was not disappointed. The sensor, as most know, is excellent and very responsive. As mentioned above the Truemove1 Optical sensor, which is basically an upgraded PMW3325, has true 1-1 tracking and makes aiming feel very accurate. I mainly use the rifle in CS: GO and I found my bursts and sprays to be really controlled and precise. I did decide to see how sniping would go and to my surprise it was superb. The slim design and lightweight build really lend itself to flick shots and little adjustments which I was really impressed with. It's worth mentioning that this mouse isn't designed specifically with FPS in mind, it'll also be great for MOBA and RTS. I didn't experience any acceleration or jittering either which is sometimes an issue with budget mice but not here. The LOD is between 1 and 2 CDs depending on which surface you decide to use but wasn't really a problem, even for someone that uses a low sensitivity and needs to cover lots of distance on the mouse mat. Another problematic area of cheap mice is the spin-out factor which can be infuriating when trying to do a quick 180, this being said I've yet to experience any spin outs which I found quite impressive for a mouse retailing under £40/$40. The build quality of the 110 actually feels pretty solid but one area which was a little frustrating was the skates, they hadn't been aligned perfectly and you can hear friction occurring between that and the mouse mat. Annoying, but not critical. The RGB works well but is fairly basic unlike other brands such as Logitech or Razer and can be customized through the Steelseries software Engine 3 which I'll look into later. If you are a Steelseries advocate you will be happy to know that the Rival 110 can be synced via Prism with the rest of your SS products. Overall the mouse performed really well, the combination of a great sensor and a fantastic slim design really helped boost its likability.
Mouse Software
The driver software for the Rival 110 is Steelseries' Engine 3 which accommodates most of the new products from the brand. The software is very user-friendly and intuitive making optimization very simple but ultimately no simpler than the other branded software out there. The RGB settings are relatively simple but do have both a breathing and colour scheme function which looks kind of nice. You can customize the polling rate, CPI and angle snapping settings with the minimum of fuss but we would highly recommend against that if you want to be competitive. Buttons can be bound easily via the configuration tool and once you have established your favourite setup you have the ability to save the profile to the on-board memory for on the fly usage. At LAN's for example. Meaning you only need to set the mouse config up once then you can uninstall the software if you wish.
Our Verdict
So we come to our verdict, does the Rival 110 fit into the brands founded purpose of bringing high-quality gaming peripherals to the general public? Well, its predecessor hit the shelves in 2015 and was the successor to the Kana range, however, engineers didn't equip the 100 with the suitable technology to make it a great gaming mouse. Since then and due to high demand the guys at Steelseries have finally got their act together fitting the newly improved version with its top-quality gaming sensor the Truemove1 Optical making it a real contender with a fantastic price tag. However to keep the price in the budget category they've had to sacrifice the build quality which some consumers may find unforgivable. In conclusion, if all you want is a good sensor in a nicely designed shell then the Steelseries Rival 110 is a mouse to be seriously considered. This being said, if longevity and durability are high on your list of priorities you might want to consider something a little pricier.
---