Razer are one of the biggest names in the peripheral game. Whether you're looking to purchase a mouse, keyboard, headset, bungee, or mousepad, you'll most likely come across Razer's name somewhere along the way. While Razer are more commonly known for their impressive array of mice – Deathadder V2 and Basilisk V2 being two prime examples – they also have a very extensive list of headsets to their name as well. 
Today we'll be taking a closer look at something from the budget end of their arsenal, the Razer Kraken X gaming headset. This is a headset that comes to shelves boasting a sub $50 price tag, meaning it lands slap bang in the middle of a very competitive price pool. 
That being said, the Razer Kraken X is a fairly basic, no bells and whistles headset that caters to almost anyone's needs. That makes this headset a very attractive prospect – especially when you consider its lightweight design and hidden features. 
So, with that in mind, let's jump straight into it and see how the Kraken X gaming headset stacks up in price, performance, build quality, and sound. 
Video Review
Specifications
| | |
| --- | --- |
| Razer Kraken X Gaming Headset Specs | |
| Headphone Frequency Response | 12 - 28,000 Hz |
| Microphone Frequency Response | 100 - 10,000 Hz |
| Wireless | No |
| Battery Life | N/A |
| Drivers | 40mm Neodymium magnets |
| Weight | 250g |
| Cable Length | 1.3m |
Inside the Razer Kraken X box, we find the following items:
Kraken X headset
Y-splitter
Instruction manuals
Surround sound 7.1 download promotional code
[mks_col]
[mks_one_half]
Pros
A lightweight design that provides no strain on your head or neck
Comfortable seating around the ears
Good sound quality at this price point
Excellent microphone
Surround sound enabled
[/mks_one_half]
[mks_one_half]
Cons
Made from plastic
Cable isn't the longest
[/mks_one_half]
[/mks_col]
Setup
The setup process for the Razer Kraken X headset is an extremely simple one. The headset doesn't offer any removable parts so everything is "pre-installed" right-out-the-box. The only setup requirement for this headset is to simply plug the main audio cable into the splitter that comes provided. 
For PC gamers, this is an essential step in the setup process as it allows you to make use of the boom microphone it comes equipped with. The Razer Kraken X headset does offer simulated 7.1 surround sound. However, it does require users to have a copy of Windows 10 64-bit and Razers 7.1 surround sound application
Design
Razer has given the Kraken X headset a very understated design that works in both gaming and everyday scenarios – you know, if it wasn't for the static microphone that is. The Kraken X keeps the general design blueprint found across all the Kraken variations but does come in a little smaller than some of the most expensive options. They've opted for their all-black color theme – no surprises there – with three subtle points of branding found on each earcup and across the headband. The earcups have been lined with leatherette which, on one hand, feels quite soft, but on the other, doesn't offer a great amount of airflow. So, expect a few sweaty ear sessions if you live in hot climates.
They come equipped with large, circular ear cups that (as mentioned above) sport the subtle Razer snake logo in the center of both ears. Surrounding the Razer logo is a thin layer of metal mesh that seems to have been installed for aesthetic reasons only. 
The headset is almost exclusively made of plastic, not surprising at this budget price point, yet feels quite sturdy and well-made. The headband offers adjustment to ensure it sits comfortably on your head, with around eight settings to choose from. A thin layer of padding is found on the underside of the headband, however, it doesn't really feel that great in terms of comfort. 
The boom microphone sticks out and is non-retractable. Having said that, it is extremely flexible – thanks to its material makeup – meaning you'll be able to find the perfect position during game time. 
Overall, the design is probably a plus for me personally. The aesthetic is understated yet still "gamery", meaning it caters towards most user types. 
Build Quality
Like many gaming headsets of this price point, build quality is normally the first area that gets sacrificed in order to meet the budgetary requirements. However, upon initial inspection of this headset, that didn't seem the case. 
Like we mentioned above, the Razer Kraken is designed using plastic for the most part. However, while you might think that's a major downside, the headset actually feels extremely robust. After performing some fairly vigorous tests on the headset, we quickly came to the conclusion that the Krakens would almost certainly stand up to everyday usage.
Even though most of the fittings make use of simple screws and plastic, they all feel relatively sturdy and well put together. The headband has a decent amount of flexibility and offers up absolutely zero rattle. The adjustment feature is probably the most robust area of the headset, feeling absolutely rock solid – better than a lot of higher-priced alternatives. 
The microphone makes use of a flexible material that seems to be well-designed, however, we won't be able to test the rigidity of the microphone until we've used it for a longer period of time. The main cable feels, again, durable and isn't abrasive in the slightest. 
When you pair that with the lightweight design of this headset, you start to realize the great work that went into this budget headset. 
Comfort
Next up we have comfort, this is an area where initially, I thought the Kraken X's would fall a little short. However, I was pleasantly surprised with the results.
The Krakens come to the table equipped with two large over-ear earcups that sport leatherette covered padding. The leatherette feels fairly comfortable and provides adequate softness, however, due to the closed-back design of this headset, excess heat soon builds up around the ear making the entire experience a little uncomfortable, if truth be told. It does take a little bit of time for the heat to build up, so general users probably won't have too much of an issue here. 
The headset has an adjustable headband with eight settings available. This means even the biggest of heads won't struggle to find a comfortable seating position when using the Kraken X headset. The Kraken's have a lightweight design that is almost unrecognizable during extended gaming periods and doesn't really offer any pressure to the side of the head either. That goes for glasses wearers too.
Overall, the Kraken X was a very comfortable headset for the most part. If you don't mind the excess heat generated around the ears, you'll be very happy with how these feel.
Performance
Moving onto performance, I was actually pretty impressed with how the Razer Kraken X's performed. When you consider that this is a headset that comes to shelves at under $50, it really puts the headset's quality and value into perspective. Gunfire was easy to pinpoint and grenades could be heard from the other side of the map. Spatial awareness was extremely inviting and gave me a heightened sense of awareness when in-game – especially when utilizing the 7.1 surround sound. Overall, I was quite happy with what I was hearing. 
We didn't just test this headset in games though, I also put the Kraken's through a variety of other testing scenarios to make sure every possible user experience was covered. 
So, with that in mind, let's get straight into it. 
Sound
I started off by using these in a non-gaming scenario. I sat down and listened to a number of different musical genres to get a better understanding of the range this headset could provide. I started off by listening to some electronic music and, to my surprise, the Krakens sounded exactly as I had expected – quite good, but not groundbreaking.
The bass was probably the stand out feature of the headset because it provided that "boomy" characteristic that you find with bass-oriented headphones. For electronic music, the headphones sounded pretty damn good when comparing to other headsets of this price point. The melodies actually sounded pretty sharp and exciting, with basslines being easily recognizable amongst the mix. Other genres also yielded a similar experience, which to me, was a real surprise. Remember, this is a sub $50 headset. 
After watching a couple of clips from movies and TV shows, and coming to the same conclusion as I had reached while listening to music, I fired up the games to see what they could provide. 
The Kraken X headset comes equipped with 40mm drivers which, if truth be told, are pretty much what you can expect from budget headsets in today's market. They're OK, but nothing special. As with the music, the bass played a fairly prominent role in my gaming experience, making sniper shots and explosion sounds boomy – adding nicely to the immersive experience of the game. 
I fired up my go-to game when it comes to, well, anything – CS:GO. I played a couple of rounds of deathmatch and straight away, it was clear the headphones had pretty good spatial awareness. The gunfire sounded sharp and cutting, whilst the grenades and smokes were audible from a ways away. The 7.1 surround sound played its part on the gaming front, allowing me to accurately pinpoint enemies with confidence.
In previous posts, I've been a bit of a skeptic when it comes to 7.1 surround sound, and I still am if truth be told. However, on this occasion, I feel Razer have done a pretty good job and the feature actually added to my gaming experience – if only by a little. It obviously changed the sound queues in a way that I would say was a big positive when it came to gaming. So, good job on that one Razer. 
Microphone
The microphone, although fairly basic in both design and versatility, is probably one of the standout features of this headset. It sounded extremely good. 
The microphone has very good recording quality, offering a deep and full recording of my voice at almost every occasion. The voice clips sounded adequately loud and very clear, meaning teammates were never in the dark when it came to enemy positioning.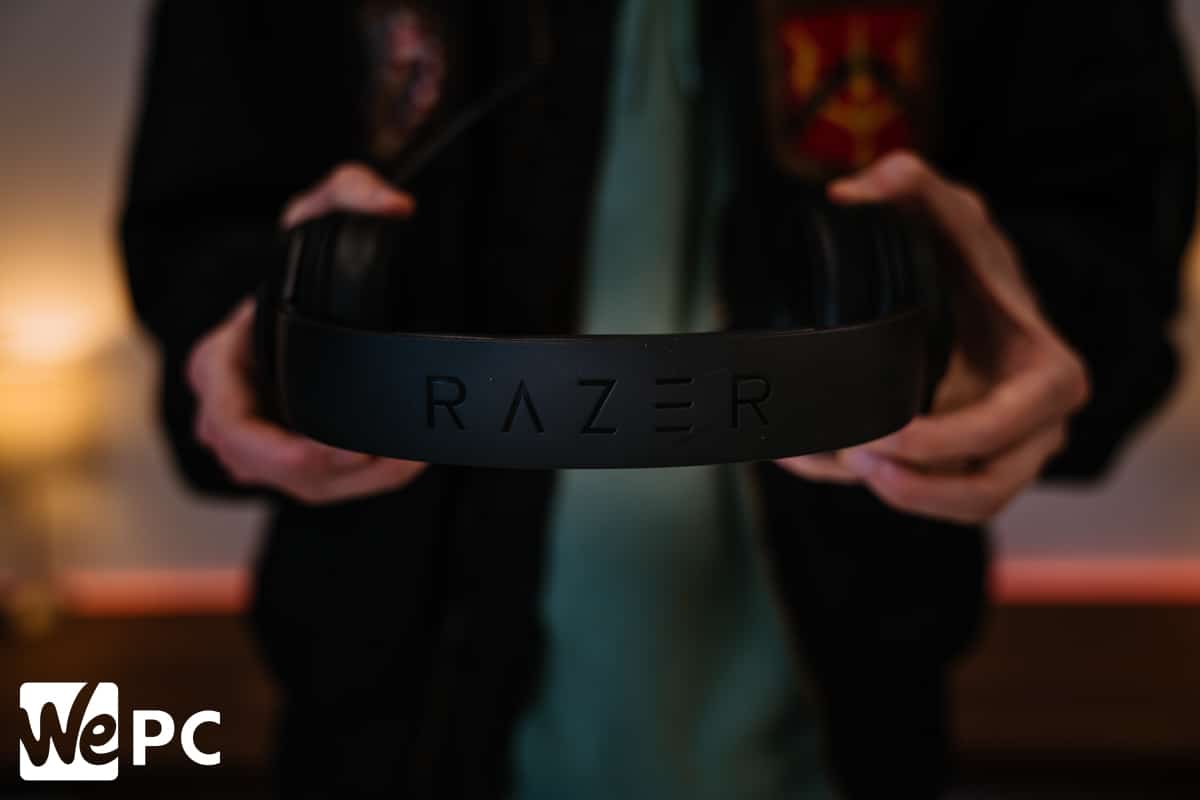 The boom microphone has built-in cardioid technology which helps provide a better recording of the voice from the fronts and sides of the microphone's pick up. Basically, it gives a better available range in which your voice can be picked up. 
On the downside, the microphone was quite sensitive to breathing and ambient noise. The ambient noise would reduce the quality of vocal recordings, but nothing too diminishing that I would steer you away from this headset. The microphone is also non-retractable or detachable, meaning if you want to move it out of the way, you'll simply have to bend it accordingly. Unfortunately, this was a little annoying for me personally, as the headset's microphone was almost in my peripheral view when not in use. 
Apart from that though, as far as $50 headset microphones go, this one has to be right up there. 
Features
Whether you're looking to buy a new gaming mouse or a graphics card, the features that come equipped with that hardware play a major role in your decision-making process. 
As for gaming headsets, that theory is pretty much the same. In the case of Razer's Kraken X headset, it doesn't come with a ton of features, but the ones it does come with, perform well. 
So, with that in mind, let's jump straight into it. 
Multi-Platform Support
Multi-platform headsets are nothing new. However, since the arrival of USB analog connections found in PC headsets these days, multi-platform versatility has become increasingly sparse. To ensure the Krakens targeted a wide range of gamers and users, Razer equipped the Kraken X headset with a standard audio jack that can be used with almost any device. Whether you're gaming on a PS4, XBOX ONE, Smartphone or tablet, you'll be able to easily and quickly get things set up and ready to go with this plug-n-play headset. 
Surround Sound
We've touched on surround sound already in this article during the performance section, but not in great detail. Surround sound, in this case, is 7.1 simulated surround sound. This is when your headset changes sound queues to make spatial awareness more realistic. 
As stated above, I've always thought this was a bit of a gimmicky feature, especially when it first came into practice. However, since then, the technology has come a long way and it actually worked quite nicely when trialing in competitive esports scenarios. 
Even though the technology isn't quite groundbreaking just yet, it's certainly moving in the right direction – meaning it goes near the top of the Razer Kraken X's feature list. 
Lightweight Design & Build Quality
Lightweight peripherals are becoming increasingly popular among esports players and hobbyists alike – just take the hugely popular lightweight gaming mice that now flood the market. 
The lightweight design of the Kraken X headset makes using this headset for long periods of time a real joy. With their adjustable headband, the Kraken X's really do offer high levels of comfort, to say the least. And while build quality isn't crazy impressive, it is still very good when comparing this headset to other similarly priced alternatives. 
Our Verdict
So, there you have it, our comprehensive review of the hugely popular Razer Kraken X gaming headset. We finally come to the last section of the review where we give our closing thoughts on whether or not we think the Kraken X's are worth your consideration and cash.
The Razer Kraken X headset is a budget offering that comes equipped with a no bells and whistles design and a feature list to match. However, the few features that it does have, it performs them extremely well. The sound quality – for a headset of this price point – is very good, and the microphone outperforms the price tag easily. Features that include a great aesthetic, lightweight design, and surround sound, all add to this headset's overall value for money. 
Ultimately, the bottom line is this. If you're in the market for a sub $50 headset that provides ample sound across both gaming and music platforms, can be used on almost any device, and has a great microphone – not to mention some additional features too – then this could very well be exactly what you're looking for. The Razer Kraken X headset is another fantastic offering in the budget headset marketplace.