Best Xbox One headset 2023
This step-by-step guide makes choosing the best Xbox One headset a whole lot easier
Updated: Jan 3, 2023 2:30 pm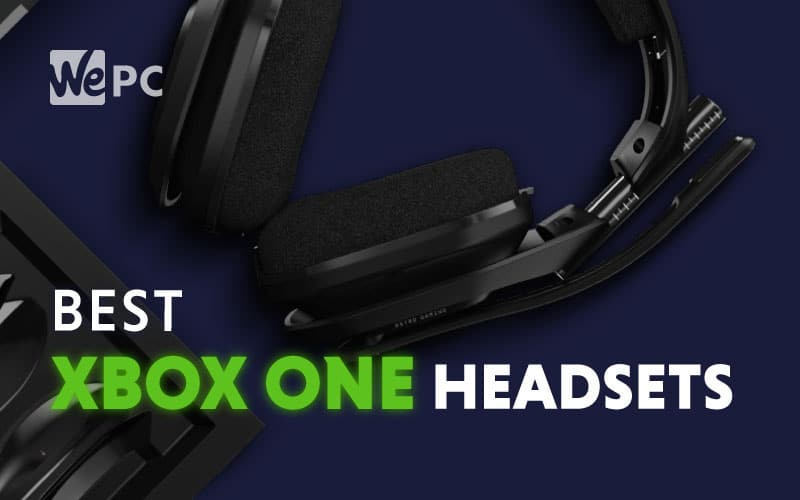 Today we're going to find the best Xbox One headset in 2022. Despite the console being close to 10 years old at this point, and being supersed by the Xbox Series S/X, it's still a capable gaming machine in 2022.
Additionally, the age of the console means that both the console itself, and the gaming headsets can be found for very reasonable prices. Annoyingly, Microsoft uses a proprietary audio codec, meaning that you have to get a specifically designed gaming headset.
So, let"s take a look at what's on offer in 2022 for the Xbox One.
Our Top Picks
01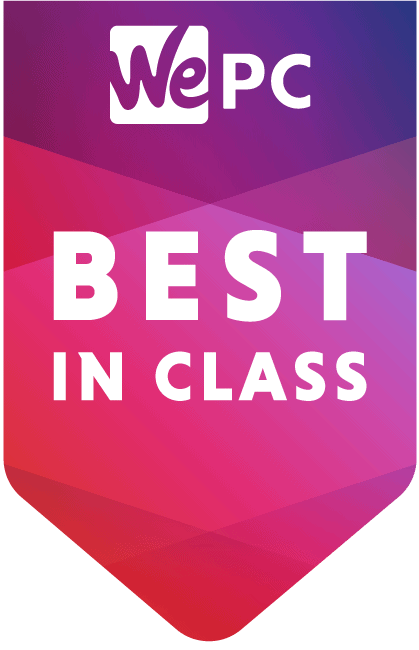 Best Wireless Xbox One Headset
ASTRO Gaming A50 Wireless Gaming Headset
02
Best Wired Xbox One Headset
ASTRO Gaming A40 Gaming Headset + MixAmp Pro
03
Best Alternative Wireless Xbox One Headset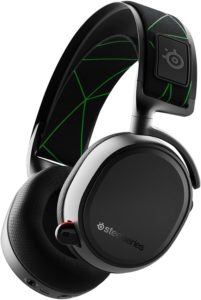 SteelSeries Arctis 9X Wireless Gaming Headset
How We Choose
Firstly, we consider all reputable branded models. We narrow down the vast amount of gaming headsets to meet specific important criteria; in this case, being compatible with Xbox One was high on the list of priorities.
With compatibility out of the way, we make our decisions based on sound quality, online reviews, and hands-on testing to ensure we are recommending a product that we, ourselves, would enjoy too.
Once we have our selections we bring them all into one place to make your life easier.
How We Test
Testing the products we recommend is one of the most important aspects of our best-of-guides, and something the team and I take extremely seriously. We don't just want to recommend the most popular products; we want to recommend the best products, regardless of reputation or brand.
How we do this is by physically going out and purchasing the products we recommend. Once we've acquired a shortlist of recommendations, we start by doing our independent in-house tests to make sure they live up to our standards. We use the headsets in real-life scenarios, whether it's gaming or music. We then whittle down our shortlist into a final five, which becomes our best in class.
Numerous team members will test each headset to provide a consensus instead of just one person's opinion. This will hopefully give a more rounded and accurate representation of what each Xbox One gaming headset offers.
Things To Consider
Immersion is important for modern game titles as a lot of time is spent on delivering perfect game audio. To fully immerse yourself into the game, you are going to want to choose the best Xbox One headset you can for your budget. Before you go and buy any old recommendation, there are a few factors for your consideration that will assist you in the process.
Sound Quality
Sound quality is one of the biggest factors when choosing a new gaming headset for your Xbox One. Now, it is worth noting that a gaming headset will never offer the same level of audio quality you may find from a standalone pair of headphones but the versatility makes them perfect for gaming purposes. The majority of gaming headsets are closed-back which offers great immersion and some passive isolation but a much smaller sound stage when compared to open-back.
Microphone Quality
Microphone quality isn't quite as important as it doesn't directly affect you. That being said, communication is a large part of competitive gaming, so having your teammates clearly hear your call-outs is only going to boost your gameplay. While broadcast quality microphones are hard to come by without spending a fortune, there are still some high-quality options out there but if you are looking to create content or stream, go for a standalone mic instead.
Comfort
Gaming headsets have come a long way over the last ten years, with even the lower-end budget options offering a sufficient level of comfort. Comfort is important as many gamers will play extended sessions that can last many hours. Poor comfort can become unbearable over time, leading to a sweaty, itchy head and resulting in you losing focus. Keep a lookout for features like memory foam padded headbands and earcups, great adjustment options, and premium materials, to ensure you have the best gaming experience on your Xbox One.
Surround Sound
Whether it's Virtual or true 7.1 surround sound, this technology, in some cases, can really immerse you into the game further. Surround sound's effectiveness really depends on the games you play but in many cases, it can help give accurate positional cues and give games a bit of extra depth.
Wired Vs. Wireless Xbox One Headset
Wired headsets for Xbox One, PC, or PS4 are still regarded as the best as they generally offer better audio quality, no interference, and no risk of dropouts. That being said, wireless technology is always improving, and we are getting to a point where there are some viable wireless options, even for the professional.
Now, a wireless gaming headset is almost always going to cost more than a similar spec wired model, and that is the price you pay for convenience. A wireless headset for Xbox One is going to be a very satisfying experience when paired with your wireless controller, but don't forget it will need to be charged!
We have ensured we include both wired and wireless selections in this article, so regardless of your personal preference, there are going to be quality options for everyone.
Isolation
Unfortunately, gaming headsets tend to have poor isolation, but this isn't really a bad thing as you are likely to be playing in a quiet room. Regardless, there are few options out there that are perfect for both gaming and using in the loud outdoors, but as long as you get a pair that fits your head well, you can benefit from some passive isolation.
The Our 5 Best Xbox One Gaming Headsets
In-depth Review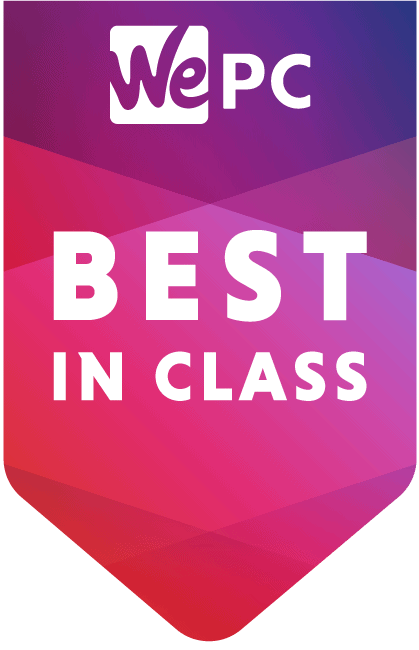 01
Best Wireless Xbox One Headset
ASTRO Gaming A50 Wireless Gaming Headset
Frequency range
20-20,000 Hz
PROS
Great audio balance
Durable design
Flip to mute mic
Very comfortable
Immersive surround sound
CONS
Not true 7.1
Design screams "gamer"
Expensive
The best available Xbox One headsets out there are the Astro A50 Gen4's. These are specifically designed for the Xbox and come with a plethora of attractive features.
The design is rather loud and certainly gives off a gamer vibe, but these offer a well-balanced sound. The Astro A50's Xbox One variant comes with a charging dock that features several different inputs. This pair of headphones boast 15-hours of battery life, which is more than enough as long as you remember to stick them back on the base station.
The bass feels punchy with these, and the clarity on the little details is superb. Overall, this headset has excellent audio performance, despite being closed-back. While these are designed for gaming, they also performed well with television and music but offered poor isolation.
The Astro A50 Xbox One headset offers comfort, durability, and quality, making them one of the best pairs we have had the pleasure of testing.
You can check out our full review of the Astro A50 Wireless Gaming Headset right here.
02
Best Wired Xbox One Headset
ASTRO Gaming A40 Gaming Headset + MixAmp Pro
Frequency range
20-20,000 Hz
PROS
Great audio balance
MixAmp Pro TR brings lots of controls to the table
Large sound stage
Very comfortable
Immersive surround sound
For the best-wired experience on the Xbox One, look no further than the incredible looking Astro A40 Gaming Headset. This model is the best-wired pair for your console and is mod-kit ready!
The design is rather loud and screams "gamer," but that doesn't mean these are not an attractive pair of headphones. The lovely white finish and metal clasps make this headset look premium. However, you are probably not going to want to take this outdoors.  These are built to last and feel incredibly robust, while also being supremely comfortable. You can easily wear these during the longest of gaming sessions, with the A40's having a great fit and soft feel fabric.
The sound is well balanced as you would expect from ASTRO Gaming, and these feature an open back design, giving you a larger sound stage and more accurate sound cues. Unfortunately, due to the design, they leak and have poor isolation, but the audio experience is still excellent. The microphone clarity is excellent, and it does a superb job of blocking out unwanted background noise.
Like the A50's the bass is punchy, and these will definitely improve your gaming from both an immersion and competitive perspective. Furthermore, the included MixAMP Pro brings a variety of extra connection options, which is great if you are into streaming.
03
Best Alternative Wireless Xbox One Headset
SteelSeries Arctis 9X Wireless Gaming Headset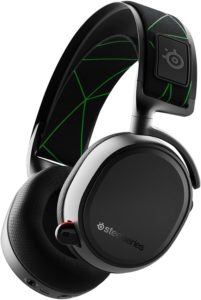 Frequency range
20-22,000 Hz
PROS
Great audio reproduction
Clearcast mic
Very comfortable
Durable
CONS
Not enough customization
Some may find them a little tight
For an alternative to the powerful Astro A50's, we recommend the SteelSeries Arctis 9X wireless gaming headset.  This features Bluetooth connectivity so that you can use this with your console or phone with ease.
The design on these is quite bulky, but the low-key aesthetics make this a more feasible pair for the outdoors compared to the A50 gaming headset. This will, of course, connect to your Xbox One directly as it is fully compatible, and you can simultaneously connect to the Bluetooth, meaning you can take calls while gaming! Furthermore, The Arctis 9X headset is good for up to 20 hours of play, so in many cases could last the week depending on how often you game.
These feature great audio reproduction and a very clear microphone. The sound quality is superb for gaming, both wirelessly and wired, with little to no latency. The bass is strong, and the treble is a bit sharp, but overall they provide a great, neutral, well-balanced listening experience. Whether you are gaming or listening to music, the SteelSeries Arctis 9X's have you covered.
With top-notch materials, powerful software to back them up, and great battery life, these are a solid option for the Xbox One.
04
Best Alternative Wired Xbox One Headset
Sennheiser GAME ONE Gaming Headset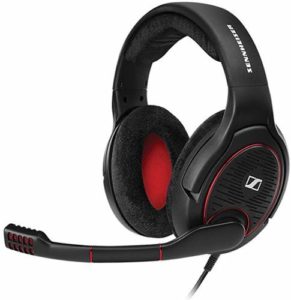 Frequency range
15-28,000 Hz
PROS
Great audio reproduction
Comfortable
Excellent mic performance
Durable
Premium materials
CONS
Basic design
Mic doesn't detatch
For an alternative to the bulky A40 gaming headset, the Sennheiser GAME ONE's are a great Xbox One option. These are a simplistic looking pair but come with the build and audio quality you expect from Sennheiser.
Despite being quite simplistic in the design, they are still a little too bulky for taking outside. Furthermore, the microphone isn't detachable, so they would look a little odd on the train. These are supremely comfortable and fit on a wide range of head sizes, thanks to the earcup design. The velvety-soft materials cushion your head and ears and keep these comfy for many hours.
While audio reproduction is open and balanced, you are going to want to mostly use these for just gaming. The open sound-stage makes these great for FPS titles and well most games out there. The bass is a little underwhelming, taking some of the immersion from shooters out, but overall they provide a good neutral listening experience.
The Sennheiser GAME ONEs offer Xbox One players a great audio option for gaming from a brand you can always trust.
05
Best Xbox One Headset Under $50
HyperX Cloud Stinger Gaming Headset
Frequency range
18-23,000 Hz
PROS
Very good build quality
Lightweight
Comfortable
Affordable
CONS
Low on features
Mic is not detachable
The HyperX Cloud Stinger gaming headset isn't just one of the best budget Xbox One headsets out there; it's one of the best for all platforms. These offer excellent build quality and audio reproduction for the price.
The design on the HyperX Cloud Stingers is very simple, with the only real streak of color coming from the brand's logo. Thes are budget and fit for purpose, so it makes sense that they are mostly plastic. The design is aesthetically pleasing for a budget headset, and they are a little bulky, although they weigh very little.
HyperX produces some of the comfiest headsets on the market for the money, and the Cloud Stingers are no exception. For such an inexpensive pair, there is more than enough padding to keep these comfy for hours on end. The earcups have a sufficient amount of room for your ears, and the clamp applied just the right amount of pressure to stop these falling off.
One of the best budget gaming headsets available and well worth the low price tag.
See the full review of the HyperX Cloud Stinger Headset here.
Final Word
The market is full of different wired and wireless Xbox One headset options, for a variety of budgets and needs. In our round-up, we have tried to bring you options that will further improve your overall gaming experience, regardless of if you are a hardcore competitive player or just a casual.
So, what Xbox One headset is best for you? Well, if you have a rather high budget, the ASTRO Gaming A50 wireless headset is seriously good, and its included charging dock makes them one of the most convenient pairs on the market.
Narrowly missing out on top spot was the ASTRO Gaming A40's, the wired brothers to the A50's. These, again, offer superior sound, comfort, and include a MixAmp, making them even more versatile.
For a cheaper wireless alternative, the SteelSeries Arctis 9x's are the way to go. These feature a great battery life, solid sound profile, and supreme comfort, all wrapped in a beautiful design.
For a more affordable wired option that doesn't compromise on performance, the Sennheiser Game Ones are a superb choice. This comfy pair features superb in-game audio, a crystal clear swivel to mute mic, and is compatible with pretty much every platform.
If you are tight on a budget, then the HyperX Cloud Stingers are a great way to go. This Xbox One headset offers excellent value, with great comfort, audio reproduction, and build quality, all for under $50.
Whichever Xbox One headset you go for, it will only enhance your gaming experience as let's face it, TV speakers suck. If you have recently bought a new pair, head on over to the WePC community and let us know which you think are the best.
---