Best mic for streaming 2023
The best mic for streaming you can get right now!
Updated: Jan 3, 2023 3:53 pm
Streaming can be an enjoyable hobby and even a path to lucrative success, but you'll need the best mic for streaming to ensure that you're bringing your viewers the best quality you can.
You'll need something that will isolate unwanted noise, capture your voice clearly, and connect simply and easily so that it can slot into your existing setup.
READ MORE: Pair your new mic for streaming with the best stream deck in 2023!
Let's have a look at the best mics for streaming that you can buy right now in 2023.
---
Rode NT-USB USB Condenser Mic
Comes with a pop filter and tripod

Compatible with standard shock mounts and mic stands

Cardioid pattern helps reduce background noise
Included tripod isn't as stable as we'd like
Rode has an inarguable audio heritage when it comes to microphones. And this heritage has turned into a deserved reputation.
This mic has received fantastic reviews for its audio clarity, ease of use, and simplistic setup process that allows it to quickly be added to your streaming setup.
Another great aspect of this mic is that it comes with a tripod and a pop filter. This means it's fully capable out of the box to improve the quality of your stream.
However, the tripod isn't the most comprehensive thing we've seen. Anything more than a gentle nudge will probably send it tumbling. Good for comedic effect, bad for longevity.
We fully recommend this as the best mic for streaming, if you're ok with the expensive initial investment.
---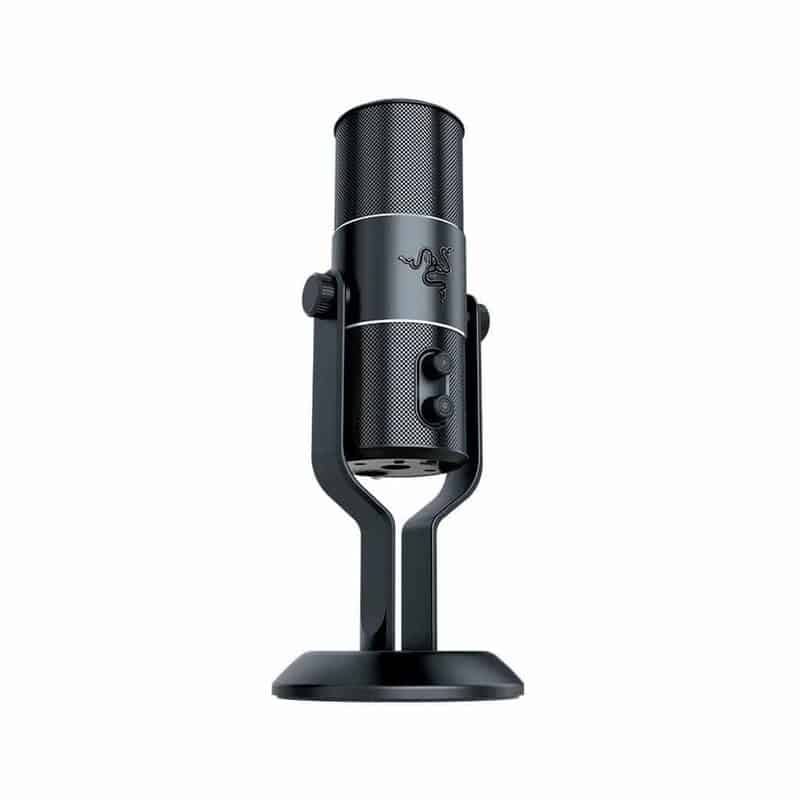 Cardioid, Bidirectional, Omnidirectional Stereo
Overkill for gaming, astounding for other purposes

Plentiful directional options

Best directional range

Best sensitivity

More reputable manufacturer, higher build quality
Extremely expensive for a gaming mic

Expensive in general

No included pop filter
Up your experience with the Razer Seiren Pro if you want the 12.5 mV/Pa (1kHz) sensitivity. It also comes with a high-pass filter that can lessen frequencies that's below
We thought there won't be any forms of flaws with the microphone but we were wrong…
The cost of all these premiums come at a price – literally. If you're willing to spend a hefty $200++ for a microphone you could use for YouTube gaming or streaming, this may be too much, especially for entry-level streamers.
However, if you're main concern is all about the highest possible quality for YouTube commentary, or perhaps you just want the best microphone for streaming, this is your stop.
Additionally, if you're already committed to Razer, this is the best mic for streaming that will integrate flawlessly with the Razer Synapse ecosystem.
---
Cardioid, Bidirectional, Omnidirectional, Stereo
Performs Way Better than the Blue Yeti

Professional-Grade Microphone

Elegant Build

Great Sensitivity

Supports USB and XLR

Massively Boosted Recording Resolution
Very Expensive

Price is Considered Disproportionate to Improvements
Professional YouTube gamers and hardcore streamers will find this perfect and great. The entire design and purpose of this build are specifically designed to meet the needs of these professionals.
Right off the bat, this requires a separate phantom power but since this can be powered using USB, you can do without one.
The build is basically similar to the Blue Yeti but this has more up its sleeves. One of them is that it's heavier than the regular Blue Yeti.
Overall, the Blue Yeti Pro screams premium like the Razer but is more inclined towards streamers who just don't play games but also stream music. Moreover, this is also great if you want to up your recording experience with the included XLR adapter.
---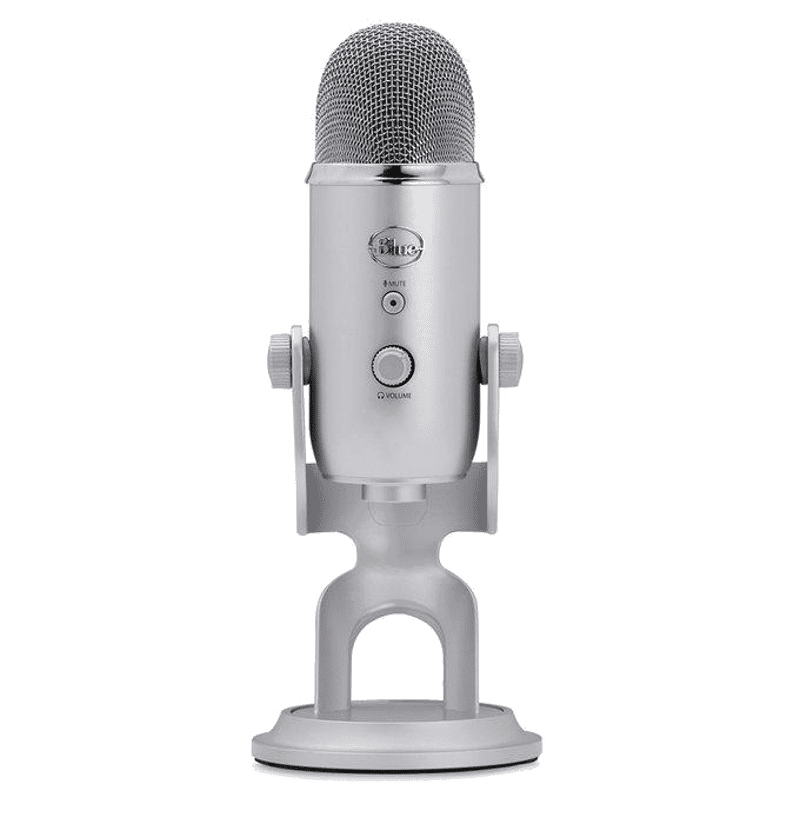 Cardioid, Bidirectional, Omnidirectional, Stereo
Plentiful Directional Options

Great Directional Range

Great Sensitivity

Outstanding Sound Record Quality

Higher Build Quality
A Little Expensive for a Gaming Mic

No Pop Filter Included
If you wish to go all professional but your budget is limited, then the Blue Yeti is the microphone for you.
For starters, this is a condenser microphone. However, a need for a separate phantom power can be avoided since this is a USB microphone.
This also shares the same physical traits and aspects as the Blue Yeti Pro.
At the front, you have the mute button and the volume knob. At the back, you'd see the gain knob and the polar pattern knob.
It's great that this isn't compromised, considering how cheap this is compared to the Pro.
READ MORE: Check out the best webcams you can buy right now to get that face front and center.
---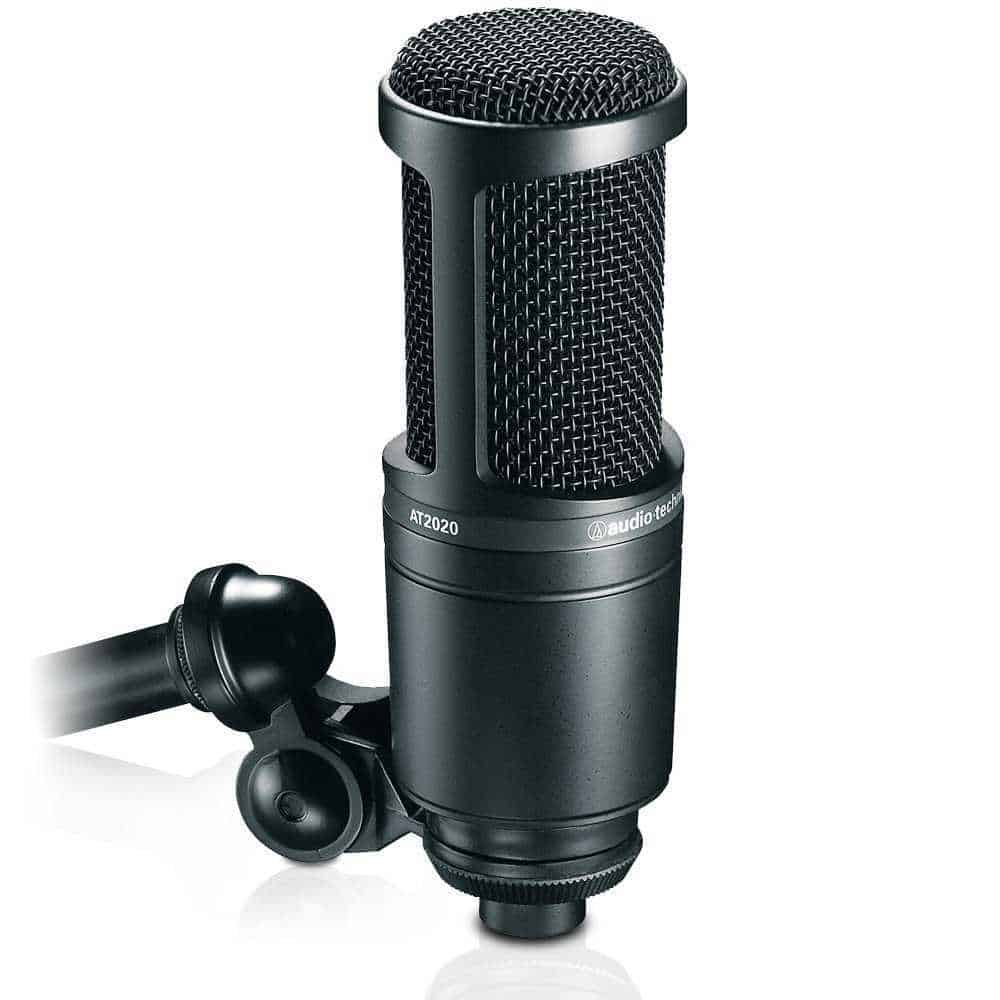 –48 dB (3.9 mV) re 1V at 1 Pa
Breaching into the high range

Solid build

Great sensitivity
Cardioid only

No physical buttons

No included stand

No USB compatibility
The audio technica AT2020 has gained a reputation among beginner content creators for its perfect balance between price and performance.
If you're after pure value for money, the Audio Technica AT2020 is where it's at. It doesn't come with anything extra like a pop filter or a stand.
Annoyingly, the barebones design of this mic necessitates a stand of some sort. So you'll need to grab a cheapo tripod or mic arm alongside it.
Luckily, it's fully compatible with any standard mic mounting system so you won't run into any issues there.
Overall, if you're after the best possible value for money and were planning on getting a mic stand anyway, the Audio Technica AT2020 is what you need.
---
Light and Compact

Cheaper in Price

Solid Build

Optimized for YouTube and Streaming

Built In Shock Mount

Zero-Latency Monitoring
Limited to Supercardioid Pickup Pattern

No Pop Filter Included
The Razer Seiren X is yet another product made by Razer and it packs up a lot of features for its price.
Looking at the build of the microphone, it's not something that you can expect to last because it has a plastic feel on the outside. After all, this is specifically built for on-the-go streamers.
Its light and compact design make it possible for you to travel with it and have no compromise throughout the travel.
Looking at the front of the microphone, you have a headphone volume knob and a mute button. Keep in mind that the volume knob is for your headset.
Thanks to zero-latency monitoring, you can hear your voice in real-time to see how you sound from your viewer's end.
Overall, this is a great mid-level gaming microphone that does a great job at producing quality sound output. If this still doesn't fit your budget, the next one should.
---
Best mic for streaming: Final word
Ultimately, it's your gameplay, personality, and showmanship that will get you the success you're looking for.
But having the best mic for streaming can't hurt either. Overall we'd recommend the RODE NT-USB as the best mic for streaming as its the most quality mic you can get without dipping into $1000+ music production audiophile levels.
---