SteelSeries Arctis 1 Gaming Headset Review
Updated: Apr 21, 2022 3:17 pm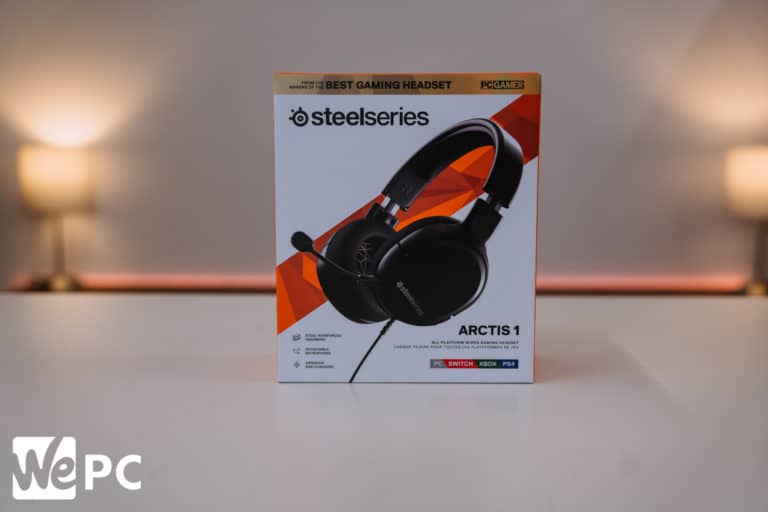 SteelSeries is well known for producing gaming headsets of reasonable quality, along with a few mice, and recently, some excellent gaming keyboards. The Arctis 1 gaming headset is the budget, low-end offering from the brands Arctis range, with limited functionality and a very simple design compared to the other models.
These are a decent pair of affordable gaming headphones, with good audio quality and a low-key design that makes using these for music on your commute very viable. The Arctis 1's are entry-level and may not be the best gaming headset out there but they come in at a competitive price point all the same. The value-for-money proposition won these a position in our SteelSeries Headset buyer's guide, which is impressive given how many headsets SteelSeries makes.
These are potentially a good alternative to the HyperX Cloud Stingers and could be a good option for those looking for a straight forward versatile pair, let's find out.
Video Review
[mks_col]
[mks_one_half]
Pros
Performance – Strong, reliable sound and microphone quality
Stylish – The simplistic design is visually appealing and more attractive for outside wear
Comfortable – Plush, breathable fabric earcups, that are removable
[/mks_one_half]
[mks_one_half]
Cons
Build Quality – These are a bit plasticky and feel like they could break but no audible creak
Headband – No ski-google headband like we see on the Arctis 3's and upwards
[/mks_one_half]
[/mks_col]
Specifications
Let's have a look at what you can expect in the box and have a brief run-through of the Arctis 1 specifications.
Inside the box, we see:
SteelSeries Arctis 1 Gaming Headset
Dual 3.5mm Extension Cable
| | |
| --- | --- |
| Headphone Frequency Response | 20 - 20,000 Hz |
| Microphone Frequency Response | 100 - 10,000 Hz |
| Wireless | No |
| Battery Life | N/A |
| Pick-up Pattern | Bidirectional |
| Weight | 272g |
| Cable Length | 3m (with extension) |
Design
At first glance, these resemble the Arctis line, with the slightly squared-off oval earcups and prominent plush covers. That, sadly, is where the similarities end but that doesn't mean these aren't still an aesthetically pleasing, functional gaming headset. These are almost entirely plastic, which we will come on to shortly, and the simplistic black look is one I favor. These don't scream "gaming headset" like a lot of the models we see on the market, making these quite versatile for the price.
Build Quality
The SteelSeries Arctis 1's are the cheapest headset I've reviewed from the brand so far, being mostly constructed of thin plastic. They don't feel very durable or study, despite being reinforced in the headband. It isn't all doom and gloom though, these have a lot of flex and yet no creaking, regardless of how aggressively I twisted them.
I don't want to be too harsh on the build quality as there are some redeeming features that I will touch upon shortly but despite being entry-level, these are nowhere near as robust as the Corsair HS60s.
These feel close to the HyperX Cloud Stingers, with that all plastic design, yet these have a bit more give in them and the overall looks are much more appealing. The microphone feels very durable even when being bent. The mic is flexible and has been keyed at the plug to ensure it always goes in the correct way.
Despite being plastic, the Arctis 1's aren't the most flexible when pulling the earcups apart. There is quite a lot of resistance, to the point where they feel like they could break.
In the hardware controls department, it isn't very exciting but importantly everything crucial has been covered.
On the left earcup, we see a volume scroll bar with a textured surface for easy sliding. The volume wheel doesn't infinitely scroll like some other headsets out there, which is something I'm always a fan of. Besides the volume is a mute-mic switch, much preferred over a button and this has a little notch for greater functionality when it is on your head. It is worth noting that the breathable earpads are completely removable, meaning you can always replace these if they were to perish.
Comfort
Overall, the SteelSeries Arctis 1's are a fairly comfortable gaming headset. There are certain elements that help with comfort here and a few parts of the headset that could have been improved but they are low in weight and have quite a snug fit. The padding is similar to that of the other headsets in the Arctis range, with slightly less cushioning and no headband support strap. Despite not having the stretchy support band, these distribute weight evenly and the plush earcups are breathable.
It is worth noting that these aren't the comfiest at this price point, with Corsair's HS range offering more in my opinion, with larger earcups and more headband cushioning. The clamping force applied just enough pressure to keep these on my head and the earcups were padded enough to keep them comfy. The tighter than usual clamp also creates a decent seal for the price point, although I prefer the more oval earcups on the HS60/70 headsets from corsair as I have big ears, I guess.
Don't get me wrong, despite being a bit circular, the earcups are the one comfy saving grace to this budget headset. The plush padding does a great job for comfort and there is enough there for gamers with glasses for sure. The Arctis 1 earcups feature the same "airweave athletic fabric" as the other more premium headsets do in this range. This material is soft to the touch and breathable to keep your ears dry and cool, even when exercising. My ears slightly touch the inner-wall at the top and, unfortunately, the material is a bit scratchy when compared to the Corsair HS70's, making these a bit uncomfortable when moving around.
These are incredibly lightweight, in fact, one of the lightest headsets I've tested weighing just 272 grams. If it wasn't for the pressure of the clamp you wouldn't really notice these on your head at all and I'm sure for the smaller heads out there these will be barely noticeable.
In terms of adjustment options, the Arctis 1's come with enough to keep most head shapes/sizes happy. The headband is reinforced with steel and can be easily adjusted, with its basic slider. There are no indication steps on the sides, so it's all rough guestimation when setting them up but this is never an issue for comfort.
The earcups have some tilt, around 10-degrees, catering for square and oval head shapes alike. The cups also feature a 90-degree rotation, meaning you can rest these on your shoulders in a more comfortable way when they are around your neck.
Overall these are quite comfy but if you have larger ears beware of the circular cups and lack of depth to the inner wall.
Performance
These sound pretty good out of the box, especially when considering how affordable these are. That being said, there is little to differentiate these from some of the competition at this price point and you could grab a pair that performs similarly for less.
These just plug and play, with no support for SteelSeries Engine software. This isn't a major issue as the sound quality is good enough for gaming and the mic does a stellar job too.
Sound
I found the Arctis 1's to be quite good for neutral listening, with decent bass, a solid mid-range, and more than adequate treble. Some may find the bass a little overpowering at times, with it getting in the way of vocal and instrumental detail at times.
The frequency response is actually a bit poor but the bass accuracy felt pretty spot on. The bass sounded deep, with accurate thumps in-game, and generally making bass-heavy music quite pleasant. The mids felt balanced and the treble performance was reasonably good, aside from impacting the detail of vocals and leads.

The isolation wasn't the best but the snug fit creates a good enough seal for use at home. Gaming was quite good when testing these out in a few shooters. Performance in CS:GO was similar to the competition, giving me accurate positional cues and general immersion. The stereo imaging was spot on and I felt like I could quite easily use these daily for gaming, with no need to adjust.
For closed-back earphones the soundstage is great and while the bass can sometimes get in the way, overall the 40mm neodymium drivers were superb for gaming and music.
Microphone
Despite being the entry-level model in the Arctis lineup, the microphone performs well. The Arctic 1's have a fully detachable, noise-canceling, Bidirectional mic. The mic attaches on the left ear cup and is keyed, meaning it can only go in one way. Having a mic that detaches is always a great option, it makes them a bit more commute friendly and for streamers or standalone mic users, you can get these going as part as your setup.
The mic has a frequency response of 100-10,000Hz and sensitivity of -38db. The recording quality of the mic is quite good, with my voice sounding particularly clear. This is what SteelSeries calls "ClearCast" and I had no complaints in Discord throughout testing. The Arctis 1 mic has very good noise handling and seems to be able to separate speech from noisy backgrounds, making these an option for LAN events.
The mic is good and I can honestly say you don't need anything better from a gaming standpoint. You wouldn't start broadcasting with something like this but you wouldn't from the highly regarded Corsair Virtuoso mic either. The mic is just flexible rubber and plastic but it does its job well, so no complaints here.
Features
This entry-level gaming headset isn't exactly packed with features but there is still plenty going for it. This model is available in wireless too but let's see what this affordable pair offers beyond design. These feature supreme comfort, solid adjustment options, breathable ear covers, and enough hardware controls to keep you satisfied in-game or on your commute.
Connectivity
The SteelSeries Arctis 1 gaming headset is compatible across the board, with pretty much every modern gaming device. This ships with a single "headset" 3.5mm jack, ready to plug into your PS4 or Xbox controllers. You can get console-specific versions of this headset but they are all the same, aside from differently colored inner ear walls.
These will plug right into your phone, Nintendo Switch, and PC if you have the single headset port on your case. Don't worry if you have the conventional pink and green jacks on your PC though as this comes with an included splitter, increasing the cable length to three meters.
Much like the HyperX Cloud Stingers or Corsairs HS60's, these are pretty basic so lack any major features. Sound accuracy and consistency are important features that the Arctis 1's get right though and while these may not have the same build quality as the HS60's, the sound and microphone performance is marginally better.
Our Verdict
The SteelSeries Arctis 1 gaming headset is a very good option at an affordable price. These sound great for both music and in-game. They are a bit bassy but I enjoy bass-heavy music and these worked a treat for that. Positional cues in-game were superb thanks to the great stereo imaging. The bass-heavy nature was great for games like Squad and PUBG, as it immersed you into the game, with explosions and gun sounds popping off all around. When it came to CS:GO, I would have liked to turn the bass down a bit as I felt it sometimes got a bit messy and interfered with small details that can be quite important to hear. That being said, footsteps were still heard at all times and these were a joy to use.
They weren't the comfiest headset I've used but the plush earcups are very pleasant and the breathable fabric is one I prefer over the faux leather style padding. The headband balances the weight well enough but I'd have liked to see more padding in this area to further improve the comfort.
The Arctis 1's offer good value for money and could give budget headset hunters a bit of a headache, with it slotting in closely to the Corsair HS60's and HyperX Cloud Stingers. You can go cheaper for the HS60's but I feel the sound and mic performance was marginally better with the SteelSeries Arctis 1's.
Overall these are a great budget option for gamers on all platforms.
---