10 Best PC Gaming Chairs of 2019: Reviews by Experts
Get Yourself the Best Gaming Chairs of 2019 to Game With Comfort
Buying the right PC gaming chair for your body and build can be hard. Aside from the hundreds of options to choose from, you have to consider price, materials, comfort, and features, like lumbar support. This is why we've only featured the most comfortable, ergonomic chairs, each of which could be considered to be the best computer chair in their own way.
We also included some key points to check before buying at the end of the article to ensure you're on the right track. If you're strictly on a budget, then skip this article and go straight to our best gaming chairs under $200 article instead.
#1
Lorell Executive High-Back Chair
TECH SPECS
Chair Type

Office

Maximum Load

250 lbs

Dimensions

31.9 x 23.8 x 14.4 inches

Sitting Height

17" to 21"
PROS
Affordable
Full back support
Great comfort & quality materials
Several adjustment options
CONS
Only supports up to 250 lbs
No headrest or lumbar support
The Lorell Executive High-Back Chair is the answer to those who are on a budget. It may cost less than $200, but it's still made of quality materials that should keep you comfortable even when gaming for extended periods of time.
In fact, it's the first thing you'll notice about the gaming chair: the large mesh on the back. While it's true that this is a very low-density mesh (because of how spaced the strands are), it's made of high-quality nylon that makes up for it. This also means it is breathable, so you shouldn't get too sweaty either.
While it might not be a traditional gaming chair-- it's more of an office chair-- it should keep you comfortable, nonetheless.
Herman Miller is known for manufacturing innovative designs, technologies, and related services that greatly improve the human experience.
At a glance, the Herman Miller Embody looks like a regular office chair, but you'll realize that's not the case the moment you sit on it. It's designed to enhance your health, improve your focus, and provide you with the best ergonomic support as you sit and play games for hours.
In fact, FX magazine it with their 2009 International Interior Design award for "Best Workplace Seating". It also won our "Best Gaming Office Chair" award, which isn't a real thing, but we would totally invent it just to give it to this chair.
#2
Homall Gaming Chair Racing Style
TECH SPECS
Chair Type

Racer

Maximum Load

300 lbs

Dimensions

32.7 x 15.3 x 29.1 inches

Sitting Height

17.7" to 20.9"
PROS
Very affordable; often on-sale
Full back support
Headrest & lumbar pillow included
This does cost only around $100-- Amazon says it's on sale for about half price, but it seems to have spent the last several months on sale-- so there are flaws with the chair that we'd like to get out of the way. For instance, this doesn't have an adjustable armrest feature, like other gaming chairs. It's also notably larger than many other racing chairs, so you might want to make sure it's not going into a tight space.
Still this is outweighed by its positive features. At a glance, you'd mistake the Homall Gaming Chair Racing Style for a premium racing chair. And in some ways you wouldn't be wrong since it is a quality chair with a sharp aesthetic. Oh and it has a lot of features you'd expect from high-quality gaming chairs, such as:
Body conforming seat and back

Removable headrest and Lumbar Support

A heavier, solid frame

Premium polyurethane leather seat

Reclining back seat
You're also a bit limited when it comes to color selection as it only comes in blue, black, and white. It also isn't the most comfortable racing chair on the market. It should be fine enough in most situations, but it might be a little stiff for some.
PROS
Affordable
Breathable mesh back
Several color options
Unique lumbar support
CONS
Armrest adjustment is limited
The Respawn 200 is considered a budget/entry-level gaming chair because it's $100 cheaper than most mid-range gaming chairs for the same or similar performance.
The chair is comfortable enough for most users. It has a breathable mesh back and includes a neck/headrest as well as uniquely-designed lumbar support that's inconveniently buried behind the plastic mesh backing (you can see it in the picture taken from the back on Amazon). You can only adjust the lumbar support from the side vents, unlike most gaming chairs.
The armrests are made of plastic and aren't padded. Unlike other gaming chairs, they are limited to 2 adjustment features: height and depth adjustment. Personally, we wish this has an in and out adjustment feature to fit narrow-shouldered and larger people well.
If you don't like red, it comes in other colors, too, such as blue, green, and grey. One thing we don't like about the chair is the glossy plastic finish that's very susceptible to scratches, which can easily tarnish the chair's look. We really would've preferred a matte finish.
#4
OPSEAT Master Series PC Gaming Chair
PROS
Many color options
Quality construction & material
Has headrest & lumbar support
A little more expensive than the Respawn 200 but still affordable enough for most gamers is the OPSEAT Master Series PC Gaming Chair. Along with the more expensive price tag is the better, higher-quality materials and a little more cushion than in the budget category.
This chair is heavily inspired by racing chairs and is covered with high-quality polyurethane (synthetic) leather. The back is also perforated, which helps to dissipate some of your body heat.
It also has lumbar and neck headrest pillows; however, instead of using regular pillows, OPSeat ensures you're getting the best by using cold molded foam material-- a type of foam that contains air pockets for outstanding long-term comfort.
It's also worth noting that the neck headrest is reversible and can be installed easily... unlike the lumbar support. To install the lumbar pillow, you will have to feed the support through the base of the seat to the back space of the chair and then over the top and into the two triangular holes and finally buckled back on the backrest of the seat. It's worth the pain, but removing it a replacing it isn't exactly easy.
The seat also features a 180 degree reclining back and a 4D armrest for maximum comfort. Furthermore, there are plenty of color options to choose from-- which is great so you can pick the right one for your theme and your personality.
#5
Vertagear S-Line SL2000
TECH SPECS
Chair Type

Racer

Maximum Load

220 lbs

Dimensions

20.9 x 20.5 x 55.1 inches

Sitting Height

Up to 19.5"
PROS
High-quality PVC leather material
Cheaper than premium gaming chairs
Plenty of color options
CONS
Lumbar support is rather firm
Despite it not being one of the more well-recognized gaming chair brands, make no mistake: the Vertagear S-Line SL2000 offers the same level of comfort and options as premium gaming racing chairs. This includes lumbar support, a large color selection, and an ergonomic design. The only difference is the price.
Vertagear is slowly making a name in the gaming chair industry and the S-Line SL2000 is no exception. The Vertagear S-Line SL2000 offers the same premium feel of DXRacer, AKRacing, and Maxnomic chairs but at a cheaper price.
Its build quality is comparable to the more popular racing gaming chair brands, but its lumbar support and other cushions are a little more stiff than competition. Some people prefer firm pillows, anyhow, so this might not be a problem. However, if you like softer cushions, you might want to see if you could find one at a local store before purchasing.
Another cool thing about the SL2000 is the fact that the adjustments are ergonomically placed under the armrest for convenience. The base also lets you glide easily and functions smoothly like the adjustments under the armrest. Its PVC leather is also water and stain resistant, so you shouldn't worry about spilling water, soda, or beer.
#6
DXRacer Formula Series DOH/FH08/NB
PROS
Very durable construction
Quality material
Armrest comes in various size
CONS
Expensive
Construction may feel firm at first
One of the more popular choices in the mid-range gaming chair category is the DXRacer Formula Series DOH/FH08/NB. It's a high-quality gaming chair albeit with more flaws than its popularity might hint at.
Starting off with the color options you can choose from: white, grey, red, blue, orange, pink, and green. The materials are made of high-quality durable materials such as faux leather material, which can last for years. True to DXRacer's claim, this material keeps the user from overheating and sweating and while doing a good job at repelling moisture, unlike many gaming chairs.
Packed with other features like the 3D adjustable armrests, adjustable height gas-spring, adjustable backrest, neck headrest, lumbar support, and adjustable seat flexibility, this chair provides nice customizability that helps give you a comfortable sitting experience.
It's just unfortunate that the chair doesn't have tilt-lock. You can lock it to prevent it from reclining at all, but you can not lock it in place once reclined.
#7
X Rocker 51396 Pro Series Pedestal 2.1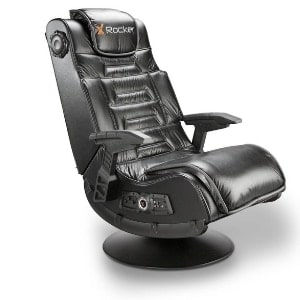 TECH SPECS
Chair Type

Rocker

Maximum Load

350 lbs

Dimensions

28.5 x 23 x 23.5 inches

Sitting Height

15.24" to 20.32"
PROS
The elevation is more comfortable for taller people
Wireless audio setup
Offers comfortable sitting experience
CONS
Only has 2 colors to choose from
Inconsistent price; often too expensive
The pedestal will wear down some time
The X Rocker 51396 Pro Series Pedestal 2.1 is specifically made to give console gamers maximum comfort and a stellar gaming experience. In fact, this is loaded with several desirable features.
Thanks to an ergonomic design and high-quality upholstery grade vinyl, you can relax in the chair comfortably with your neck and back supported for hours while gaming. What sets this rocker apart from other rocker gaming chairs is the pedestal, literally. (Is it still a rocker if it's not on the ground to rock?) We hate to put it on a pedestal, but this arguably makes it the best rocker gaming chair.
You won't have to worry about compatibility since this rocker gaming chair is compatible with all game consoles on the market, like the Xbox One, Xbox 360, PS3, PS4, Wii, and Switch.
It's also versatile enough to connect to multiple chairs together for a more immersive gaming experience with friends. The wireless audio feature can also be used to connect to the radio and other audio interfaces.
It's also worth noting that this chair seems to somewhat regularly fluctuate between around $150 and $250; obviously, we'd recommend waiting for it to be cheaper. If you're interested in finding other console gaming chairs, check out our best console gaming chair article.
PROS
Quality build
Improves health
Plenty of adjustments
Durable material
CONS
Most expensive chair on our list
Takes some time to get used to
Herman Miller is known for improving the human experience with their innovative designs, technologies, and related services. We hate to sound hyperbolic, but they're really a next level company.
At a glance, the Herman Miller Embody looks like a regular office chair, but you'll realize that's not the case the moment you sit on it. It's designed to enhance your health, improve your focus, and provide you with the best ergonomic support as you sit in it; whether that time is spent working at an office or playing games is up to you.
FX magazine awarded it with their 2009 International Interior Design award for "Best Workplace Seating". It also won our "Best Gaming Office Chair" award, which isn't a real thing, but we would totally invent it just to give it to this chair.
The overall build quality is just unique. The ergonomics of the chair outperform the comfort of the DXRacer, AKRacing, and even Maxnomic racing chairs. This is easily the most comfortable gaming chair we tested.
Some have complained that this chair takes awhile to get used to since there are several different knobs and levers you can adjust to get a perfect fit. This is true, but once you really nail the proper feel, the Herman Miller Embody exceeds basically every other chair on the market.
#9
Noblechairs Epic Gaming Chair
TECH SPECS
Chair Type

Office

Maximum Load

265 lbs

Dimensions

26.4 x 27.9 x 55.1 inches

Sitting Height

19" to 23"
PROS
Premium design and materials
Great for tall people
Real leather
Plenty of color options to choose from
CONS
Expensive
No full-recline back
The noblechairs Epic Gaming Chair is one of the more affordable premium gaming chairs on the market. It's just sad to think that it isn't for everyone. To be clear, this isn't ideal for short people. You'll have to be at least 6 feet to experience the quality comfort of this premium gaming chair.
The base seat is firm, but when you take into account the other cushions-- the backrest and headrest-- that are made from cold foam cushioning material, as well as its tilt, it's still pretty comfortable.
In our experience, there weren't really any flaws with the build because everything from the ground up is made of high-quality material. There's even a real leather option you can choose upon purchase aside from the two other types of leather: polyurethane leather and nappa leather.
The chair is made of very durable high-quality materials that will last for years. In fact, even the caster wheels feel sturdy and smooth. It's like you're gliding on ice-- but in a good and controllable manner.
Heat is properly expelled and regulated at the back because of the redefined ergonomics. Everything about the chair including the design is stellar-- just that this doesn't have a full-recline back feature like the rest on the list.
#10
Noblechairs ICON Gaming Chair
TECH SPECS
Chair Type

Office

Maximum Load

330lbs

Dimensions

26.38 x 27.17 x 53.94 inches

Sitting Height

18.3" to 22.2"
PROS
Great for minimalists
Quality materials
Real leather gaming chair
CONS
Costly
Armrests aren't padded
Only 3 colors
Last but not least in the premium category is the noblechairs ICON Gaming Chair.
As expected from a premium gaming chair, this has quality materials like genuine leather and that makes a huge difference in the comfort department. The rest-- aesthetics, ergonomics, and durability-- are also high quality.
It's made of polyurethane leather material that makes it worth investing. Moreover, it's loaded with complex adjustability features to ensure you get to experience the best position possible. So regardless if you have a narrow or wide shoulder, the 4D armrest adjustment feature ensures you will fit in just right.
This also comes with a lumbar support and neck headrest like any other gaming chair. But it's made of high-quality branded velour fabric covering-- an incredibly soft, plush material that guarantees outstanding comfort and experience.
Everything about it feels good but there's one flaw we noticed about this chair: it's the hard plastic armrest. Had it been padded, this would have been exceptionally good.
Gaming on a console is more fun when you are sitting near the floor, according to… someone? Rockers are usually on the ground-- although the one we featured actually isn't-- and often don't have legs and as such can't be swiveled. But they can be rocked!
Other than being on the floor, rockers usually have comfort features in line with a lot of gaming chairs, like headrests, lumbar support, etc. For this reason, some prefer gaming in rockers over sitting on the couch. This is particularly true if your couch is far from the TV.
Premium rockers may have control panels, vibration motors, and wireless speakers that all provide a more immersive gaming experience, at least on paper. It is important to browse gaming chair reviews because rockers have been known to have low-quality speakers, or problems where the wireless features pick up interference.
In the gaming chairs industry, PC gaming chairs are the most common. In fact, other streamers would prefer the best PC gaming chair over racing gaming chairs.
Unlike rocker gaming chairs, these have swivels and height adjustment features as well as neck and lumbar support like racer gaming chairs.
Critical areas of the body such as the neck and the back need to be well-supported when gaming and sitting for extended hours. This is why most PC gaming chairs have detachable headrests and lumbar support to address this need. These come in a variety of forms-- ranging from soft to hard-- and materials.
PC gaming chairs may be very similar to racer-type gaming chairs but they have a noticeable difference in a number of areas.
Unlike PC gaming chairs that use a variety of materials such as plastic and mesh, racer gaming chairs are more inclined towards using PVC leather and even genuine leather.
Racer gaming chairs are known for their very complex adjustment features. Aside from the basic caster, armrest, headrest, and lumbar support, racer gaming chairs also often have tilt, swivel. Some even go so far as to support pedal/wheel support pads, gas/brake foot pedals, and even third-party steering wheel pads to maximize gaming experience.
The most immediately obvious difference between office chairs and the other types of chairs would be their more traditional, comparatively muted appearance (although some do have rather noteworthy designs and colors).
Office chairs rarely have headrests or lumbar support, unlike PC and racer gaming chairs. But they're still good at supporting your spine and back, nonetheless. Moreover, office chairs usually only have basic adjustment features to help you maintain the right sitting posture. Specifically, these let you adjust your armrest, back, recline, and height.
There are a handful of types of office chairs in the market such as mesh chairs, task chairs, stacking chairs, and guest chairs. Others are even designed for specific uses:
Conference chairs

- designed to provide the best relaxing position since meetings are focused on communicating.

Ergonomic office chairs

- designed to alleviate back pains and give you maximum back support while maintaining proper sitting posture.

Executive chairs

- have casters and wheels for easy maneuverability. Moreover, they also have a high backrest for maximum back support.
First, we checked forums and saw what Twitch streamers and professional eSports gamers were using.
After stumbling upon a lot of reputable gaming chair brands, namely: Maxnomic, AKRacing, Omega, and DXRacer, we decided it's best to rate the chairs according to the following categories:
Gaming chairs are designed to provide the utmost comfort when sitting for long hours. Material quality may give you an idea of how it feels when you sit on it, but there's often a large difference between two chairs that use the same materials. That brings us to...
Finding an ergonomic gaming chair is one of the common problems people have. Even more so since a lot of gaming chairs are claimed to be "ergonomic" while not really being that.
So, what really makes a good ergonomic chair? Well, that's a great question. A question that requires an engineering degree to truly answer.
As a consumer, it is usually best to keep in mind your height and weight and then use that to find a chair. After all, there is no guarantee that a gaming chair marked as "ergonomic" will fit everyone else's body dimensions. For instance, if you're slender, then a chair with an armrest that is too far apart isn't going to make you feel comfortable.
In addition to that, the chair should also fit with the rest of your setup, especially your desk.
Another thing that's as important as comfort is the metal frame under the fancy colors and design. A good gaming chair should have a high-quality metal frame underneath.
Needless to say, because our list is composed of gaming chairs from reputable gaming chair manufacturers, it's almost a guarantee that the metal frame will last for years. In fact, most manufacturers offer a lifetime warranty for metal frames. So make sure you check the manufacturer's website to have a look at the frame design and material.
Most chairs are going to do the basics: swivel, move around, tilt some, etc. But there are optional functionality features you might be interested in. For instance, some gaming chairs can do a full-back recline. Some of these can lock in place and stay reclined at certain angles.
There are even gaming chairs that come with mounts for other gaming peripherals, such as:
Steering wheels

Pedals

Audio inputs and outputs

Vibration motors
Needless to say, these usually come on mid-range or premium chairs. There are also a lot of varied, unique features out there, so you might want to look into more of your options if you're trying to find something particular.
Why Gamers Need Good Ergonomic Chairs
Gamers sit for extended periods of time and, unsurprisingly, this can pose various health risks.
The best ergonomic chairs are specifically designed to offer gamers the utmost comfort while keeping them seated in a healthy sitting posture at the same time. This is why you'll find lumbar support and headrests on racer and PC gaming chairs.
Some other features you might want to look for when finding a chair that contours your body are:
height adjustments

tension control

backrest lock

seat pan slider

armrest height and width control
You might also want to consider different materials when buying a chair. For instance, mesh provides better breathability while leather might be a little more comfortable.
In turn, being more healthy often directly correlates with being more comfortable. And being more comfortable means you are less distracted while gaming.
Features Of A Good Gaming Chair
You've seen all the products above but chances are you're still confused at this point. So, what exactly are the features that make a good gaming chair?
Here is a quick summary of the features that comprise a good gaming chair:
Support
Adjustability Features
Durability
Compatibility With Other Devices
Neck headrest and lumbar support are the most common support-features found on good gaming chairs. The right neck headrest and lumbar support ensure your lower back is properly supported. This also prevents and reduces your back pain, which greatly improves your mental focus and your performance in the game.
If you always find it hard to get comfortable, you have special needs, or you just like to have customization options, then you might really value some of the following adjustability features:
Seat height adjustment

Armrest adjustment

Tilt adjustment

Recline adjustment

Back height adjustment
Just keep in mind: the more of these features you get, the more expensive the chair will end up being.
A good gaming chair should be made of durable materials. No one wants to buy a gaming chair only to need to replace it within the next 3 months or so. Typically, you would want the frame to be made of strong, long-lasting materials like steel.
As for the padding, armrests, and body of the seat, you should look for materials such as, but not limited to:
cold cured foam

memory foam

polyurethane
Compatibility with Other Devices
Aside from being compatible with a console setup or a PC setup, there are gaming chairs that are compatible with other devices, such as:
steering wheels

racing keyboard stand

flight simulation pack

monitor stands/mounts
Generally, these input devices let the user experience their games in new ways, but require obtuse sitting arrangements. Because both chairs and these devices are expensive, it is vital that you take your time to understand the compatibility you are looking for.
How To Choose The Best Gaming Chair For You
When looking for a good gaming chair, it can be hard to finally choose one, but the methodology you use to choose that chair doesn't have to be complex. Here are a few things to keep in mind once you've narrowed down your final options.
Like any purchasing decisions, your budget is really important. The one notable thing about gaming chairs is that their price and quality varies so drastically. Ultimately, it can be hard to convince yourself to spend a lot on a gaming chair when an expensive one technically does the same thing as a cheap one. On the flipside, if you sit in a comfy one, you might never want to go back. Either way, if you take into account the below things and a general amount you either could or would be willing to spend, that will do a lot to cut down an overwhelming amount of options.
You may wish to test chairs prior to buying them. The most obvious solution is to find a physical location to actually test them out at. Some furniture retailers carry different brands of office chairs, for instance.
Determine Your Weight and Dimensions
How much do you weigh? How tall are you? What are the dimensions of the chair? All of these things will inform your decision.
You will want to ensure the chair supports at least 20 lbs above your common weight. Height is important since taller people will want a chair that goes high enough and short people don't want a chair that is too high. You also want to make sure your chair will move close enough to your desk. Moreover, if you have broad shoulders, a wider chair might be better while the opposite would be true of a more petite person.
How Are You Using This Chair?
There are a lot of questions to ask yourself when buying a new gaming chair.
Do you plan to also use it in a professional setting?

If yes, then you might want an office chair instead of a racer.

How long do you plan on using it?

Some of these chairs are really well made and it is not out of the question that you could use it for 20 or 30 years (Editor's Note: I'm using a 30 year old La Z Boy that was handed down to me). If so, then you might want to put more aside for it.

Do you plan on moving it around?

If you are attending gaming sessions at a friend's house or you move often, these are extra considerations. Some of these chairs are really heavy. You also want to make sure it's durable in case it takes a tumble.

Are you sweaty?

I know it's gross, but you're not answering to us. If yes, it's nothing to be ashamed of. You just might want a more breathable mesh material. If you stay cold a lot, then leather might be a better option.
Do you have any special needs (or wants)? Got a bad back? Prioritize lumbar support. Want to play racing sims? Prioritize a racing chair that can mount a wheel. This is a wide-ranging question, but it's important to reflect on what prompted you to look into getting a good chair in the first place.
Balance Comfort and Aesthetics
Some say beauty is pain; others insist comfort is the be all end all. Thankfully, you don't have to sacrifice one for the other in the world of PC chairs.
Even if you don't care that much about aesthetics, you can find a black or gray chair that is comfy and stylish. If you do, then there a lot of options for most chairs. Most manufacturers are very aware that consumers like customization options. If you are not seeing something that is striking on this list, there are many other options out there. Keep searching until you find something that fits your personal gaming setup.
In general, you'll almost immediately know whether you are open to both racer and office/PC chairs or if you're really favoring either the more hardcore or traditional aesthetic respectively. Internalizing this will likely rapidly speed up your search.
With all these things in mind, it should be easy for you to make the right selection on your next gaming chair purchase. If you end up getting one of these chairs, or have an awesome chair you'd like to recommend, we'd love to hear about it in the comments. Oh and if there's something else you find important in a gaming chair that we didn't mention, then tell us and we might even add it as one of our pieces of advice!