Best Herman Miller chairs 2023
We Help You Find the Best Herman Miller Gaming Chair
Updated: Apr 12, 2023 2:35 pm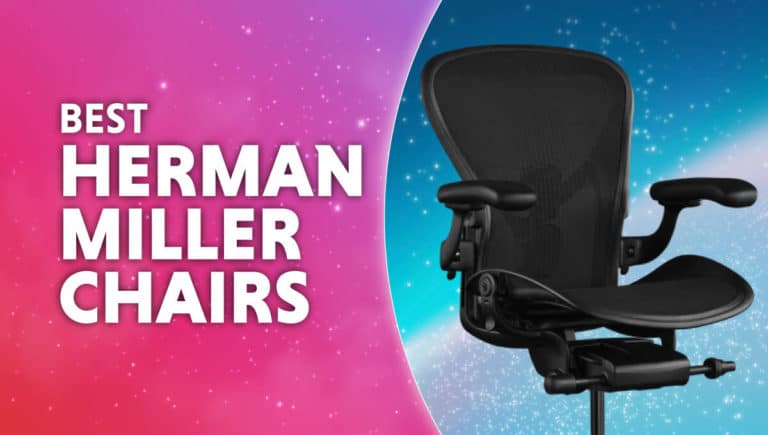 01

The best of the best

Herman Miller Aeron Chair

02

Budget pick

03

Gaming pick

Herman Miller x Logitech G Embody
We're taking a look at the best Herman Miller chairs of 2023 today, as we think you guys deserve a built of help finding a good place to park your asses.
Despite the pandemic being mostly behind us, working from home has continued to grow in popularity, with swathes of office workers more than happy to ditch the commute and work from the comfort of their own homes.
Herman Miller is a company from the US well known for producing high-quality, ergonomic office chairs as well as other furniture, though they have recently branched out into producing a line of gaming-focused products as well. Of course the line between an "office chair" and a "gaming chair" is extremely blurred – ultimately they both prioritize comfort and support when sitting at a desk, with adjustability being important, as well as of course aesthetic appeal.
The Herman Miller Aeron chair is perhaps the best-known chair from the brand, with its signature mesh construction. This chair has been used as part of the set design for many a Hollywood film and tv program and is championed by both presidents and pop superstars.
---
Best Herman Miller chairs: products at a glance
Herman Miller Aeron Chair
Herman Miller Embody Chair
Herman Miller x Logitech G Embody
Harder to find at retailers
---
Best Herman Miller chairs: reviews
For their Aeron, Embody, and Sayl models of chairs, Herman Miller has released "gaming editions" of these chairs. Despite some creative marketing, the only difference between these chairs and their non-gaming counterparts is the aesthetics, and they typically come at a bigger markup in price. We can only recommend these chairs if you have the cash to spare and aesthetics is particularly important to you, otherwise, stick to the non-gaming Herman Miller chairs.
Herman Miller Aeron Chair
Typically provides discomfort-free seating for 8 hours+

Great longevity

12 years warranty if new

Breathable mesh

Easy to clean

Very high value retention

Different sizes
Even largest size might not suit very tall people

Lumbar support adjustability could be more flexible

Non-cushioned

Harder plastic on sides uncomfortable for non-standard seating position

Many adjustment features cost extra
The Aeron is the classic Herman Miller chair. Its mesh material is the signature feature of the design and it can be seen in The Avengers movies as the favored office chair of Tony Stark, as well as supporting Hugh Laurie's frame as the curmudgeonly Dr. House.
The mesh material is both breathable (making it well-suited to those of us with warmer bodies, more prone to perspiration) and less prone to absorbing smells than conventional fabric. It is also easier to clean. All of this adds to its longevity and very high resale-ability and value retention (more so than any other Herman Miller chair, excluding special edition ones). Aeron's can sell second-hand for around 90% or higher of their original price, as long as the warranty sticker is intact. The Aeron is known for being tough, again something that the non-fabric mesh design helps with, and you can expect great durability with one of these chairs.
Of course, the mesh feel isn't for everyone, some prefer a more cushioned chair, and for those people, we would recommend looking at another model (the Mirra 2 for instance).
Support on the Aerons is outstanding, however, for the occasional user who wants maximum adjustability with the lumbar support, the Aeron may be slightly more limited compared to say the Mirra or Mirra 2 (see below). Especially tall people may also find the back support of even the largest size of the chair (the Aeron C) a bit limited compared to the Herman Miller Embody; even though the stated maximum height reaches up to 6ft 5", those above 6ft 2" may wish to consider the Embody instead. Nevertheless, the fact the Aeron comes in three sizes is a benefit vs all other Herman Miller chairs.
If you are a person who likes to sit with their legs spread particularly wide, or even sit with them folded on top of the chair, the hard plastic on the sides of the Aeron will potentially inhibit your comfort. It should also be noted that whilst the Aeron can come with a great many options for adjustability, allowing you to tailor your seating experience to provide maximum support, these cost extra when compared to the base model. If you want an Aeron with all the adjustability trimmings, look for a "fully loaded" version of the chair. Finally, the 'gaming edition' of the Aeron is basically just a fully black version for several hundred dollars more – i.e. not worth it.
Herman Miller Embody Chair
Typically provides discomfort-free seating for 8 hours+

Taller than the Aeron

12 years warranty if new

Cushioned seating

Different material options

Custom color schemes

High value retention

Everything included in the price
One size only

Limited lumbar support adjustability

Fabric not very breathable

Fabric can retain stains and smells
The Herman Miller Embody differs from the Aeron in several noteworthy ways. The seat has taller back support, making it more suitable for those above the height of 6ft 2" or thereabouts that might have issues with the biggest sized Aeron (though it should be noted, some people of this height find the Aeron C quite suitable). Unlike the Aeron, the Embody only comes in one size, however, so shorter people may find it a bit on the large size.
The second biggest difference from the Aeron is that the Embody is made from fabric, rather than plastic mesh, which has its pros and cons. On the positive side, it provides a more cushioned seat for those who want this, on the negative side, the fabric material is less durable, harder to clean, less breathable, and more prone to absorb smells over time. There are three options when it comes to the fabric material. In ascending order of price: Medley is the entry-level material, which is rougher to the touch and tends to have less durability, Sync is softer and provides more padding but is less breathable, Balance is the most breathable and has more of a sheen to it but can be a bit more slippery.
Generally speaking, the Embody offers a similar level of ergonomic support over prolonged sitting periods as the Aeron. Like the Aeron, lumbar support is great for most people but some may find the adjustability lacking in this area. Unlike the Aeron all of the adjustable functionality is included as standard with the Embody – i.e. every Embody comes 'fully-loaded'.
Finally, the Embody comes with more color variant options than the Aeron, allowing further aesthetic customization for those who want it. The Embody Gaming Chair (released in partnership with Logitech) is again functionally identical to the normal version of the chair, but, in our opinion, the aesthetic differences are more noteworthy than on the Aeron gaming edition. Whether you deem it worth the extra money is up to you!
Budget Herman Miller chair
Typically provides discomfort-free seating for 8 hours+

12 years warranty if new

Cheaper than the Aeron but with similar features

Good lumbar support adjustment

Custom color schemes
One size only

Size may not suit taller people

Few third party accessories available

Harder to find at retailers
The original Mirra chair (simply referred to as 'Mirra') has been discontinued by Herman Miller and replaced with the Herman Miller 2, but you can still pick up second-hand and refurbished versions of the original Mirra online. The original Mirra is somewhat similar to the Aeron in that it has a mesh design, but with fewer adjustability options, the biggest difference being that the seating section has foam padding underneath the mesh, providing a more cushioned seat but one which is more prone to absorbing stains and smells over time. The Mirra 2 dispenses with the padded seat of the Mirra, and so is even closer to the Aeron in design (though again still with fewer adjustability features).
The Mirra 2 is typically around 20% less expensive than the Aeron, which is something that makes it attractive to many people. Despite this, it can be harder to get hold of the Mirra 2 compared to the other chairs on this list, as it has less availability at different retailers. For this reason, there are fewer accessories (such as the aforementioned Atlas headrests) for either version of the Mirra.
Both Mirras only have one size option, which is of similar dimensions to the Aeron C. Consequently, very tall people may once again find that the Mirra or Mirra 2 chairs are not quite tall enough for their needs. Both Mirras do however have superior flexibility of adjustment in their lumbar support compared to either the Aeron or the Embody. Both Mirra and Mirra 2 also come in a range of different colors which is wider than you get with the Aeron, although there is not yet a gaming edition available for the chair.
Harder to find at retailers
Discomfort-free seating for extended periods, but less than other HM chairs

12 years warranty if new

Breathable mesh back

Cushioned seat

Extensive color customization

Relatively affordable for a HM chair
One size only

Size may not suit taller people

More limited adjustability

Harder to find at retailers
The Sayl chair by Herman Miller is the least expensive of the chairs on this page by some margin, the cheapest configurations selling for under $550 brand new. The price for this is less adjustability compared to the other Herman Miller models detailed here.
Whilst the back is mesh, allowing for maximum breathability and easy cleaning, the seat is of a cushioned fabric. This obviously has its advantages to those who feel the need for more padding on the seat than the Aeron provides say, so some may see it as the best of both worlds. Clearly, however, the fabric seat makes it more liable to wear over time and absorb stains and smells.
Like most Herman Miller chairs the Sayl is one size only, it is also the shortest chair on this list so the least suitable for taller people. Whilst the Sayl does have many great ergonomic design features to support you, most people are unlikely to get the same level of comfort for 8-hour plus periods at a desk as they will from the other models on this list.
Color customization for the sale however is extensive and by far the best out of any of the other Herman Miller chairs on this list. The Sayl gaming edition chair is again a purely cosmetic upgrade for significantly more money, but it at least looks more impressive than the Aeron one. Finally, whilst more common than the Mirra or Mirra 2, the Sayl is a bit more difficult to find at retailers than either the Aeron or the Embody.
Herman Miller x Logitech G Embody
Typically provides discomfort-free seating for 8 hours+

Taller than the Aeron

12 years warranty if new

Cushioned seating

Different material options

Custom color schemes

High value retention

Everything included in the price

Exclusive blue and black color scheme
One size only

Limited lumbar support adjustability

Fabric not very breathable

Fabric can retain stains and smells

Priced higher than the normal Embody chair
You knew we had to include the Embody Logitech x Herman Miller collab somewhere on this list. As we alluded to earlier it's identical to the Herman Miller Embody chair, but with a Logitech-designed black and blue color scheme that we find straddles the line between minimalist and striking. As it's identical in function to the Embody you get all the same features present in that chair, which happens to be a lot.
In fairness, we can only recommend this chair to those of you who are willing to spring the extra cash for the unique color scheme. This might be especially tempting if you're a long-time fan of Logitech and like the idea of matching your chair to your pre-existing Logitech keyboard and mouse.
We also feel compelled to mention here that the Herman Miller x Logitech G Embody gaming chair is special as it's one of the very few chairs that come entirely pre-assembled. Just open the flaps of the box and the chair will roll out like a new car off the forecourt, which is a pretty special experience.
---
Things to consider
As with any chair, there is a lot to consider because furniture is a true investment. For chairs we specifically look for good ergonomics, material choices, and build quality. Given that we're discussing pricy Herman Miller chairs here, we expect a lot for our money. Let's have a look at what you'll need to keep in mind when shopping.
12-year warranty
Almost every Herman Miller chair comes with a 12-year warranty as standard, which covers parts and labor, whenever you buy them new. This is a uniquely long period of time for an office/gaming chair and reflects the quality of the brand and its durability. Make sure you keep any receipt documentation from when you purchased the chair and do not remove the stickers attached to the underside, as this will provide proof of the date the warranty began.
If you pick up a Herman Miller chair second hand, officially speaking the warranty does not cover you; however many people have found that, as long as the sticker is intact and you manage to get the original receipt from the previous owner, you may still be able to get it refurbished – just do not mention the fact it's second hand! Ultimately this is a bit of a gamble and just depends on how lucky you get with your local dealership/repair people.
Note: before you attach any accessory (such as a headrest) to your Herman Miller chair, be aware that if any damage is done by said item it will void the warranty. At the time of writing there is one exception to this: 'Atlas headrests', so we would strongly recommend picking them above any other headrest.
Price & durability
Herman Miller is an iconic brand of chairs with fantastic build quality, and for both these reasons, they are not cheap. Depending on the type of chair, whether it's a special edition or not, and how crazy you go with the add-ons / additional customization, Herman Miller chairs can cost between $600 – $1,900. Ultimately though, given the back support the ergonomic design of these chairs offers (what's more valuable than your health?), coupled with the 12-year warranty, they can arguably be of good value over time, as long as you are selective about what features you really need.
Herman Miller chairs have uniquely high-value retention for a well-known furniture brand, often returning 80%+ of the original value on resale, in rare cases perhaps above what you paid for it. So unless you break yours and can't get a replacement under warranty, selling on your Herman Miller chair should you need/want to is very viable. As indicated above, keeping hold of any original paperwork and keeping warranty stickers intact will help preserve resale value.
Ultimately the best way to think of a Herman Miller chair is as a great long-term investment with a steep initial buy-in cost. If you're strapped for cash then a more budget offering would be more suitable for your needs, or alternatively, Secretlab chairs offer a great alternative that occupy the middle price range and come with a maximum 5-year extended warranty. If you're looking to buy just one chair though that will last you for at least the next 12 years and potentially save you on expensive trips to a physiotherapist years down the line, then you'd be hard-pressed to find a better option than a Herman Miller!
Refurbished/second-hand Herman Miller chairs
Unusually, the market for secondhand and refurbished Herman Miller chairs is bigger even than the market for new products. Such is the widespread use of these products in offices and businesses that they are often sold off in bulk when a business closes down. The quality and value retention of the chairs is another reason for this. When shopping for a Herman Miller chair online, be careful to make absolutely sure that the chair is new and comes with a 12-year warranty, provided this is what you are looking for. If you're looking for a secondhand version, make sure you consider everything in the sections above before you buy it.
Herman Miller size, support & ergonomics
One of the selling points of Herman Miller chairs is the great support they give your back for extended periods of time sitting at a desk, whether it be for working or gaming. Their superb ergonomic design is well known and every chair listed on this page can be expected to give you support for extended sitting periods of around 8 hours plus.
With the exception of the Herman Miller Aeron chair, all Herman Miller chairs come in one size only. The one reported drawback this brings is that for some especially tall people, some of the shorter models may not offer a sufficient level of back support. This means that you should be aware that not all Herman Miller chairs will suit your specific body type so it might be tricky to find the right size. We will mention this below in our reviews where applicable.
Ergonomics is something about which we are very passionate here at WePC. The chair can be as comfortable and as well-built as anything, but if it's ergonomically lacking, it will only do you harm. Let's take a brief look at what ergonomic features we need to see in a Herman Miller chair.
Lumbar support
Adjustable lumbar support is, without a doubt, the most important aspect of ergonomics when it comes to chairs. In short, correctly configured lumbar support gently coaxes your spine into its natural S-shape, which more closely mirrors its position when standing upright. Additionally, it helps keep the pelvis centered, as prolonged twisting of the hips can result in aches and other such discomforts.
Adjustable arms
Another linchpin of a good ergonomic chair is height-adjustable arms. These allow for the shoulders and elbows to be positioned at a healthy height. This can help reduce the incidence of carpal tunnel syndrome and it even allows your chest to be in a more open position, allowing for greater levels of respiration.
Adjustable tilt
Admittedly, this is less of an ergonomic focus and more of a comfort consideration. A good-quality tilt mechanism can make a chair far more versatile as it allows for more freedom of movement, depending on the content you're consuming at any given moment. Some chairs even come with a tilt lock, also known as a tilt limiter which allows you to set it at a certain angle, meaning you don't have to put effort into shifting your balance to overcome the tension to prolong said tilt.
If you didn't go for a chair with adjustable seat depth, then applying a small tilt and locking it can produce a similar benefit, albeit not nearly as effectively. However, all these features don't mean anything if you don't sit correctly. Let's see how to do that.
Make sure the top of the monitor is about level with your eyeliner when sat up straight
Sit with your lower and upper back pressed against the backrest
Adjust the height of the chair until your knees are at a 90-degree angle
Keep your feet flat on the floor. If you're particularly short, a footrest can help with this
Herman Miller chairs: Final word
This has been our buyer's guide to the best Herman Miller Chairs; we hope it has helped you decide which one is right for you. Be sure to check out our other guides on Secretlab chairs and the best budget gaming chairs. If there's anything else you would like to see added to this page, please let us know in a comment below.
---