AMD vs Intel 2020: Which Should be Your First Gaming CPU?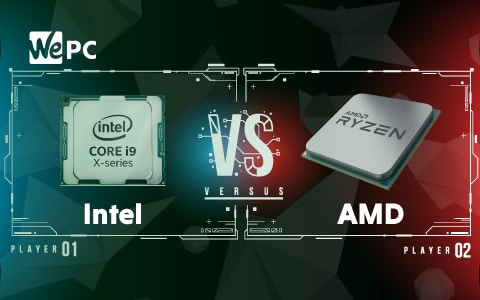 Choosing the right CPU (central processing unit) is one of the most important decisions you'll make when building your PC. The processor you choose will ultimately determine which motherboard you can equip your build with, which in turn can affect the compatibility of other components.
So, AMD vs. Intel, which should you go for? Well, that's mostly down to your requirements, but with AMD's recent Zen 2 processors, the AMD vs. Intel decision just got a whole lot harder.
In this piece, we're going to discuss some of the main differences between the two CPU brands and what they bring to the table in an easy-to-understand way.
Cue the Mortal Kombat music, FIGHT!
To get started, let's take a look at how we'll be comparing the two brands.
Battle For The Top: AMD Vs. Intel - A look into sales figures, market share, and year-over-year growth.
Specification and Price -

A look at each processor and its specifications. A look into the cost, value, and price analysis.

Performance - A look into how both AMD and Intel processors perform for gaming and general multitasking.
Integrated Graphics - A look at the pros and cons of using integrated graphics, what they are, and which brand does it best.
Overclocking -

Which processors are locked and unlocked for overclocking, and what you will need to do so.

Upgradability/Longevity - 

Some processors and motherboards can be used for multiple generations, some only a single generation.

Availability and Support - A look at product availability and compatibility.
Brand Speculation - A look at what is coming next from AMD and Intel with new releases and some exciting developments.
MORE: Best CPUs for Gaming
What Are All These Acronyms?
Since this is an article that helps introduce some of the fundamentals about CPUs, let's briefly go over some of the terms you're about to see. 
Cores and threads are both parts of a processor. Cores handle various tasks, so the more you have, the more tasks your computer can handle simultaneously. At its most basic, threads also help handle more information. Generally speaking, a CPU can only work on one thread per core (CPUs with hyper-threading can work on up to two threads per core).
Clock speed, or Gigahertz (GHz)
Clock speed, measured in GHz, is how many cycles your processor runs. So the higher the number, the faster it is at getting things done. A higher clock speed means you can handle one specific task better.
XFR (extended frequency range) speed and TB (turbo boost) speed both refer to the higher speeds you can get your AMD and Intel processor to run, respectively.
For those out there that are struggling to understand this concept, let's try an analogy. If the CPU in this instance was a factory, then having more cores and threads would be like having extra factory workers. This would mean a higher Gigahertz (GHz) would be like having a faster workforce.
It's worth noting that all of the CPUs we talk about below have varying levels of speed, cores, and threads, meaning they all have specific pros and cons. 
TDP, or Thermal Design Power
This is a measure of how much heat this component is expected to give off. Despite being measured in Watts, it is not a measure of how much energy it consumes. Instead, it's used so that you know how much cooling you will need to provide to your computer.
This is perhaps the most simple aspect of the processor. A socket here works like any other socket in that it refers to what it can fit into. CPUs can only fit onto motherboards that support their socket type.
Battle For The Top: AMD vs Intel
If you're looking for a new CPU, you'll be happy to hear that there are currently only two major players to choose from; Intel and AMD. Lucky for you, these two CPU powerhouses are at war, and it's making processors more powerful and affordable than ever before.
It's been one-way traffic for as long as I can remember, thanks to Intel providing consumers with stand out performers year over year. However, AMD has decided enough is enough.
Since AMD released its 1st gen Ryzen range, we've seen the gap between Intel and AMD reduce considerably. In 2019 AMD released its 3rd gen of Ryzen CPU's, which has brought some unbelievable performance at those classic low AMD prices.
It's an exciting time for consumers as it might be the first time we see AMD edging ahead of Intel in the war for CPU dominance. Now, we wait for Intel's riposte.
As most will know, Intel has always been the dominant force when it comes to overall revenue and stock sales. I mean, until recent history, no one really bothered with AMD processors because the Intel market was so strong in both the performance and price categories. 
However, since Ryzen's new 3rd Gen CPUs hit shelves, that trend might finally be starting to sway in AMD's favor. Let's have a look at some figures to see how each company is trending.
These figures are based on the last ten years and do not include the Q3 2019, which is when Ryzen's 3rd Gen CPUs went live.
AMD's quarterly revenue shows figures that suggest a rocky road, with a clear dip in 2016. However, from Q3 2017 onwards, we have seen a clear upward trend, which led to AMD's highest quarterly revenue in Q2 2018. Great news for team red.
We did see a small dip at the start of 2019, but I can only imagine that was due to people waiting for the new CPUs. 
How were Intel fairing during this time? Let's see.
Intel's sales were seemingly unscathed during this time, and if anything, also increased at a similar rate. Where AMD recorded a new quarterly high, Intel also saw the same spike in its own revenue figures — recording its highest quarterly revenue in Q3 2018 over the last ten years. That will probably be down to the impressive 9th gen CPUs, which were so popular during that time. 
One glaringly obvious stat that I'm sure you've picked up on is the difference between the two companies. At the moment, all the noise is coming from AMD. However, Intel is still creating over ten times the quarterly revenue. That's a huge difference and a lot of ground for AMD to make up.
So, what can we take from this? Well, we can safely say that Intel is still, not including Q3 figures, killing AMD on the revenue side of things. 
That being said, maybe taking a closer look at the Year over year quarterly growth will display more interesting stats.
Year over year growth for Intel sees them start 2019 with back-to-back dips in growth. Furthermore, since 2012, Intel has recorded equal gain/loss quarters. Not great reading from a team blue perspective. 
Even more so when you compare this data with what AMD is posting.
You can see straight away that the gain quarters outweigh the loss quarters. AMD's growth has been slowly increasing since the backend of 2013, and I can only see the trend continuing for Q3 2019 and onwards. 
Even though a small dip was posted at the start of 2019, I can only see Q3 2019 going one way, and that's up. Especially with the release of Ryzen 3rd Gen. 
For example sake, one German retailer showcased figures that would suggest AMD now had an 81% market share over their bitter rivals. 
The data below was compiled by Reddit user Ingebor.
Intel is going to have to do something pretty drastic if they want to change the tide back into their own favour. Right now though, it's hard to see what's next for team blue.
AMD vs Intel Market Share
We see both AMD and Intel processors being used in desktop PCs, laptops, tablet computers, and servers. Now, while Intel has been the market leader in the CPU realm for quite a significant time, AMD hasn't stopped growing in strength, especially since the latest CPU architecture release.
From 2014 to 2018, Intel's revenue grew from $55.9B to $70.8B, and AMD's from $5.5B to $6.5B. Despite the dominance of Intel, both companies saw a very similar average revenue growth rate of 6.2%(Intel) and 6.4%(AMD).
So, where is the revenue coming from?
As you can see from these figures by Trefis, both manufacturer's main source of revenue comes from China, with the US only accounting for half as much for both Intel and AMD products.
AMD has always been associated with affordable processors, but this was due to their products being entry-level. Now though, with the introduction of Ryzen, we see AMD can hit the high notes too, and the balance of power begins to shift.
With the release of AMD's new Zen 2 processors, they have truly established themselves as a high-end CPU manufacturer. While Intel CPUs range from 4 to 18 cores, AMD now features up to 32! Not only that, AMD's 7nm Zen 2 chips are considerably cheaper too.
Going off specifications, the Ryzen 9 3900X competes with the $1100 Intel Core i9-9920X for only $490! That is an incredible value from the manufacturer, and it is a common pattern with all of their new CPUs.
AMD takes the lead on the mid-range CPU bracket too, with the Ryzen 7 3700X smashing the Core i7-9700K in general. The Intel Core i7-9700K is by no means a slouch, and it is regarded as one of the best for gaming. Despite this, the 3700X has twice as many threads and still comes out cheaper than its Intel counterpart.
AMD offers further bargains in the HEDT processor department too. The AMD Threadripper 2990WX costs a whopping $1700, and while that may seem a lot, it's still around $250 cheaper than its Intel rival, the Core i9-9980XE.
The Threadripper beats the XE chip in most ways apart from gaming, but this isn't exactly a processor your average gamer would buy. With twice as many cores and nearly 30 more threads, the value you get from AMDs 2990WX is excellent.
Intel offers a CPU for everyone, even those looking for a power-friendly build. With the low TDP, the low power T processors are a clear winner.
Every Intel Core processor also includes a basic GPU built-in, but these are basic graphics and are really only suitable for basic usages, like word processing. That being said, not all AMD CPU's have onboard graphics cards either, it's only their APU range. 
In AMD's corner, we have the Ryzen line of processors. First introduced in 2017, it was quickly a big hit with the consumer market for its high core/thread count and low cost.
Until the release of Ryzen, AMD's CPU lines had been stagnant, and significantly behind Intel on speed and multithreading.
AMD decided to offer higher clock speeds, more threads, and cores in the hope of bridging the gap between themselves and Intel. Even though they were still behind, Ryzen brought AMD back into the competition for the gaming CPU market.
Let's take a look at what the Ryzen line of processors offers.
Ryzen 3 entry level
| Ryzen 3 | Core/Thread | Base | XFR Speed | TDP | Socket | Price | Graphics |
| --- | --- | --- | --- | --- | --- | --- | --- |
| Ryzen 3 1200 | 4/4 | 3.1Ghz | 3.4Ghz | 65W | AM4 | $69.95 | No |
| Ryzen 3 1300X | 4/4 | 3.5Ghz | 3.7Ghz | 65W | AM4 | $85.54 | No |
| Ryzen 3 2200G APU | 4/4 (8GPU cores) | 3.5Ghz | 3.7Ghz | 65W | AM4 | $86.99 | Vega 8 |
| Ryzen 3 3200G APU | 4/4 (8GPU cores) | 3.6Ghz | 4.0Ghz | 65W | AM4 | $94.99 | Vega 8 |
Ryzen 5 mid-level
| Ryzen 5 | Core/Thread | Base | XFR Speed | TDP | Socket | Price | Graphics |
| --- | --- | --- | --- | --- | --- | --- | --- |
| Ryzen 5 1400 | 4/8 | 3.2Ghz | 3.4Ghz | 65W | AM4 | N/A | No |
| Ryzen 5 1500X | 4/8 | 3.5Ghz | 3.7Ghz | 65W | AM4 | $133.99 | No |
| Ryzen 5 1600 | 6/12 | 3.2Ghz | 3.6Ghz | 65W | AM4 | $117.49 | No |
| Ryzen 5 1600X | 6/12 | 3.6Ghz | 4.0Ghz | 95W | AM4 | $146.45 | No |
| Ryzen 5 2400G APU | 4/8 | 3.6Ghz | 3.9Ghz | 65W | AM4 | $134.58 | Vega 11 |
| Ryzen 5 3400G APU | 4/8 | 3.7Ghz | 4.2Ghz | 65W | AM4 | $139.99 | Vega 11 |
Ryzen 7 performance level
| Ryzen 7 | Core/Thread | Base | XFR Speed | TDP | Socket | Price | Graphics |
| --- | --- | --- | --- | --- | --- | --- | --- |
| Ryzen 7 1700 | 8/16 | 3.0Ghz | 3.7Ghz | 65W | AM4 | $181.32 | No |
| Ryzen 7 1700X | 8/16 | 3.4Ghz | 3.8Ghz | 95W | AM4 | $163.98 | No |
| Ryzen 7 1800X | 8/16 | 3.6Ghz | 4.0Ghz | 95W | AM4 | $216.95 | No |
Ryzen 2nd Gen CPU's
| Ryzen 2nd Gen CPU | Core/Thread | Base | XFR Speed | TDP | Socket | Price | Graphics |
| --- | --- | --- | --- | --- | --- | --- | --- |
| Ryzen 5 2600 | 6/12 | 3.4Ghz | 3.9Ghz | 65W | AM4 | $149.99 | No |
| Ryzen 5 2600x | 6/12 | 3.6Ghz | 4.2Ghz | 95W | AM4 | $179.89 | No |
| Ryzen 7 2700 | 8/16 | 3.2Ghz | 4.1Ghz | 65W | AM4 | $209.99 | No |
| Ryzen 7 2700x | 8/16 | 3.7Ghz | 4.3Ghz | 105W | AM4 | $279.99 | No |
Ryzen 3rd Gen CPU's
| Ryzen 3rd Gen CPU | Core/Thread | Base | XFR Speed | TDP | Socket | Price | Graphics |
| --- | --- | --- | --- | --- | --- | --- | --- |
| AMD Ryzen 5 3600 | 6/12 | 3.6Ghz | 4.2Ghz | 65W | AM4 | $149.99 | No |
| AMD Ryzen 5 3600X | 6/12 | 3.8Ghz | 4.4Ghz | 95W | AM4 | $179.89 | No |
| AMD Ryzen 7 3700X | 8/16 | 3.6Ghz | 4.4Ghz | 65W | AM4 | $209.99 | No |
| AMD Ryzen 7 3800X | 8/16 | 3.9Ghz | 4.5Ghz | 105W | AM4 | $279.99 | No |
| AMD Ryzen 9 3900X | 12/24 | 3.8Ghgz | 4.6Ghz | 105W | AM4 | $499.99 | No |
| AMD Ryzen 9 3950X | 16/32 | 3.5ghz | 4.7Ghz | 105W | AM4 | $749.99 | No |
Ryzen thread ripper enthusiast
| Ryzen Threadripper Enthusiast | Core/Thread | Base | XFR Speed | TDP | Socket | Price | Graphics |
| --- | --- | --- | --- | --- | --- | --- | --- |
| Ryzen Threadripper 1900X | 8/16 | 3.8Ghz | 4.0Ghz | 180W | TR4 | $264.86 | No |
| Ryzen Threadripper 1920X | 12/24 | 3.5Ghz | 4.0Ghz | 180W | TR4 | $364.93 | No |
| Ryzen Threadripper 1950X | 16/32 | 3.4Ghz | 4.0Ghz | 180W | TR4 | $537.99 | No |
| Ryzen Threadripper 2920x | 12/24 | 3.5Ghz | 4.3Ghz | 180W | TR4 | $499.99 | No |
| Ryzen Threadripper 2950x | 16/32 | 3.2Ghz | 4.4Ghz | 180W | TR4 | $749.99 | No |
| Ryzen Threadripper 2970WX | 24/48 | 3Ghz | 4.2Ghz | 250W | TR4 | $1,229.99 | No |
| Ryzen Threadripper 2990WX | 32/64 | 3Ghz | 4.2Ghz | 250W | TR4 | $1,617.11 | No |
As you can see, AMD's line of Ryzen processors covers a wide range of core and thread counts, as well as being budget and enthusiast-friendly. This isn't without its compromises, though.
AMD Ryzen base clock speeds tend to hover around the low to mid 3 GHz range. Even with Precision Boost, they don't reach 4.0 GHz until the 2nd/3rd gen & Threadripper come into play, except for the Ryzen 5 1600X.
Something else to note is that every Ryzen CPU is unlocked to allow for overclocking, making them a great choice for an overclocked system on a budget.
Until the somewhat recent release of AMD's Zen 2 Ryzen line, if you were looking for a serious gaming CPU, then you'd be choosing Intel.
In recent years, Intel has dominated the gaming CPU market. Offering high clock speeds and superb single-core performance, the Intel Core family was a no-brainer for gaming.
We've seen the Ryzen lineup, now let's see what Intel's Core line brings to the table.
Core i3 entry level
| Core i3 Entry Level | Core/Thread | Base | TB Speed | TDP | Socket | Price | Graphics |
| --- | --- | --- | --- | --- | --- | --- | --- |
| 8100T | 4/4 | 3.1Ghz | No | 35W | LGA 1151 | $117 | Basic |
| 8100 | 4/4 | 3.6Ghz | No | 65W | LGA 1151 | $117 | Basic |
| 8300T | 4/4 | 3.2Ghz | No | 35W | LGA 1151 | $138 | Basic |
| 8300 | 4/4 | 3.7Ghz | No | 62W | LGA 1151 | $138 | Basic |
| 8350K | 4/4 | 4.0Ghz | No | 91W | LGA 1151 | $168 | Basic |
Core i5 mid-level
| Core i5 Mid-Level | Core/Thread | Base | TB Speed | TDP | Socket | Price | Graphics |
| --- | --- | --- | --- | --- | --- | --- | --- |
| 8400T | 6/6 | 1.7Ghz | 3.3Ghz | 35W | LGA 1151 | $182 | Basic |
| 8400 | 6/6 | 2.8Ghz | 4.0Ghz | 65W | LGA 1151 | $182 | Basic |
| 9400 | 6/6 | 2.9Ghz | 4.1Ghz | 65W | LGA 1151 | $189 | |
| 8500T | 6/6 | 2.1Ghz | 3.5Ghz | 35W | LGA 1151 | $192 | Basic |
| 8500 | 6/6 | 3.0Ghz | 4.1Ghz | 65W | LGA 1151 | $192 | Basic |
| 8600T | 6/6 | 2.3Ghz | 3.7Ghz | 35W | LGA 1151 | $213 | Basic |
| 8600 | 6/6 | 3.1Ghz | 4.3Ghz | 65W | LGA 1151 | $213 | Basic |
| 8600K | 6/6 | 3.6Ghz | 4.3Ghz | 95W | LGA 1151 | $249 | Basic |
| 9600K | 6/6 | 3.7Ghz | 4.6Ghz | 95W | LGA 1151 | $249 | |
Core i7 performance level
| Core i7 performance level | Core/Thread | Base | TB Speed | TDP | Socket | Price | Graphics |
| --- | --- | --- | --- | --- | --- | --- | --- |
| 8700T | 6/12 | 2.4Ghz | 4.1Ghz | 35W | LGA 1151 | $303.00 | Basic |
| 8700 | 6/12 | 3.2Ghz | 4.6Ghz | 65W | LGA 1151 | $312.00 | Basic |
| 8700K | 6/12 | 3.7Ghz | 4.7Ghz | 95W | LGA 1151 | $370.00 | Basic |
| 9700 | 8/8 | 3.0Ghz | 4.7Ghz | 65W | LGA 1151 | $383.99 | |
| 9700K | 8/8 | 3.6Ghz | 4.9Ghz | 95W | LGA 1151 | $359.99 | |
Core i9 & X-series enthusiast level
| Core X Enthusiast Level | Core/Thread | Base | TB Speed | TDP | Socket | Price | Graphics |
| --- | --- | --- | --- | --- | --- | --- | --- |
| 7800X | 6/12 | 3.5Ghz | 4.0Ghz | 140W | LGA 2066 | $389 | Basic |
| 7820X | 8/16 | 3.6Ghz | 4.3Ghz | 140W | LGA 2066 | $599 | Basic |
| 7900X | 10/20 | 3.3Ghz | 4.3Ghz | 140W | LGA 2066 | $999 | Basic |
| 7920X | 12/24 | 2.9Ghz | 4.3Ghz | 140W | LGA 2066 | $1,189 | Basic |
| 7940X | 14/28 | 3.1Ghz | 4.3Ghz | 165W | LGA 2066 | $1,399 | Basic |
| 7960X | 16/32 | 2.8Ghz | 4.2Ghz | 165W | LGA 2066 | $1,699 | Basic |
| 7980XE | 18/36 | 2.6Ghz | 4.2Ghz | 165W | LGA 2066 | $1,579.99 | |
| 9800X | 8/16 | 3.8Ghz | 4.4Ghz | 165W | LGA 2066 | $599.99 | |
| 9820X | 10/20 | 3.3Ghz | 4.1Ghz | 165W | LGA 2066 | $889.49 | |
| 9900X | 10/20 | 3.5Ghz | 4.4Ghz | 165W | LGA 2066 | $1,006.13 | |
| 9920X | 12/24 | 3.5Ghz | 4.4Ghz | 165W | LGA 2066 | $1,199.99 | |
| 9940X | 14/28 | 3.3Ghz | 4.4Ghz | 165W | LGA 2066 | $1,132.49 | |
| 9960X | 16/32 | 3.1Ghz | 4.4Ghz | 165W | LGA 2066 | $1,621.99 | |
| 9980XE | 18/36 | 3.0Ghz | 4.4Ghz | 165W | LGA 2066 | $1,989.99 | |
| i9-9900K | 8/16 | 3.6Ghz | 5.0Ghz | 95 W | LGA 1151 | $474.99 | |
Before AMD's newest line of 3rd gen Ryzen chips, if your goal was to try and push a CPU as fast as it'll go, Intel's Core line wins out over AMD's Ryzen. Your base clock speeds are lower, but when Turbo Boost takes over, you see significant increases in speed. However, Ryzen has bridged the gap considerably. 
As the case is with the AMD Ryzen line, the core line offers an excellent range of processors to choose from. They offer both budget and enthusiast-friendly CPUs.
Unlike AMD, not every processor from the Core line is available to be overclocked. Intel has limited it so that only those with an X or a K in the model name are unlocked, allowing overclocking.
Identifiers
I'm sure you've noticed that some of the CPUs have a letter at the end of the model name. These are identifier SKUs, and they let us know certain features.
AMD

X - Extended XFR range over models without.
G - Indicates an APU model. These come with an advanced built-in graphics unit on the same die as the processor.

Intel

K - Unit is unlocked for overclocking.
X - Part of the Xtreme family, also unlocked for overclocking.
T - Lower power variant of its counterpart without the T.
For the purpose of this article, we've chosen to split the performance section into gaming, and workstations/multitasking. We've decided to take this approach for a number of reasons, but mainly to give a better overall impression of a CPU's performance. 
Because a large number of CPUs are now multi cored and hyperthreaded, we need to look at their performance from both a single and a multi-threaded perspective.
So, with that, let's start by comparing gaming performance.
Let's not beat around the bush, most people have come here for the gaming comparison, so let's see what both sides have to offer!
For as long as I can remember, Intel's processors have been dominant in the gaming performance category. However, thanks to the newly designed 3rd Gen Ryzen chips, which came to shelves back on July 7th, 2019, choosing between Intel and AMD just became a whole lot harder. Let me explain.
AMD CPUs have historically had the edge over their stiff competition in the multi-threaded department. Great news for heavy workloads, but not so great for gaming. 
Why is that I hear you ask? Well, to cut a long story short, it basically boils down to how the games are designed to run. Most modern AAA game titles tend to be much more graphically demanding. That being said, it isn't all on the GPU, the CPU is still utilized, but not to its full potential. A lot of games are now designed with single-core performance in mind. This means processors with greater single-core performance will ultimately provide the highest in-game FPS figures. Bummer for old Ryzen chips.
Fast forward to 2019 and the release of Ryzen 3rd Gen CPUs. 
With the new chips came AMD's exclusive new Zen 2 chiplet-based microarchitecture using TSMC's 7nm process. This is the new standard for high-performance and is one of the main reasons why the single-core performance of Ryzen's chips is now right up there alongside their bitter rivals. 
Check out this graph, for example:
As you can see, the 3900X is pretty much right behind the i9-9900K at the time of writing this, something many people said would never happen. Three more Ryzen CPUs feature in the top ten single thread performance charts and some which display value far higher than their asking price (3600X). 
So what does this mean for in-game performance? Well, it means Intel and AMD are now pretty much neck and neck. Intel's top-tier CPUs still just edges it, but only just. And when you consider the multi-threaded performance of the Ryzen chips, it really starts to put into question which one is best. 
Multi-tasking/ Workstation
OK, but what if I'm not interested in gaming? What if I just need a workstation for my video/photo editing? Or what if I want to game and stream simultaneously? These are all valid questions, and ones that favor the Ryzen chips hugely. 
As mentioned above, the multi-threaded behavior of the Ryzen chips far outweighs the performance of the Intel. Meaning there is really only one way to go if you perform highly demanding multitasking processes. Team Red. 
Check this chart, which clearly shows Ryzen's dominance in this department, and that's without the general-consumer targeted Ryzen 9 3950X, which will showcase 16 cores/ 32 threads!
Whether you are building a gaming PC or a media workstation, you are most likely going for a graphics card (GPU) rather than relying on the integrated graphics of CPUs. 
That being said, it is possible to run quite a wide selection of games on integrated graphics. The sort of games that can be handled by integrated graphics are never that graphically powerful, and if they are, the settings will most likely be on the lowest possible.
Both Intel and AMD offer integrated graphics. On the one hand, Intel features this technology with all of its consumer-level chips, whereas AMD only has it in a few selected CPUs. Despite AMD only featuring integrated graphics on specific CPUs, the powerful Vega graphics do an excellent job and easily outperform Intel's onboard graphics technology.
For those looking to build a simple PC or a budget gaming rig, an APU (AMD CPU with integrated graphics) could be the best choice. It is worth noting that for any real graphical power, you are going to be wanting a dedicated graphics card, but its good to have options.
Overclocking, for most people, is seen as a task that requires not only extensive BIOS knowledge but also requires expensive hardware components that can handle the increased stress. And for the most part, that's probably true. 
However, thanks to newly designed overclocking software applications from both AMD and Intel, trying to gain a few extra frames in your favorite game is now a whole lot easier.
That being said, picking the right CPU for your overclocking needs still requires a certain amount of know-how. 
If you're new to PC building, how do you know which CPU to go for?
Which Processors Can be Overclocked?
Several areas need to be considered before buying the perfect CPU for overclocking. Let's start with understanding which CPUs support overclocking:
AMD has made this relatively simple, as all their CPUs can be overclocked to a certain degree. However, the same can not be said for Intel.
If you're looking to overclock an Intel CPU, you need to look for CPUs labeled with either an X or a K.
A prime example of this would be the Core i9-9900K.
The act of overclocking, whether you're using an Intel or an AMD processor, can be done in one of two ways:
Overclocking directly through the BIOS, or overclocking using unique software applications. For AMD, that would be Ryzen Master, and for Intel, it's their Extreme Tuning Utility. Both are straightforward and self intuitive overclocking utilities that work great right from Windows.
They do come with limitations when it comes to certain settings, though.
If you're new to the overclocking game, then I would strongly suggest using the respective application. It will give you a taste of overclocking and also offers a much lower chance of permanently damaging your hardware.
The second way is to go directly to the BIOS, the belly of the beast as it were. Inside the BIOS, you can control every aspect of a hardware component. Changing the wrong setting here could be fatal to your hardware. This is where hardcore overclocking guys do their bidding and should be approached with extreme care. 
Here's the latest Ryzen 9 3950X overclocking world record!
Overclocking Considerations
One of the most important things to consider when thinking about overclocking your PC is whether or not it has sufficient cooling. The more the CPU has to work, the more heat it's going to generate.
Most CPUs will come with a stock fan cooler setup. Some of these are adequate for minor overclocking, but most will only keep your CPU cool when running at the intended stock speed.
If you're new to overclocking and all this temperature talk is confusing, I'd recommend learning what your CPU's ideal temperature is. Once you understand that, we have a great article on how to reduce your CPU's temperature so that you can comfortably overclock without the fear of damaging parts. 
That being said, Ryzen CPUs come with a fan cooler explicitly designed for the thermal design power, or TDP, needs of the processor it comes with. Thermal design power refers to how much power the processor consumes and how much heat it generates. This will work for both stock speeds, and minor overclocking as well.
If you're on a budget that doesn't allow for a larger heatsink or an All-in-one (AIO) option, or you're just not sure whether you will need one or not, then this is a great way to find out first.
Intel CPUs only come with a basic fan cooler, and we would strongly recommend against any form of overclocking if this is the cooler you intend to use.
If you want to overclock, however, you may want to consider upgrading your fan cooler to either a larger heatsink or maybe an AIO CPU water cooler.
Upgradability and Chipsets
Both AMD Ryzen and Intel Core line of processors have a unique group of chipsets at their disposal. Each chipset differs in terms of features, compatibility, and technology support (More PCIe lanes, more USB 3.1 ports, SATA ports, etc.).
One of the main pros to the Ryzen CPU and motherboard chipsets is that they are both forward and backward compatible. This means that a newer generation Ryzen will work with a motherboard chipset from an older generation, and vice versa. This makes upgrading your machine one piece at a time a much easier task, as you can upgrade either your motherboard or CPU instead of both at once.
Winner Winner. However, the release of Ryzen's 3rd Gen CPU lineup brings a ton of compatibility issues, which include Statutory BIOS updates and more. Consumers that wanted to use a 300/400 series motherboard with their new 3rd Gen Ryzen chip would have to either; purchase a secondary 1st/2nd Gen AMD CPU or take their board to a local PC shop and pay for it to be updated.
A little naughty from the guys at AMD, but it hasn't done their credibility too much damage. Not yet, anyway.
Intel CPUs only work with chipsets for each specific generation. A 7th generation Core CPU will not work in a chipset for an 8th generation Core CPU. This makes upgrading a core component of your system more complex.
If you'd like to upgrade your motherboard or CPU to a newer generation, you'll have to replace both at once. This in itself is a little annoying, but it does fully eradicate the sort of compatibility issues that AMD saw earlier this year.
One of the biggest issues with the Ryzen line of processors is the sheer lack of compatibility with other components — specifically, motherboards and CPU coolers. 
Even though most Ryzen CPUs come with their own stock CPU cooler, people still crave the power and cooling efficiency of more sought after offerings. That being said, many of the standalone coolers require special AM4 brackets to be purchased for the AM4 chipset. 
Alternatively, Intel parts are slightly more common, and compatibility isn't as much of an issue.
Another area of concern over the last couple of months has been stock availability, and this goes for both parties. Thanks to both Coffee Lake Refresh and AMD Ryzen 3rd Gen processors selling in their masses, we are now starting to see mass shortages in stock levels across the board.
According to a CNBC report, this resulted in a financial analyst downgrading Intel's stock thanks to 14nm shortages and Cannon Lake's constant delays. 
That being said, AMD isn't exactly plain sailing either. Large retailers such as Newegg and Amazon have had no stock to play with for quite some time now on some of the leading AMD processors. This, of course, has had a slight knock-on effect on CPU prices as the demand has grown since shortages developed. 
It should come as no real surprise that AMD is currently having huge amounts of success thanks to their ever-popular Ryzen chips. One German retailer even reported a huge increase in AMD sales that saw them almost equal the market share with Intel. Worrying times for team blue, it must be said.
So, how do Intel plan on reclaiming global processing power? I mean, AMD already has the hugely anticipated Ryzen 3950X waiting in the trenches.
Well, the first step in that direction will be their 10nm Ice lake processors, which will be making an appearance in laptops by the end of the year. Ice Lake will be behind the next generation of Ultrabooks and is going to feature Thunderbolt 3, Wi-fi connectivity, and Gen11 Graphics.
Intel also plans to refresh some of their desktop processors after they announced the Intel Core i9-9900KS. This is effectively a Core i9-9900K that has an all-core 5GHz boost clock, which will be better equipped to compete with the hugely popular Ryzen 9 3900X.
Other than that, though, it's all a little quiet around the Intel camp at the moment. Have they got something up their sleeve we haven't heard about, potentially? I suppose only time will tell.
How about AMD though, what's in store for their future...
AMD is flying at the moment. Huge increase in sales, massively improved processing power thanks to new architecture and their 7nm process, and a Ryzen 9 3950X with world record overclocking kudos waiting to hit shelves. The sky is certainly the limit right now for team red.
It's a little premature to start talking about AMD's future, as they have only just released the 3rd Gen of Ryzen chips. However, one thing that is worthy of a mention is the swing in the tide.
Unless Intel does something pretty drastic, I can only see AMD getting stronger in the coming years.
AMD Vs Intel - Which Is Better?
There's no clear "best CPU." Both companies offer a fantastic line of processors, with AMD offering them at a lower price.
Thanks to the value of the new Ryzen 3000 CPUs, it's incredibly easy to make a case for them to feature in most people's new computers. It doesn't matter where you look; you are getting similar speed AMD chips with more cores and threads for significantly less than their Intel counterparts.
There are cases to be made for both companies for gaming. If you're looking for an easy to upgrade, budget-friendly, multitasking CPU, then AMD might be for you. That being said, Intel single-core performance still benefits the average gamer, and when you pair that with fast clock speeds and overclocking room, you can squeeze out every last drop of value.
The battle for dominance between AMD and Intel is far from over, and although AMD has dealt a large blow, the ball is now firmly in Intel's court. Can AMD hold onto their well-deserved performance trophy for much longer?