AMD Ryzen 6000 series: release date & more – what we know
The AMD Ryzen 6000 series release is just around the corner, and it's more than just a generational upgrade, but an architecture upgrade too. Here's everything we know about the Ryzen 6000 series.
Updated: Mar 9, 2022 9:52 am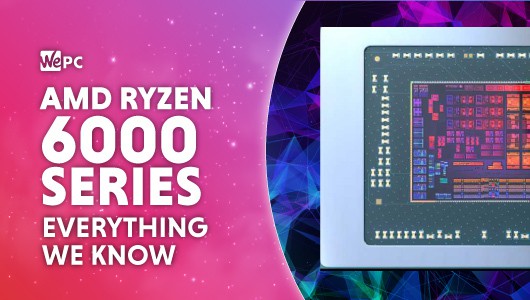 AMD is set to release its next generation of mobile processors, the AMD ryzen 6000 release date being sometime in February 2022. Before Ryzen introduced mobile processors to power your portable gaming machines, it wasn't uncommon for laptops to be limited to two and on rare occasions four core CPUs.
Today, both Intel and AMD offer mobile CPUs with up to eight cores and iGPUs capable of running even modern video games at respectable frame rates. More than just a generational jump, the new AMD Ryzen 6000 series of CPU is based on an upgraded Zen 3 architecture Zen 3+.
If you want to know more about the up and coming Zen 4 architecture, check out our 'Everything we know about Zen 4' article.
Additionally, check out everything we know about AMD's AM5 socket.
AMD Ryzen 6000 series release date
AMD hasn't yet announced a concrete date that the Ryzen 6000 series of CPUs will be released but we do know they will debut in laptops at some time in February 2022, thanks to AMD's 2022 product premiere. And, since we're in February it should be any day now.
There's been no news surrounding Ryzen 6000 series release date delays as of yet so we firmly believe that this release window will be met and with vendors such as ASUS, Razer, HP, Dell, Acer and Lenovo ready to roll on AMD 6000 CPU powered laptops, there's going to be no shortage of 6000 series machines up for grabs.
Throughout the year, there will supposedly be more than two hundred different laptop models sporting the new Ryzen CPUs as mentioned in AMDs 2022 product premiere. – which makes for a very promising launch for AMD.
Ryzen 6000 series specs
During their keynote at CES 2022, AMD shared a good chunk of information surrounding their Ryzen 6000 chips.
The first and most substantial upgrade of the Ryzen 6000 series is the jump in architecture from Zen 3 to Zen 3+
Zen 3+
AMD hasn't shared full details on the new architecture just yet, but we do know that Zen 3+ is an architectural upgrade over the existing AMD Zen 3 architecture that powers the current AMD Ryzen 5000 CPUs.
However, besides the architectural upgrade, there aren't any changes at the architectural level (this implies core and thread counts stay the same). However, with the company opting for a smaller nm process, (6nm over the current 7nm), it allows AMD to pack more features and connectivity into the same CPU footprint. TSMC's 6nm process offers up to 18% higher logic density than the 7nm process, but very similar power and performance metrics.
In addition to this, the 6nm process also works to retain compatibility with the same design tools as the 7nm process, easing the porting process by not having to develop a whole new toolkit for the 6000 series of CPUs. N6 also takes advantage of EUV lithography giving the CPU's five layers, saving on space, increasing density and keeping manufacturing costs to a minimum.
Battery life was also the name of the game when AMD was developing the Zen 3+ architecture, claiming to extend this beyond anything we have seen before thanks to the 50 new enhanced power management features, adaptive power management framework, new deep sleep states and out of the box improved CPU efficiency.
Both desktop and laptop Zen 3 CPUs were efficient, competitive and offered almost unparalleled performance so we can't wait to get an upgrade, which should bring considerable improvements.
RDNA 2
Graphics are set for a big boost as well, powered by the RDNA 2 GPU. With the massive success of the Radeon 6000 series of GPU, which is also RDNA 2 based, it's easy to see how the iGPU is going to blow us away with more than tangible performance in games.
AMD is making serious advancements in the iGPU industry, pioneering the first-ever APU with hardware raytracing.
With APUs boasting features like 1.5x larger GPU compute engine, 1.5x more memory bandwidth and 2x larger caches and rendering backends, we're expecitng big things. And, despite what little we know so far around the logistics of the new RDNA 2 iGPUs, we do have some benchmarks provided by AMD themselves.
Performance
The iGPU in the Ryzen 6800U is up to three times faster in Doom Eternal than Nvidia's MX450 and the iGPU in Intel's i7-1165G7. That's pretty impressive and expected due to the fact that the iGPU will share the system memory like every other iGPU, but this time it's running DDR5.
At the start of February 2022, the first Ryzen 6000 laptop review by Professional Review got posted onto the internet and then promptly deleted after realising they broke the embargo. This laptop was the Acer Nitro 5, featuring the mid-range Ryzen 7 6800H CPU.
Fortunately, before it got deleted, Videocardz snapped a few screenshots of the benchmark results.
The performance difference isn't massive here.The Nitro 5 featuring the 6800H is only about 10% faster than its predecessor the 5800H. It's also 5% faster than AMD's flagship mobile CPU, the 5800HX
This is a good performance uplift but nothing to write home about.
This may not seem like the performance uplift we wanted but this is based most likely on an engineering sample. The chip and laptop itself will undoubtedly be subject to more tweaks and optimizations both pre and post-launch.
Ryzen 6000 series Benchmarks
The most interesting product paired with the all new Ryzen 6000 series processor has to be the Asus ROG Zephyrus G14.
This laptop has broken records in the past, and as turns out it's record breaking days aren't over. Looking at different reviews, it definitely seems the 2022 Zephyrus G14 is faster than it's 2021 predecessor, containing the 5900HS.
From this benchmark data alone we can deduce that the new Zephyrus containing the 6900HS and the RX 6800S is considerably more powerful than it's 2021 counterpart.

However, the all new Ryzen 6000 series CPU aren't just about raw power. In fact, the main advantage the new CPUs bring is power efficiency. AMD even went as far as to advertise up to 2.5x better power efficiency than Intel's Alder Lake CPUs.
Another Youtuber by the name of Linus Tech Tips put this theory to the test and proved that the new CPUs are far more power efficient in certain circumstances.
The new generation of Zephyrus laptop is almost twice as efficient at video playback, lasting nearly double the time of the 2021 model. Both laptops present the exact same battery size and capacity, this just goes to show how efficient the new Ryzen 6000 series CPUs can be under the right conditions.
Last but not least is the integrated GPU (iGPU). Based on the RDNA 2 architecture.
The all new iGPU blows the competition out of the water. Here we have the 6900HS facing off against the 12900HK, and as you can see there's no contest.
We have here a chart showing the performance of the RDNA 2 iGPU in Gears 5.
In this case, we see the 6900HS perform roughly 35% faster then Intel's XE iGPU in the 12700H. These are some considerable performance increases.
Ryzen 6000 series DDR5, PCie 4.0, USB 4 and more
iGPUs use system memory as VRAM. A dynamic allocation occurs where the system will give an amount of system RAM to the iGPU to use as VRAM. This amount is determined by the demand of the iGPU. The faster this RAM is, the faster the VRAM will be (as it's all the same RAM), and this will massively aid performance, especially if you're jumping from DDR4 to DDR5 like AMD is with the 6000 series RDNA 2 chips.
DDR5 is magnitudes faster than DDR4 and has the potential to get faster over time. LPDDR5 memory is the kind we're going to see in laptops donning the 6000 series AMD chips and that has a maximum speed topping 6,400 MT/s. For comparison, LPDDR4X RAM can only manage around 4,200 MT/s.
DDR5 isn't the only new technology on offer with the Ryzen 6000 series CPUs either. They also come with PCie 4.0 support for much faster storage speeds. We are about to dive into PCIe 5.0 on the new AM5 platform and have already done so on some Alder lake Intel CPUs, but PCIe 4.0 for laptops is more than enough in our opinion.
USB transfer speeds are also getting a massive upgrade to USB 4 that can handle transfer speeds up to 40Gbps.
Ryzen 6000 series CPU list
Here's a list of all the Zen 3+ Ryzen 6000 series Systems shipping worldwide in February.
H-Series of Ryzen 6000 series CPUs – Faster and higher performing.
U-Series of Ryzen 6000 series CPUs – Slower and more power efficient.
Price
The pricing for mobile processors usually depends more on the laptop manufacturer, but since there are so many Zen 3+ SKU's, we're likely to see laptops at all price points – everything from budget laptops to high-end 6900HX beasts.
Looking at the previous generation of laptops it's a pretty safe bet to assume we're going to see Ryzen 6000 series laptops anywhere from $300 to $1700+ for the more niche enthusiast-level portable workstations and gaming machines.
News
Stay tuned for more AMD 6000 news
Leaks
Stay tuned for more AMD 6000 leaks
Final word
The release of AMD Zen 3+ and Ryxen 6000 series is just around the corner and with the specifications so far, it looks like it's going to be one heck of an upgrade from the 5000 series mobile platform we know and love. RDNA 2 is giving iGPUs some much-needed love and bringing ray tracing to APUs – an industry first, all we can do now is sit and wait for the Ryzen 6000 series release date.
We're very excited to see what the future of mobile CPUs brings.
---