Core i9 12900KS review: The fastest gaming CPU
We take a deep dive into the performance of Intel's flagship i9 12900KS.
Updated: Oct 20, 2022 3:35 pm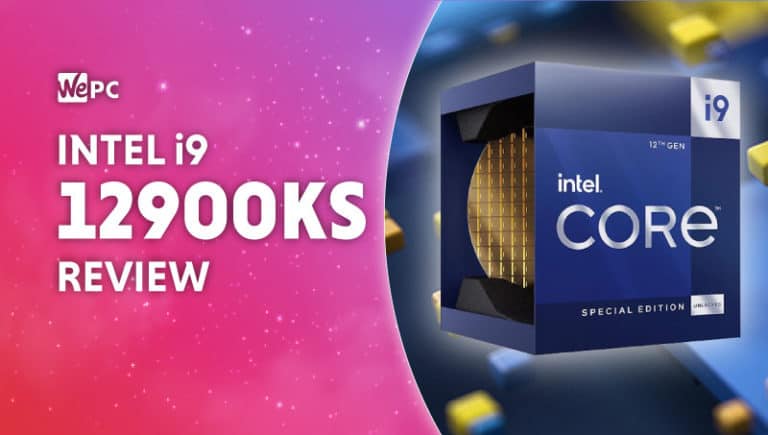 Intel's Core i9 12900K arrived last year and was widely regarded as the fastest CPU on the market for single-core performance and general gaming. However, Intel has pushed its 12th generation family to the extreme with the release of the brand new Core i9 12900KS, this chip is capable of blistering clock speeds and armed with ARM's latest LITTLE.big technology. Here's our 12900KS review.
If you're interested in the best 12th gen motherboard, we have an article on that.
You might also be interested in some comparison pieces:

Very powerful

Cool packaging
No bundled cooler

very expensive

Barely more powerful than the 12900K

Hard to cool
Intel isn't without its competition, however, as AMD is set to release its $449 Ryzen 7 5800X3D with a brand new 3D V-cache.
Intel plans to thoroughly stamp out the 5800X3D and establish itself as the top dog before it reaches the market, by loading the 12900K's design with a higher binning to force a two-core top speed of 5.5GHz and an all-core boost of 5.2GHz, thanks to advancements in Intel's boosting technology.
Intel Core i9 12900KS Specifications
The 12900KS is built on the 16-core, 24-thread 12900K design. The only difference here is the advancement in boosting technology meaning higher boost clocks accompany the higher base clocks of both the E and P cores respectively.

The full specifications of the 12900KS are as follows:
P-cores 8
E-cores 8
Threads 24
P-core clock speed 3.4 / 5.5 (GHz)
E-core clock speed 2.5 / 4.0 (GHz)
L2 cache 14MB
L3 cache 30MB
Base CPU power 150W
Socket LGA1700
iGPU UHD770
The 12900KS comes with impressive specifications, however the astute among you might notice that the 12900KS comes with the exact same features as the 12900K, just with a core speed increase of a few hundred MHz. This isn't by any means something to scoff at, a blistering 5.5GHz boost speed is something we only saw a couple of years ago in the most intense LN2 overclocking adventures.
Intel Core i9 12900KS: Price
Intel's flagship 12900KS retails at $799. This is a steep investment, considering AMD's 12900K killer, the 5800X3D will retail at almost half of that price at just $449.
An MSRP of $799 is a steep ask compared to AMD's now-aged flagship CPU, the 5950X, which retails at around $600 and performs ever-so-slightly better in multicore benchmarks.
If you're interested in the 12900KS we have a where to buy page.
12900KS: Performance
We will be focusing mostly on the 12900KS' performance against the 12900K in this article, but stay tuned for separate comparison pieces in the future. This will be updated as and when we get additional data from its contemporary rivals like the Ryzen 5800X3D or do further tests on the 12900KS.
We performed both synthetic and real-world tests to determine how well the 12900K and KS perform against eachother, hopefully, to determine the CPU with the better performance and what CPU may be better value for money.
12900KS review: Synthetic benchmark performance
We tested the i9 12900KS in four synthetic benchmarks: CPU-Z, Cinebench R23, Geekbench 5 and Blender 3.1.0.
Cinebench R23
Cinebench has been a reliable CPU rendering benchmark for many years and is a favourite among PC enthusiasts and avid performance jockeys. We have chosen Cinebench for its raw rendering pressures and its plentiful databanks.
First off, we see the 12900KS perform well in Cinebench R23. The 12900KS scores 1,944 points in the single-core benchmarks and 25,803 points in the multi-core benchmark. This is the highest score an Intel CPU has seen on Cinebench and is to be expected, as the higher boost speeds of the 12900KS make it a beast in multi-core workloads.
The 12900K scores a slightly lesser score of 1,937 single-core and 25,715 multi-core. The scores are close, almost too close considering the few hundred MHz boost speeds between them. It's clear that both CPUs are closely matched, due to their numerous similarities.
Geekbench 5
Geekbench is a newer benchmarking software that closely represents the workloads of the average CPU on a day-to-day basis, with a wide range of tests, it has pretty much every angle covered, benchmarks like floating point, text and image compression and ray tracing and more are all covered in Geekbench. Geekbench 5 is a very sophisticated benchmark that tests a CPUs performance as close to a real-world use-case as possible, benchmarking components such as text compression, floating-point, image compression and HDR. These are all calculations that a CPU does regularly in many day-to-day tasks. Geekbech then outputs a score based on the CPU's performance like any other benchmark.
Geekbench tells a similar story for both chips. The 12900KS performs very well in both single and multi-core workloads pulling in a single-core score of 1,998 and a multi-core score of 18,510.
That's a decent margin better than the 12900k as that only achieved scores of 1,916 and 17,134 respectively.
Unlike many other benchmarks out there, Geekbench gives you a full run-down of all the individual scores. All of the individual scores can be found below.
Interestingly enough, we also have numbers for the 5800X3D in Geekbench thanks to XanxoGaming.
The 5800X3D which was promised by AMD to perform at least 10% better than the 12900K in some workloads seems to be falling a little short of that mark in the synthetic tests. The 5800X3D scored a puny 6,506 in Geekbench 5's multi-core CPU performance benchmark, compared to the 12900K's 11,875. That's almost double the synthetic multi-core performance.
It should be noted, however, that the 5800X3D does not support DDR5 RAM, unlike the 12900KS. RAM is a huge factor in CPU performance, this is especially true for Ryzen CPUs, as core communication speed is directly correlated with RAM speeds. Further testing is required to see if the 5800X3D manages to keep up with more equal footing.
CPU-Z
CPU-Z is a tool that has its own reliable built-in benchmark software. CPU-Z is used by millions around the world and its benchmark software is becoming increasingly popular.
CPU-Z paints a similar picture again for the 12900KS. According to CPU-Z, the 12900KS beats the 12900K by a margin of 45 points in the single-core benchmarks and 275 points in the multi-core benchmarks. The 12900KS scored 848.2/11875.9 points and the 12900K scored 803.2/11600.5 points respectively.
Again we also have results from the 5800X3D early benchmark performed by XanxoGaming.
The 5800X3D scored 617 points on the single-core and 6,506 on the multi-core benchmarks, while the 12900KS destroyed the 5800X3D and the 12900K in synthetic CPU performance once again with scores of 848.2 in single-core and 6,506 in multi-core respectively.
Blender 3.1.0
Blender is an extremely popular 3D modelling and rendering software used by prestigious animation and SFX studios around the globe. Blender is capable of creating incredibly demanding 3D scenes in its rendering benchmark, 'Blender Open Data'.
Last on the list for the synthetic benchmarks is Blender 3.1.0, things are a little different in this newer version, the test is comprised of three scenes, all increasingly difficult to render, once the test is complete the benchmark software will spit out a number based on how well the CPUs performed.
Unsurprisingly, the 12900KS performed incredibly well with a score of 372.49, whereas the 12900K only managed a score of 365.13. It doesn't look like much, but in the Blender benchmark, a couple of points can mean a big difference in performance. This means that based on the results of this benchmark, the 12900KS is around 2 – 5% more proficient at rendering tasks.
12900KS review: Synthetic performance summary
As you can see, it's a considerably uneven increase in performance across the board, ranging from increases of 0.32% up to 8% which averages out to around a 4% performance increase. Is 4% extra power worth the extra cost? Real-world benchmarks might paint a slightly different picture.
12900KS review: Real-world benchmarks
We tested the 12900KS in two games along with the 12900K, we will be adding more to the arsenal of games though so stay tuned for even more glorious data. The games we used are Days Gone and the infamous system-killing Cyberpunk 2077.
Both of our games were tested on the same test bench to keep things fair. The test bench featured an ASUS ROG Z690, 32GB of DDR5 5600MHz RAM and an MSI Gaming-X Trio RTX 3080. With a system like this, we should be able to get enough data to see the true difference between these two chips.
Days Gone
Days Gone is a relatively demanding game when having to rely on older hardware to run it, It has been ported to the PC and rebuilt for the platform on the latest Unity engine, adding lots of features the console version lacks. We tested Days Gone at 4K, at maximum settings.
As you can see, there isn't much of a difference here between the 12900KS and K, with the 12900KS scoring an average FPS of 95 FPS and the 12900K scoring 93 FPS. This is only an increase in performance of about 2.15%, but an increase is still an increase, this will all be thanks to the increased all core speed of the 12900KS.. But, will we see a more meaningful difference between the two in Cyberpunk 2077?
Cyberpunk 2077
Despite its flop of a launch, CD Projekt Red has worked hard to fix the game with new features, and a handful of quality-of-life changes.. Despite the improvements that have been made over the last 12 months, the game still runs like a three-legged donkey, even on the most performance systems out there.
We again see similar results between the two chips as we saw ins Days Gone, with very similar FPS averages down to one percentile. This game chugged way more than Days Gone, however, and felt far worse on the 12900K. So, this is a definite win for the 12900KS if it's allowing for better performance in the 1% averages. Stutters are one of the most annoying aspects of performance issues in a game, and the 12900KS goes some way to alleviate some of that.
In practice, it amounts to a 2% performance increase, which is consistent with the differences in performance that we saw in Days Gone.
With increases of 2.15% and 2.43% respectively over the 12900K, we know that there definitely is a limiting factor with the original test bench, but is a 2% increase really worth the extra $199 you're expected to spend for a shiny new 12900KS?
12900KS review: Integrated Graphics Performance
Both the 12900K and the 12900KS have the same integrated graphics Intel UHD 770 iGPU. Intel's iGPU offering pales in comparison to some of the powerful Rembrandt APUs that AMD has to offer.
We're once again pitting the iGPU performance of the 12900K and 12900KS together in this 12900KS review. In both of the games we previously used to compare CPU performance. All of the test bench configurations are exactly the same, only we now do not have a GPU installed. First up on the list of games is Days Gone.
Days Gone
Days Gone sees the average FPS of the 12900K reach a whole 25 FPS on the lowest settings possible at 1080P. This isn't really a playable experience in any regard but it is certainly better than nothing. Considering the iGPUs in both CPUs are exactly the same, they perform similarly, with the 12900k getting just 1 FPS less with 24 FPS.
Cyberpunk 2077
Cyberpunk shares a similar story to Days Gone, only this time there isn't a change at all, both CPUs score 12 FPS on average in Cyberpunk 2077. These iGPU benchmarks are a little redundant, if you're buying a 12900K or KS there's no way you're strapped for cash and don't have enough to splurge on an equally opulent GPU..
The iGPU is exactly the same in both CPUs so the results are only really affected by RAM speed and CPU speed. And in this case, both CPUs perform very similarly. There's only around 4% performance uplift with the 12900KS.
The 12900KS runs HOT
As with any component, when it's in operation, it produces heat and every component will have a TDP (Thermal Design Power). The 12900KS is obviously no different, with a base TDP of 150W, it's already outputting a significant 25W higher than the 12900K, which was already a hot chip, no salsa required.
When we ran the 12900KS through an AIDA64 stress test, we found that the 12900KS is on average around 9°C hotter than the 12900K.
It's important to note that the cooler we're testing with is one of the best in the business, the ASUS ROG Ryujin II 360. So, the temperatures never got higher than 59°C on a 100% CPU workload. These temperatures are extremely manageable, and we would even go as far as to say fairly good temperatures to have. But a TDP of this magnitude could be an issue with users who have a basic cooler..
The 12900K will most likely not be viable with 120MM single fan AIO setups. This CPU will require a 240mm AIO at the very minimum.
12900KS review: price
With an MSRP of $799, the 12900KS has not been subject to any markups, or scalping so far, probably owing to the heavy price that you'll have to pay for the chip itself. But in all honesty, $799 for a 2% increase in gaming performance and a 4% increase in synthetic workloads over the 12900K that you can now pick up for around $580 is absurd. Who would pay $200 extra for 3-6% average returns?
12900KS vs AMD 7000 series
This section of the 12900KS review will be based on our opinion and on the facts we already know about AMD's upcoming Zen 4 processors.
To put it bluntly, we don't think the 12900KS will be able to hold a candle to the higher end 7000 series chips. This is mainly based on one news article we wrote surrounding TSMC and its 5nm production increases.
We learned that TSMC Is manufacturing more 5nm chips to combat the stock shortages we saw upon the launch of RTX 30 series and Zen 3 5000 series CPUs. We explained in that article that Intel will be producing its own in-house 7nm wafers to power its 13th generation processors.
AMD is on 7nm with its 5000 series chips and the multi-core top-end chip, the 5950X managed to beat the performance of the 12900K. If AMD is switching to the new 5nm process, allowing them to install much more transistors into their CPUs therefore drastically increasing their IPC, then Intel might just be spending the foreseeable future playing catch-up. A shocking turn of the tables from around five years ago where AMD was chasing Intel.
12900KS review: Pros and cons
Here we will outline the pros and cons of the 12900KS in a bit of a TLDR format, helping you quickly decide if it's worth it or not to pick one up.
Wondering whether or not to get yourself a 12900KS? We've wrapped up a handy list of pros and cons to letting you know whether or not this CPU is up to snuff.
Pros
Slightly better performance
Cool box
Cons
Expensive
Hard to cool
Barely better than its predecessor
Almost no use case
If you ask us, this CPU exists for one reason, and that's bragging rights. Yes, the 12900KS is slightly faster than the 12900K, but that's nothing you can't really do already if you run a simple overclock on the 12900K.
12900KS Review: Final word
The 12900KS is interesting, to say the least, but we can't exactly recommend it in our 12900KS review. The performance of the 12900KS is only marginally better than the performance of the 12900K at only about a 4% increase. Despite this, the CPU runs 18% hotter and as a result, is much harder to cool. As the 12900K's IHS is already at capacity dealing with its 125W TDP and we're expecting the IHS to be absolutely fine with 150W of thermal energy radiating from the 12900KS.
The 12900KS is also retailing at $799, the fact that you can find the 12900K for $200 less these days, and it's only a slight performance drop-off of around 4%, which makes the choice between the two a no brainer. The 12900K isn't even the best choice for games on Team Blue, that title falls to the 12700K that drops four of Intel's E-cores that are frankly useless for gaming and keeps all eight P-cores. This CPU can be found for an incredible $300 online if you get a good deal. That's a saving of over $499 with negligible hits to gaming performance.
As a CPU, it's amazing. Looking at it solely from a technological standpoint it really is an incredible feat of engineering with its massive 5.5GHz boost clock and its smart cache. However, it simply does not compare to some of the other CPUs on the market today.
At the end of the day, the 12900KS feels like a bit of a gimmick, something Intel had to launch to combat the 5800X3D and all the claims AMD was making surrounding its performance. This CPU is only for the people who want tip-top performance and who have plenty of cash lying around to burn. It's no wonder Intel chose not to send out review samples.
The results of this 12900KS review are that the 12900KS is really nothing more than a binned 12900K, and it shows.
Core i9 12900KS
P-core clock speed
3.4 / 5.5 (GHz)
E-core clock speed
2.5 / 4.0 (GHz)
---