Our 5 Best Gaming Desks In 2020 (Arozzi, PC gaming & Tournament)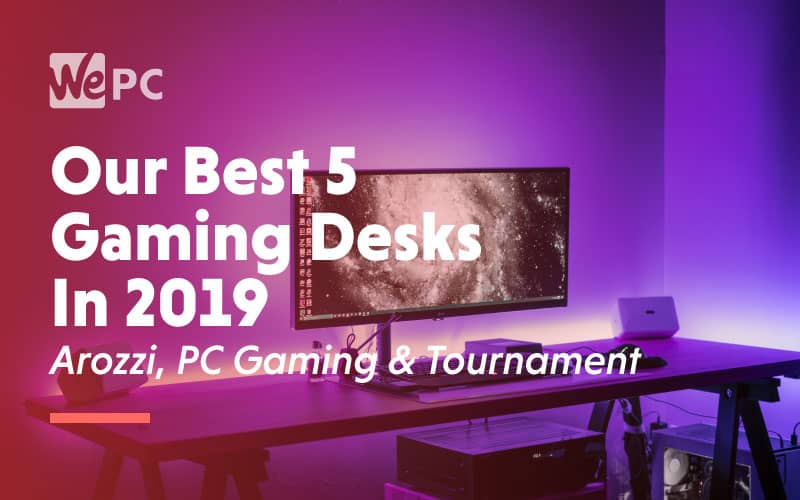 An In-depth Look At The Best Gaming Desks Of 2019...
There's nothing worse than buying the latest gaming PC and having a second rate desk to use it on. You never have enough room to move the mouse, the keyboard is constantly hanging off the edge, it's just not practical. Well, we've had the same issue in the past and feel like it's a problem that needs addressing.
In this article, we take an in-depth look at what we believe are the best gaming desks this 2019 and walk you through some of the fundamental areas which make a gaming desk a great one.
The following desks have been selected based upon their GAMING merit and have been categorized by design, price, and functionality. If you're in the market for the best gaming desk money can buy, then look no further, we have you covered...
The Best Gaming Desks Of 2019
Our Pick
Arozzi Arena Leggero Compact Gaming Desk
PROS
Practical, easy to construct desk
Great gaming surface made of waterproof fabric
Solid footing
CONS
Doesn't have many add-ons
Doesn't have a huge load capacity
One of the most popular brands in the gaming desk sector comes in the shape of Arozzi. You may have heard of the Arozzi guys before as they do a large range of gaming chairs, microphones, and even simulator stands.
However, in this article, we'll be focusing on their impressive Leggero compact gaming desk which we feel is the number one spot for both serious and laid-back gamers alike.
The Leggero comes with a really user-friendly and intuitive design which takes no time to erect. The desk itself is extremely sturdy thanks to the steel and MDF makeup that this desk is comprised of. The surface is extremely large and has a full-length waterproof fabric skin which allows the mouse to glide effortlessly across it.
The design, even though simple, is aesthetically pleasing and suited my build quite well. It's a shame the desk has no RGB as I feel the aesthetics would benefit from some massively. However, your money hasn't been wasted, it's been put to good use making sure this desk is going to last the test of time.
Overall, the Leggero is a brilliant all-round desk which not only looks good but has been built with quality in mind. If you're looking for an easy-to-use desk that's going to give you the edge over the competition, look no further.
Runner Up Pick
Bizzoelife 47" Z Shape E Sports Racing Table
PROS
Take a lot of weight
Large gaming surface
Great ergonomic design
Our runner up comes in the shape of the Bizzoelife 47" Sports table which comes equipped with a cool Z shape design, 2 zones of flashy LED lighting and a hugely impressive load capacity.
This being said, it's not just the design and functionality that plays a key part in each of the desks rankings. The price is also a major part of how the desk rates in our best of guide. For that reason, the Bizzo gets extra points as it features excellent price/performance.
The 'Z shape' this desk is designed around not only makes the Bizzoelife look superb, but it also increases sturdiness and practicality without needing to add any extra supports.
The height of the desk comes in at 29" but does have a small amount of adjustability thanks to the 1cm feet which can be increased if need be.  The feet also prevent the desk from scratching and marking your floor which, as you can probably imagine, is hugely advantageous.
The surface doesn't come with a matte finish but is fully waterproof and slightly textured. A huge 47" gaming surface is the draw of this desk and offers consumers the largest playing surface out of all the desks in this list. A gaming surface of this size will surely exceed anyone's needs when it comes to mouse maneuverability.
The Bizzo, as we'll call it, comes with 2 LED lighting zones which can produce 7 colours respectively. They are found on either side of the desk and produce solid amounts of light which is a huge bonus on a cheaper style desk.
This isn't our budget pick but does fall into the cheaper side of the boat when comparing it with the other selections we've chosen. For this reason and the great build quality, the Bizzo just misses out on the top spot, but not by much.
Professional Pick
Arozzi Arena Gaming Desk
PROS
Ergonomic design which has adjustable height
Sleek design with waterproof fabric finish
Large gaming surface
We've labeled this desk as the professional pick and for good reason.
This desk scraps all the fancy lights and features and sticks with what's best for you as a gamer. The developers clearly spent a lot of time decomposing what makes a great gaming desk and it really shows in the fine details.
The Arena comes in 6 different colours so there's sure to be one that fits your mood and gaming room aesthetics. The design is something Arozzi is very proud of, so much so that they are currently awaiting patent approval for the design, something you don't usually see in today's desks.
The height, unlike some in this list, is fully customizable and can be altered by unscrewing lock screws on each leg. This is a great feature for me, I need to be at the perfect height to game especially in FPS where accuracy is crucial.
The desk comes erected in 3 separate pieces meaning you can take down and move it very easily. The build quality is exceptional and you can tell this thing is going to last for years to come. The huge gaming surface is another massive plus and comes fully enclosed in a microfibre, waterproof layer which can be used as a mat if you wish.
The price, at the time of writing this, currently sits at $299 and for us is a steal for what you receive.
Budget Pick
Eureka Ergonomic X1-S Gaming Computer Desk
PROS
Functional design
Large, textured gaming surface
Sturdy footing
CONS
Headphone hanger on the short side
The Eureka X1-s gaming desk is our budget pick but don't let that fool you. It comes with a tonne of cool add-ons that can not be found with other desks.
The desk, like most, is extremely sturdy and has an X style design that feels very robust. The desk is made up of steel and MDF but feels fit to last. It comes with a couple of LED light zones which certainly boost this desks aesthetic appeal. The lights are set to blue and can't be changed, this being said, it's a nice touch regardless.
The desk comes with a couple of interesting features such as a cup holder, headphone holder, and console pad holder. This thing has the capacity to hold everything you have to throw at it, whilst still having enough room to accommodate a huge mat, your gaming rig, and monitor.
Being our budget pick naturally it's the cheapest in this guide, but like we said before, for the price you get a nice looking desk that has cool features and a decent lifespan.
All round pick
ApexDesk Elite Series 71″
PROS
Nice ergonomic design
Electronically adjust the height with the touch of a button
Sturdy steel frame
Even though this article is specifically targetting gaming desks, the Apexdesk manages to slot its way in without being labeled as one. We can thank some excellent features and cool aesthetics for this.
From afar, you might think the Apexdesk is simply an office desk with some additional features. Well, you'd be half right thinking this but not totally. We're recommending this for gamers and have looked at it from a gaming point of view primarily. The features seem to suit a gamer perfectly.
The design of this desk isn't too flashy meaning it's going to fit into almost any setting seamlessly. It's built using solid materials and has an excellent sturdy base that can accommodate upwards of 100Kg.
The surface is extremely large, 71" to be exact, and gives the user a huge amount of room for several monitors, a huge mouse mat and whatever else they feel is needed on their game station.
A really cool feature, and one of the main reasons why this made it in our best of list, is its ability to change height with the touch of a button. The Apexdesk has an inbuilt electronic height adjuster which is controlled using the controller which can be found underneath the desk's top. You really can't put a price on having the correct height and this desk caters to literally every user out there.
How We Chose The Best Gaming Desk
There are many ways someone could interpret whether a desk is good or bad, but fundamentally our team believes that the merit of a desk, especially from a gaming point of view, comes down to 3 specific areas.
The first and most important feature or aspect of a gaming desk is its functionality. There's no point getting a desk that looks superb but can't accommodate a keyboard. It would be completely impractical. So the first rule of any gaming desk needs to be how functional and practical it is to the consumer.
So how does that break down... Well, the following are areas which need to be considered when looking at the functionality of a desk:
Height (adjustable)
Gaming surface size
Load capacity
Adjustable feet stabilizers
From a gaming point of view, and for me personally, these are the key areas that a manufacturer would have to address before looking at things like aesthetics and build quality. The design needs to be functional enough to accommodate everything a gamer needs or it simply won't rank as a gaming desk.
Aesthetics in the technology universe seem to be growing in importance year on year it would seem. If you compare any piece of tech from any era you will likely see a huge increase in aesthetic design the closer you get to the present day. The gaming desk is no different.
A gaming desk isn't all about functionality, it needs to look the part as well. With the new age of gaming which is riddled with RGB and exciting new designs, the desk needs to follow suit and fit in. You would hate to have an RGB pumping, tempered glass, water-cooled gaming beast sat on a white plastic desk. It just wouldn't look right. This being said, the design of the gaming desk ranks quite high when we select the best gaming desks out there.
Finally, we come to the last, and for some, the most important aspect of any hardware addition, the features and price section.
I've combined these 2 categories into one as I feel anyone can acquire a desk packed with features if they spend enough money. However, what separates a lot of desks, is how good the features to price ratio is.
A desk worth $500 with 6 features is going to be much less desirable than a desk worth $300 with 5. It's all about finding the right balance between good, quality features, and an affordable price tag.
Some cool features that appear in our recommended desks are as follows:
Additional holders
Microfibre waterproof skin
Wireless RGB controllers
RGB
Adjustable height controller
Cable management
Ergonomic design
For most, this is the hardest part when purchasing new items, fear not though. The team spends countless hours browsing, purchasing and testing hardware offerings available to make sure the recommendations we provide are up-to-date and accurate. If there is value to be sniffed out, they're the guys to do it.
With that, we feel that all of our desks recommendations have been carefully considered using these 3(4) areas as a good benchmark.
Why Should I bother Getting A Computer Gaming Desk?
Well, it's a great question and one that crops up fairly often.
For us, the answer is pretty simple. If you want to get the edge over your competition then WE believe that a great gaming desk is absolutely essential. You simply can't put a price on a comfortable, ergonomic desk.
Let's take the surface for example. if you've never used a large playing surface before, you probably won't understand the advantages that come with using one. Using a small surface will automatically restrict your mouse movements meaning you either have to: smash your keyboard out of the way when doing a 180, or increase your sensitivity to accommodate for the lack of space.
Now, if you had an extra 2 feet to play with, you wouldn't have this issue to begin with. What you would have is a tonne of extra room to fully manoeuvre the mouse in your preferred sensitivity. If you're playing FPS there's simply no substitute for accuracy. A large gaming desk 100% increases that and gives you additional confidence that, outside factors, aren't going to falter in the heat of battle.
Another feature that crops up in gaming desks is their ability to alter in height. Now, if you game on a serious level you will fully understand the importance of having the perfect gaming height, as it were. You can't go from a 30" desk to a 25" desk, it's not going to work. So having the ability to change the height is pretty crucial for us.
The build quality of a gaming desk will, 9 times out of 10, be much better than your budget office desk. They're built using quality materials that are both robust and built to last meaning you can get quite aggressive with your movements and won't be worrying about it caving in anytime soon.
There are loads of little things that gaming desks bring to the table that others don't, but for me, these are the main benefits of a gaming desk.
What is too big for a gaming desk?
It's an interesting question because I'm not sure you can go too big? Maybe one that physically doesn't fit inside of your house? No, jokes aside, there is a range that I consider to be the optimal surface width for a gaming monitor, and that's roughly between 65" and 75".
Why is that? Well, a computer gaming desk needs to be practical and functional, as mentioned above. A desk of 65" will accommodate 2 - 3 monitors and a huge mousemat meaning it can be tailored to literally every gamer's needs. A 75" will accommodate the same triple monitor setup, however, it will also be able to house your PC on top as well. This is great for streamers that want to show off their cool RGB dazzling rigs respectively. Anything over this will be a little OTT in my opinion.
Does a gaming desk improve your gaming?
That really depends on what type of game you're playing in my opinion. If like me, you're an avid FPS gamer then I definitely think a larger desk is going to improve your overall gameplay. I used a small crowded desk back in the day, it was garbage. However, once I had upgraded to a larger desk, it gave me peace of mind and more confidence meaning I could focus on in-game stuff and have fewer distractions out of game.
Other game platforms won't benefit like FPS does, however, it will make the gaming experience more enjoyable so that might have a knock on effect.
Should I be Worried About Load Capacity?
In short, yes.
I mean, most desks out there about going to be able to handle the weight of your generic monitor and desktop computer. However, if you want to upgrade to some heavier components or a dual monitor setup down the road, you might find yourself struggling to accommodate the extra weight.
Just keep it in the back of your mind when purchasing a desk, if it holds 40-60kg.. I would probably reconsider.
That's our full breakdown of the top gaming desks available this 2019 and everything they have to offer. We've tried to offer something for every type of consumer by recommending desks with varying prices and functionality. However, if you feel we've missed a trick, feel free to leave us a comment below letting us know what desk you think will better fit in our list.
Ultimately, if you're looking at buying a gaming desk, it really comes down to those 3 core principles, functionality, design, and price. All the desks we recommend have been whittled down using the 3 principles as a rough guide and offer superb value for money across the board.