Stormforce prebuilt gaming PCs – Powered By ASUS
Stormforce Prebuilt Gaming PCs Powered By Asus
Updated: Aug 24, 2023 9:48 am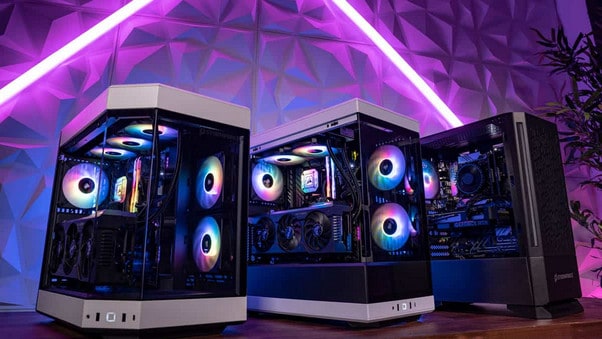 *SPONSORED POST*
Stormforce and ASUS have joined forces, creating the next generation of prebuilt gaming PCs. The partnership brings a wide variety of options catering to all budgets between £600 and £5000. So if you are looking at getting your hands on a prebuilt rather than building your own, you might want to check out the Stormforce PBA systems, with 30-series and 40-series Nvidia GPUs at the helm. Stormforce is a UK-based custom PC manufacturer, and has everything you gamers are going to need, regardless if you're a casual indie lover, or a full time gaming enthusiast.
What is Powered By ASUS?
Powered by ASUS (often shortened by fans to PBA) is a series and certification that extends ASUS' commitment to bringing the best build quality possible and best components available into the prebuilt PC market. ASUS has teamed up with several partners, one of which being Stormforce, to bring high-quality systems to the masses, systems that go through rigorous performance and quality testing before being sent out to customers.
Powered by ASUS is the seal of approval that ensures the overall capabilities of the systems advertised, which basically means, if it states "high-end gaming machine" then it is. If it's stated that a system is for 1080p gaming, then it needs to meet that specification, and handle the latest AAA titles. PBA systems are taking this stance to ensure customers leave with a gaming PC that meets all of their desires.
Stormforce PBAs
Why is Stormforce a key partner? Well, ASUS is one of the world's leading motherboard manufacturers, with over 10 years of experience producing high-quality motherboards for all sockets, systems and chips. It's no secret that ASUS' motherboards, graphics cards, accessories and components are award-winning products, and this is reflected by the fact that over 550 million ASUS motherboard units have been sold in the last decade alone. Stormforce is one of the UK's leading providers of pre-built systems, meeting a wide variety of needs, from high-end gaming machines to pro-grade workstations. Exclusively building with components from market-leading brands to ensure speed, compatibility and reliability for their customers.
ASUS also helps lead the way when it comes to GPU cooling too. The current ASUS graphics cards are built on years of technological and engineering experience and feature new innovations such as Axial-tech fan designs and IP5X dust resistance. This partnership with Stormforce works extremely well, ASUS graphics cards are both highly reliable and capable GPUs, and Powered by ASUS Stormforce builds come with a three-year collect, repair and return warranty as well. Stormforce customers are well-supported and will no-doubt have piece-of-mind when it comes to their new system. They just need to decide which prebuilt meets their budget and needs, and the rest is sorted.
Your Guide to the Stormforce PBA range
If you want, you can find the full list of systems available, and pick one for your budget at the Stormforce, Powered by ASUS short list. We've chosen and tested 3 picks from each of the main Stormforce PBA prebuilt ranges below, predominantly for their gaming performance:
Stormforce Onyx Gaming PCs – Powered by ASUS
The budget friendly mid-tier Oynx range offers gamers an excellent experience without spending the big bucks. These PCs are ideal for gaming in 1080p or 1440p resolutions, and are best suited for esports titles. For example, the Onyx 5908 prebuilt featuring the ASUS DUAL RTX 3060Ti 8GB V2 GPU would net you well over an average of 300 FPS in CSGO (1080p@ low to med settings). You can also expect to hit an average of 80+FPS when playing the likes of Call of Duty as well (1440p High DLSS quality). Combine that with an ample base spec, including Intel Core i5, 16GB of RAM, and 1TB of superfast NVMe M.2 SSD storage and it means you won't need to upgrade any time soon.
Stormforce Crystal Gaming PCs – Powered by ASUS
The Crystal range features industry leading components and delivers high-performance with ease. These are built for enthusiasts that seek powerful CPUs and GPUs to drive top in-game results at high resolutions. We recommend checking out the Crystal 6233 with the ASUS TUF RTX 4080 GPU. It can deliver an average of around 50 FPS when playing Cyberpunk 2077 maxed out in 4K. You can also expect FPS results around 90-100 when playing Red Dead Redemption 2 maxed out in 4K (with DLSS 3 enabled).
Stormforce Prism – Powered By ASUS
The Stormforce Prism range is there for gamers that want the very best PC they can get their hands on. This range features the latest and greatest components available, and allows you to experience games in maxed out settings on the high possible resolutions. With systems featuring the ASUS TUF RTX 4090 GPU, you can expect an average of around 60+ in Hogwarts Legacy at 4K.
Stormforce Crystal 6332 Performance
To give you a brief idea of how well these perform, we've taken a quick look at the Stormforce Crystal 6332 below. The system features both an ASUS GPU and motherboard combo as its base, and comes with exceptional build quality throughout, with no loose components, or cables, and the system booted straight to desktop without any problems whatsoever.
Cable management and overall build quality, is impeccable, and it's clear that the system has been diligently checked, and tested before shipping.
Specifications
CPU: Intel Core i5-13400F
Graphics: ASUS Dual RTX 4060Ti
Motherboard: ASUS Prime B960-Plus
RAM: 16GB
Storage: 1TB M.2 NVME SSD
We ran the Stormforce Crystal gaming PC, which features the ASUS Dual RTX 4060 Ti GPU, through a few popular game titles to see how it faired. In CS:GO, with maxed out settings we saw an average of around 290FPS, with the CPU and GPU only hitting around 52 degrees under load.
Jumping into Cyberpunk 2077, admittedly a far more taxing game graphically, we saw the system hit an average of around 97 FPS while maxed out which is pretty impressive. The temps were higher this time around understandably, given the additional load placed on the GPU, but still relatively low by any modern hardware's standard.
Lastly, we tested Shadow of the Tomb Raider. While utilizing the highest graphics settings available, we saw an average of 130 FPS at 1440p.
Every Stormforce PBA system we have received has been impeccably well built, and operates exactly as we'd expect for a system of this caliber. They arrived undamaged and delivered their promised performance. If you are looking to support your new ASUS powered system with some high quality peripherals or a new gaming monitor, you should take a look at our ultimate esports setup. These additional items go a long way when it comes to getting the best possible gaming experience you can from your rig.
Stormforce PBA: 4080 vs 4060Ti vs 4070Ti
We put all these builds through their paces, benchmarking them on some of our favorite games. Check out the results below in our video:
If you're looking to level up your setup with a Powered By ASUS Stormforce PC, check out the full range here.
---