Hands-on: OneOdio Studio Pro-10 headphones
The OneOdio Studio Pro 10 headphones have a few tricks up their sleeve - let's take a look
Updated: Nov 23, 2022 7:22 am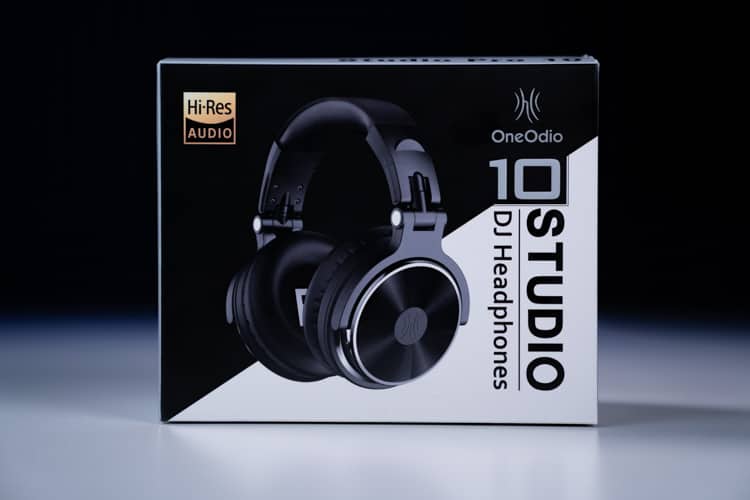 SPONSORED POST
OneOdio has built a reputation for itself as a purveyor of budget-friendly audio devices, producing products from TWS earbuds, all the way to studio-grade monitor headphones, aimed at the professional audio mixing industry.
OneOdio has now released its brand-new Studio Pro-10 DJ headphones, which look to cross the boundary between DJ and studio headphones, and seeks to bring you the best possible experience, whether you're at home working on a new mix, or in front of an audience at a live show. The OneOdio Studio Pro-10 headphones have a huge laundry list of features, which we can break down for you right here.
1. Single-ear monitoring
The first feature of the Studio Pro-10s that makes them perfect for use in professional audio environments is the single-ear monitoring design. These headphones come specifically constructed with wide-ranging adjustability of both earcups.
This allows you to fold one earcup fully out of the way, so you can more effectively listen to both external sounds and the sound coming from the Studio Pro 10 headphones simultaneously. This is a must-have feature for DJs and other audio professionals alike, making it easy to stay on top of the music.
2. 50mm dual-diaphragm drivers
Drivers form the foundation of any decent pair of headphones, and they are particularly vital for professional audio situations. OneOdio knows this, so has equipped the Studio Pro-10s with powerful 50mm dual-diaphragm drivers. The large size brings considerable volume capabilities. In addition to this, the dual diaphragms allow for a wider, more expressive, and realistic soundstage.
This crucial feature allows the wearer to experience the sound as it was intended and created. The OneOdio Studio Pro-10 headphones also have very strong bass production, which is ideal for DJing applications, because it lets you hear a broader range of lower frequencies, without losing touch with the mids and the highs.
3. Dual-mode connectivity
OneOdio has smartly and conscientiously outfitted the Studio Pro-10s with two modes of connectivity. The headphones can be used via the musician-standard 6.35mm cable, and the consumer standard 3.5mm. Both are generously included in the box, so there's no need for adapters. Additionally, the 6.35mm cable is coiled, allowing for compact storage, but retaining its length for increased flexibility and longevity.
Another benefit of the dual connectivity is that it allows for daisy-chaining to additional sets of earphones. This addition makes the OneOdio Studio Pro-10 headphones ideal for scenarios where only one output is available. This can be a lifesaver and is a rare feature that you don't see often enough on most commercial headsets.
4. Comfortable earcups
The audio can be world-class, but if the headphones aren't comfortable to wear, then what's the point? OneOdio clearly care for comfort, so the Studio Pro-10 headphones were designed with comfort as king. First up, we have plushy leatherette earcups. Whether you're listening for extended periods of time or using these in a hot, intense DJ environment, these earcups have been specifically created to keep the headphones stable, ergonomic, and comfortable regardless of the listening scenario.
5. Ergonomic headband
OneOdio also went to extensive lengths with the design of the headband on the Studio Pro-10 headphones. It's designed to be super flexible while retaining its shape even when subjected to some rough treatment.
The flexibility also allows for a far wider range of fits, resulting in a set of headphones that are suitable for any user, regardless of size. To sweeten the deal, OneOdio has also applied the plush and robust cushioning from the earcups to the headband, meaning you can be confident in the long-term comfort of the headphones, whatever you're using them for.
6. Smart design
The benefits of the Studio Pro-10 headphones extend not only to audio quality, but to visual aesthetics too. The earcups have been outfitted with a shiny chromed plastic perimeter, to give a premium flair to the headphones. This philosophy extends to the outer surface, where you can find the OneOdio logo surrounded by textured concentric circles.
As you move up the headset, there is an abundance of matte black plastic to maintain the professional look. The quality faux leather headband is embossed with the OneOdio brand name. Subtle branding is one of OneOdio's strong suits, so we're glad to see it utilized effectively here, too.
7. Extensive adjustability
The fully-articulated earcups help with fitting the OneOdioStudio Pro-10 headphones, but we also have to mention the headband extension capabilities. It has a lengthy 1.5-inches of travel on both sides, which helps you find the perfect setting for you. This adjustment mechanism is reinforced by a thin, elegant strip of aluminum, and is accented with textured bumps.
These help you dial in your chosen settings with pinpoint precision. This may seem like a simple feature, but it's OneOdio's attention to detail that makes these headphones stand out from the rest.
All of these make the OneOdio Studio Pro-10s great for those who are looking for a brand-new set of headphones for professional use, wherever you might be. They combine all of the features that you'd expect out of a studio headset, with the price of a budget one, all while retaining OneOdio's uncompromising vision for value in a set of headphones.
---