Which DJI drone should you buy?
A brief breakdown of what DJI drone you should buy, and what the main differences are.
Updated: Dec 13, 2022 10:28 am
DJI makes a lot of stuff, so which DJI drone should you buy? It's not an easy question to answer as DJI makes drones that run the gamut from palm-sized FPV drones all the way to monstrous automated agricultural aircraft that you wouldn't want to share a zipcode with.
DJI is without a doubt the most well-known name when it comes to consumer-level drones. After being founded in 2006 by Frank Wang, the company experienced massive growth and within 15 years, it had managed to acquire almost 77% of the market share. This is a ridiculously dominant market share, even within other industries, it's practically unheard of.
In the years since the company's birth and rise to dominance, it's expanded to cover pretty much every section of the drone market. It makes drones for photography, FPV drones, and many more, which begs the question, which drone should you buy? Let's find out.
DJI FPV drones: DJI Avata vs DJI FPV
FPV simply refers to the method by which you control the drone. In this case, via a set of goggles that allow the pilot to see as if piloting the drone from a first-person perspective, hence the meaning 'first-person view'.
DJI's current offerings when it comes to FPV drones are the unimaginatively-named DJI FPV and the more abstract DJI Avata.
Camera
4k Resolution, 150° FOV, up to 120FPS
Both of them are pretty similar in terms of function, however, the Avata is almost half the weight of the FPV, so if you're looking for unrivaled agility, it's a better shout. Unfortunately, it's more expensive than the DJI FPV, by about $400.
NOW READ: What are FPV drones?
This is not to say that the DJI FPV is an unmaneuverable sky-cow and it's actually very nimble in its own right. Additionally, it's well worth your consideration as it's no longer the newest thing, meaning that the price will slowly, but reliably decrease over time.
Camera
48MP 155-degree FOV, 4k @60fps
So, if you're looking for the best DJI FPV drone, we're of course going to recommend the DJI Avata as the smaller form factor and lower weight are two of the most important factors for FPV drones, as a result, the DJI Avata shines just a bit brighter than the FPV Combo.
DJI Photography drones: Mavic, Air, Inspire, and more
Despite its expertise in the FPV category, DJI is more known for its high-performance photography/content creation drones. So much so that they've become the go-to for filmmakers and creatives. They are the first choice all the way from YouTubers trying to enhance their production values to international film studios that need aerial coverage of their multimillion-dollar productions.
With this level of prestige, it comes as a surprise to absolutely no one that the more photography/videography-focused drones from DJI come with a significant price premium.
We'll start with the venerated and inarguably capable DJI Inspire 2. Not only is it an impressive aircraft, but it can be configured to play host to a very comprehensive camera system.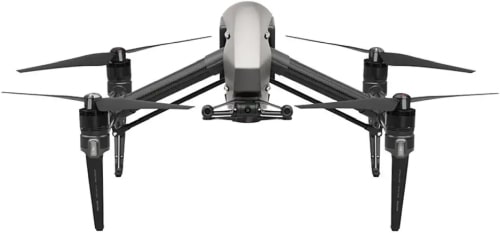 Flight time
Up to 27 mins
Camera
Compatible with any 5.2k gimbal cameras
The drone can be controlled from 7km away and travel almost 100kph, additionally, it can do all this for up to 27 minutes. This means that the DJI Inspire 2 can capture footage that would previously require a helicopter.
For the serfs among you who don't have access to a Hollywood budget, the DJI Mavic series of drones is a far more accessible, all-in-one camera drone system. the Mavic 3 Classic, for example, can be bought for less than half the price of the enterprise level DJI Inspire.
Despite the lower price, you lose almost nothing in regard to aerial capabilities. In fact, you actually gain a few things as the lower weight increases the flight time and the agility of the aircraft.
DJI Mavic 3 Fly More Combo
Camera
Hasselblad 4/3 CMOS, up to 200FPS, 4K
Unfortunately, you can't get quite the same level of image quality as the Inspire series of drones as they are incapable of working with larger frame cameras. However, you can still get footage up to 5.1K at 50FPS, which is more than enough for most consumer-level applications and use cases.
DJI Drone FAQs
In case you're too busy to absorb the info above, here are a few of the more common questions we see about DJI drones.
Is the DJI FPV good for beginners?
Yes. Despite its price, we still recommend the DJI FPV for beginners as the varied flight modes are helpful for pilots of all skill levels.
Are DJI drones worth the money
Yes. DJI has gained a huge market share due tot he quality of they drones and the continuous innovations they make year over year.
---