Hot on the heels of Death Stranding's PC release yesterday, NVIDIA has announced that its Tensor Core-powered frame rate and image quality boosting DLSS 2.0 technology is now available for Hideo Kojima's latest effort.
NVIDIA explains that DLSS 2.0 allows players to hit over 100 FPS at 2560x1440 with the settings maxed out on all GeForce RTX GPUs. For those looking for the ultimate 4K experience, the frame rate drops to a respectable 60 FPS with, once again, the graphical settings pushed to their limit. Naturally, you'll need a GPU that supports DLSS 2.0. If you're tempted, all you need to do is download the Death Stranding Game Ready Driver via the 'Drivers' tab in GeForce Experience.
https://www.youtube.com/watch?v=IMi3JpNBQeM
NVIDIA has released a short promo clip with a side by side comparison. The proof is in the pudding; there's no reason not to have DLSS 2.0 turned on if you happen to own an RTX GPU. The gains are as clear as day: higher frame rates, improved image quality, sharper detail, smooth aliased edges, and boosted clarity.
NVIDIA has produced some figures to prove how impactful DLSS 2.0 is on Death Stranding's performance. In testing, NVIDIA recorded a performance improvement of 48% in DLSS 2.0 Quality Mode, and up to 90% in DLSS 2.0 Performance mode, running on a GeForce RTX 2060.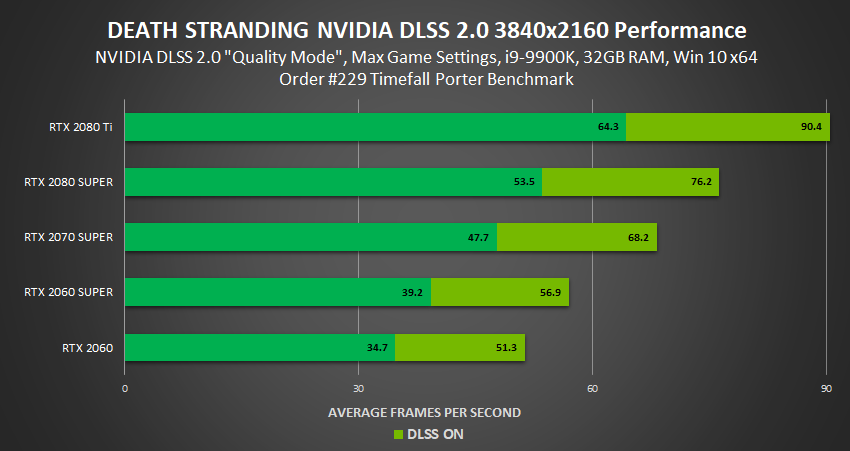 Using a build consisting of an Intel i9-9900K CPU and 32 GB of RAM running Death Stranding at 3840x2160 with the setting maxed out, DLSS 2.0 upped framerates by 40 FPS on an RTX 2080 Ti and RTX 2080 SUPER. For the rest of the RTX lineup (RTX 2070 SUPER, RTX 2060 SUPER, and RTX 2060), frame rates increased by over 30 FPS.
For a brief overview of how DLSS 2.0's AI sorcery works, NVIDIA offers a layman-friendly description, which you can read just below. There's more here if you fancy diving into the specifics of the technology.
"A special type of AI network, called a convolutional autoencoder, takes the low resolution current frame, and the high resolution previous frame, to determine on a pixel-by-pixel basis how to generate a higher quality current frame.
During the training process, the output image is compared to an offline rendered, ultra-high quality 16K reference image, and the difference is communicated back into the network so that it can continue to learn and improve its results. This process is repeated tens of thousands of times on the supercomputer until the network reliably outputs high quality, high resolution images.

Once the network is trained, NGX delivers the AI model to your GeForce RTX PC or laptop via Game Ready Drivers and OTA updates. With Turing's Tensor Cores delivering up to 110 teraflops of dedicated AI horsepower, the DLSS network can be run in real-time simultaneously with an intensive 3D game."
Death Stranding with support for DLSS 2.0 is also available for those playing the game via NVIDIA's GeForce NOW cloud-gaming service. A premium Founders subscription is required to access NVIDIA's RTX-enabled servers, but at $4.99/£4.99 a month, it's a small price to pay for a tangibly improved experience.
https://www.youtube.com/watch?v=WB5yrXktqIM
Finally, NVIDIA has also announced that newly-purchased GeForce RTX GPUs come bundled with a copy of Death Stranding at selected retailers. The offer runs until July 29th.