Choosing the right processor is a difficult task. If you've landed on this guide, chances are you need a helping hand, and you've found yourself in the right place. 
Whether you've decided to upgrade your desktop PC or you want to build a new one, picking the right CPU for your needs is becoming increasingly more difficult. 
With Intel and AMD competing to introduce faster and more powerful processors than ever before, it can be difficult to cut through the vast sea of options and pick the right one for you. 
Generally speaking, you'll want to make your choice based on performance vs. cost efficiency. But, there's a whole host of other factors that come into play, which is why we've made this comparison to help you decide.
In this article, we will be comparing how the two processors stack up against each other and explore if there's a reason to buy the upgraded i7-9700K over the older yet still mighty i7-8700K.
8700K vs 9700K Specifications
Before we jump into feature comparisons, we've first laid out the specifications of the 9700K and 8700K side by side so you can see the differences (or lack of!) for yourself.
For extra convenience, we've separated them into tables that cover general, performance, memory support, and, of course, power specs.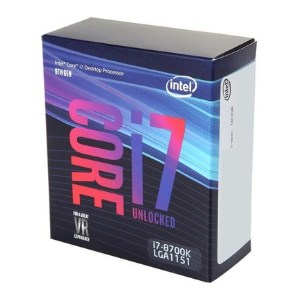 Supports Hyper-threading; good for multitasking and streaming
Very fast speeds; great for gaming
Unlocked for overclocking
Draws a lot of power/ can get quite hot
Excellent gaming performance
33% more cores than previous gen
Great single core performance
Below, we're going to be outlining the most common features that you should look out for when considering which Intel Core i7 processor is right for you:
Number of Cores and threads
The first feature that we're going to be looking at is the number of cores each CPU has. The core is essentially a single processor that is located inside a CPU.
Nowadays, most of the computers that are manufactured today come with multiple cores, which means that the CPU has more than one core.
Core vs. thread; cores are hardware components, while threads are virtual components that manage the CPU's tasks.
In contrast, a thread is the 'virtual' version of a CPU core, and the presence of threads (and the number of them) helps increase performance.
So, with many threads, a CPU will be able to handle several tasks at the same time without issues. Both the 8700K and 9700K have active threads alongside their cores, which we're going to be outlining below:
As the Intel Core i7 9700K is the upgraded model to the Intel Core i7 8700, Intel has given it an additional two cores alongside the 8 threads, bringing the total core amount to 8.
On the other hand, though the Intel Core i7 8700 has just six cores, it has more threads than the upgraded i7 9700K. The i7 8700 has 12 threads, a 12MB cache, and a 95W TDP, so its workload capabilities are near enough on par with the Intel Core i7 9700K. 
Though multiple processor cores are among the biggest indicators of performance efficiency, multiple threads are just as important to consider. 
If you choose a CPU with a higher thread count, your computer will be better at multitasking, as the threads will help to organize the workload to the CPU in a more efficient manner. 
Maximum Clock Rate
Another measure of a processor's efficiency is what is known as clock speeds or the clock rate. To simplify, this is the speed at which a processor can carry out instructions.
To follow instructions correctly and on time, the CPU will need a fixed clock cycle. Just think of it this way: the faster the clock speeds, the more instructions the CPU will be able to handle every second. 
Usually, the clock rate is displayed in either GHz or MHz. The Intel Core i7 9700K comes with a clock speed of 3.36GHz, with one of the processing cores reaching up to 4.9GHz.
In contrast, the Intel Core i7 8700 has a 3.7GHz base frequency, although it can reach a maximum of 4.7 GHz if you were to overclock it. 
However, out of the two, it is the Intel Core i7 9700K that takes first place. As it has a seamless heat spreader, the 9700K will be able to keep the CPU cool and functioning correctly if you wish to overclock it to speed things up. In contrast, the 8700K may overheat and struggle to maintain performance efficiency.
Heat Management
Heat management ties in closely to the point above. Having efficient CPU thermal management is essential in both enhancing the life of your processor, as well as allowing for a much faster overall computer performance. 
Oftentimes, the most common way that heat is regulated is by incorporating fans that can move warm air from the CPU and expel it to the outside of the case. In addition to this, cooler air can sometimes be blown into the CPU to keep it at a cooler temperature. 
For the Intel Core i7 9700K, as its clock speeds are faster, this means that it needs a more efficient cooling system than less powerful CPUs.
Like we mentioned earlier, it has been equipped with a soldered integrated heat spreader that will be able to keep the CPU cool while in operation. The 8700K doesn't have this, and many report that it can experience heat spikes while overclocking. 
Besides this, both CPUs feature a purported gold-plated solder that replaces the older, traditional thermal paste that Intel has been known for using in the past. This upgraded solder can transfer heat more efficiently, which helps to prevent further overheating.
Performance Specifications:
What do you need your processor for?
The type of processor you choose will heavily depend on your daily computing needs, and the easiest way to make an assessment of which processor is best for you is by referring to user benchmarks.
According to User Benchmark, a popular CPU comparison site, if you need a CPU for gaming, then a solid choice is the 8700k. It will allow you to enjoy fast gaming speeds, as well as allow you to listen to music and even record using your camera while you do it.
In addition to this, it will also be well-suited to you if you use a desktop, though it may lag if you use a PC workstation. 
As for overclocking? Surprisingly, the Intel Core i7 9700K is just 1% higher than an 8700K when compared to a single-core chip, which is pretty interesting considering the fact that the 8700K has four more threads than the upgraded 9700K. In addition to overclocking, the 9700K also dominates in benches that compare quad-core, 8-core, and dual-core.
When comparing speed effectiveness, the 9700K has a 5% lead and scores over 90% for gaming, use on a desktop, as well as use on a PC workstation.
On the other hand, 8700K scores a little lower on speed effectiveness but still scores over 90% for both gaming and use on a desktop and 84% for use with a PC workstation.
According to these benchmarks, it can certainly be said that there aren't too many noticeable differences between the 9700K and 8700K.
However, the 9700K does have faster response times, is able to multitask, and features extremely fast clocking speeds that can withstand both gaming and general use, whether you're using a desktop or PC workstation.
Memory Support Specifications:
The Intel Core i7-8700K launched in 2017 for 359 dollars, which placed it directly against AMD's best Ryzen processors at the time, including the bestselling AMD Ryzen 7 2700X (329 dollars).
In contrast, the Intel Core i7-9700K was released in 2018 for 374 dollars, with Intel giving it a slightly higher price markup than the 8700K.
At the actual time of release, many retailers estimated that the 9700K would enter the market with a price point of over 500 dollars. 
Currently, the Intel i7-9700K has retained a higher price point than the Intel-i7 800K, and you can check them both out here:
Remember, purchasing either one of these processors will likely require the purchase of additional items like a motherboard, cooling system, and a CPU holder.
Before making a purchase, we recommend deciding which additional factors you might need and then tallying up a quick estimate of the overall cost.
So, which one is better?
After comparing the two, it's hard to pick a clear winner! Both processors offer fast, efficient performance, although it can be said the Intel Core i7 9700K takes the edge.
It's a great gaming chip and works well on both desktop and PC workstations. But, to help you decide which CPU is best for you, check out our summary of both below. 
Why choose the Intel Core i7 9700K?
If you're a gamer and on the search for a chip that will be able to provide a quick, seamless gaming experience as well as speedy, efficient general use, then this is the CPU for you.
The Intel Core i7 9700k will ensure that there are no lags during your gameplay and will also allow for easy operation of multiple programs and applications. 
The 9700k has a durable, single-threaded capacity, and this is all thanks to its high turbo clock speeds. Not only that, but it is also a soldered CPU, which will be able to help improve overall thermal transfer. This means that, whether you're gaming or running new software on your computer, you'll always have a cool, high functioning CPU.
i7 9700K Pros:
8 cores and 8 threads

3.60 GHz up to 4.90 GHz

Offers 12 MB cache

Features Intel UHD Graphics 630 for a seamless performance

Great for level entry gaming and for using productivity apps

Can be overclocked thanks easily to high clock speeds and heat management system
i7 9700K Cons:
Some have found it requires an additional cooling system

Only compatible with motherboards designed off of the Intel 300 series chipsets
Why choose the Intel Core i7 8700K?
If you're looking for a CPU primarily for gaming purposes, then the Intel Core i7 8700K is the CPU for you.
With its 6 cores, 12 threads, and a turbo frequency of 4.7GHz, the Core i7 8700K is a capable gaming chip. Though it is slightly older than other processors on the market (including the 9700K), it is still very well regarded in the gaming community as one of the best CPUs for running games and, thanks to its multiple cores, will be able to manage around 60fps on some of the most CPU-intensive 4K games released today. 
i7 8700K Pros:
6 cores and 12 threads

4.70 GHz Max Turbo frequency

Supports Intel Optane Memory

Features Intel UHD Graphics 630

Offers smoother gameplay up to 64%

Fast streaming up to 137 fps
i7 8700K Cons:
Older CPU

Does not come with a CPU cooler