Best gaming laptop for Half Life Alyx 2023
What's the best gaming laptop for Half Life Alyx? Half Life Alyx laptop compatibility
Updated: Apr 11, 2023 9:08 am
01

Best affordable gaming laptop for Half Life Alyx @ 1080p

ASUS ROG Strix G15 Advantage Edition (300Hz 1080p)

02

Best high-end gaming laptop for Half Life Alyx @ 1440p / high-performance 1080p

XMG Neo 15 E22 / Eluktronics MECH-15 G3 (2022, i7-12700H)

03

Best gaming laptop for Half Life Alyx @ 4K

ASUS Zephyrus S17 (4K, 120Hz, RTX 3080)
What is the best gaming laptop for Half Life Alyx? Can you play Half Life Alyx on a laptop?
Read the article below to learn if playing Half Life Alyx on a laptop is a smart decision for you. The article will showcase the best gaming laptops for Half Life Alyx depending on your budget and requirements. Also, a number of gaming laptops that work well for launching the game in various configurations will be discussed.
Best affordable gaming laptop for Half Life Alyx @ 1080p
ASUS ROG Strix G15 Advantage Edition (300Hz 1080p)
The ASUS ROG Strix G15 Advantage Edition is an outstanding gaming laptop if you like playing Half Life Alyx in 1080p resolution. The laptop's 1080p 300 Hz video screen offers great FPS output as compared to most gaming laptops at this price. The 1440p/QHD version the other hand, is a great option if you're looking to play the game at a higher resolution at a lower (but still very respectable) max refresh rate, though it might not quite be powerful enough to play a game as demanding as Half-Life: Alyx at this resolution, except on the lower settings.
Best high-end gaming laptop for Half Life Alyx @ 1440p / high-performance 1080p
XMG Neo 15 E22 / Eluktronics MECH-15 G3 (2022, i7-12700H)
Nvidia RTX 3070 Ti (150W) / 3080 Ti (175W)
You'll need a PC with a little more power if you want to play Half Life Alyx at 1080p with the best frame rates or play it at 1440p with a respectable FPS. One of the most effective RTX 3070 Ti laptops available right now is the Eluktronics MECH-15 G3 from the US or the XMG Neo 15 E22 from Europe, each of which uses Nvidia RTX 3070 Ti graphics cards. It can undoubtedly match and occasionally even surpass most of the RTX 3080 laptops in terms of efficiency.
For action games, its outstanding 1440p, 240 Hz display is ideal. Alternatively, think about choosing the RTX 3080 Ti model if you want to ensure a 1440p resolution with the highest FPS.
Best gaming laptop for Half Life Alyx @ 4K
ASUS Zephyrus S17 (4K, 120Hz, RTX 3080)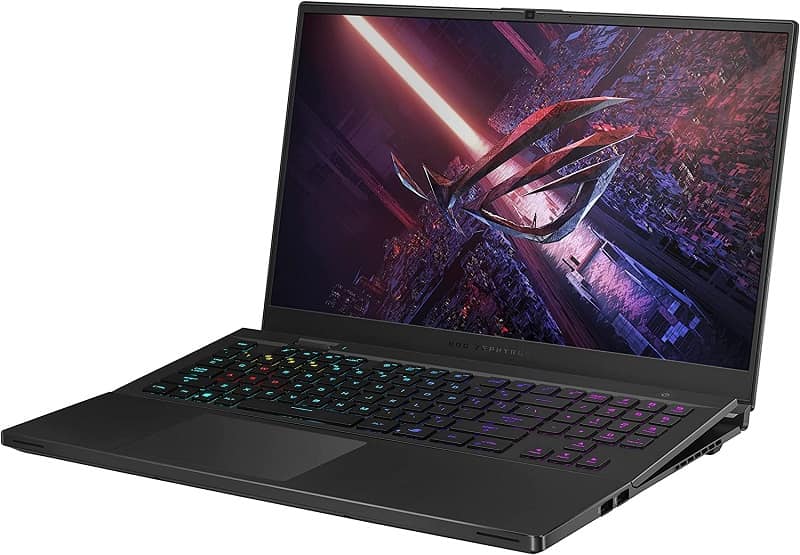 Nvidia GeForce RTX 3080 (100-140W)
If you plan to buy a laptop with the best 4K display image to play a game like Half Life Alyx, you need a powerful system. The ASUS Zephyrus S17 with RTX 3080 is the best 4K gaming laptop for you. It's the ultimate choice for a gaming laptop with a 120Hz display. Although the system's cost is high, this laptop's performance and frame rate make video gaming incredibly exciting. The MSI Raider is another great 120Hz 4K choice. The higher refresh rate 144Hz Razer Blade 17 is an option that includes a 4K display, but lacks the same robust TGP core capabilities, though the 120Hz MSI Raider with UHD/4K screen is a solid choice.
Half Life Alyx laptop deals
Pick up these Half Life Alyx gaming laptop deals for some superb savings:
ASUS ROG Zephyrus (14″) – FHD 144Hz, AMD Ryzen 9 6900HS, Radeon RX 6700S, 16GB DDR5 RAM, 1TB SSD – was $1,649.99 now $1,399.99 (Save $250)
ASUS ROG Strix G15 Advantage Edition (15.6″) – QHD 165Hz, AMD Ryzen 9 5980HX, Radeon RX 6800M, 16GB RAM, 512GB SSD – was $1,699.99 now $1,349.99 (Save $350)
Half Life Alyx recommended specifications (desktop)
As a VR title, Half Life Alyx is fairly demanding game. Only the minimum system requirements have been divulged by Valve, but these are insufficient if you want to play the game to any kind of enjoyable standard in our opinion. As a result, we've listed below what we deem to be the recommended system requirements for the game, if you want to run it at 1080p and if you're playing on a desktop that is.
Keep in mind that laptops however, do not fulfill these criteria, as their performance won't match a desktop's with the same named internal components owing to their lower-rated graphic cards and CPUs. You require a more recent model of SKU with a faster processor for equal results. We've listed a number of gaming laptops further down this page that would be ideal to play the game at different resolutions and graphical settings.
OS: Windows 10
Processor: AMD Ryzen 7 3700X or Intel i7-9700k
Memory: 16 GB RAM
Graphics: Radeon RX 5700 XT or Nvidia RTX 2070
DirectX: Version 12
Storage: 50 GB available space
Best gaming laptop for Half Life Alyx : Final Word
We trust this guide has now answered the question for you 'can you play Half Life Alyx on a laptop?' and helped you find the best gaming laptop for Half Life Alyx for your needs and budget.
---