LG 32GK850F Monitor Review | 1440p, 144hz, 5ms
We Take A Look Through The Features LG 32GK850F And See If It's Worth Your Money
Updated: Mar 10, 2022 11:03 am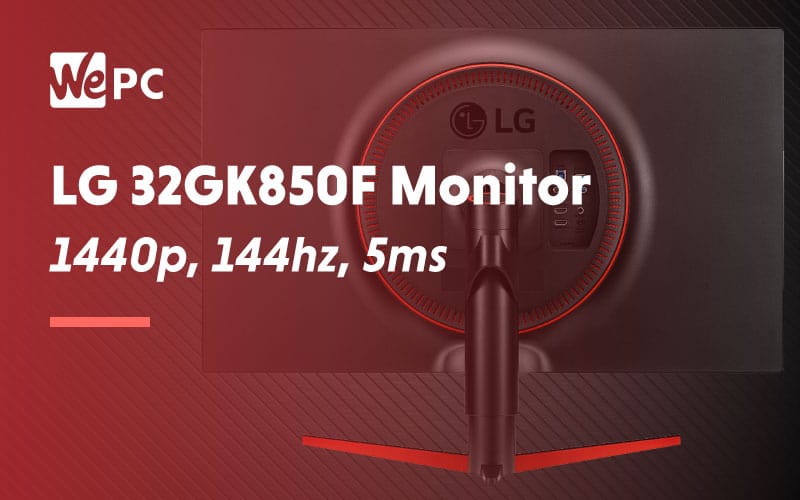 The gaming monitor has been growing in importance for years now thanks to huge leaps forward in display technologies. A decent monitor is now considered as one of the most important hardware staples you can own, and no, it's not for the glaringly obvious reason (it provides the pretty pictures).
A good monitor in today's market will provide high refresh rates, low response times, and excellent screen resolutions, which can now give you a huge advantage over your competition.
That being said, today we've been tasked with completing an in-depth review of the LG 32GK850F gaming monitor. A monitor that has been turning heads because of its high refresh rate and excellent price tag. We test everything from in-game performance to stand durability in this review to give you the ultimate rundown of another superb gaming monitor from LG.
Let's waste no more time and see how it compares with some of the best gaming monitors currently available.
LG 32GK850F Monitor
Resolution
2560 x 1440 QHD
Panel Technology
VA (Vertical Alignment)
PROS
Full 90 degrees tilt
Nice Aesthetic design
Good, versatile stand
High refresh rate
Easy-to-use options menu
CONS
Quite a low response time
The LG 32GK850F, How We Tested
Whether we're looking at one of the latest gaming mice or a brand new GPU, we always give 100% when it comes to testing hardware for these review articles. As far as the LG 32GK850F was concerned, the same rules applied, of course. We test each monitor in a number of different scenarios, which include long gaming sessions, graphical output, color depth, and more.
The monitor will be tested by a number of the WePC team to make sure we get an accurate, unbiased result at the end.
Specifications
Whenever we're looking at a new monitor, we always start with the technical specifications. This gives us an initial picture of how the monitor will perform. It will also notify us of any unknown features and benefits we weren't aware of before we start the review process.
Whether you're looking for the monitors, refresh rate, or the max brightness, everything can be found right there, in the specs.
Let's take a look at what the LG 32GK850F has to offer:
| | |
| --- | --- |
| Screen Size | 31.5" |
| Resolution | 2560 x 1440 QHD |
| Aspect Ratio | 16:9 |
| Panel Technology | VA |
| Refresh Rate | 144Hz |
| Response Time | 5ms |
| Contrast Ratio | 3000:1 |
| Brightness | 400cd/m² |
| Built-in Speakers | No |
| Stand: Height | Yes |
| Stand: Tilt | Yes |
| Stand: Swivel | Yes |
| Stand: Pivot | Yes |
Physical Size & Design
The LG has been marketed as a 32″ monitor when in reality it actually measured 31.5″. That being said, though, you wouldn't know the difference unless you have a seriously keen eye for measurements. It's still a decent-sized gaming monitor nonetheless. It comes to shelves weighing 18.74lbs, which is fairly light when you consider the size. Thanks to a well-engineered stand, the monitor doesn't wobble or feel unstable regardless of how aggressive your gaming style.
It's safe to say we were seriously impressed with the design of this monitor from the moment we unpackaged it. Speaking of packaging briefly, LG has taken great care in making sure there is no possible way of this monitor getting damaged during transit. The monitor is wedged inside a polystyrene protective block alongside the cables and stand which comes unassembled.
Back to the design, this is another extremely attractive monitor to add to LG's already impressive repertoire. The monitor is mostly dominated by matte black with some subtle hints of red thoughtfully incorporated to accentuate key features of the design. What I really enjoyed about the monitor's design was how it was completely bezel-free. The lack of bezel gives the monitor an almost futuristic, stylish look to it. The thin frame this monitor has been designed with makes it perfect for a multi-monitor setup.
The LG 32GK850F looks almost identical to its G counterpart in every aspect, apart from the rear. Unfortunately, with the F we lose the cool RGB lighting circle at the rear. This is mainly due to the F being a more budget marketed monitor, whereas the G is slightly more premium.
Overall it's a great-looking monitor and one that certainly wouldn't look out of place if you decided to use it in an office environment. However, that would be dismissing the true qualities of this display which we'll touch upon next.
Resolution & Refresh Rate
The resolution on the LG 32GK850F is 2560 x1440, which is widely considered as the best for gaming! The main draw of this monitor has to be the impressive 144hz refresh rate and Freesync technology it comes equipped with. Unfortunately, the response time is a little bit lacking, but something we will try to overlook considering the price tag.
For monitor newbies, below, we have explained exactly what these terms mean and how they affect your in-game performance.
Resolution is the number of pixels actually inside your monitor's display. The resolution you see in the specs is the maximum resolution your monitor can display. The 2560 x 1440 refers to how many pixels it has vertically and horizontally. Using this monitor's resolution as an example, it has 2560 pixels in width, and 1440 pixels in height.
Response time tells us how long it physically takes the pixels to change from light to dark. It is measured in milliseconds (ms) and realistically you always want this number to be under 5ms. The best gaming monitor will have a response time of 1ms, for example's sake. If the response time is too slow, you encounter what is known as ghosting. It reduces the quality of an image dramatically.
Refresh rate refers to how fast a monitor can refresh the image that you are seeing. It has a direct correlation with in-game FPS and can cause all kinds of issues if not synchronized properly. Screen tearing occurs when your FPS is higher than your monitor's refresh rate.
Inputs
The inputs for this monitor are pretty standard as far as modern monitors are concerned. Unfortunately, it doesn't come with USB Type-C compatibility, that being said, it still has 2 HMDI ports, a Displayport, and 3 USB 3.0 ports.
DisplayPort is considered the pinnacle for gamers thanks to the better image quality it produces. Plug and charge several USB devices using the super quick 3.0 connection at the rear of the monitor as well.
Features
As far as large gaming monitors go, this thing has some decent features and benefits, especially when you consider its price tag. The most noticeable features, as I've already mentioned, are; FreeSync technology, 144hz refresh rate, and a wide 3000:1 contrast ratio.
From a design point of view, the biggest feature is the tilt function, which can pretty much position this monitor in any way possible. Comparing this to some of the other top-rated monitors available I'd have to say it handles itself pretty well. The screen can be rotated a full 90 degrees, which if you're into having a huge twitter feed, this will be right up your street. It has an impressive tilt range which really does provide all the angles you would ever require.
The options menu is controlled by a joystick-style button found underneath the front of the monitor. The menu was both aesthetically pleasing and easy to navigate, something that can't be said for other high-end monitors out there.
Motion Blue Reduction
LG has equipped this monitor with a strobe backlight feature called "Motion blur reduction". This feature is only available when using 120Hz or 144Hz and can be found under Game Adjust in settings. The "MBR" technology works by pulsing on and off at the same frequency as the refresh rate, which ultimately reduces blur. Or your perception of blur anyway.
They've incorporated this technology to counterbalance the below-par response time this monitor has. It works though and creates a smoother experience in specific scenarios.
FreeSync
FreeSync is a technology designed by Radeon that helps reduce screen tearing while gaming. It works by synchronizing your refresh rate and your FPS to give a much smoother watching experience. By doing this, the monitor automatically removes screen tearing, reduces display stutter, and input lag.
You need to be using the DisplayPort to make use of FreeSync technology, but most modern graphics cards have this facility so you should be fine.
The PC we decided to test this monitor on had the new Ryzen 3900X equipped and a 5700 XT GPU. This meant we could take full advantage of FreeSync. Safe to say, it's certainly not a gimmick by any means, you really could tell the difference.
Hands-On Results
Since the LG 32GK850F is primarily a gaming monitor, we thought there was no better place to start when testing this thing. Two of the most important monitor-related features are the refresh rate and response time. If you want the best gaming experience, you need a high refresh rate and a low response time. As we already know, this monitor has a fantastic 144Hz refresh rate. However, how does that slow response time of 5ms affect the in-game performance?
Firstly, let's go over the refresh rate. 144Hz is at the top end of what displays can achieve these days. Monitors do go up to 240Hz, but you will need to fork out a lot more for those. We tested this monitor across a number of different, similarly priced monitors with varying refresh rates. You could straight away see the difference in smoothness, especially when gaming.
Unfortunately, in some games, we definitely encountered some smearing, which was unfortunate. However, if you reduce the refresh rate to 120hz, it certainly alters the amount that is visible. The 1ms motion blur seems to kick in more predominantly at this level.
We found that the ultimate gaming experience was achieved when we had FreeSync enabled, set the refresh rate to 120Hz, and had HDR enabled in the game we were playing.
The LG 32GK850F has HDR compatibility and makes use of 95% of the DCI-P3 color gamut. This means the color quality is of the highest standard. Darks are darker, and brights are brighter. Everything in between has a more realistic wash instead of those over-saturated displays which have to make up for poor image quality by boosting gamma and such. When we loaded a game up, you could tell straight away the color was superior to none HDR monitors. The monitor displayed a vibrancy that was aesthetically pleasing but in no way cartoony. The black stabilizer works to make the darkest of scenarios look as realistic as possible.
Is it Worth The Money?
So, there you have it, our comprehensive rundown of the impressive gaming monitor from LG, the 32GK850F. I know, catchy name.
Ultimately, this monitor provides a rich and immersive gaming experience thanks to its 144Hz refresh rate and FreeSync technology. The color gamut it makes use of is one of the widest available and allows for a rich, true image that can not be simulated with other technologies. The monitor isn't curved, but don't worry, this takes nothing away from this displays true quality.
The large 31.5″ display looks superb in both a gaming and movie scenario. Pair the HDR with the black stabilizer, and its 1ms motion blur reduction and you get a truly immersive experience.
Overall, I loved using this monitor, and it's one I would definitely recommend for people looking to purchase a large monitor with decent gaming pedigree.
LG 32GK850F Monitor
Resolution
2560 x 1440 QHD
Panel Technology
VA (Vertical Alignment)
---