Best gaming PC for Lego Star Wars: The Skywalker Saga
Will my PC run Lego Star Wars: The Skywalker Saga? Here's what gaming PC you need
Updated: Apr 6, 2022 2:20 pm
Lego Star Wars: The Skywalker Saga is now available on all platforms, with PC players having to wait a little bit longer than everyone else. Regardless, this latest edition already looks to be one of the best Lego games of all time, a 'Block'-buster if you will. Moving on, the good news here is that Lego Star Wars is a very accessible, well-optimized game, and can run on a wide variety of systems.

For those looking to get their hands on the PC version, wondering what the best prebuilt gaming PC is needed to run Lego Star Wars: The Skywalker Saga in 4K, 1440p, and 1080p, we've got you covered.
Lego Star Wars: The Skywalker Saga recommended specs
While these are recommended, if you are in the market for a new prebuilt computer, you are unlikely to find a system with these components.
CPU : Intel Core i5-6600 or AMD Ryzen 3 3100
RAM : 8 GB RAM
GPU : GeForce GTX 780 or Radeon R9 290
Operating System : Windows 10 64-bit
Storage Space : 40 GB available space
Best gaming PC to run Lego Star Wars: The Skywalker Saga in 4K
If you are looking for flawless Lego Star Wars: The Skywalker Saga gameplay in maxed-out settings while paying in 4K resolution, a gaming PC with an RTX 3060 Ti is going to be more than enough.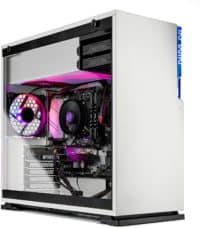 Skytech Shiva Gaming PC Desktop (RTX 3060 Ti)
The Skytech Shiva above will not only run Lego Star Wars in 4K with ease but it will allow you to play any AAA game you desire. Some modern titles may struggle at 4K but the RTX 3060 Ti inside will help you push high frames when playing 1080p and 1440p.
To run Lego Star Wars: The Skywalker Saga in 1440p and 1080p you can go for prebuilt gaming PCs with an RTX 3050 inside if you desired but to stop the need from upgrading sooner rather than later, we advise you to consider the RTX 3060 Ti computer above. The Skytech Shiva features 16GB of RAM and a 1TB SSD, giving you everything you need for an enjoyable gaming experience.
---