Best RTX 2080 Ti graphics cards | The complete guide
Taking a look at the best 2080 Ti graphics card.
Updated: Jan 24, 2023 2:57 pm
The 2080 Ti is undoubtedly the mother of all GPUs at the time of writing this guide. It boasts unrivaled gaming performance and more power than any other GPU in the consumer bracket. However, there still seems to be an unanswered question floating around the local forums and communities. Which is the best 2080 Ti out there??
It's a question we get regularly asked here and one that can be relatively difficult to answer. Why? Well, there are a bunch of aftermarket 2080 Tis to choose from, which automatically makes selecting the right one more difficult – not to mention the huge price tag that these graphics cards come with. I mean, who wants to spend over $1000 on a part that isn't 100% in sync with their current/new build? I certainly don't!
For that reason, we've created this comprehensive guide to choosing the best RTX 2080 Ti.
We've put together a list of what we believe are the best currently available. We've also given you areas that need to be considered when buying a 2080 Ti so you can do some independent research yourself.
Let's waste no further time and jump straight into it!
Our Top Picks
01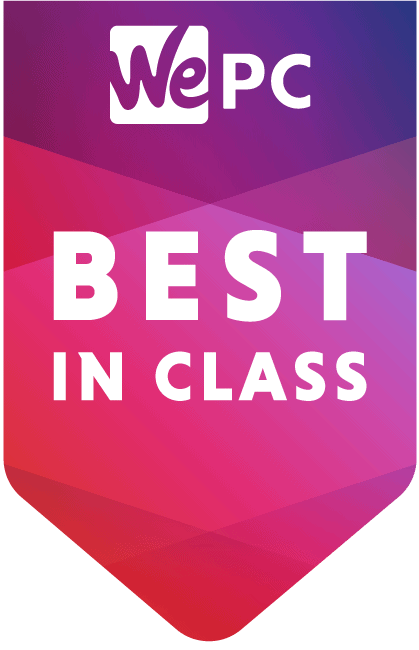 The Best RTX 2080 TI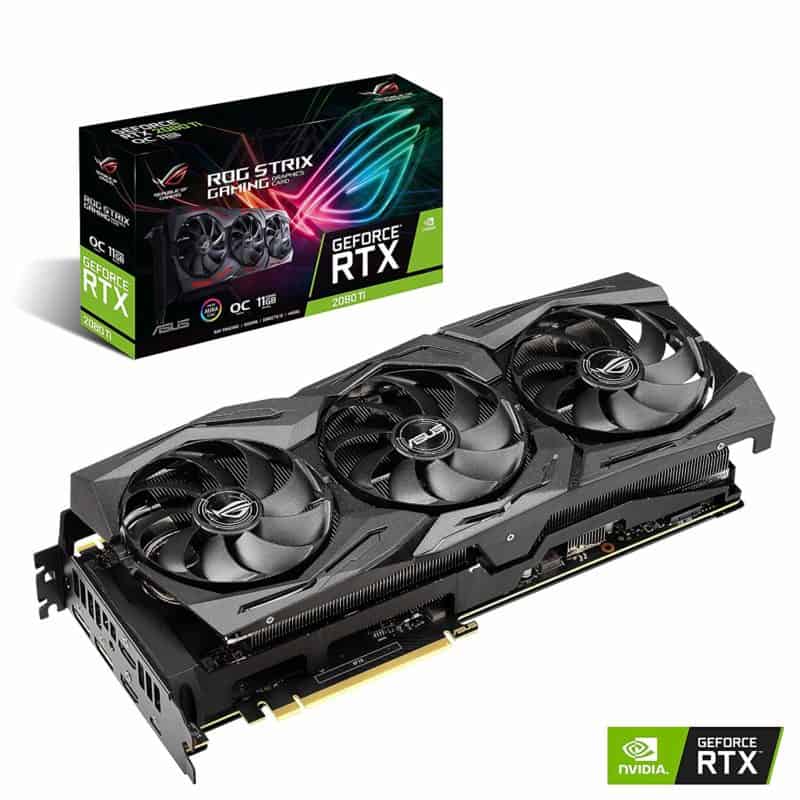 ASUS ROG Strix GeForce RTX 2080TI
02
The Next Best RTX 2080 TI
Gigabyte AORUS GeForce RTX 2080 Ti 11G Graphics Card
03
The Best Value RTX 2080 TI
ZOTAC GAMING GeForce RTX 2080 Ti AMP 11GB
How we choose
Choosing the right components for our best of guides, whether it's the best monitors for under $300 or best gaming headsets, is never an easy task.
It requires hours of product research, performance benchmarking, and user feedback to get anywhere close to a definitive conclusion. If you aren't tech-savvy and struggle to put time aside to go through the above requirements, you may end up purchasing a GPU that isn't right for you or your build.
Fear not though, friends! Here at WePC, we like to take the stress of all that research away and transform it into an easy-to-follow, complete buyers guide. That's right, our team of PC enthusiasts has done all the hard work, so you don't have to.
How we test
Testing the products we recommend is a huge part of the overall selection process in our best of guides. It's a way to make sure what we recommend is the absolute best option in its specific category. To be sure a product is "the best," it must show excellent performance in our tests and display better qualities over the competition it faces.
Most of the products we recommend here at WePC have gone through a strict testing process that involves everything from price and looks to performance and efficiency. Each product is pushed to the limit to see how it performs under intense stress to make sure it warrants the top spot.
Doing this enables us to provide you with the most accurate review of how the product performs and, ultimately, whether it's worth your hard-earned cash.
With that, let's discuss some of the areas that we feel are worthy of consideration when buying a 2080Ti.
Things to consider
Let's be honest; the 2080Ti is not a cheap GPU. Even though it's one of the best performing graphics cards in the consumer marketplace, it's also one of the most expensive too.
That being said, we recognize that people may want to do a little bit of independent research before taking our recommendations to the checkout. It's only natural.
Understanding how a product works and what to look for is something we take very seriously. We try to educate people on these areas as often as possible so they can make their own informed decision.
So, with that, let's take a look at the areas we feel you should consider before purchasing the best 2080Ti.
Price
Whether you're buying the latest gaming monitor or a high-end GPU, price is always one of the most important aspects of any hardware component, even more so when we're talking about a product that can set you back in the region of $1,500.
The price of a high-end 2080Ti and a low-end one can differ in the hundreds, meaning your budget can be stretched massively if you don't choose the right one. For that reason, we always recommend making a price comparison before you start your research.
We've tried to display which GPUs showcase good value and which don't to make price one less thing to think about.
Performance
We're going to touch on the 2080Ti's performance a little further down the article, but in short, it's probably the second most important factor when choosing your hardware.
We all want the best performing hardware we can afford; however, understanding the connection between price and performance is a key area that should be considered beforehand.
The 2080Ti, for example, is a hugely expensive card. That being said, it's also the most powerful consumer card on the market, and by a long way. Does it show good value for money, though? Absolutely.
The performance also comes down to resolution, in-game FPS, multi-tasking, and other graphically demanding work tasks such as mining.
Make sure your build lives up to your card's performance output before buying to ensure you aren't going to be bottlenecked by other components. There is nothing worse than a build that isn't in perfect sync.
Cooling
Just like performance, cooling gets touched on in more detail after our product reviews. However, cooling is a crucial area to consider when purchasing a GPU.
All GPU's come with their own cooling solution which, in theory, should dissipate the cards rated TDP. There are ways to increase your GPU's cooling, such as water-cooling and better case fan CFM, though.
Have a look at what heat your card produces to make sure you aren't building the world's most expensive radiator.
Size
When we refer to size, we're talking about the GPU's physical dimensions.
Now, you might be thinking at this stage, why should I care about size? I have a GPU, and it fits fine. Well, that GPU probably isn't a 2080 Ti.
A 2080 Ti is much, much bigger than generic GPUs. They are much more powerful, meaning they need a much bigger cooling setup and heatsink.
Always check to make sure your case can accommodate your GPU so you don't end up with a hugely expensive GPU that can't be used.
Understanding The Specs
Understanding the product specs is a major part of any component purchase. I mean, if you don't understand the specs, how are you meant to know how well the product will perform?
For that reason, the following section is going to outline each of the major GPU specifications and what it means. This should hopefully give you a better understanding of how GPUs work and perform.
Clock Speeds
Fear not folks, clock speeds aren't that scary. In fact, they're pretty easy to understand when you get your head around them.
Clock speed, or clock rate, is the speed in which your microprocessor (in this case, the GPU chip itself) runs. It basically refers to how fast your GPU performs instructions. Each GPU is clocked at a different speed, meaning each one can perform tasks at different rates. However, clock speed does not have a direct correlation with in-game performance. That, unfortunately, comes down to several various factors.
VRAM
VRAM is your GPU's video RAM (random access memory). It has a direct impact on how well your graphics card performs and how much data it can read at any one time.
VRAM works in the exact same way as your computer RAM; it stores data that your GPU can access at any time in any order. The more VRAM you have, the more access you have to data without having to go via the CPU.
Higher-resolution game formats require more VRAM as do tasks like anti-aliasing. Luckily, every 2080Ti comes with 11GB of GDDR6 VRAM, which is the most you will find on a consumer card in today's market.
How Does The RTX 2080Ti Perform
Performance is ultimately the most important aspect of any product, even more so when we reference GPUs. This is thanks to modern game publishers and how they develop the latest game titles.
Historically, games would draw most of their power from the CPU. That, however, is no longer the case. GPU's now take the brunt of the games demand and are essential to a smooth running experience.
That being said, the 2080Ti doesn't disappoint when it comes to raw performance. It is hands down the best consumer graphics card on the market right now and outperforms everything in its wake.
The new NAVI architecture GPUs are going to have to do something very special if they want to start pushing the 2080Ti for the top performance spot. If the new Ryzen range is anything to go off, though, you wouldn't be surprised to see something like that happen. I suppose only time will tell.
The RTX 2080Ti can easily manage frame rates of up to 60+ FPS while running on ultra settings, perfect for 4K gaming, and easily outshines its competition. Furthermore, 1440p gaming on this card will easily land you 120+ FPS across the most demanding games out there. Even enabling ray-tracing won't slow this thing down. It truly is the mother of all cards right now.
Cooling Your GPU And How Much Difference It Makes
As you can see from the list above, cooling differs when comparing GPUs with each other. Outside of our list, cards come with a variety of different cooling solutions, which range from 3-fan to 1-fan and even water-cooling.
For most, this probably isn't a huge factor in their decision-making process, but it should be. If your card becomes too hot, you'll start to experience thermal throttling, which will reduce performance exponentially.
If you aren't familiar with thermal throttling, it occurs when your GPU takes on intensive workloads, like gaming, and generates a wave of heat, which in turn affects the performance of your card. To stop this from occurring, your card needs to be equipped with a powerful cooling configuration.
For me, the best option for cooling is a water-cooled setup.
A water-cooled GPU will lose its fans and replace them with a more effective water-block, which allows cold water to be in almost direct contact with the card. This, however, is a costly premium, so it won't be available to all consumers. If it is, I would definitely recommend it, though.
A more realistic option is a triple-fan aftermarket cooling option like all of the cards in our list above. These do a tremendous job of keeping your card cool while under gaming/workload pressure.
Is It Worth The Hard Eaned Cash?
For me, that's an easy question, and the answer is yes, absolutely.
The only problem with these graphics cards, and this question, is how expensive they actually are. The cheapest we could find right now is around $1,000. I know, pricey.
However, if you're looking for the absolute best gaming experience, there is no substitute. AMD currently offers nothing that gets close to the performance power of the 2080Ti.
Maybe when they do, we'll see a sudden drop in market price. Whether AMD can produce something of that quality is yet to be answered, though.
The The Best RTX 2080 TI
In-depth Review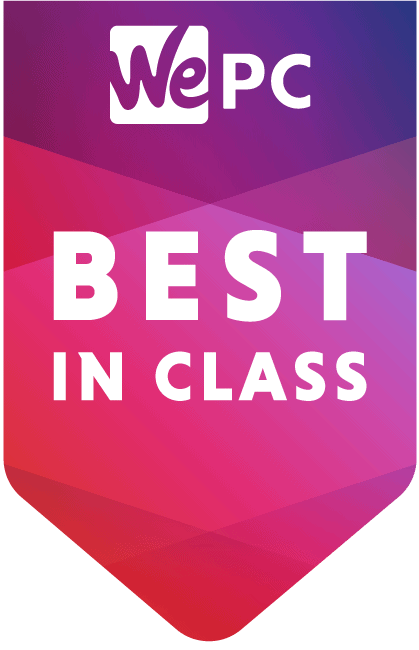 01
The Best RTX 2080 TI
ASUS ROG Strix GeForce RTX 2080TI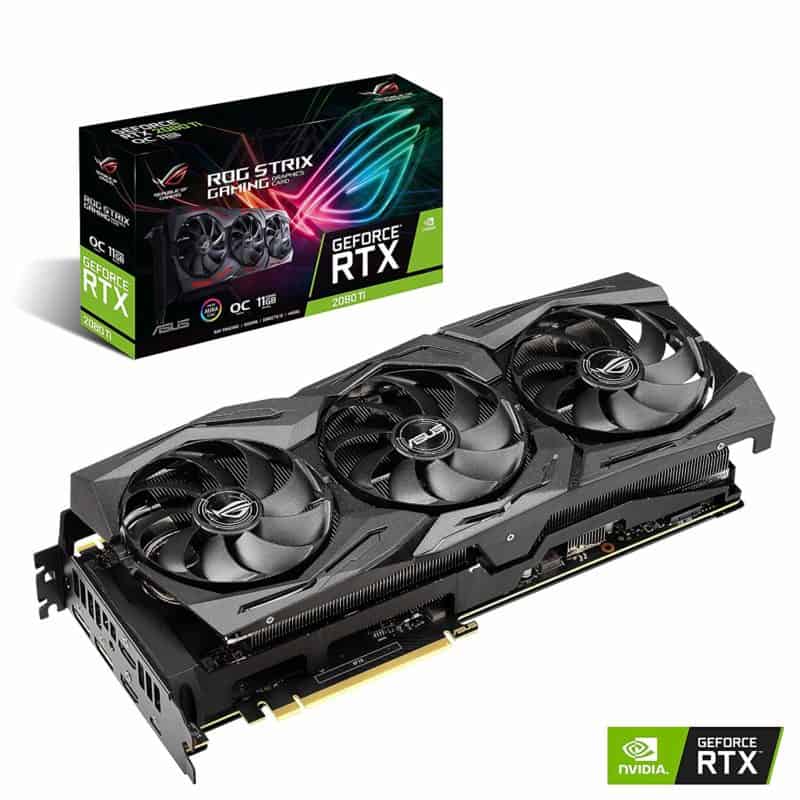 Clock Speed
1650 MHz Boost Clock
PROS
Without doubt, the highest performing consumer-grade GPU
Real time ray-tracing
4k gaming at ultra settings
0dB Technology
CONS
Expensive
Limited amount of games with ray tracing
The ASUS ROG Strix GeForce RTX 2080 TI is our number one pick and the current flagship GPU from the guys behind the ROG brand. It comes equipped with an impressive clock speed of 1650MHz, which has been boosted straight out the box. It can, however, be boosted to 1665MHz when in gaming OC mode.
One of the stand-out features the ASUS ROG 2080 Ti comes with is the dual BIOS setup. This enables users to have two different fan/clock speed configurations, which they can flick between when wanting more cooling or less noise.
The cooling is provided by a triple Axial-tech fan setup, which boasts the highest levels of efficiency in this list. It also offered some of the coolest recorded temps when under strain, as well.
From a design point-of-view, the ROG Strix is a seriously impressive-looking card, but a big one at that. It takes up 2.7 case output slots and sits at around 305 mm. The all-black design gives this card a pretty gnarly aesthetic that works really well when paired with its own and surrounding RGB.
Other features of this card include MaxContact technology, Super Alloy Power II components, and Asus' FanConnect II.
Overall it's probably my favorite card at the moment thanks to its incredible performance and stylish design. I highly recommend that you have the budget to accommodate.
02
The Next Best RTX 2080 TI
Gigabyte AORUS GeForce RTX 2080 Ti 11G Graphics Card
PROS
Great aesthetic design
Stays cool during stressful scenario's
3x HDMI and 3x DP ports
Much thinner than other 2080TI's
Next in the list comes the increasingly popular Gigabyte AORUS GeForce RTX 2080 TI Extreme. If you've been a fan of Gigabytes GPU's over the years then you will absolutely love this one. It offers a boosted clock speed of 1770MHz which is one of the highest in our guide.
Gigabyte decided to go with their triple-fan WINDFORCE setup, like most in the list, to give it the maximum amount of cooling potential when under maximum strain. A cool feature of the Gigabyte fan setup is its "alternate spinning" center fan. What that means is the center fan of the 3 spins in the opposite direction of the other two. This is said to increase the smoothness of the airflow and allow for better overall cooling. Our tests did recognize this as the recorded temps were low when compared with others.
The AORUS Extreme comes with its "extreme overclocking" 16+3 power phases. This is one of the main reasons why the AORUS has the highest off-the-shelf boosted clock speed.
For me, this is the best looking card on this list. The whole thing just looks cool. The angular design is boosted by Gigabytes RGB fusion 2.0 offering one of the best aesthetics of any card we've seen. Obviously, if you're not into RGB, you aren't gonna dig this, but we think it looks pretty awesome.
Gigabyte decided to equip this card with an impressive 7 outputs, two more than the standard. These include 3 HDMI ports, 3 DisplayPorts, and a USB type C.
This is Gigabyte's flagship GPU and one that offers up extreme performance and fantastic aesthetics all the same.
03
The Best Value RTX 2080 TI
ZOTAC GAMING GeForce RTX 2080 Ti AMP 11GB
Power Connectors
2 x 8-pin
Outputs
DisplayPort x 3 / HDMI 2.0 x 1
PROS
A little more budget friendly
Efficient triple fan cooling setup
Attractive design
Intuitive Firestorm GPU software
CONS
Takes up 3 slots
Only 1 HDMI port
ZOTAC's GAMING GeForce RTX 2080 TI AMP comes next in our best 2080 Ti guide and for good reason. It comes to the table with one of the cheapest price tags making it one of the best value picks in the bunch.
Clock speeds hit 1665MHz right out of the box, making it one of the slower cards in our guide, don't let that fool you though. It still performs as well as anything else on this list.
Cooling is provided by ZOTAC's ICESTORM 2.0 triple-fan configuration that offers up excellent cooling during gaming and heavy workload scenarios. That being said, it is slightly louder and less efficient than both the Gigabyte and ASUS ROG Strix above.
On the design front, ZOTAC's card certainly falls a little short when compared to some of the others in this guide. It does provide RGB lighting to your build, if only in one section. It is by no means a fully-fledged RGB GPU, though. Like most in this list, it takes up an impressive – if you look at it that way – 2.5 case slots and sits at 308mm in length.
Outputs include 3x HDMI ports, 1x DisplayPort, and a USB Type-C for all your VR needs.
If you're looking for the raw power of a 2080Ti but haven't got the cash to fund one of the more expensive cards on this list, look no further, the ZOTAC Gaming RTX 2080 TI AMP might be precisely what you're looking for.
04
A Solid Performing RTX 2080 TI
EVGA GeForce RTX 2080 Ti FTW3 Ultra Gaming
Memory Bus Width
352 bits
PROS
Triple fan cooling solution is extremely efficient
Handles the most stressful scenarios
3x DP ports, 1x HDMI, 1x USB-C
Very nice aesthetic design
EVGA's impressive GeForce RTX 2080 Ti Ftw3 Ultra comes next in our list, and that might be a surprise to some readers. Historically, EVGA has been one of the best aftermarket Nvidia GPU manufacturers out there, and don't get me wrong, that is still very much the case. However, it falls slightly short of the top two and comes equipped with a price tag that is far beaten by the ZOTAC. So for those reasons, its 4th on our list.
On a more positive note, the Ftw3 Ultra, as we'll call it, comes with the joint highest out-the-box clock speed of 1755MHz. Furthermore, it gets the joint best cooling option in this guide, as well.
Some of the features that come with this card include iCX2 cooling technology, extreme cool triple-fan setup, attractive RGB with EVGA's Precision X1 software, an all-metal backplate, and 19 power phases.
The design of this card is extremely attractive, even if it is a monster. It takes up three slots and has a length of 302mm, which is considered space-saving when referencing a 2080Ti. It comes with the standard five output ports, which include 3x DisplayPorts, 1x HDMI port, and a USB Type-C port.
Ultimately, if you're a fan of EVGA, this is probably going to be the card you go for. However, if you're looking for the best value for money pick, we would recommend looking at one of the other cards on this list.
05
The Best Looking RTX 2080 TI
MSI GAMING GeForce RTX 2080 Ti
PROS
Triple fan setup keeps temps down under the most stressful scenario's
Very power efficient
Great RGB across multiple zones
Decent off-the-shelf overclocked core speed
MSI are no strangers when it comes to providing the highest quality hardware components. Their GAMING GeForce RTX 2080 Ti falls into that category and then some. It is their current flagship GPU and comes sporting all the features and benefits you'd expect from a premium-tier GPU.
This GPU comes to the table equipped with the joint highest clock speed of 1755MHz in this list. It comes with MSI's signature TRI-FROZR thermal design that offers a highly efficient cooling solution with very little noise output. RGB can be found in a number of zones across the GPU and can be fully customized inside MSI's intuitive user software.
One of the main downsides of this card is found within the design. It is massive. Taking up three output slots and measuring in at 328mm, this card is the largest on our list. We would recommend checking your case and build to make sure it can accommodate a GPU of this size before purchasing.
Even though its size is annoying from a build point of view, it does have a silver lining, the heatsink. The heatsink is much larger than other GPU heatsinks. This should allow users to squeeze maximum amounts of overclocking potential out of this 2080Ti while still keeping temps at safe levels.
With all that in mind, MSI's Gaming GeForce RTX 2080 Ti is one of the more affordable options on display. It offers excellent in-game performance and is highly desirable if you're looking for maximum bang for your buck.
The Best RTX 2080 TI frequently asked questions
Is the RTX 2080 Ti Good for Gaming?
The RTX 2080 Ti isn't just 'good' for gaming, it's downright miraculous. Even though we're all currently enamored by the RTX 30-Series, the 2080 Ti is still one of the best GPUs for gaming ever.
While some consider it overkill for 1080p, we say, sling that RTX bad boy into a build with a 240Hz 1080p monitor and a high-performance CPU, and brace yourselves for some epic, silky-smooth gaming.
Of course, the 2080 is so much more than a monster frame pusher. It's loaded with 544 AI-primed DLSS Tensor cores and 68 dedicated ray-tracing cores. For titles that support this hardware, gameplay isn't just smooth, but incredibly lifelike too.
Can a 2080 Ti Run 4K?
The RTX 2080 Ti is an absolute monster in 4K. It smashes the desired 60fps average for most titles, and if you drop the settings from Ultra to High, you're looking at 60+ averages for even the most demanding games such as Assassin's Creed: Valhalla and RDR2.
For games that are easier on the graphics side of things, you're looking at averages to the tune of 80fps. In light of this, it's best to pair it with a 60Hz 4K monitor.
Why is the 2080 Ti so good for high-resolution gaming? Well, it's a combination of things, but a huge part of it is the awesome 11GB GDDR6 memory system. When you venture beyond 1080p, the workload shifts from your RAM to the integrated memory in your GPU, so it needs to be sizable and efficient to support the pixel-heavy workloads of 4K.
The 2080 Ti is so efficient in this respect that you can even pair it with a 60Hz 8K monitor and get some pretty decent results. You'd have to reduce settings depending on the game, but it's an impressive feat nonetheless.
Is the RTX 2080 Ti Future Proof?
The RTX 2080 Ti is highly future-proof; there's no doubt about it! Not only can it pump out ridiculous frame rates in any resolution, but it's also packed full of futuristic features. Take the advanced DLSS Tensor cores for example. These things are literally powered by AI. If that's not venturing into the realms of sci-fi, we don't know what is.
It's also home to a wealth of RT cores, making it one of the best examples of the newest buzzword in computer graphics technology, ray tracing. Not just any ray tracing, hardware ray tracing. That's the genuine article, folks.
With one of these dynamos going hell for leather in your case, you won't have to worry about upgrading for years to come, so don't sweat it. If you're ever worried, just think about the GTX 1080 Ti. That powerhouse GPU is four years old and is still widely considered one of the best in the business. Being that the 2080 Ti is its successor and was only released in late 2018, it's positively brimming with life yet.
How Many Teraflops is an RTX 2080 Ti?
The RTX 2080 Ti has a teraflop rating of just under 13.5, meaning it's capable of executing almost 13.5 trillion calculations a second…the mind boggles! To put that into context for you, the Xbox One is only capable of 1.5 teraflops.
Even the recently released PS5 only has a total computational efficiency of 12 teraflops, and the RTX 2080 Ti is only a graphics processing unit, while these consoles are full specialist gaming computers.
If you're thinking to yourself…'Well this all sounds very impressive, but what the heck are teraflops?', they're essentially a measurement of maximum computational efficiency.
Final Word
So, there you have it, our comprehensive breakdown of the best RTX 2080TI graphics cards currently available.
Buying any premium hardware component can be an extremely stressful task, especially when the wrong one can land you with a $1,000+ paperweight. For that reason, we've tried to give you as much information on 2080Tis as possible, in the hope that you will then be able to go away and make the most informed decision on what is right for your specific needs.
For me, I'd go for the ASUS ROG Strix RTX 2080 TI as it showcases some of the best cooling and gnarliest aesthetics. But what was your best RTX 2080 Ti GPU? Why not leave us a comment in the section below, we'd love to hear from you!
---